Create controversy. Profit from controversy.
It's not an especially new or original strategy, but it's one that LaVar Ball continues to try to exploit.
The infamous basketball dad is at it again, looking to capitalize on the uproar/kerfuffle/news cycle/debate/ickiness he created when he belittled FS1's Kristine Leahy, telling her to "stay in your lane" on multiple occasions when claiming the Big Baller Brand didn't need to market to women.
Well, they are now, with a nod to Ball's proclamation, selling "STAY IN YO LANE" tees, for both men and women.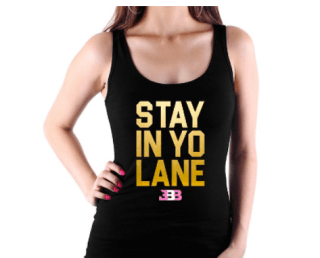 Marketing misogyny. Isn't that nice.
It's clear that LaVar Ball isn't going to shy away from the public spotlight anytime soon, especially with eldest son Lonzo looking destined for the Lakers and middle son LiAngelo set to join UCLA, and he's going to do his best to use that light to push the BBB franchise that scared away the world's biggest apparel companies.
This plan has no mystery, subtlety or taste. Which might as well be the Big Baller Brand slogan.