GLENDALE, Ariz. — Pace and space. Stretch fours. Small-ball fives.
In an era of basketball where the power forward has been Stephen Curry'd out of the game, where big wings with a shooting guard's skill-set — Josh Jackson, Dillon Brooks, Jayson Tatum, Josh Hart — have made the Charles Oakleys of the world obsolete, it's fitting that Monday night's national title game will feature two teams that almost exclusively play two big men together.
That's who Roy Williams has been his entire career, and it's somewhat ironic. Williams is affectionately known as 'Ole Roy', a hillbilly from western North Carolina that somehow lucked his way into coaching the flagship program in his home state and his alma mater. The 'aw, shucks' schtick is one that he's not afraid to play up, and, in turn, it's helped play into this perception of Williams as a guy that does nothing but roll the ball out and let his talent takeover.
There may be something to that — this is a topic that I'm going to dive into later on today — but it's worth noting that there are few coaches in college hoops that have bought into the mantra of extra possessions quite like Williams has, particularly when it comes to the offensive glass. Only once, in the 14 seasons that Williams has been the head coach of the Tar Heels, have they finished outside the top 30 in offensive rebounding percentage, and that just so happened to be the year that they went 25-11, entering the tournament as a No. 8 seed and exiting in the second round to Williams' former school, Kansas.
That also happened to be the one year since he took over Carolina that Williams was forced to play a way that he didn't want to play. With the mass exodus that came after UNC's terrific 2012, a year where a broken bone in Kendall Marshall's wrist was likely the only thing standing between those Tar Heels squaring off with Anthony Davis' Kentucky Wildcats for a national title, Williams had one big man on his roster that could handle the rigors of the college game, and that was James Michael McAdoo. P.J. Hairston played the four that year.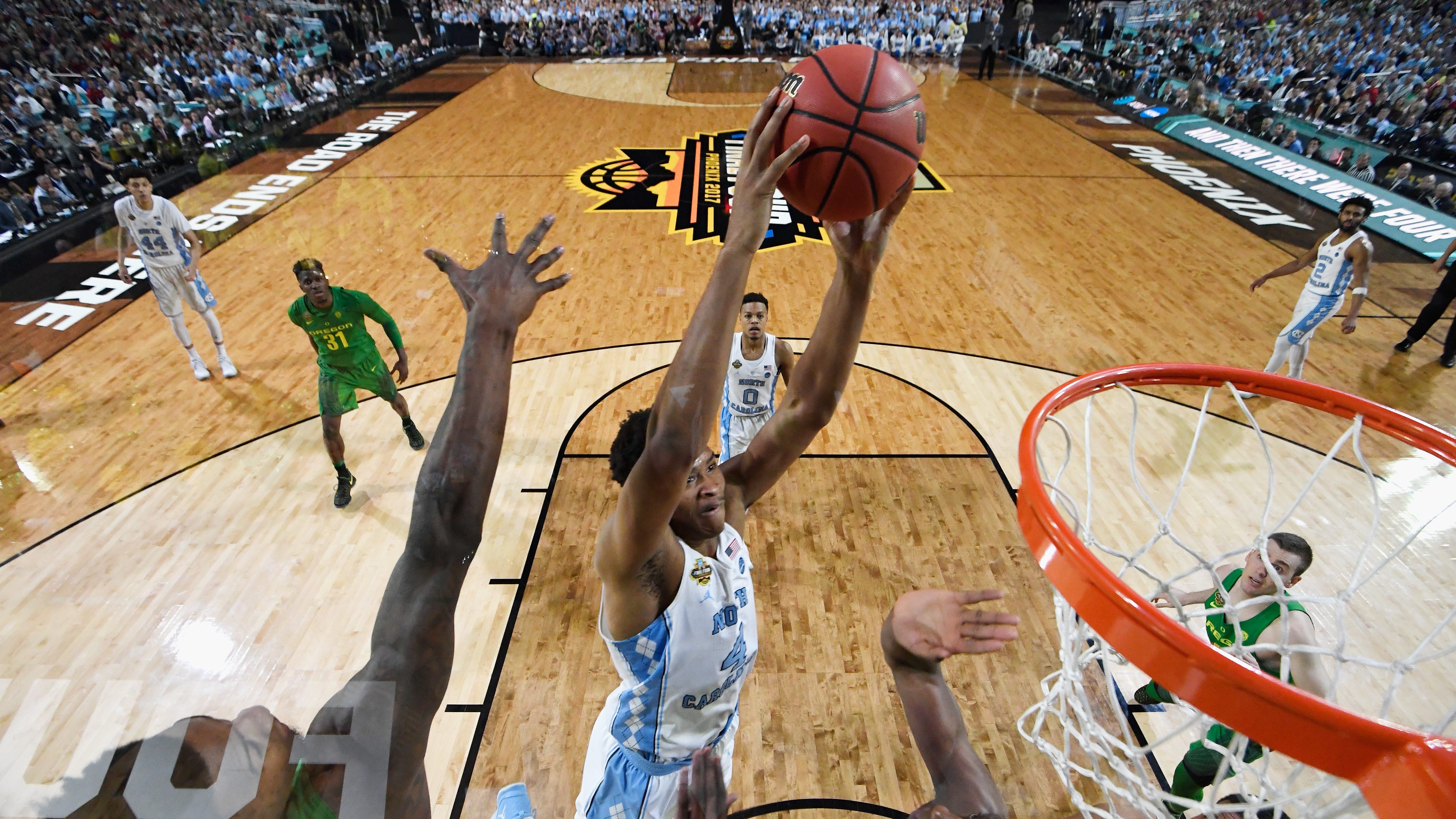 This season, Williams is riding the size of Kennedy Meeks, Isaiah Hicks, Tony Bradley and Luke Make, who have combined to make the Tar Heels the best offensive rebounding team in the country. It won them a Final Four game on Saturday; UNC had 19 second-chance points off of 17 offensive rebounds, the final two of which came on missed free throws in the final 5.2 seconds of a 77-76 win. They pound the ball into the paint, they try to corral every missed shot and they dare you to play small against them. Oregon tried it. It didn't work.
Gonzaga is one of the few teams in the country that won't have to worry about the size of North Carolina's front line because, frankly, they have more of it.
"I'm bigger than 99.9 percent of basketball players," 7-foot-1, 300-pound Przemek Karnowski said earlier this week, failing to note that basketball players are bigger than 99.9 percent of people. Karnowski is joined on Gonzaga's front-line by Johnathan Williams III, a 6-foot-10 power forward and former top 50 recruit that started his career at Missouri, and spent much of Saturday's win over South Carolina playing alongside Zach Collins, a 7-foot McDonald's All-American whose 14 points, 13 boards and six blocks in the game may have cemented his status as Mark Few's first one-and-done player.
Those are the two guys that the Gonzaga offense runs through.
They're also the guys that are going to be tasked with keeping North Carolina's bigs from getting to the offensive glass.
That won't be an easy ask, not when the Tar Heels are now just one win away from redemption, from masking the pain of last year's heart-breaking loss in the national title with a ring of their own.
But it will be a battle that isn't all that common amongst college basketball's elite these days.