GLENDALE, Ariz. — It was a joke.
Mark Few was quite clearly kidding.
He and Roy Williams have been friends and rivals and gambling buddies for years, and even if the pair were mortal enemies, Few is not the kind of person that would sit on the dais in the one of the biggest press conferences of the year in college basketball and start firing shots at anyone, let alone the man he will be coaching against on Monday night.
But when Few was asked where there was a clear advantage for Gonzaga against North Carolina, two teams that matchup with each other almost too perfectly, his answer was simple, concise and direct: "Coaching," he deadpanned.
The room erupted in laughter, and Williams himself would chuckle and grin when the story was recounted to him an hour later, the irony being that the general public wouldn't get the joke.
Williams never get mentioned among the greatest coaches of all-time. He's not on the same level as Dean Smith, or John Wooden, or Adolph Rupp, or even his Tobacco Road counterpart, Mike Krzyzewski. He's not a great basketball mind, his critics will tell you, he's a recruiter that wins because he gets the best players and rolls the ball out.
Only one of those statements is factual.
What makes Roy Williams great, the reason that he may very well be the greatest college basketball coach of this generation, is that he's good enough at what he does that he can just roll the ball out and let his guys go.
---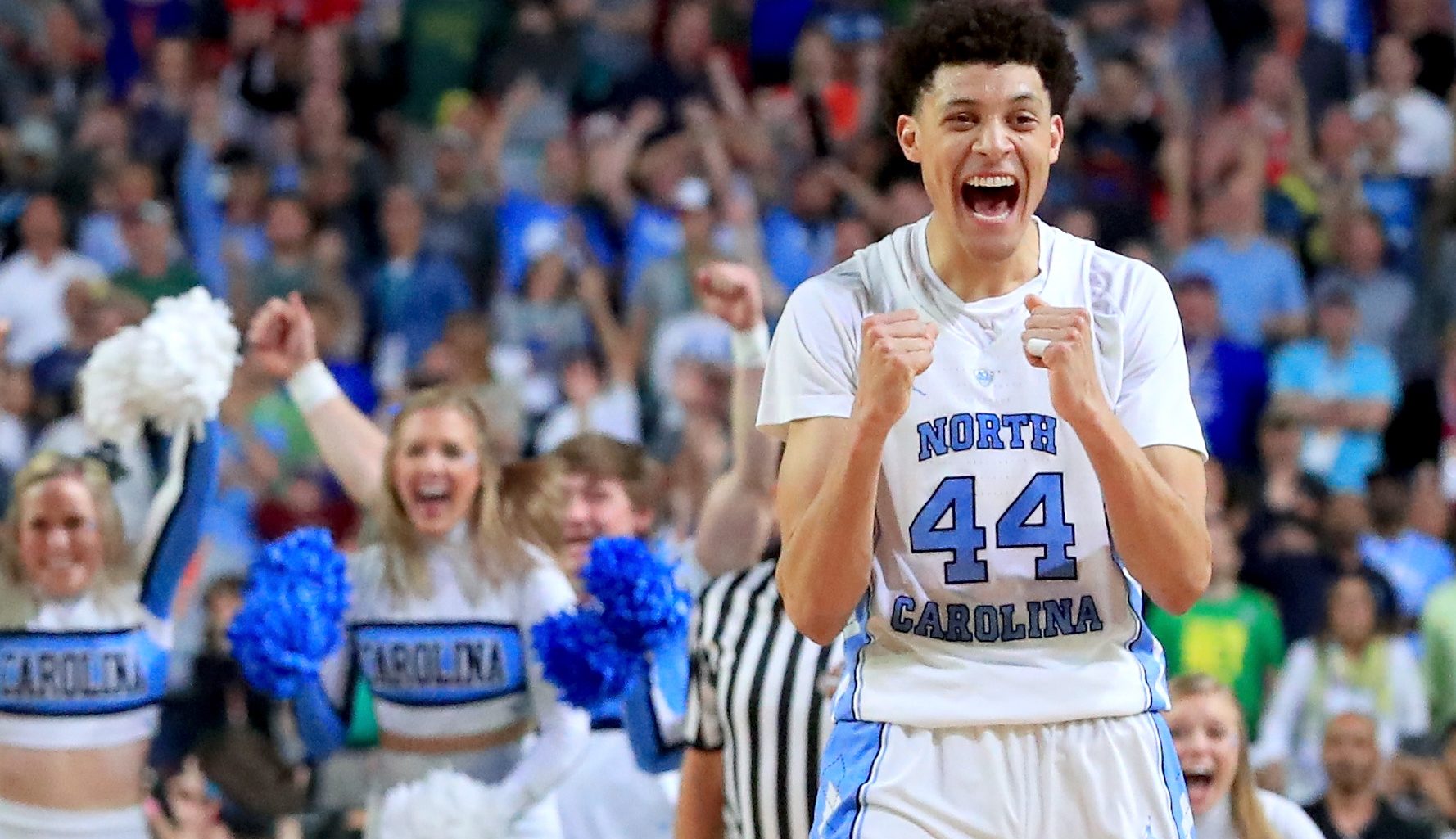 ---
All you need to do to know just how good, and just how under-appreciated, Roy Williams is as a head coach is to look at the numbers that he's put up in his career.
He's been to nine Final Fours. Only Wooden, Krzyzewski and Smith have been to more. Monday night will be the sixth national title game that he's played in, and if the Tar Heels win, it will be the third national title that he's won. Only wooden, Rupp and Krzyzewski have won more than him. He's won eight of the last 13 ACC regular season titles; Krzyzewsi has won two in that time frame. He's been a head coach for 29 seasons, and he's won a regular season title — ACC, Big 12 or Big Eight — in 17 of them.
Williams has more NCAA tournament wins than anyone since 2000, and it's really not all that close. He has 55. John Calipari has 40. Bill Self has 42. Tom Izzo has 43. It would take the Tar Heels losing on Monday and in the first round of the tournament for the next two seasons while Duke wins back-to-back national titles for Krzyzewski, who is second on that list with 44 tournament wins, to surpass him.
Williams also has the second-highest winning percentage of any active head coach, and the only guy that is ahead of him on that list is Few, who is terrific in his own right but whose numbers are inflated by playing in the talent-deficient WCC.
"You don't do that if you can't coach," Sean May, who won a title with Williams before becoming a member of his coaching staff, said.
Which is why the knock on him is that he's a recruiter, a guy that simply goes out and gets the best players, relying on their natural ability to lead him to glory, except that's not exactly the way that this thing has worked. Williams hasn't had a one-and-done player since 2007, and it may be hard for you to figure out who, exactly, that player is. (Brandan Wright.) Marvin Williams, who bounced after winning a title in 2005, is the only other one and done that has spent time in Chapel Hill under Williams' watch.
"Coach always says when he was at Kansas, they said he could coach and couldn't get elite guys," said former Tar Heel Marcus Paige. "And now he's at Carolina, and he can recruit, he's just not as good of a coach."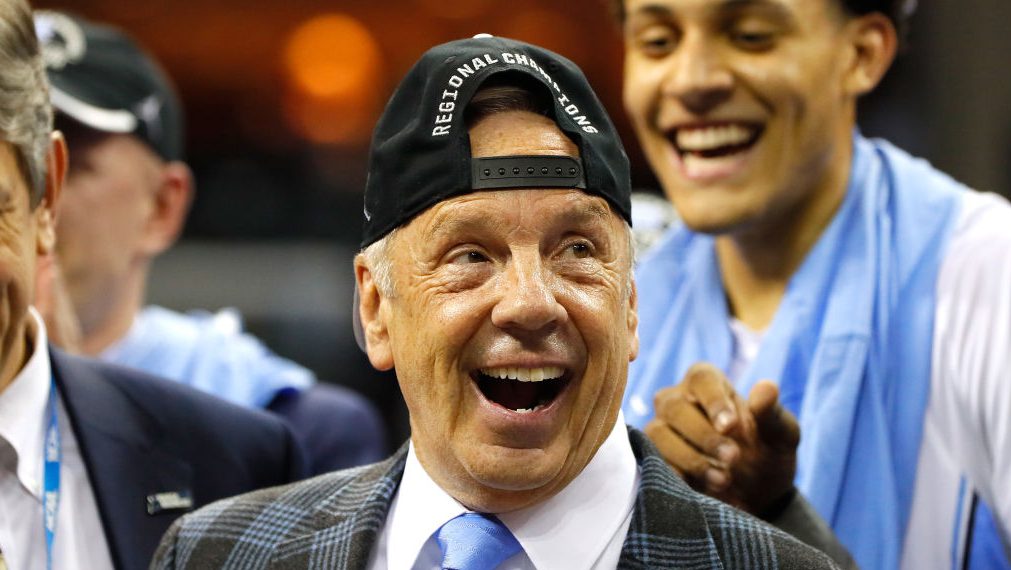 His bread and butter are the kids that are elite prospects but that fall just short of that one-and-done threshold, the four- and five-star kids that need a couple of years on campus before they turn into NBA-caliber prospects. Think Justin Jackson, a top 15 player that needed to develop the confidence and the strength to be able to play on the wing in the NBA. He may end up being a lottery pick once his junior year comes to an end. Brice Johnson was a four-star recruit who grew into a late-first round pick and an all-american after four years of schooling under Williams. Marcus Paige, Joel Berry II, Kennedy Meeks, Tyler Zeller, John Henson.
"He's arguably been the best coach of the past 15 years if you go off of success," Paige said, "instead of just media perception."
And it's that media perception that keeps Williams out of the conversation for being one of the very best to ever do it.
Which is silly.
Because the very thing that is used to criticize him is what makes him great.
North Carolina's offense is fairly unique in the college ranks. They don't run many set plays at all; players and staff estimate that about 70 percent of their half court possessions are what the Heels call 'freelance,' which is exactly what it sounds like: "Everybody does what they want," Paige said.
But freelance is so much more complicated than simply showing up and playing, like walking into the Dean Dome is the same thing as picking your five, calling next and getting on the court at the park on a Saturday afternoon.
"It's definitely not just a roll the ball out and let the guys play kind of deal," Nate Britt said. "It's not like we're playing pickup."
Freelance, typically, starts out of North Carolina's secondary break. When the Tar Heels gain possession on the defensive end, the first thing they are going to look to do is beat their opponent down the floor, a layup or an open three before the defenses gets being the goal. This is scripted. The shooting guard sprints to the right wing. The small forward sprints to the left wing. The four-man sprints to the block, what's called a rim-run, and Berry, who is drilled to receive the outlet with his momentum taking him up the floor, first looks to see if one of those three will be open or if he can get all the way to the rim for a layup of his own.
That's the primary break. The secondary break offense that Williams is famous for comes out of that. Plays aren't scripted. Every player on the floor has a read to make based off of what a teammate does. Within the system, there are actions designed to create ball-screens, or pin-downs, or post-ups, or whatever.
But the calls are seldom made from the sideline.
It all is based off of where Berry's first pass goes, where he cuts to after making that pass and how the defensive is playing. From there, North Carolina gets into their freelance, continuity offense.
The coaching doesn't come in the game.
The coaching comes when he's drilling into these players what is and what isn't a good shot in this offense.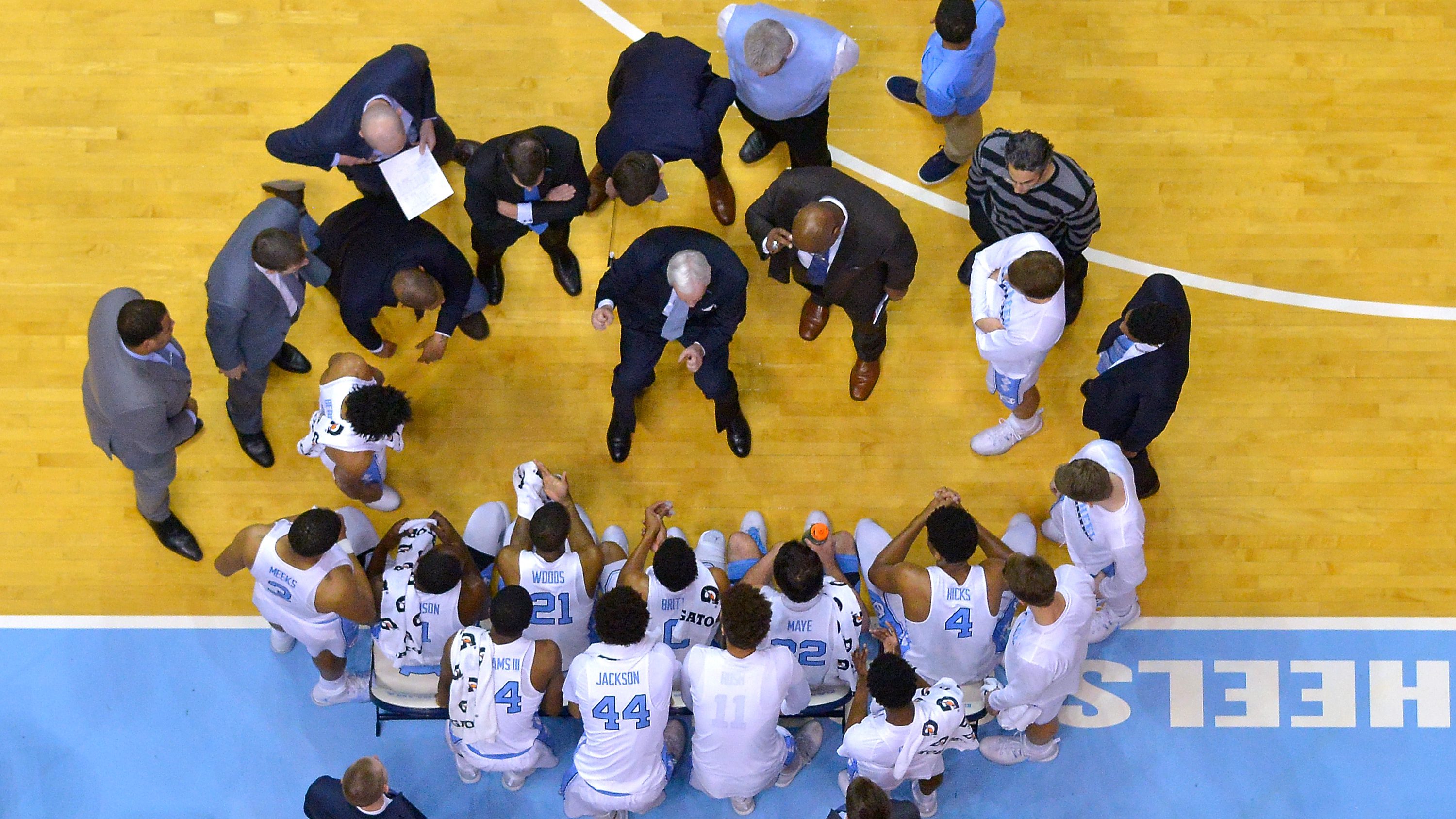 "You have to teach the system," May said. "It's hard [to learn], but once you get it? I can go right now and run everything these guys run because I played in it, but you still have to go out there and teach guys how to make the right plays, how to be in the right spots at the right moments. All that is coaching. That doesn't just happen because you're there."
"As much as it looks like we may be in freelance and doing our own thing," added Jackson, "Coach has taught us the principles that we need to use for that."
That's part of the reason North Carolina is so hard to guard. Scouting at this level has reached the point where every team knows every set and every call for whoever they're playing. There are no secrets.
With North Carolina, there also isn't a blueprint. You don't really know what they're going to do because they don't even know what they're going to do.
It's not an easy thing to coach against, but it may be more difficult to coach.
Williams is turning over the decision-making power to his players, and that's not an easy thing to do in a sport where coaches tend to be control freaks. But he does that knowing that he's put in the work in practice, that he's taught them — coached them — to do more than run a basketball play.
He's turned them into basketball players.
And that's why he can have success a higher rate than anyone else since the turn of the century by simply rolling the ball out.