It comes as no surprise that someone is attempting to profit from Duke star shooting guard Grayson Allen.
But Duke is doing everything they can to stop the production of an unflattering shirt about Allen.
According to a report from TMZ, Duke has issued a cease and desist letter to Smack Apparel Company for the production of this t-shirt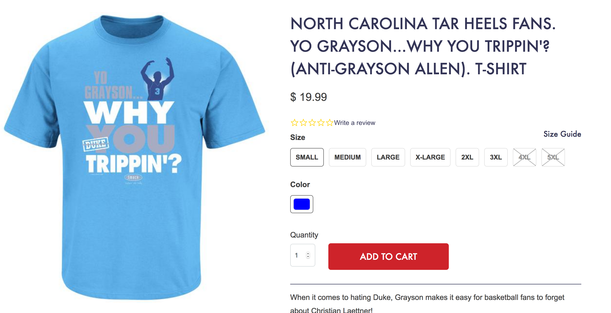 "Mr. Allen has not consented, and does not consent, to such use; nor has he authorized any agent or other person to grant consent to you for such use," and advising them that the of Grayson Allen's image for commercial production is forbidden," the cease and desist letter said.
Allen has become infamous for tripping incidents over the last two seasons as he's become one of the most polarizing figures in college basketball.
It was only a matter of time before someone made t-shirts about the tripping incidents and tried to sell them. This is something that is likely going to follow Allen wherever he goes for the rest of his career.