GLENDALE, Ariz. — He's the second-leading scorer and rebounder for Gonzaga, a 7-foot-1 rim protector who the Zags run offense through that doubles as the most important player on the roster not named Nigel Williams-Goss.
And 15 months ago that there were doubts about whether or not Karnowski would be able to walk again, whether or not he would be able to keep his left leg.
It all started on Dec. 1st of 2015. During a practice the day before Gonzaga was scheduled to play Washington State. Karnowski was knocked off balance while in the air and landed squarely on his back. He ended up sitting out the game against the Cougars, and within days, it got to the point that he was bedridden, struggling to fold his frame into the shower, let alone get into a car or walk around campus and go to class.
"It was mostly my lower back, maybe a little bit going to my legs, but basically any movement that made my disc have pressure was painful," Karnowski said. "I don't wish any of that happen to my worst enemy, it was that kind of pain."
The staff initially thought that Karnowski would miss a week or two, certainly on schedule to make it back before the end of the season, but Karnowski kept getting worse.
"It's not getting better, it's getting worse," assistant coach Tommy Lloyd said. "He's dropping a bunch of weight and profusely sweating in his bedroom. It's bizarre. They do another test a couple weeks later, another MRI, and the doctor came out and was like, 'This can't even be the same guy. From two weeks ago until now, how is this so different?'"
Turns out, 'Przemmy' had a staph infection.
In his back.
"Nobody knew," Lloyd said. "He had a staph infection inside a bulged disc. The staph ate through the disc, and it looked like [an] oyster, that's what the disc looked like. It was totally fried. Gone. That's what was causing the illness, the weight loss."
The medical staff discovered the staph infection when Karnowski showed them an abscess that had developed on his left calf. By the time the Gonzaga team doctor got a glimpse of it, the abscess was 10 centimeters long, three centimeters wide, four centimeters deep and hot to the touch.
"It was a nasty puss pocket," Lloyd said.
It was staph.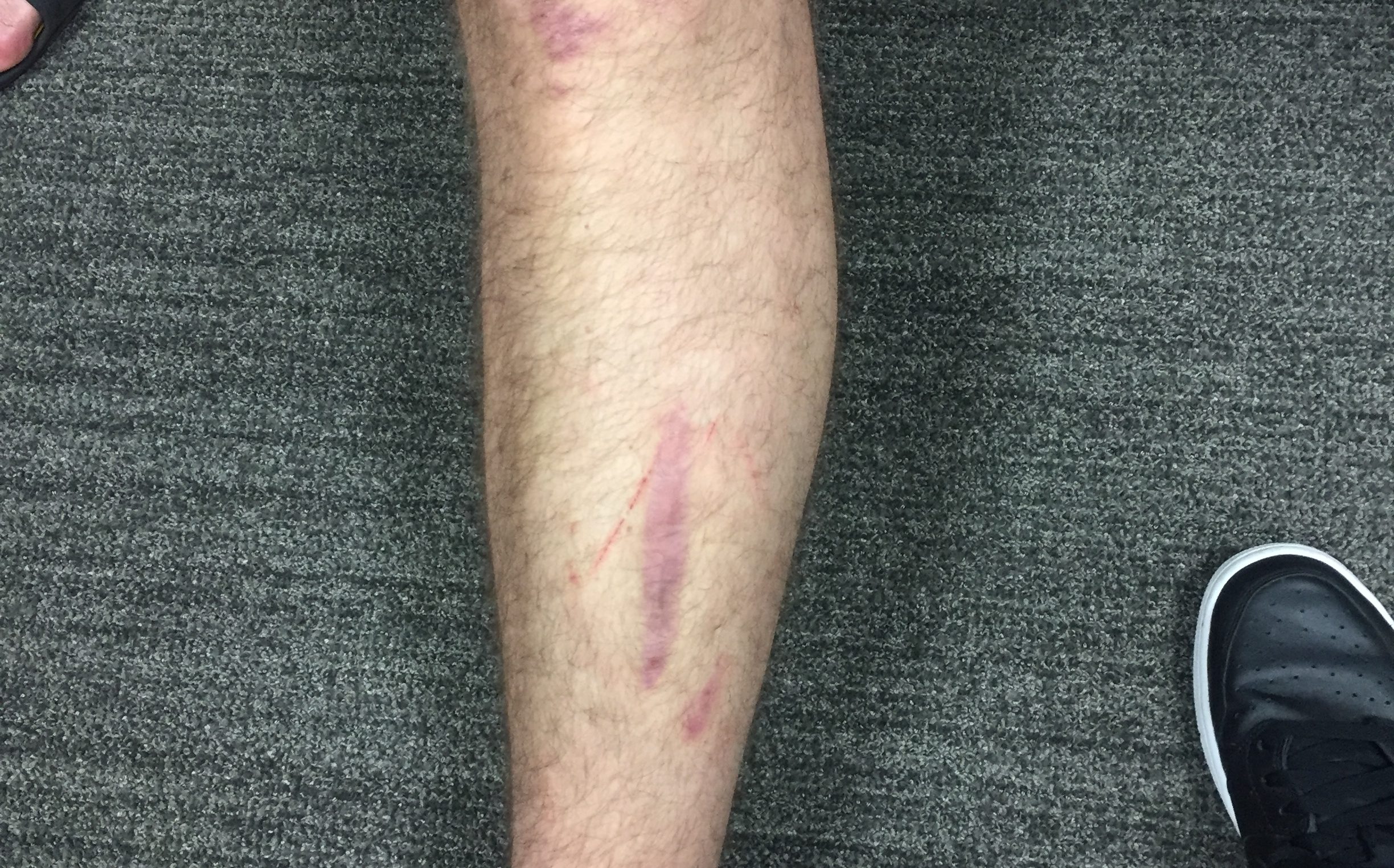 That's when they knew that Karnowski needed surgery, and quickly. Within a day, Karnowski was going under the knife. By the time the surgery was done, Karnowski was down from 310 pounds to 238 pounds, including the two titanium plates that are now fused to his spine. The concern for Karnowski was no longer whether or not he would be back before the end of the season. Not only was his basketball career potentially over, the presence of staph meant that Karnowski could lose his leg, if not his life.
"Obviously it wasn't the most fun time of my life," Karnowski said.
The surgery went as well as could have been hoped, but that was only the start of the battle.
Karnowski had lost more than 70 pounds. He was bedridden for a month before he underwent invasive surgery on his back.
"He went on a nine month deal of heavy antibiotics," Lloyd said. "He was literally on an IV bag for four months, carrying around an IV bag. They had a nurse come to his house and do fluid stuff with him. They were pumping antibiotics directly into him."
By the time Karnowski was ready to start rehab, it was still unclear whether or not he would be able to continue his basketball career.
"The doctor was confident," Lloyd said. "No guarantees, this isn't normal, but he said the stuff I put in him, that ain't gonna go wrong. Those brackets, they're titanium. It's how the rest of his body responds."
And that's where things got tricky.
"There really isn't a protocol for a guy that's 300 pounds and plays this level of basketball with metal plates in his back," athletic trainer Travis Knight said. "There wasn't a precedence."
The process started with rehab on one or two days a week, whatever Karnowski was able to handle.
"We were just cautiously adding another thing each week and see if there's a set back," Knight said. "'Rate your soreness, rate your back'. It's OK if his soreness is a 6 or a 7 as long as his back is a 3 or a 4."
From there, the next step was to slowly build up Karnowski's core strength and flexibility, doing things as simple as re-teaching him how to stand up and pick things up off the ground. Karnowski is big enough that he didn't need to use weight to start building strength — "If he's doing a body weight exercise, that's like other guys doing a crazy amount of weight," Knight said — but he had to start from the beginning when it came to the form and technique on those lifts.
"He relearned how to lift better than he ever did before, because he couldn't take those things for granted anymore," Knight said. "When he learned how to stabilize, now all the other movements he made were better. then we got into jumping, jump rope and running, it was about two months for that."
Eventually, Karnowski turned a corner no one expected him to. In June, he made a trip to the doctor who told him that not only could he start running and jumping, but he was cleared to play 5-on-5 if he needed to play 5-on-5.
That created another obstacle for Karnowski to work through: trusting his body. Would he still be willing to do box jumps? Would he still be willing to battle for position or dive on the floor for a loose ball?
"It took a while to trust my body because it's been such a long surgery and a lot of stuff that impacted my body," Karnowski said.
But he got there.
"He wasn't going to be afraid of this thing. It wasn't going to hold him back, he was going to go for it," Knight said.
And it didn't.
By October, Karnowski was going full court. By opening night, he was playing in college basketball games. Today, he's prepping to play in the Final Four by notching 12.2 points and 5.8 boards while averaging 23 minutes a night.
In less then a year, he went from possibly losing his leg to starting at center for a team with a real shot to win a national title.
"What he went through last year, with his back injury where we didn't think he was ever going to walk again normally and just function, I mean, getting in and out of a car and doing things like that, to now moving and playing the way he is?"
"It's a miracle."