GLENDALE, Ariz. — To understand just how far Gonzaga has come, you need to first understand what the program was 27 years ago.
"It's leaps and bounds different," Gonzaga Athletic Director Mike Roth said. "It doesn't even resemble [the old program]."
This was before the $25 million, 6,000-seat McCarthy Athletic Center was built, when Gonzaga was still playing in a gym that was straight out of high school, when tickets where $10 a pop and fans could sit anywhere they want. This was before they had a weight room for the athletic teams, when the basketball players would be doing squats next to the college guys doing curls and coeds on the treadmill. This was when Gonzaga, a little Jesuit school on the Washington-Idaho border, was paying their head coach a salary equivalent to a middle school math teacher.
"In no way shape or form could you ever envision what we [built], from that to right now," head coach Mark Few said. "It's 500 percent different from that school, how we travel, how we're treated. We have a new arena."
"I mean, we have expectations. We're expected to win. And we're expected to advance. Heck, we're expected to get to a Final Four, and if we don't get to a Final Four, it's a disaster and we're a failure. You know? So back in those days we were innocent and foot loose and fancy free. And those were the good old days."
---
---
What makes Gonzaga's rise from the depths of the WCC to being a top 15 program in college basketball is truly unique, a path that very likely will never be replicated for one, simple reason: The people that were a part of the program when the Zags started their run are still in the program nearly two decades later, as they gear up for the first Final Four in program history.
Mark Few has been with the program for 27 years, nine as an assistant and the last 18 as the head coach. His boss, athletic director Mike Roth, the man responsible for promoting Few all those years ago, has been in that position for 20 years and with the university for 30.
He's also the man responsible for making sure that Few hasn't left.
Because there have been overtures. From Indiana. From UCLA. From Oregon, the school that his parents attended, the school that he grew up 15 miles from.
Few said no every time.
"I've been lucky to keep Mark over these years," Roth said. He's wanted to stay. We've been doing the right things to make sure we give him the things he needs."
"And I'm not talking about contracts. That's easy stuff. I'm talking about facilities, supporting the program, how we travel, how we provide him opportunities to recruit, those types of things."
That's the other key to Gonzaga's success. It's not just that they've been able to keep Few around for 19 seasons, it's that they've provided him with the financial support needed to be able to compete with the big boys. They built the nicest arena in their league. They're in the process of building a state-of-the-art practice facility. They charter flights to road games. They charter flights for recruiting. A lot of people have invested a lot of money into building this program, and it's paying dividends.
The proof?
Look at the caliber of player they're in the mix with. Take Zach Collins, a McDonald's All-American and a potential one-and-done first round pick, committed to Gonzaga over the likes of Arizona, Oregon and Cal. They landed Nigel Williams-Goss, a first team all-american this year, left Washington, his hometown school where he was a first-team all-Pac 12 point guard, and enrolled at Gonzaga, the U-Dub's biggest in-state rival.
"We need to make sure that if we're here in the Final Four, the teams we're playing against in the Final Four that we're doing the same kind of things," Roth said. "It takes players. Mark can be a great coach, but if we don't have players, we can't win games."
"I thought our teams, even back to '99, had shown that they could compete if given the opportunity on the national level," Few said. "And we followed up: Sweet 16, Sweet 16."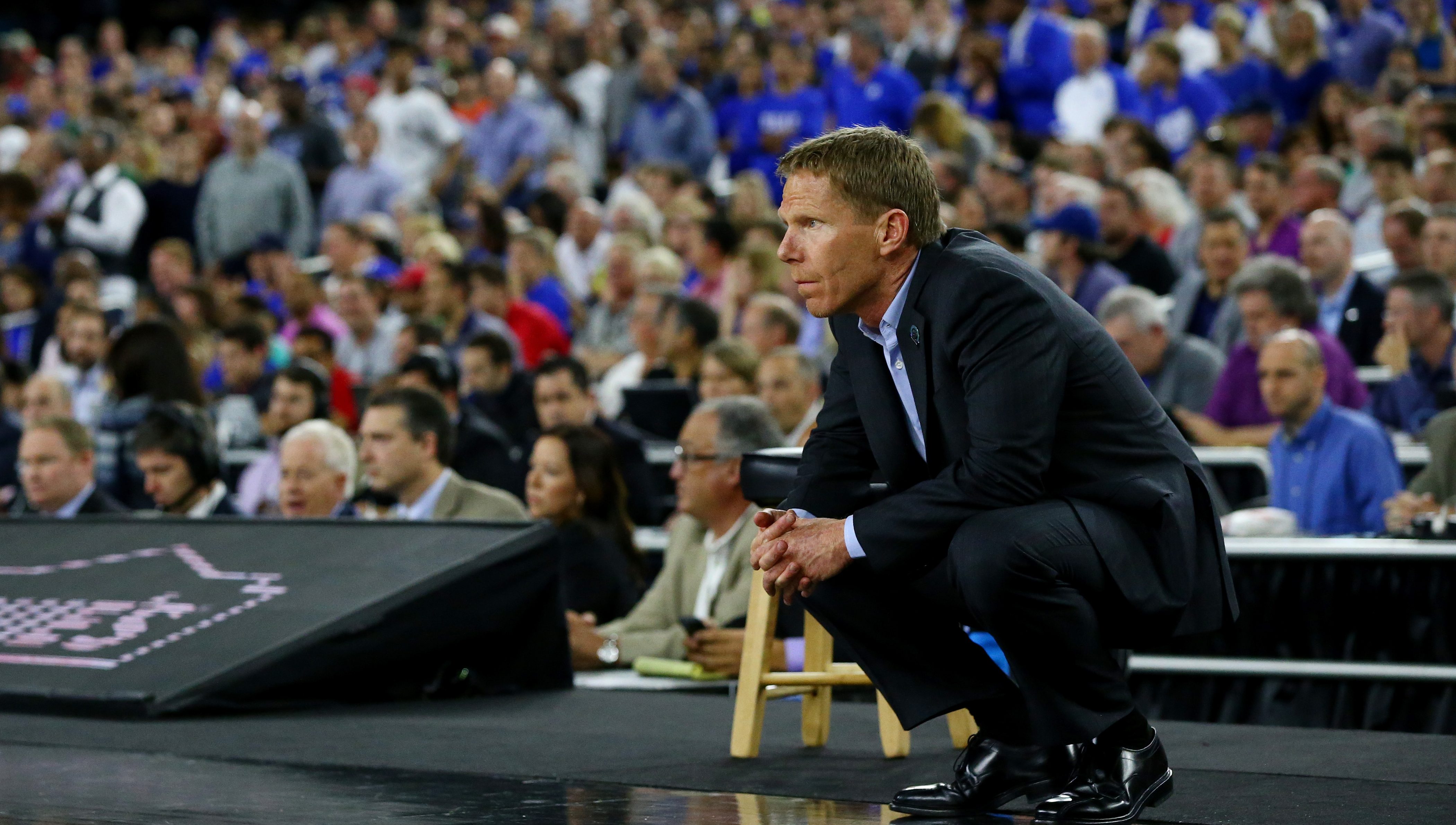 "Then we got Turiaf and Morrison and guys like that, and I felt we were getting the type of players that we could compete on the national level. And all that time we were staying nationally relevant. Maybe not for this particular weekend, but we were, you know, definitely first and second weekend-type of program, which is pretty good."
The only comparable mid-major program is Wichita State, but even that isn't all that similar. For starters, the Shockers were a successful program before Gregg Marshall showed up, and he's turned that from a really good Missouri Valley program into a top 30 program.
"The way I refer it to is Mark made Gonzaga his next job," Marshall said. "I make Wichita my next job instead of moving to an intermediate step. More money, whatever. We decided not to leave. We've had opportunities to leave, but I didn't see them as being head and shoulders above Wichita State."
Where Few separates himself, however, is that Gonzaga never had to jump to a bigger league to survive. VCU went from the CAA to the Atlantic 10. Davidson went from the SoCon to the Atlantic 10. Butler went from the Horizon League to the Atlantic 10 to the Big East.
Gonzaga has remained in the WCC, dominating their league, recruiting pros and — perhaps the best sign of what this program has turned into — scheduling neutral site non-conference games with the best programs in the sport.
No one else can claim that.
And no one else ever will.