1. Gonzaga's chance to win a national title: To me, this is the most fascinating part of the Final Four, and it's not because Gonzaga needs to win to make the statement that they are an elite college basketball program. I don't believe that to be true or a fair assessment of what they are right now. The Zags are a perennial top 15 team, they've reached 19 straight NCAA tournaments and won in 16 in those 19 dances, they recruit McDonald's All-Americans that are talented enough to go one-and-done and they currently start an All-American point guard that began his career playing for arch-rival Washington.
They're doing just fine.
What would make this story so incredible is the rags-to-riches ride that Gonzaga is on. 25 years ago, Gonzaga was thought of as the worst job in the WCC. They don't have a natural recruiting base — Spokane is basically in Idaho, it ain't Seattle — and there weren't facilities in place to set that program apart from any other in the league. They didn't reach an NCAA tournament until 1995, but by 1999 they were in the Elite 8, they reached the Sweet 16 in back-to-back years after that, and the rest is history. They went from a high school gym to an arena that holds 6,000 people and is a bucket-list destination for all college hoops fans. They went from not having a weight room to chartering flights for recruiting trips.
They went from the bottom of Division I to the pinnacle of the sport. Completing that journey with a national title would only be fitting.
2. North Carolina's redemption run, Roy Williams one of the greatest ever?: One year ago, North Carolina was on the receiving end of one of the most soul-crushing title game defeats ever. In any sport. To erase a 10-point deficit in the final five minutes against Villanova, hitting a miracle three with 4.7 seconds left to tie the game, only to have it disappear with one Kris Jenkins jumper is brutal.
But the Tar Heels, despite losing Marcus Paige and Brice Johnson, are right back in the Final Four as the favorite to win the title. And if they do win, it may be time to start calling Roy Williams one of the greatest college basketball coaches of all-time. As in top five. Think about it like this: If Roy cuts down the nets again, he'll have won three national titles in a 12-year span and become one of just six men — John Wooden, Mike Krzyzewski, Adolph Rupp, Jim Calhoun, Bob Knight — to win that many rings and one of just three to do so in the modern era of college basketball, since the tournament expanded to 64 teams in 1985.
He's won eight ACC titles in the last 14 years compared to Coach K's three. He's been to five Final Fours in the last 14 years and nine total, the fourth-most of all-time. Most think of Williams as a coach that just rolls the ball out there, but maybe it's time we starting giving him credit for being one of the greatest to ever do it.
3. Frank Martin has South Carolina in the Final Four: While Gonzaga is the mid-major program in this Final Four, the "outsider" so to speak, the program that doesn't belong here is South Carolina. The Gamecocks have little to no basketball history to speak. This is just their fifth NCAA Tournament since 1974. Prior to this season, they had never won back-to-back games in the NCAA tournament. They lucked into Frank Martin because this was a comfortable landing spot when he wanted out of Kansas State because he didn't get along with his boss.
And now Martin, who is an underdog in his own right, is just two games away from winning a national title. Who would've thought that any of that was possible?
4. West Coast is back!: For the first time since 2008, we have a team from went of the central time zone playing in the Final Four; two, actually. That also means that we may end up getting our first national champion that's further west than Kansas since Arizona won the title in 1997. Mike Bibby was the point guard of that team. His son was a freshman at South Florida this year. It's been a while.
5. Dana Altman's handling of the Oregon rape case: Altman probably should have been fired three years ago. The basics: days before the start of the Pac-12 tournament, three Oregon players — Brandon Austin, Damyean Dotson and Dominic Artis — were accused of sexual assault by a female student at the university. Two of those players played in the Pac-12 and NCAA tournaments, although Altman claimed he did not know details of the investigation — the allegations, the accused, etc. — only that there was an investigation, so he did not suspended his players.
Two months later, the graphic details of the allegations were released in a police report, and the three players were dismissed from the program. It also should be noted here than Austin was brought into the program despite having a previous sexual assault allegation hanging over his head, a fact that Altman also claimed ignorance of.
Altman will be asked about this.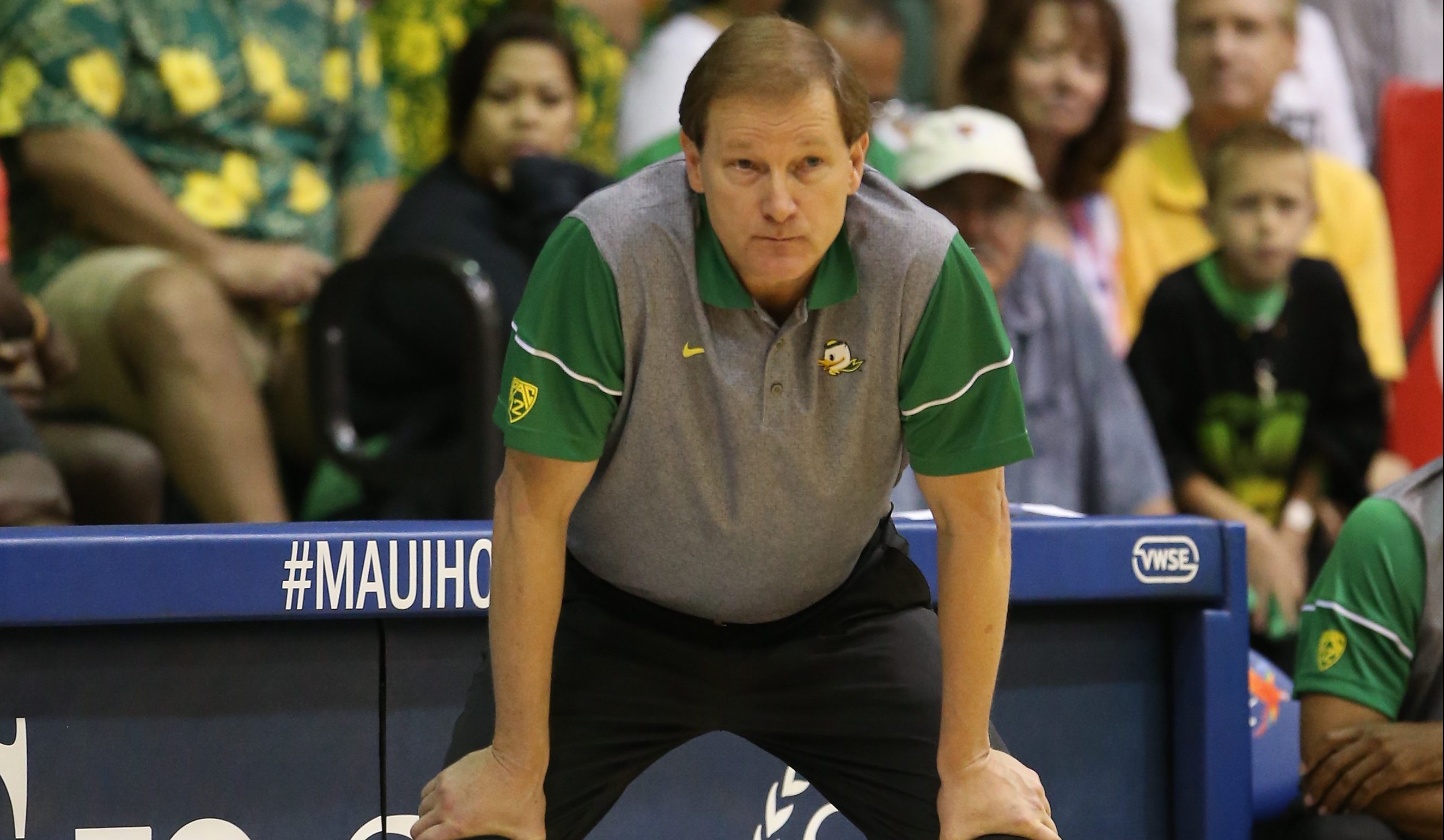 6. The one-and-done factories aren't in the Final Four: Duke got bounced in the second round. UCLA and Arizona lost in the Sweet 16. Kentucky and Kansas went out in the Elite 8. Markelle Fultz, Dennis Smith Jr. and Jarrett Allen didn't make the tournament. Miles Bridges and Jonathan Isaac lost in the first weekend and no one thought much of it. Given just how loaded this freshmen class was, i's a pretty surprising result that there are no one-and-done stars in the Final Four.
There are a couple of freshmen that may have the opportunity to turn pro this spring — Gonzaga's Zach Collins and North Carolina's Tony Bradley — but those two played their way into being potential first round picks coming off the bench. They weren't recruited as one-and-dones.
What does this say about the one-and-done culture?
Probably nothing beyond the fact that Kentucky lost on a buzzer-beater and Kansas played like Kansas State against Oregon. But it is worth noting.
7. Can North Carolina win a title while waiting for the NCAA to rule on them?: This is probably going to end up being the elephant in the room every time that Roy Williams steps up to the podium to speak this week. As you are probably well aware, the UNC athletic department has been mired in a scandal involving fake classes that helped keep athletes eligible for what feels like a decade. Due to legal battles regarding the Notice of Allegations, the case has been pushed back and pushed back and pushed back again. At this point, I think that the sun will burn out and Jim Boeheim will retire before we actually get an answer here.
Here's the better question: If Williams wins a title this season, will this be his curtain call?