The nightcap on Saturday should be a thrilling matchup between the two big dogs left in the tournament.
It's something of a weird matchup: North Carolina wants to play fast but pounds the ball inside while Oregon is going to try and keep the tempo at a reasonable pace.
Here's a look at the second game at this year's Final Four:
WHEN: Saturday April 1st, 8:49 p.m.
BETTING LINE: North Carolina (-5)
THREE KEY MATCHUPS
1. Does North Carolina make Oregon go big or will Oregon force UNC to play small?: Without Chris Boucher available, Oregon has gone full-time to a small-ball look, playing Dillon Brooks at the four. North Carolina is never, ever going to play small-ball, as Roy Williams is one of the last remaining coaches that still plays two big men almost regardless of the situation. It's part of the reason that the Tar Heels are the nation's best offensive rebounding team.
Something is going to have to give. Maybe it's Isaiah Hicks, the guy that will likely be tasked with chasing around Brooks for UNC and who has developed quite the habit of getting into foul trouble. Maybe Dana Altman will be forced to play Kavell Bigby-Williams and Jordan Bell together to keep the Tar Heels for controlling the paint. Hell, Bell could very well end up looking like Ben Wallace once again and control the paint all on his own.
However it plays out, I can see this matchup being what changes things one way or the other.
2. How do the Tar Heels deal with Oregon's switching defenses?: The Ducks used a number of different looks against Kansas to take the Jayhawks out of a rhythm offensively. They played some man and they played some matchup zone, and it helped keep Josh Jackson and Devonte' Graham from finding any kind of a rhythm on the perimeter. I don't think it's a hot take to say that more than anything, it was Kansas missing shots they normally make that cost them in the second half, and Oregon's ability to change defenses and keep them off balance played a major role in that.
So how does North Carolina deal with those different looks? They're fall less reliant on the three ball than Kansas is, and their size might be able to nullify Bell's presence on the interior. It will also be interesting to see how the Ducks deal with Justin Jackson on that end, as they don't really have a player on the roster than can handle his height (6-foot-8), ability to put the ball on the floor and shooting touch.
3. Is Joel Berry II or Tyler Dorsey better?: Justin Jackson is North Carolina's best player and was deservedly named an all-american for the Tar Heels this season, but North Carolina goes as Joel Berry II goes. He rolled his ankle in UNC's first round win over Texas Southern and shot 3-for-21 in two games during the first weekend, one of which was a near-upset at the hands of Arkansas. When he was back near 100 percent, he had 26 points on 8-for-13 shooting in a beatdown of No. 4 seed Butler in the Sweet 16.
Berry has a favorable matchup in the back court on Saturday, likely drawing freshman point guard Payton Pritchard when Oregon goes man-t0-man, and if he's healthy, he should be able to take advantage of that. The problem? Berry rolled his other ankle against Kentucky on Sunday. He'll have six days to get back to being himself, because the Tar Heels are going to need him.
Along those same lines, Brooks has been Oregon's best player for two years, but Tyler Dorsey is playing as well as anyone in the country right now. When he's putting up 24 points a night, Oregon is a different — a better — team. I expect that he'll have to deal with Theo Pinson, who is UNC's best perimeter defender and, at 6-foot-6, will have a size advantage on Dorsey.
Odds are pretty good at this point that one of those two is going to have a big game.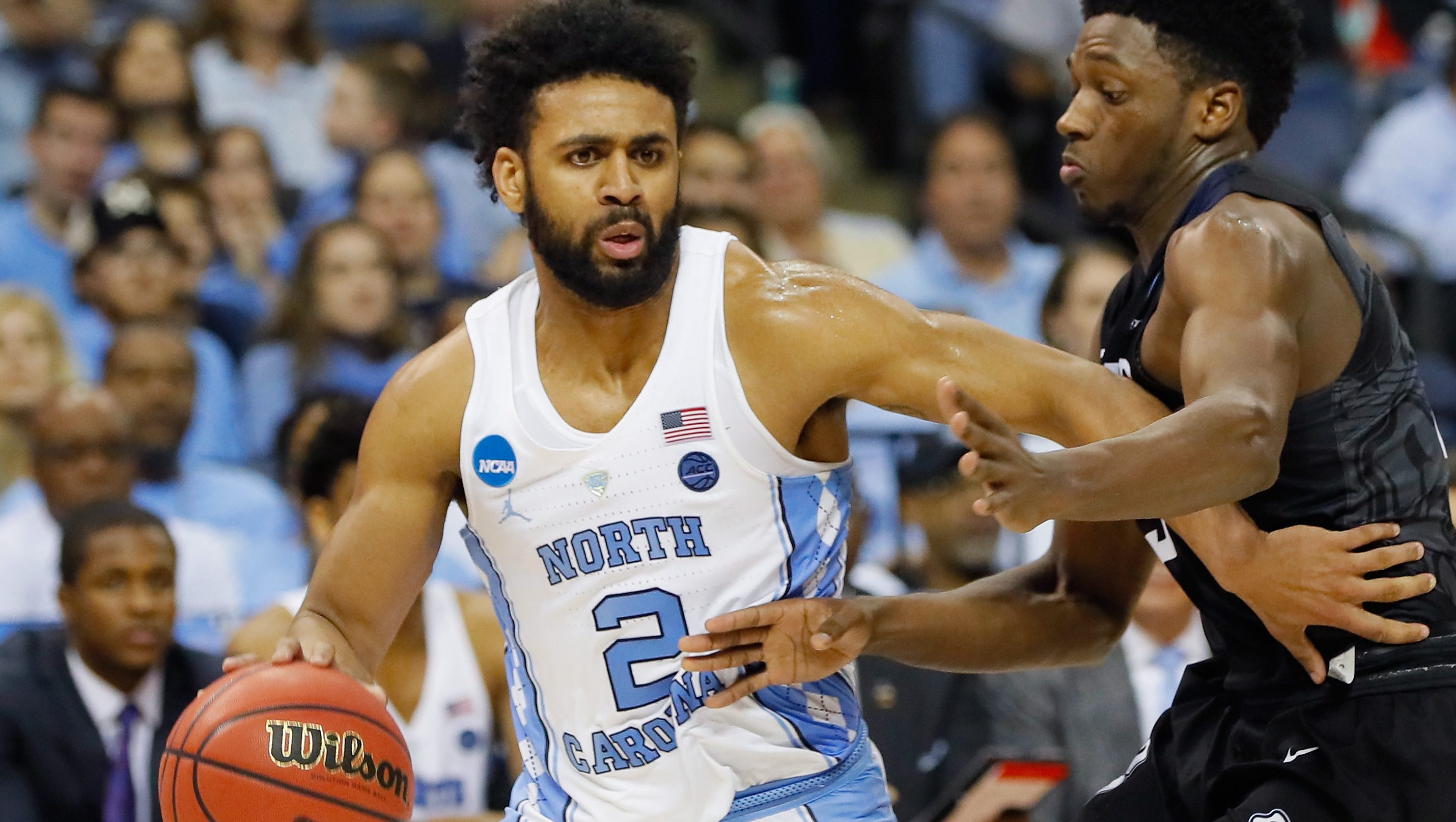 THE BEST STORY LINE: Everything about this North Carolina run is fascinating, so take your pick here:
The Tar Heels, just a year removed from a brutal, heart-breaking, soul-crushing loss at the buzzer to Villanova are back in the Final Four as the favorite to win the national title.
For the second straight year, the Tar Heels are in the Final Four with the weight of an NCAA investigation looming over them. The NCAA's ruling on the academic scandal involving the athletic department keeps getting pushed back, which means that we'll be hearing from plenty of people that UNC shouldn't even be allowed to be eligible for this tournament. Trust me. It'll be a thing.
If North Carolina does win, where does Roy Williams rank among the greatest coaches of all-time? He'll be one of just six with three national titles.
CBT PREDICTION: North Carolina (-5)