NEW YORK — It was after he finished watching South Carolina cut down the Madison Square Garden nets, after he had spent the better part of 30 minutes giving interviews on the court, after he was spotted by the CBS cameras, with a fist raised and tears pooling under his eyes, that the enormity of what he had just witnessed hit Darius Rucker.
"Gosh," he said to everyone and no one in particular as he left the arena floor and made his way through the bowels of the Garden, "I can't believe that just happened."
The 'that' that Rucker, South Carolina's most famous and, quite possibly, biggest fan, was referring to was a 77-70, come-from behind win over No. 4 seed Florida that jettisoned the seventh-seeded Gamecocks through the Elite 8 and into the Final Four. Prior to this season, the Gamecocks hadn't been to the NCAA tournament in 13 years. They had been to four NCAA tournaments in the previous 43 seasons, and they had never won back-to-back tournament game.
As in not ever.
"We're in the Garden, watching the Gamecocks play to go to the Final Four," Rucker said. "If you'd have told me that ten years ago I'd have told you that you were on crack."
That's the program that Frank Martin inherited in 2012, when he left Kansas State following a falling out with his athletic director, John Currie. Like South Carolina, Kansas State was hardly considered a destination job when Martin was at the helm, but he was able to build off of a foundation created by Bob Huggins. Martin had been to four NCAA tournaments in five years with Kansas State when he made the decision to leave. Nothing is more important to Martin than loyalty. "He's always had a core group of people that he's counted on," his agent, Bret Just, said, and Currie was not one of those people.
The straw that broke the camel's back came during the 2012 NCAA tournament. Kansas State was a No. 8 seed, squaring off with No. 1 seed Syracuse when Martin was informed by Currie that Jamar Samuels, one of his best players, would not be allowed to suit up. The school had stumbled upon information that Samuels had received a wire transfer for $200 from his AAU coach, and he was going to be suspended.
And that was that.
Martin was off to South Carolina.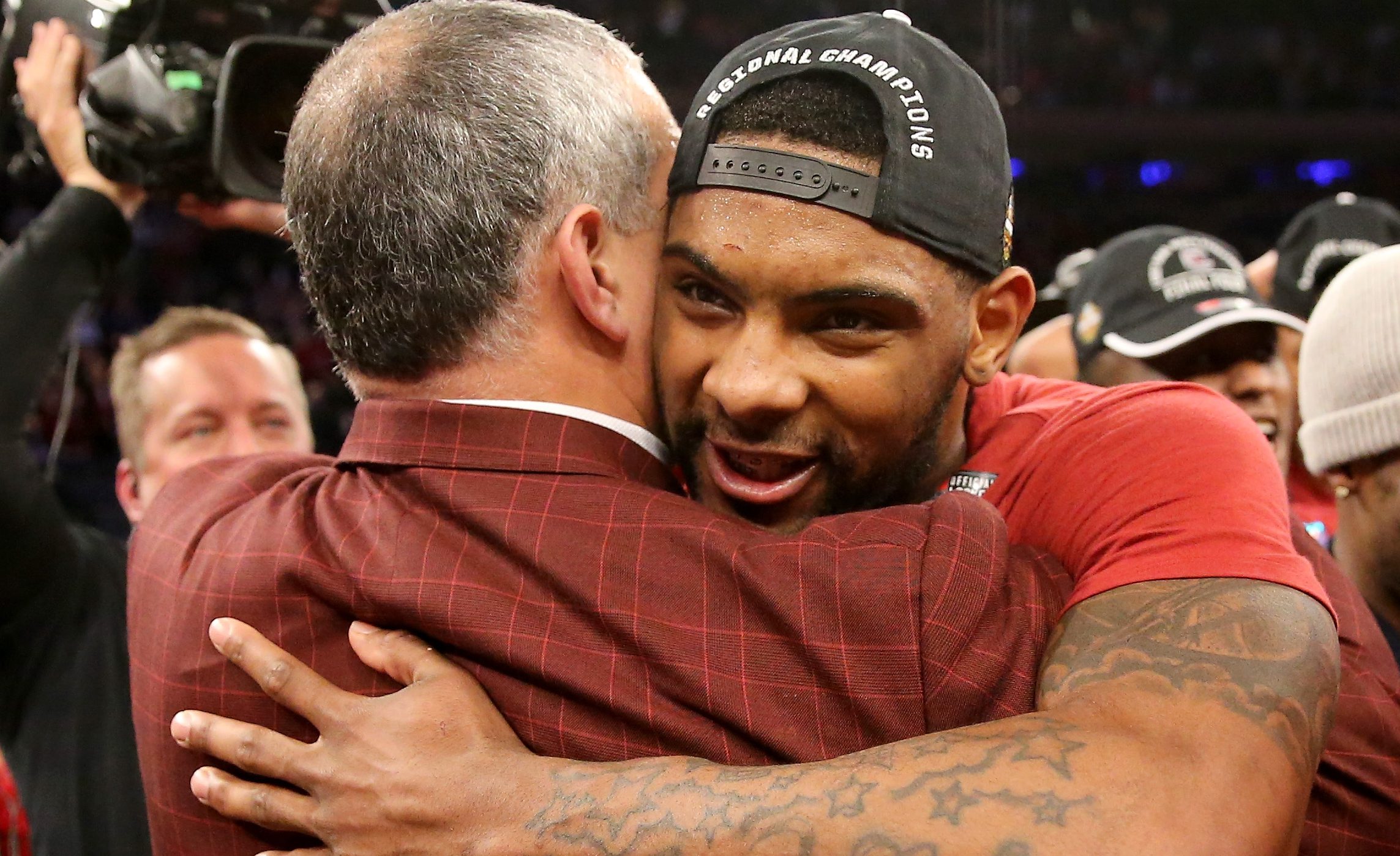 "It was a situation where we had to go," associate head coach Matt Figger, who has been with Martin for the last decade, said, and it wasn't exactly the easiest or smartest decision to leave. Most understood why Martin had to make the change that he made — he was offered a hefty raise and he had the chance to leave a place of employment where he did not get along with his boss — but it wasn't as if Martin was climbing the ladder. If anything, South Carolina was a step backwards, as Martin took over a program with less pedigree and with a significant building job in front of them.
"I didn't really know until I got into it. It was a much different deal. It looked easier on the surface than what it really was," Figger said. "The best players transferred. Bruce Ellington, he's with the 49ers now, he was the one guy that we could trust and he played football half the year. Couple of the guys that were the holdovers, I don't think they believed in what our vision was. After a year, some of them left."
"We had to start this from scratch."
The process was slow in the early stages. Martin replaced Darrin Horn, who had won just 10 games and finished dead last in the SEC in his final season on campus, and didn't post a .500 record until his third season in Columbia. Even then, that team went just 17-16. He won 15 SEC games in his first three years combined. After a late season swoon cost South Carolina a shot at the 2016 NCAA tournament, there was speculation that another year without a trip to the Big Dance could spell the end of Martin's time with the Gamecocks.
"It was hard!" Martin's wife, Anya, said. "You see he's losing his hair. It's all turning white. It was tough in the beginning. I had to ask him a couple of times, 'Why here?'"
The easy answer is that it wasn't Kansas State, but the truth is more complicated than that.
Martin is not a man that is afraid of a challenge. He's not intimidated by a job that isn't easy to do, not when you come from where he's come from, when you've coached on the path that he has coached.
Martin got his first job when he was 12 years old, working at a Dairy Queen to help his mom pay the bills when his dad walked out on them. His coaching career started a year after he graduated high school, when he was just 19 years old.
"I tore my ACL the year before," Martin said, "and my high school coach asked me to come help him, because the kids in the neighborhood respected me so much."
He was nothing more than an assistant with the team at Miami Senior High School, helping out when and where he could, when the head coach of the JV team didn't show up for work one day. Shakey Rodriguez, a legend in the Miami High School basketball community, told Martin he would be coaching that day, and he hasn't looked back since.
"By his second season," Martin's mother, Lourdes, beaming as she held back tears of joy, said, "he was 22-0."
Even as Martin was coaching, he was still working on the side, most famously as a bouncer in Miami's nightclub scene. He needed a degree, so he took night classes at Miami-Dade College before enrolling part-time at FIU. His future was capped if he didn't graduate.
"He made it out," she added, holding on to her grandson to steady herself as the moment washed over her. "He had many, many jobs, and then God was up there and blessed him."
Martin would go from the high school ranks to Northeastern, taking a paycut just to get his foot in the door. He spent four years as an assistant and met his wife — "My wife turned me down seven times to go out on a date," he said. "Seven. Seven. And the day she made the mistake of going out on a date with me, I never let her go." — before moving on to Cincinnati, where he joined forces with Bob Huggins, spending two seasons with the Bearcats before following Huggins to Kansas State. He replaced Huggins as Kansas State's head coach a year after joining the program and just seven years after he joined the collegiate coaching ranks. He would take the Wildcats to more NCAA tournaments in his five seasons at the helm than they had been to in the previous two decades combined.
"Frank's never steered away from a challenge as long as I've known him," Anya said. "He's overcome any obstacle in his way, just 'I'm going to make it work.'"
"He's a builder," Just said.
And he's done just that at South Carolina.
"I'm happy as any mom could be," Lourdes said. "Speechless, but not all the way. I have to talk to him about my air ticket."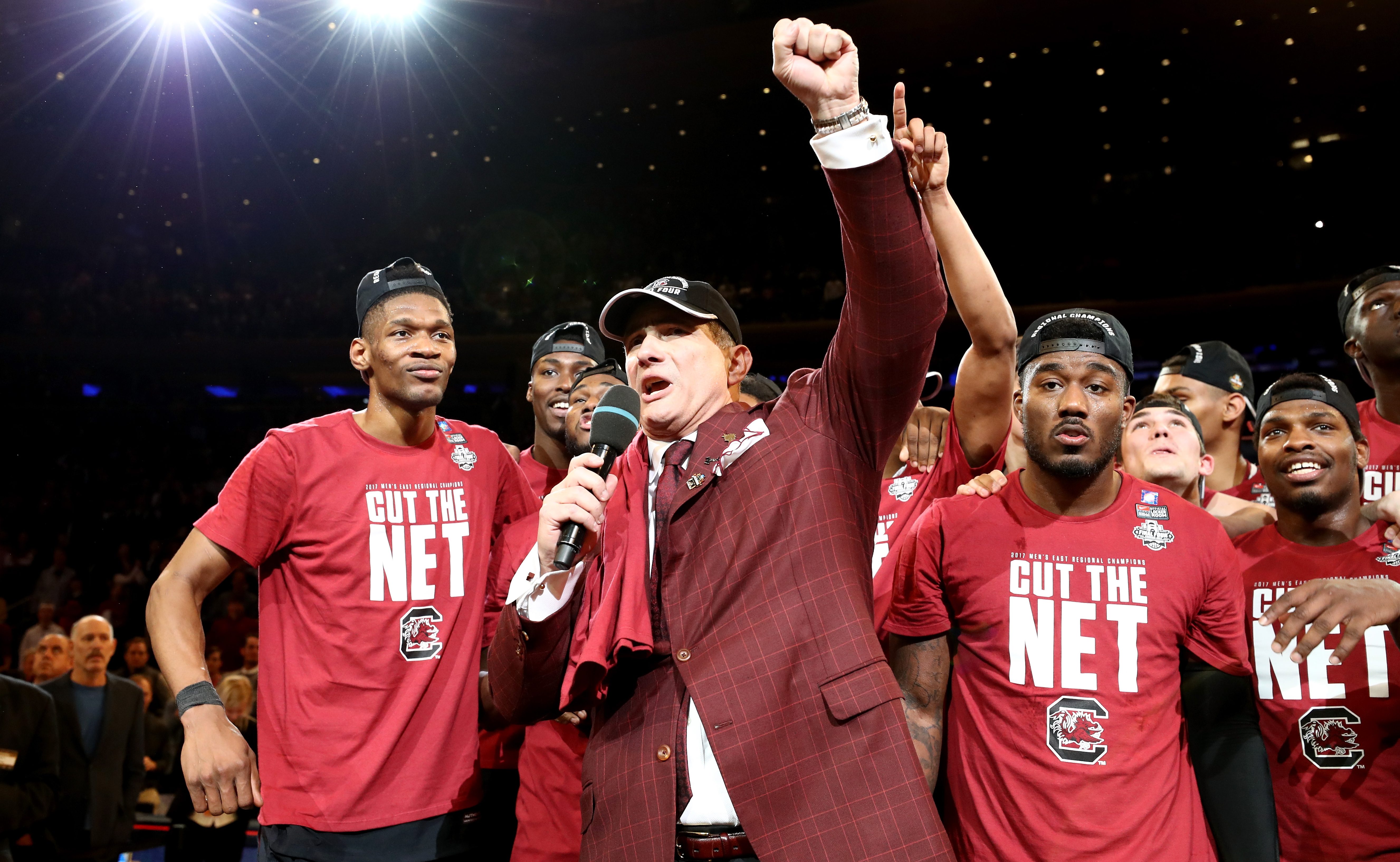 Martin spoke many times about the dream of leading this team to this moment, but he didn't always believe that the dream of taking the Gamecocks to the Final Four was a realistic possibility.
"When we beat Duke, Frank said 'Why not us?'" Figgers said, a motto that had become something of a rallying cry for the Gamecocks during the East Regional. "That's the first time we really talked about [winning a title]."
The team and the coaching staff weren't the only ones that never really gave this possibility much thought. College basketball at large — the fans, the media, opposing coaches — all had the same thought: "South Carolina in the Final Four? The same team that put up 86 points in four overtimes against Alabama? Lulz."
They showed us.
Over and over again.
South Carolina's star guard Sindarius Thornwell, who was named Most Outstanding Player in the East Region, mentioned in every press conference this weekend that no one paid attention to or respected the program prior to this run. Martin ranted earlier this year about the lack of local media coverage his team gets, particularly when they play on the road.
At this point in the season, most players get burned out of the media attention they get, answering the same questions over and over and over again.
I don't blame them.
On Sunday evening, after spending 25 minutes up on the dais for a postgame press conference, Thornwell was finally en route back to the locker room to celebrate with his team when he was pulled aside by a television reporter that needed just a couple more minutes of his time.
Thornwell, decked out in a East Regional Champs shirt and hat with the remnants of a net dangling around his neck, didn't mind.
"You gotta talk a lot," Thornwell said, "when you win."