NEW YORK — Frank Martin is at South Carolina for one reason: He and his boss did not get along when he was at Kansas State.
There were other factors at play — South Carolina had an opening, he was offered a raise, he is back on the East Coast — but at the end of the day, Frank Martin is probably still coaching in Manhattan, Kansas, if his athletic director hadn't forced him to hold star forward Jamar Samuels out of a second round NCAA tournament game against No. 1 seed Syracuse in 2012 after accepting a wire transfer of $200 from his former AAU coach.
"Please don't ask me any questions on it," Martin said after the game, his displeasure over the decision hidden about as well as Gregg Popovich hides his disdain for sideline reporters. "Because I had nothing to do with the decision. Any questions pertaining to this matter, please direct to John Currie, my boss."
Why else would Martin, who had been to four NCAA tournaments and an Elite 8 in five years as the head coach of the Wildcats, jump ship for a program that had been to four NCAA tournaments since 1974 and had never won back-to-back NCAA tournament games? When the Gamecocks hired Martin, they were coming off a 10-win season where they finished dead last in the SEC.
It wasn't exactly a destination job when Martin took over.
And Mike White may have had it worse at Florida.
Regardless of the sport, the hardest thing to do in coaching is to be the guy that replaces The Guy. Billy Donovan, with his two national titles and four Final Fours and ten total SEC championships, was unequivocally The Guy. Those are the shoes that White, who had never been coached an NCAA tournament game until he squared off with East Tennessee State on March 16th of this year, had to fill.
On Sunday night, in the unlikeliest region of this NCAA tournament, one of those two men will rise to the pinnacle of their profession, winning their way to the Final Four, a place not everyone thought was a possible when they signed their contracts.
---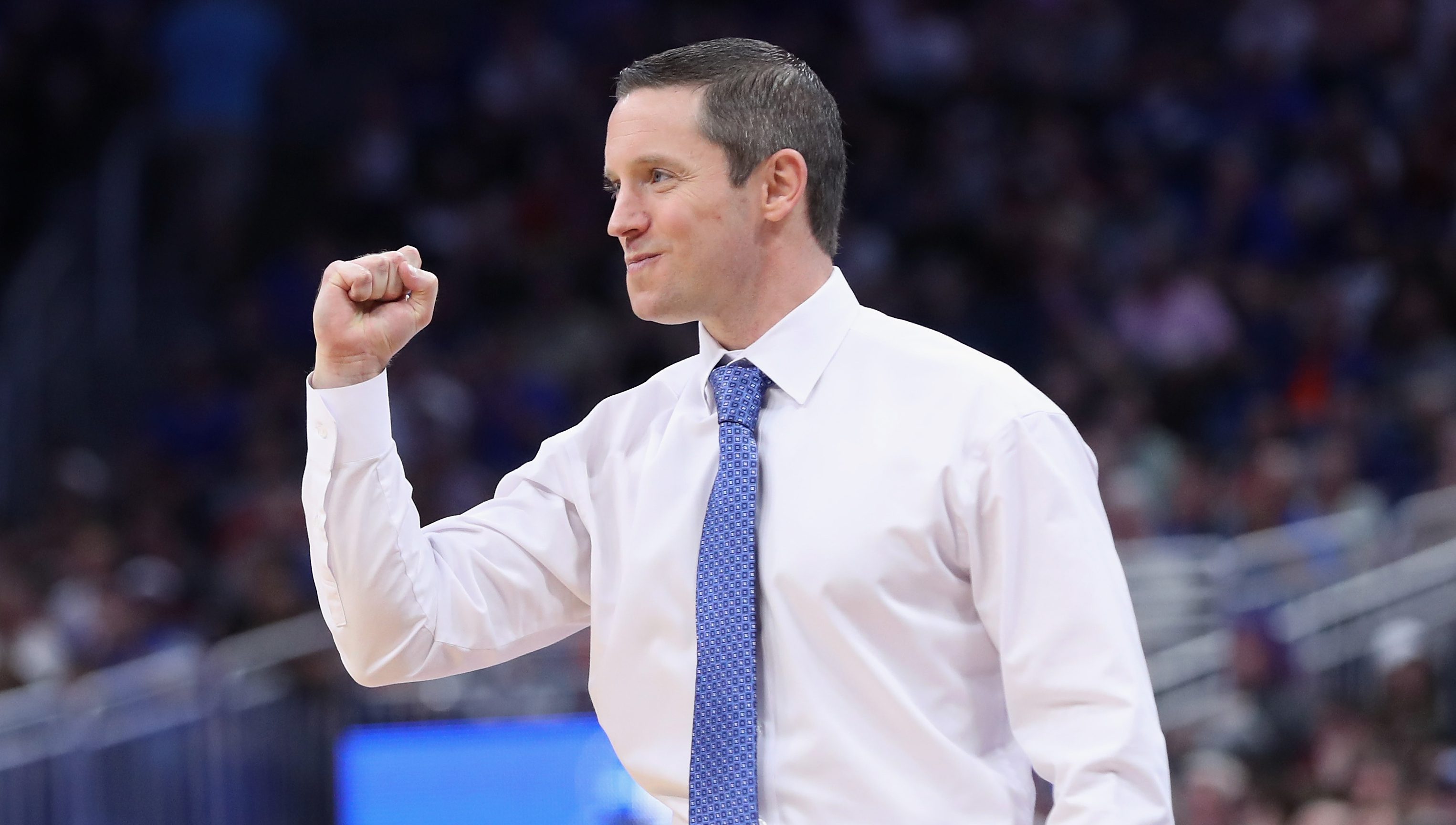 ---
If Frank Martin didn't win this season, if he had missed the NCAA tournament for the fifth consecutive season after taking over in Columbia, it would have been time for us to start wondering just how long he was going to last.
He didn't save his job by winning 25 games and earning a No. 7 seed on Selection Sunday, but he certainly kept himself from having to answer some tough questions heading into next season. Going five years without a tournament appearance at a Power 5 school is not the best way to earn a contract extension, even at a school like South Carolina, which doesn't exactly have much in the way of basketball tradition.
"I dreamt of South Carolina being in this moment," Martin said. "But I don't go about my job every day acting like we're getting there right now, this is the day, this is the year."
The difference now is that this may actually be the year for the Gamecocks, but it certainly didn't look that way a month ago, when, as Martin puts it, "we slipped a little bit." It started with a four-overtime home loss to Alabama where the Gamecocks mustered all of 86 points. They would go on to lose three of their next four games and entered the NCAA tournament having lost six of their last nine games, their offensive efficiency dipping into the 150s on KenPom.
Put another way, South Carolina didn't have the look of a team that was getting ready to take the college basketball world by storm.
They had the look, frankly, of every SEC basketball program not named Kentucky or Florida: Good enough to make noise in their league but not good enough to put together a run in a tournament featuring the best basketball programs in the sport. That characterization of #SECBasketballFever may not be fair, but it's the truth. There's a reason everyone is surprised by the presence of three SEC programs in the Elite 8, that the league is one win from Kentucky away from fielding half of the Final Four, and it's not because the conference has made a habit of outperforming their already-middling expectations.
Florida, however, doesn't fall into that same category, and that's part of the reason that White was is such a difficult spot when he took the job over. The Gators have won national titles. They were in the Final Four in 2014; senior point guard Kasey Hill played in that game. They expect to win in Gainesville, even if they only pay attention to those wins once football season comes to a close, and Donovan is the one to thank for that.
"I always said 'poor guy,'" Martin joked. "Whoever replaces Billy. Oh my God, poor guy."
To his credit, White says that he hasn't thought about the bigger picture, what it means to be replacing a future Hall of Famer, what it means to be able to maintain the success of a program with annual Final Four aspirations. The job is the job, whether you're replacing a guy that got fired or a guy that left to coach Kevin Durant and Russell Westbrook.
He does, however, concede that the job wasn't quite as easy as it may seem from the outside. Before he was even introduced as Florida head coach, White got Donovan on the phone to talk about the team that was about to be his, and Donovan told him precisely what he was going to be dealing with.
"I inherited a group that struggled under a Hall of Famer, that Coach Donovan struggled with," White said, "and told me that I would struggle with, in terms of some entitlement and some immaturity."
"They have come a long way. We have developed, our guys have developed, they have really matured. Some of it is natural, some of it is just natural maturity because sophomores are juniors now and juniors are seniors. … And then some of it is a little bit abnormal."
"Mike's been unreal," Martin said. "He's got those guys playing through his eyes. That's powerful stuff."
The result is that just two years into his tenure with the Gators and in the first NCAA tournament that he's ever been a part of, White has a chance to get to his first Final Four.
Just like Martin.
And on Sunday, one of them will be headed for Phoenix.
As unlikely as it may be.