NEW YORK — It was with a whipping and a whimper that Baylor's season can to an end on Friday night.
The final two minutes of the game wasn't actually a game. No. 7 seed South Carolina dished out a 70-50 beatdown that wasn't in doubt after the Gamecocks used an 18-0 run at the end of the first half to turn a rock fight into statement, and for the final two minutes of the game, the Gamecocks and, eventually, Baylor dribbled out the remaining seconds before joining arms at center court for a postgame prater.
It's the third straight year that Baylor has been bounced from the NCAA tournament by a team seeded lower than them. In 2015, it was R.J. Hunter's heroics that knocked his dad off of a stool and sent No. 14 seed Georgia State into the second round of the tournament. "I remember my brother's shot," he said, "and even though I'm a big fan of father-son stories because of it, I was a victim of the same thing with the Hunters."
In 2016, the Bears fell in the first round to No. 12 seed Yale, prompting one of the most memorable press conference moments in NCAA tournament history.
And on Friday night, it was South Carolina that sent the Bears into offseason hibernation.
"When you coach for a while and you make Elite Eights and Sweet 16, you kind of start taking it for granted that you will always be successful in March," Drew said. "But it's a good reminder to be here and know how hard it is."
It was a disheartening end to a season, a loss that will surely provide fodder for the people that traffic in 'Scott Drew can't coach' jokes, the irony being that the 2016-17 season was definitive proof that Scott Drew is almost certainly better at his job than you are at yours.
It's easy to see the seed next to Baylor's name on the TBS graphics, easy to remember that the Bears, at one point during the season, were ranked No. 1 in the country, and think that this Baylor team was destined for this kind of success. They have, after all, spent the better part of the last decade as an NCAA tournament participant and a factor in the Big 12 title race.
But that simply isn't true.
Baylor did not receive a single vote for the top 25 in the preseason AP Poll. They lost three starters off of a team that went 22-11 last season and spent much of the year on the cusp of the top 25. Drew has the reputation of being a recruiter, a guy that relies on the five-star, surefire lottery picks to win games, and if that's really who he is as a head coach, than he isn't very good at it. Baylor starts juniors and seniors, none of whom were considered more than a borderline top 50 recruit when they came out of high school.
Johnathan Motley, who had an all-american season and who played his way into being a first round pick, is who he is because of his development within Drew's program. Manu Lecomte is a better player than he was before he spent last season as a redshirt after transferring from Miami. The same can be said for Jo Lual-Acuil. Terry Maston and Jake Lindsey, critical role players for this team, were under-the-radar prospects that the Bears were able to identify.
"I'm proud of what the guys have accomplished this year," Drew said, "coming from not ranked to first time ever in school's history being ranked number one, tying the best record in the regular season."
There's a reason that Drew was a favorite for the National Coach of the Year award under a late-season swoon.
Drew put it best after Friday's loss, saying that the Bears "overachieved in many people's eyes."
That's almost always a result of coaching.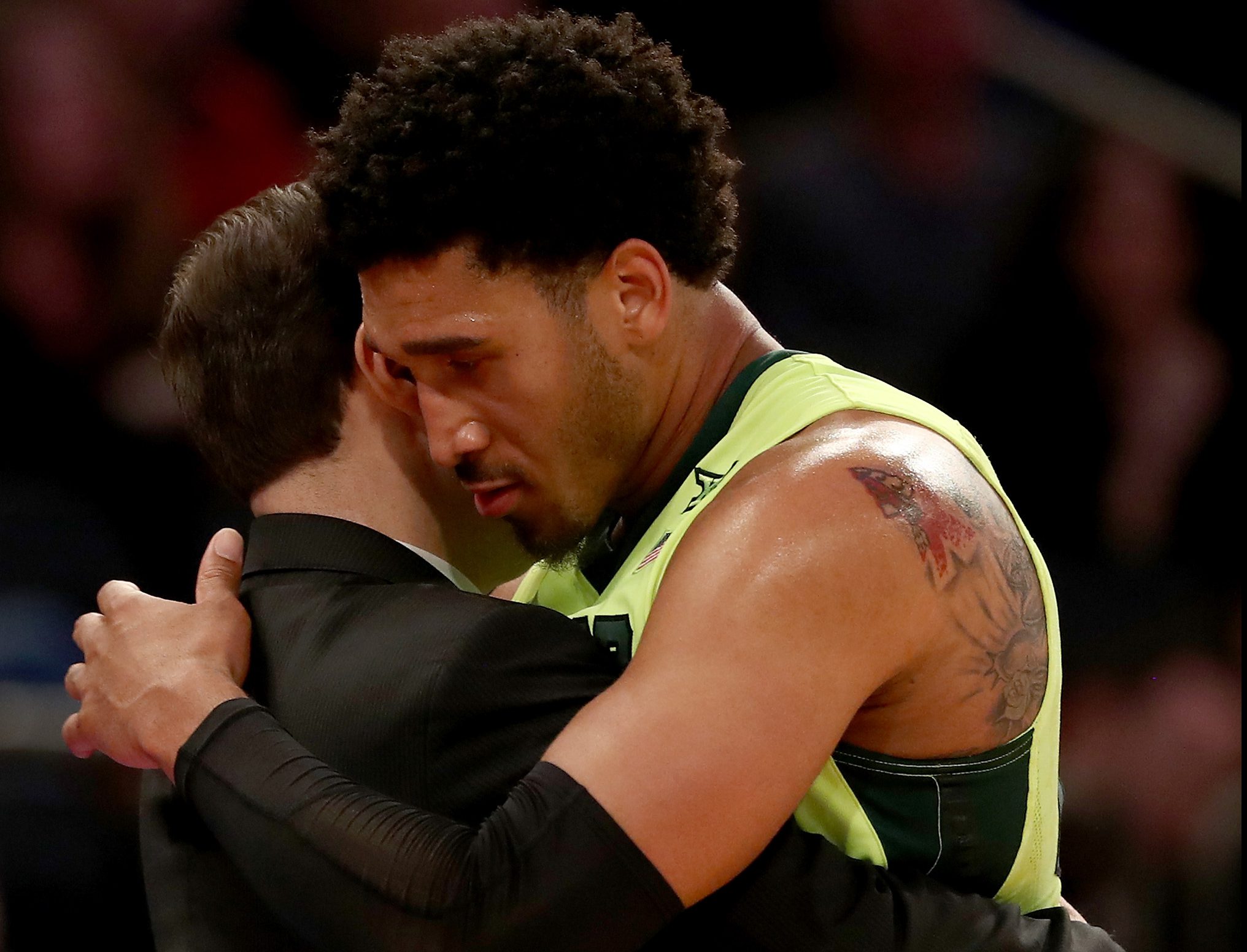 And this season is the perfect microcosm of what Drew has done in his 14 seasons in Waco. When he took that job in 2003, you would have been hard-pressed to find a worst place in high-major basketball to be a coach. The program hadn't been to the NCAA tournament since 1988, and that was their only trip to the Big Dance since 1950.
One NCAA tournament in 53 years.
That's before you factor in that Drew took over for Dave Bliss, who was fired after he was caught on tape trying to paint one of his players, who had been murdered by a teammate, as a drug dealer to coverup for the fact that he was paying the player. The NCAA hit the program with massive sanctions, reducing them to seven scholarships for two years and, in 2005-06, banning the program from playing non-conference games.
By 2008, he had the Bears in the NCAA tournament.
By 2010, he had them in the Elite 8. In the last decade, he's been to seven NCAA tournament, four Sweet 16s (all in the last eight years) and a pair of Elite 8s.
Prior to Drew's arrival, Baylor had been to four NCAA tournaments.
Ever.
What he's done with that program, making it one of the top 30 basketball programs in college basketball, is remarkable and the single best building — not rebuilding, building — job in the history of the sport.
And while there's not much to say about his team's performance on Friday other than South Carolina took them to the woodshed, it doesn't change what he did with that team this season or what he's done with that program in his career.
"If you coach long enough," Drew said, "you'll have some of your greatest memories and some of your worst memories during March."