NEW YORK — If the NCAA tournament ended today, South Carolina guard Sindarius Thornwell would be named the event's Most Outstanding Player.
Through two games, he's averaging 27.5 points and 3.5 assists while shooting 48.5 percent from the floor and 6-for-12 from three. He's been the catalyst of an offensive explosion fro the Gamecocks that no one — not Thornwell, not Frank Martin, not anyone — could have seen coming.
South Carolina, a team that ranked in the 130s in offensive efficiency nationally and in the 300s in effective field goal percentage prior to the start of the NCAA tournament, put up 93 points on Marquette and 88 points on Duke. They scored more second half points in their upset win over the Blue Devils — 65! — than they did in ten games this season, five of which they won.
So it may not come as a surprise to you that No. 7 seed South Carolina's opponent in the East Regional semifinals, No. 3 seed Baylor, have zeroed in on Thornwell as the man they need to slow down on Friday night.
"Coach has broke down every made shot that he's had and we have all watched at least about three hours of film on just Sindarius," Baylor senior Ishmael Wainwright said. "He's just a great player. The whole team, it's not just me, it's not just me, but the whole team, we'll be trying to stop him."
It's fitting that Thornwell is the cornerstone of South Carolina's arrival on the national scene, as the Lancaster native was the most important commitment of Frank Martin's tenure with the Gamecocks. A blue-chip prospect that ranked in the top 40 of every recruiting service, Thornwell was an in-state kid that was recruited by the likes of Louisville, Indiana and Syracuse. South Carolina, at the time that Thornwell committed, had a new head coach that took over a program that hadn't been to the NCAA tournament in eight years and had the prestige of making four trips to the Big Dance in the previous 38 seasons.
More to the point, it wasn't clear whether that new head coach, Frank Martin, was there because he wanted to be there or because he simply didn't want to be at Kansas State anymore, a program where his relationship with his Athletic Director had deteriorated.
Thornwell, who at that point had left Lancaster High School for the more prestigious Oak Hill Academy, had every reason in the world not to go to South Carolina.
But he did.
He wanted to play for his state, for his family. He is loyal, and that loyalty almost kept him from leaving Lancaster for Oak Hill in the first place.
"They had to force him to go, because he did not want to leave his state, did not want to leave his high school team, did not want to leave his high school coach, did not want to leave his family," Martin said. "His uncle, 'Big Country', Dajuan Thornwell, may he rest in peace, who was his father figure basically put him in a car and drove him and said, 'You're going to school here. This is for your own good.'"
"And it's who he has become. The day I got the phone call from him telling me, 'I want to do this with you,' when he could have gone to some of the blue bloods. He wanted to help us build. He wanted to surround his heart with the state name that means so much to him and his family's name on the back of his jersey. And that's powerful."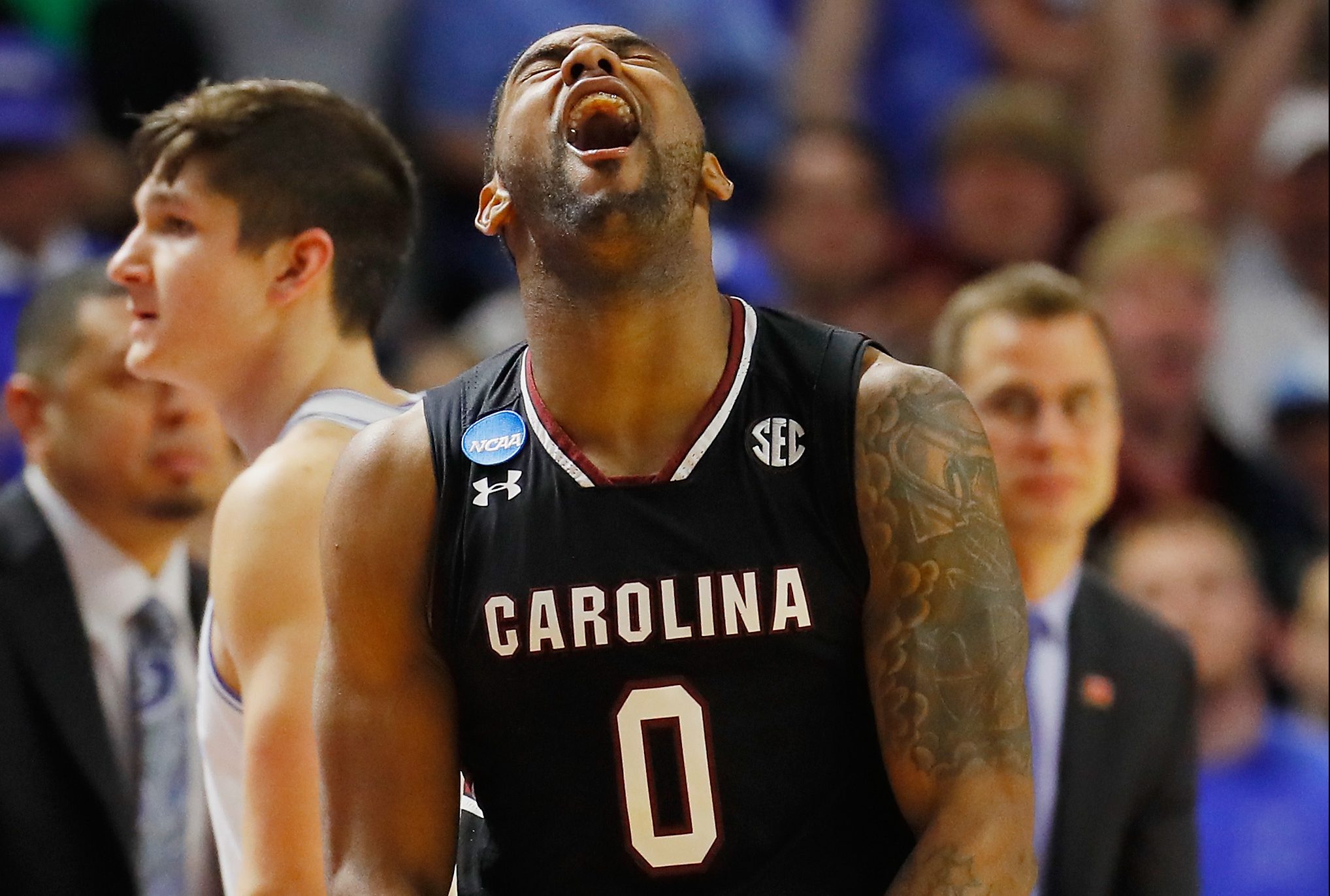 Thornwell was the SEC Player of the Year in 2017. He was in the mix for a spot on the NBC Sports All-American teams before South Carolina's late-season swoon. He's had a sensational senior season individually, but more importantly, he got South Carolina back to the NCAA tournament for the first time since 2004. He led them to the Sweet 16 for the first time since the tournament expanded to 64 teams in 1985. South Carolina had never won back-to-back in the NCAA Tournament before.
As in ever.
Thornwell did that for his state, and he wasn't alone. Fellow senior Justin McKie and sophomore P.J. Dozier are both from Columbia, and the Gamecocks have quite a bit of young talent on their roster, as well as a five-man recruiting class headlined by four-star prospect David Beatty and former Delaware guard Kory Holden, who sat out this past season as a transfer.
The South Carolina program is as healthy as it's been in decades, and Thornwell has as much to do with that fact as anyone.
"I have been born and raised in South Carolina," Thornwell said, saying that all of the South Carolina natives play "for the same reasons, for our family, for our state. We all grew up in South Carolina. We all have been through the struggles and with the program."
"For us all to be in the spotlight is just tremendous because we don't feel like we get the recognition that we deserve."
The Gamecocks certainly got plenty of recognition last weekend, becoing the focal point of the nation's glare as they played a the biggest role in putting an end to the soap opera that was Duke's season.
And Thornwell is going to find himself getting plenty of recognition on Friday night, as the Bears will focus plenty of their attention on slowing down the Gamecock star.
After all, three hours of film on one player is a lot of film.
"They exaggerate so much," Baylor head coach Scott Drew said. "It was only two and a half."