The West Region saw three of the top four seeds survive with only No. 3 Florida State getting knocked out by No. 11 Xavier early.
While some might feel like a rematch between No. 1 seed Gonzaga and No. 2 seed Arizona is inevitable, it would not be wise to count out No 4 seed West Virginia and head coach Bob Huggins?
Here's what each team in the West has to do to make it to Glendale.
No. 1 GONZAGA
How they can get to the Final Four: There's a reason Gonzaga started this season 29-0. As one of only two teams in the country that rates in the top 12 in adjusted offensive and defensive efficiency on KenPom, the Bulldogs are one of the most complete teams in the country.
Scoff as Gonzaga's inability to get to the Final Four in the past at your own peril because this is perhaps the deepest and best team that Mark Few has had during his tenure.
With a tight-knit, eight-man rotation that can throw some different looks at you, Gonzaga is led by an All-American point guard in Nigel Williams-Goss while former starting lead guard Josh Perkins adds additional backcourt stability as a ball handler and shooter. Another lethal shooter in Cal graduate transfer Jordan Matthews also starts on the wing for the 'Zags while the front-court is an intriguing four-man rotation that is hard to wear down.
Senior Przemek Karnowski is one of the country's most unique big men while Missouri transfer Johnathan Williams is a nice compliment and double-figure scorer.
Gonzaga's bench also features an experienced guard in Silas Melson and a double-figure scorer in McDonald's All-American big man Zach Collins–who has quietly been one of the best freshmen in the nation. Another freshman, Killian Tillie, gives the Bulldogs additional athleticism on the inside if they need to go to a quicker lineup.
SWEET 16 PREVIEW: Midwest | West | South | East
You can subscribe to the podcast on iTunes, Stitcher and Audioboom
Why they won't get to the Final Four: Gonzaga might have won a lot of games this season but they haven't exactly been dependable in late-game situations. Part of this is because the Bulldogs really weren't tested all that often in the regular season — especially once the non-conference portion of the schedule was done.
But Gonzaga had some concerning meltdowns against BYU in its only regular-season loss, as well as in the second round against Northwestern. Credit the Zags for rallying together and holding off the Wildcats to advance to the Sweet 16 but the second half of that game also showed that Gonzaga is susceptible to giving up double-digit leads.
Facing a team like West Virginia who can turn you over very quickly in their Sweet 16 matchup, that could be something to watch for even if Gonzaga holds a second-half lead.
Besides for the shaky play in tight games, Gonzaga hasn't shot the ball particularly well during the 2017 NCAA Tournament as they're only 12-for-46 (26 percent) from three-point range in its two wins.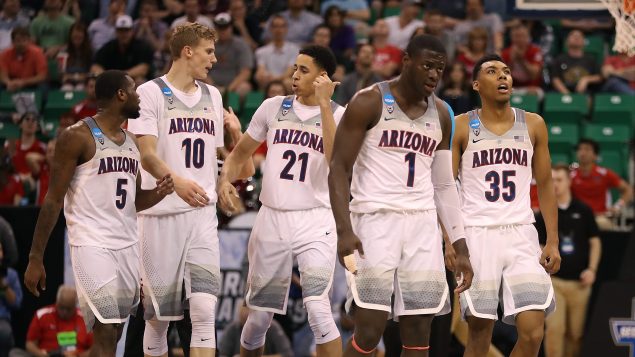 No. 2 ARIZONA
How they can get to the Final Four: Playing some of the best ball of any team in the country right now, the Wildcats were impressive in winning the Pac-12 Tournament before advancing to the Sweet 16 with wins over North Dakota and Saint Mary's.
Now the Wildcats avoid a potentially tough matchup with a long and athletic Florida State team to face a hot No. 11 seed in Xavier.
Since sophomore guard and leading scorer Allonzo Trier returned to the lineup after his suspension, Arizona has looked like one of the best teams in the country as Trier being back on the floor has made things a lot easier for the other Wildcats.
Freshman big man Lauri Markkanen is the NCAA Tournament's most unique weapon because he's a 7-footer who is a truly elite perimeter shooter at 43 percent from three-point range and he's also Arizona's best player on the glass.
Two more talented freshmen roam the Arizona backcourt as Rawle Alkins and Kobi Simmons are both capable of making plays while point guard Parker Jackson-Cartwright is content to distribute to the team's many weapons. Senior Kadeem Allen is one of the better perimeter defenders left in the field while the Wildcats have a solid rotation of big men besides Markkanen between Dusan Ristic, Chance Comanche and Keanu Pinder.
This team doesn't have many weaknesses and they're top 25 in KenPom in adjusted offensive and defensive efficiency. It's easy to see why many believed they could reach the Final Four near home in Glendale.
Why they won't get to the Final Four: While Arizona might be one of the most complete teams left in the field they also lost to No. 1 seed Gonzaga earlier this season on a neutral floor. Granted, the Wildcats were still without Trier at that point, but the main takeaway from the regular-season clash is that the Zags will know what to expect from everyone else on the roster while also having the confidence of knowing that they beat them.
Perimeter shooting might be the key for Arizona to reach the Final Four. The Wildcats are shooting 39.6 percent from three-point range this season but they were only 1-for-8 from three-point range in the first loss to Gonzaga. Since the Bulldogs do such a good job of taking away the three (No. 6 in defending the three at 30.0 percent), Arizona is going to have to work harder to get free for clean perimeter looks.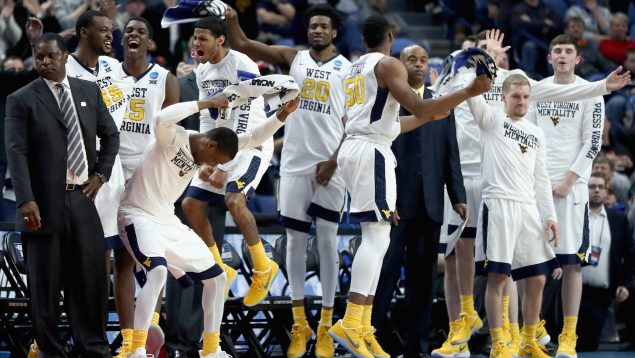 No. 4 WEST VIRGINIA
How they can get to the Final Four: "Press Virginia" is in the Sweet 16 after getting past Bucknell and Notre Dame over the first two rounds. The pillar of this Bob Huggins-coached group is the team's ultra-aggressive full-court trap, which is No. 1 in the country in turnover percentage on defense at 27.7 percent.
With a long and athletic rotation that throws a lot of different players at you, West Virginia comes at teams in waves and wears them down for easy buckets.
Besides an ability to get easy buckets off of turnovers, the Mountaineers are better than expected in the half court on offense. Junior guard Jevon Carter is a standout perimeter defender but he's also a crafty scorer who hit shots or distribute.
Since the Mountaineers have 10 players averaging at least 10.9 minutes per game they don't have a lot of individuals putting up big numbers but West Virginia is relentless the entire game and almost never lets up on defense.
Why they won't get to the Final Four: If a team can beat West Virginia's press consistently then they have a chance to score plenty of easy buckets.
The Mountaineers might be effective at turning other teams over but it is also a risky defense that can allow for a lot of good transition looks and mounting foul trouble. Teams who have reached this point in the tournament generally have decent guard play so it will be intriguing to see how Gonzaga has prepared to handle West Virginia's press.
Beating the press is the obvious solution to getting past West Virginia but this team can also be shaky at times on offense in half-court situations. With not a lot of players who can create for themselves, West Virginia runs some ugly possessions as they were No. 110 in effective field goal percentage this season. Also a mediocre team at the line, West Virginia only shoots 68.3 percent from the free-throw line as a team.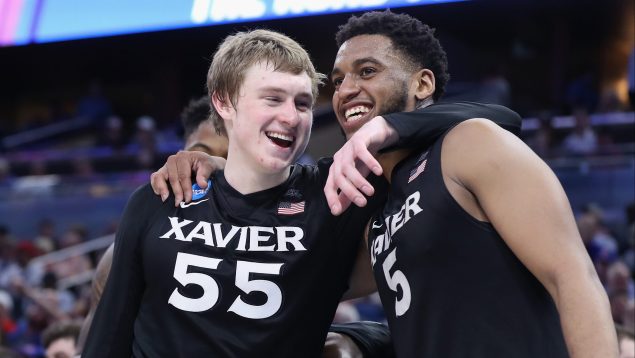 No. 11 XAVIER
How they can get to the Final Four: Not many pegged that Xavier would be in the Sweet 16, especially when they went a month with its only wins coming against DePaul. But things have improved dramatically for the Musketeers in the last few weeks as they've finally appeared comfortable since the loss of star sophomore guard Edmond Sumner.
Even though Xavier is a double-digit seed, they shouldn't be counted out by any means since they have some dangerous pieces. Junior Trevon Bluiett is one of the hottest players in the field as he's 8-for-15 from three-point range in two games while totaling 50 points.
If junior J.P. Macura gets going as a second major scorer to compliment Bluiett then Xavier becomes even more dangerous. Macura is the type of player who can heat up and easily go for 20-plus points.
Besides Bluiett and Macura's ability to pop off from the perimeter, Xavier has been getting strong performances from role guys during the tournament. Reserve big man Sean O'Mara has scored in double-figures in both games for the Musketeers while others like Kaiser Gates and Tyrique Jones have also been picking up their play.
Gates, in particular, has been another big shot-maker from the perimeter during the tournament and he's given Xavier more spacing while also contributing on the glass.
Why they won't get to the Final Four: Xavier has been to four Sweet 16s in the last eight years under head coach Chris Mack but they've never advanced past this round in three previous tries with him as coach.
Not that that has much to do with how this current roster has reached this point, but history isn't exactly on Xavier's side against No. 2 seed Arizona.
Besides for history, let's be honest: Xavier was really struggling for the final month of the season. Without Sumner they still have a shaky point guard situation and the team's offense can sputter at times if they aren't hitting shots. Also expecting role players like O'Mara and Gates to continue to play like this might not be sustainable for Xavier.
It's been a nice run for Xavier to reach this point but they would be one of the most unlikely Final Four teams in modern college basketball if they made it to Glendale.