A quiet first round of the NCAA tournament gave way to a second round that got just a little too out of control.
Particularly in the East Region.
It's a bit of a snoozer in Madison Square Garden this weekend. But everywhere else, things are going to get a little crazy for the Sweet 16 and the Elite 8:
8. No. 3 Baylor vs. No. 7 South Carolina (East): With all due respect to South Carolina and Baylor, this game just doesn't do it for me. The Bears play a grind-it-out style offensively, hammering the ball into Johnathan Motley in the post, that is effective but isn't exactly the most aesthetically pleasing way to play. And South Carolina? They were a train wreck on the offensive end of the floor for the final month of the regular season before somehow averaging 90.5 points through two games during the first weekend. I'd expect the Gamecocks to come back to earth on that end, but that won't make them any easier to score against. My advice: bet the under.
7. No. 4 Florida vs. No. 8 Wisconsin (East): The intrigue here is the clash of styles. The Badgers want to slow the pace down, pound the ball into Nigel Hayes and Ethan Happ and crash the offensive glass. Florida wants to speed the game up, force some turnovers and get their talented perimeter players into beneficial matchups. Here's the thing that should worry you as an impartial observer: Florida is the third-best defensive in the country, according to KenPom. Wisconsin is the seventh. Neither of them are in the top 25 in offensive efficiency. This probably won't be all that pretty.
You can subscribe to the podcast on iTunes, Stitcher and Audioboom
6. No. 2 Arizona vs. No. 11 Xavier (West): The story line is more enticing than the game itself. Sean Miller used to be the head coach at Xavier. His assistant was Chris Mack, who is now the head coach at Xavier. They're still close, neither has been to a Final Four and it's very possible that whoever wins this game will break that streak. That's heavy. The game itself, however, is weird. Xavier looked like they were done late in the season, then somehow managed to put together one of the fiercest tail-whippings that we've seen in this year's tournament, a 25-point beatdown of Florida State. The Musketeers are without Myles Davis and Edmond Sumner, who were two of their three most important players entering the season. Can the streak continue?
5. No. 1 North Carolina vs. No. 4 Butler (South): Butler has turned into something of a Cinderella in their region. That's what happens when you're the Big East team trying to escape the South, which also includes three of the biggest brands in college athletics. The Bulldogs are no pushover, however, as they swept Villanova and own wins over two Sweet 16 teams — Arizona and Xavier twice. UNC, for my money, is arguably the best team left in the field. They have the horses inside, they are the nation's best offensive rebounding team and they can rely on Joel Berry II and Justin Jackson to carry them on the perimeter. With Theo Pinson healthy, they also happen to have one of the nation's best shutdown defenders, who will likely give Kelan Martin fits. This should be a fun one.
4. No. 3 Oregon vs. No. 7 Michigan (Midwest): What I love about this matchup is the way both teams play. Oregon is small-ball through and through with Chris Boucher out of the lineup, running Dillon Brooks out there at the four and spreading the floor as much as they possibly can. Michigan spreads things out as well, but they also happen to have to 6-foot-10 front court players in D.J. Wilson and Mo Wagner who can play out on the perimeter. This is a quintessential John Beilein roster, and ever since the middle of the season, Derrick Walton Jr. hs been as good as any point guard in the country. I think this game comes down to the battle at the four-spot. Does Brooks for Michigan to go small, or can Wilson handle chasing him around?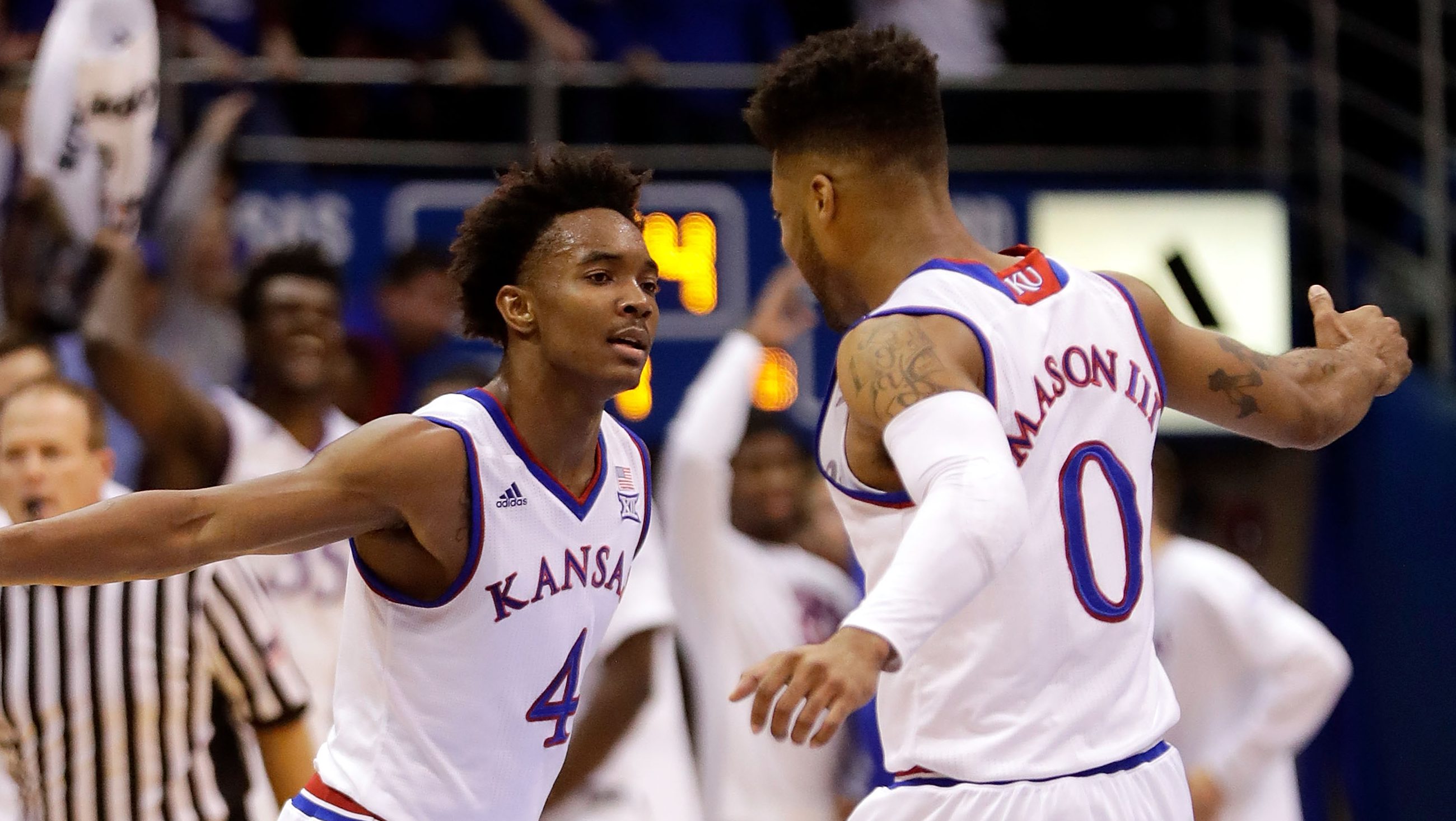 3. No. 1 Kansas vs. No. 4 Purdue (Midwest): Let's start with the obvious here: This is a battle between the two front runners for National Player of the Year. You have everyone's pick in Frank Mason III, who has been sensational all season long and seems to be the favorite to win the award, and you have Caleb Swanigan, who is putting up Tim Duncan-esque numbers for the Boilermakers. Obviously, those two aren't going to be guarding each other, and that's where this game gets even more intriguing. Kansas has one big man on their roster worth his 6-foot-11 frame and that's Landen Lucas. They play Josh Jackson, who will likely be a two-guard in the NBA, at the four. Purdue has the biggest, most physical front line in the country, and between Swanigan and Isaac Haas, they draw 14.3 fouls per 40 minutes combined. Will Lucas be able to stay on the floor? Will Jackson? This is a more dangerous matchup for Kansas than I think people realize.
2. No. 1 Gonzaga vs. No. 4 West Virginia (West): Oh, this is going to be so good. Let's talk about Press Virginia first. They come at you in waves. They play as hard as anyone, they trap, they foul and they make life difficult for whoever is trying to get the ball over half court. Gonzaga, on the other hand, does not have the most athletic back court. Nigel Williams-Goss and Josh Perkins have both had really good years, but both of them tend to struggle against quicker, stronger and more physical players. That's what West Virginia has in boat loads. That said, the way for West Virginia to get into their press is to score, and, believe it or not, Gonzaga currently has the No. 1 defense in the country, according to KenPom. If they keep the Mountaineers from putting the ball in the basket, they keep them from being able to get that pressure rolling. Gonzaga also has a distinct size advantage inside. Let's see if that pays off, and let's see if Mark Few will have a chance to play for his first career Final Four.
1. No. 2 Kentucky vs. No. 3 UCLA (South): Where do I even start? De'Aaron Fox vs. Lonzo Ball? Malik Monk vs. whoever tries to slow him down? A rematch from December's thriller in Lexington? The Steve Alford-to-Indiana rumors? John Calipari's return to Memphis? The bottom-line is this: these are two of the four best teams left in the field, both of whom can win a National Title. This is a Final Four-caliber matchup in the Sweet 16. This is the kind of game that you do not want to miss. I'm not sure how else I can put it.