The best story in college basketball — not the biggest story, not the weirdest story, not the story that gets non-stop run on every sports talk show, but the best — came to a thrilling end on Saturday afternoon in Buffalo.
Wisconsin forward Nigel Hayes was the hero, capping off a game-winning, 15-5 run over the final five minutes with a layup with 11.4 seconds left, sending the No. 8 seed Badgers to the Sweet 16 with a 65-62 win over Villanova, who entered the tournament as the nation's No. 1 overall seed.
Villanova is — was? — the reigning national champion.
They were looking to become the first team since Florida in 2007 to repeat as national champions, and it seemed like they had the horses to get it done.
But …
Well, did they?
And that's where this conversation gets complicated, because this is the third time in four years that the Wildcats lost in the second round of the NCAA Tournament as a top two seed. That national title? It covers up some real questions about just what the legacy of this team will be.
Let's start with Saturday.
On paper, Villanova has a very real and very obvious hole in their roster, and it's right there in the middle. Daniel Ochefu graduated off of last year's team and incoming freshman Omari Spellman was ruled ineligible, meaning that the Wildcats spent the season relying on 6-foot-9 Darryl Reynolds and 6-foot-7 Eric Paschall to man the paint. This is not an ideal situation against anyone, let alone against a team like Wisconsin, who lives on the ability of Ethan Happ and Hayes to score in the post and get to the offensive glass.
That's before you consider the fact that Wisconsin as a No. 8 seed was one of the dumber decisions that the Selection Committee made. The Badgers finished second in the Big Ten and reached the Big Ten title game, but there were four teams from the conference that were seeded above them? That doesn't make much sense.
Put another way, this was never a good matchup for Villanova. There's a reason a lot of smart people thought Wisconsin would give the Wildcats a fight. In a vacuum, this loss was more about matchups and miss-seeds than it was an indictment on the Villanova program.
But this loss didn't come in a vacuum.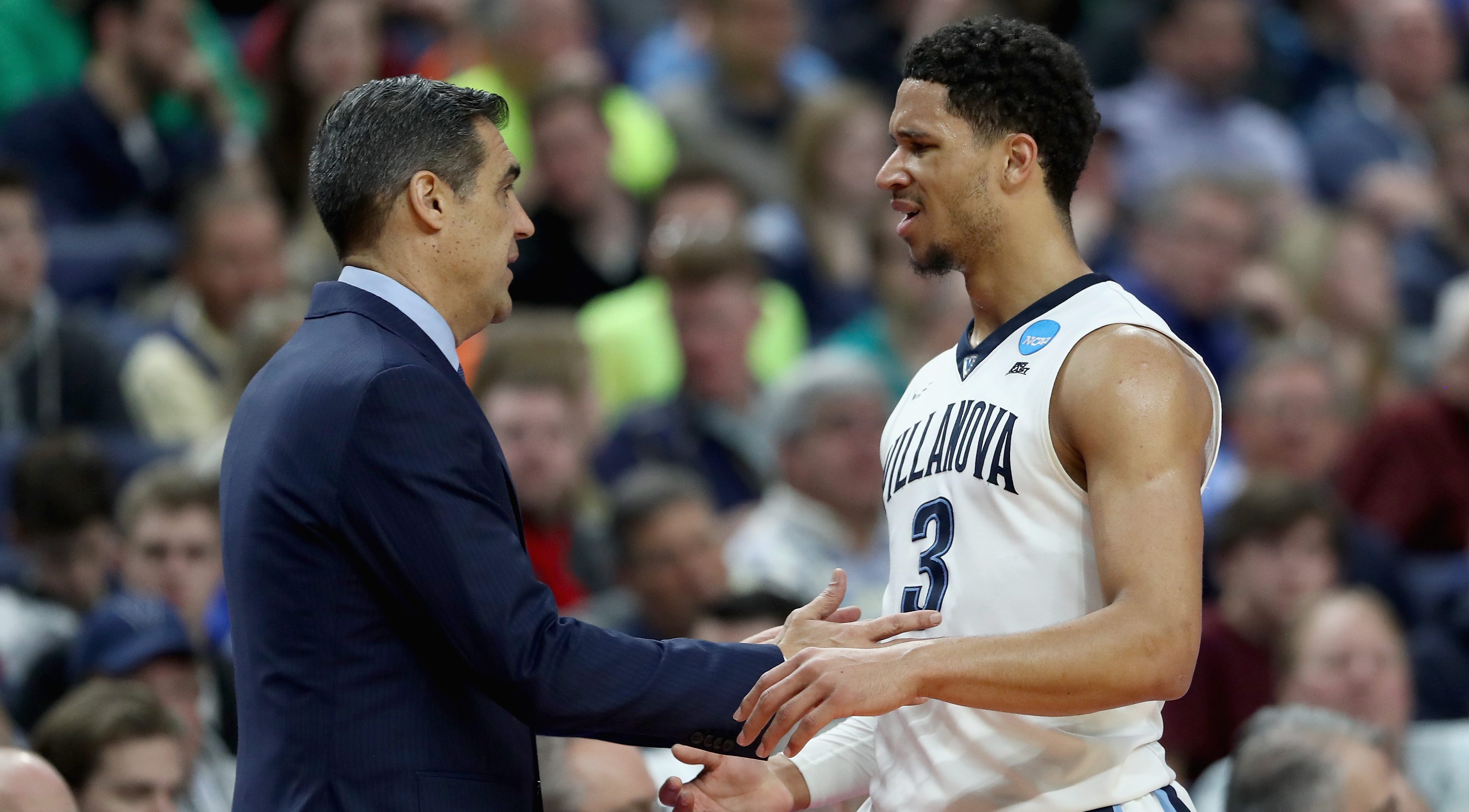 In 2014, No. 2 seed Villanova lost in the second round of the NCAA Tournament to No. 7 seed UConn. In 2015, the Wildcats lost to No. 8 seed N.C. State in the second round as a No. 1 seed. The current Villanova stars, Josh Hart and Kris Jenkins, played on all three of those teams. More to the point, of the 29 programs that have played at least six games as a No. 1 seed, Villanova ranks tied-for-last in winning percentage in those games, going 5-3 as a No. 1 seed.
It makes me wonder: What is the legacy of this Villanova team going to be?
Because they've run roughshod over their conference during the four-year reign of Josh Hart and Kris Jenkins. After a 32-4 season that saw Villanova win a dual-Big East titles, the Wildcats with Hart and Jenkins have now won four Big East regular season titles, two Big East tournament titles, a national title and 129 games. In their worst season, they went 29-5. They've never lost more than three games to Big East foes in a single season and never more than five games, total.
That's incredible.
But the Big East that they play is in not the same Big East that they were in before conference realignment. There are good teams in the league, but the closest thing we saw to a contender to them during that time frame ended this season when Mo Watson and Edmond Sumner tore their ACLs two weeks apart from each other.
Then there's that national title that the Wildcats won, one that saw Villanova run through Kansas, Oklahoma and North Carolina — two No. 1 seeds and a team that was ranked No. 1 in February — in their final three games. That's incredible. It's a moment that Villanova fans will never forget, and the shot that won the title will go down in history and one of the greatest moments in the history of sports.
Not just this sport.
All sports.
But that title came in a year where the level of elite talent in college basketball was at a four-year low. The best player that they faced during that title run was Buddy Hield, an incredible story that provided the NBA world with some much-needed comedic relief when he was the centerpiece of the DeMarcus Cousins trade. There were three elite freshmen that entered the sport in 2015-16, and Ben Simmons missed the tournament, Skal Labissiere couldn't get off the bench and Brandon Ingram was out in the Sweet 16.
Put another way, Villanova's 2016 national title was like being named the Best Dresser on Press Row, and it came as the filling in an otherwise disastrous string of NCAA tournament appearances.
Those details are really easy to pick through now.
That won't be the case in five years, in 10 years.
My son is 18 months old. When he gets to eight years old, nine years old, 10 years old, when he finally starts realizing that sports are more than something that keeps him from being able to watch Elmo on TV, he's not going to wonder about the context of Villanova's title. He's not going to think about whether or not Villanova was fortuitous in putting together a title-contending team in a year where the other contenders weren't all that good.
He's going to ask about The Shot. He's going to ask about what I remember from that moment. He's going to ask to see the video of The Shot I took on my phone. He's going to ask whether or not I think he'll ever get a chance to see a shot like that live.
That's what Villanova's legacy is, and thanks to Kris Jenkins' clutch gene, no one is ever going to ask otherwise.
One Shining Moment, when it shines bright enough, will live on forever, and there will never be a moment that shines brighter than Jenkins' game-winner. People don't remember what it took to get there or what happened after. They remember the moment.
They remember the title.
It's amazing what The Shot can do to change a narrative.