It's really easy to go all chalk and pick the favorite in every region to reach the Final Four.
The hardest thing to do, however, is to figure out which of those favorites are going to lose before the NCAA tournament kicks into high gear.
I'm here to help you with that problem.
Here are six NCAA tournament contenders that are not going to be winning a national title:
No. 1 Kansas: It's killing me to put Kansas on this list. It really is. I picked the Jayhawks to win the national title back in October, and I've never wavered off of that.
But I'm getting close.
I don't think the Jayhawks are going to win the national title. It starts with a potential Sweet 16 matchup with Purdue. You see, Kansas has one front court player that's worth noting, and that's Landen Lucas. They don't have any other size to speak of, meaning that if Lucas gets in foul trouble, the Jayhawks are going to be in a very, very bad spot. And Purdue? Well, their front court duo of Isaac Haas and Caleb Swanigan combine to average 14.3 fouls drawn per 40 minutes. Haas, at 8.0 fouls drawn per 40 minutes, is eighth nationally.
Now let's assume that Purdue ends up losing to Iowa State or Vermont before they face off with Kansas, I still see a major speed bump in their path to a national title: North Carolina. The Tar Heels have arguably the best front court in the country and inarguably lead the nation in offensive rebounding. Josh Jackson will have his hands full trying to keep Isaiah Hicks and Tony Bradley at bay.
I'm not changing my pick. I'm going to ride 'Kansas will win the national title' to the death.
I'm just telling you that I'm going to be wrong.
No. 2 Kentucky: The Wildcats got the worst draw of any team in the field this year, and I'm not sure it's all that close. Assuming favorites hold, Kentucky is going to have to beat Wichita State, a top ten team on KenPom and perhaps the worst miss-seeding in the history of the NCAA tournament, in the second round. Get past the Shockers, and Kentucky will have to then beat UCLA just to get to the Elite 8, where they are likely going to end up playing North Carolina.
All of that would just put them in the Final Four.
And frankly, this is a bigger concern for Kentucky than it would be for other teams. They can beat anyone on the nights where Malik Monk goes crazy, but relying on Monk going crazy for five straight games against competition like that is not an ideal situation, to put it mildly.
Power Rankings 1-68 | Duke deserved a 1 seed | Committee got bubble right
REGIONAL BREAKDOWNS: East | Midwest | South | West
No. 3 UCLA: The Bruins just don't guard well enough. That's the bottom line. They are as good as anyone in college basketball when it comes to scoring the ball, but they are as bad as any elite team when it comes to stopping the ball. I don't think that will be an issue during the first weekend of the tournament, but if you struggle to get stops, you don't want to have to go up against Malik Monk and North Carolina just to get to the Final Four.
Think about it like this: No team that was won a national title has ever entered the NCAA tournament outside the top 40 in defensive efficiency on KenPom. Only three in the last 15 years — Syracuse in 2003, UNC in 2009, Duke in 2015 — have been outside the top 20. UCLA is 78th.
No. 1 Gonzaga: I do think that the Zags are good enough to win a national title this year. I also think that they are going to face a team in the Sweet 16 that will take them down. Notre Dame is the perfect team to beat Gonzaga. Their offense is, in a nutshell, spread pick-and-rolls with Steve Nash-lite, aka Matt Farrell, and shooters everywhere on the floor, or post touches for Bonzie Colson with shooters everywhere on the floor. That's one way to beat Gonzaga. The other way? To out-athlete them in the back court with pressure, and that is pretty much all that West Virginia is capable of doing. In all seriousness, I think if Gonzaga drew any other the other 4-5 pairings in the bracket, they would be heading to the Final Four.
BRACKETS: Cinderellas | Upset Watch | Bold Predictions | Unsung Heroes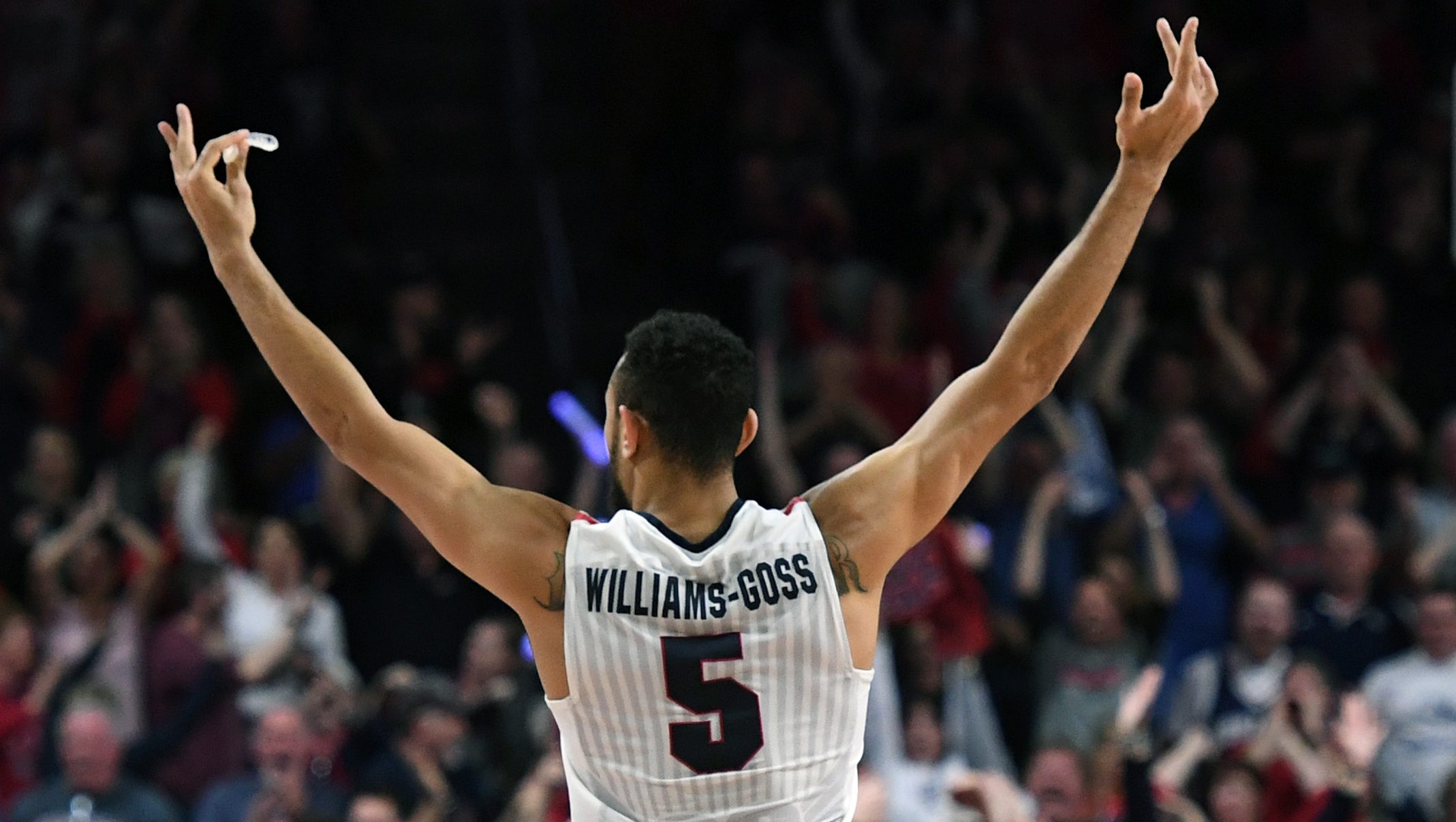 No. 2 Louisville: Louisville has the opposite problem that UCLA has. The Cardinals are one of the nation's best defensive teams, but they go through droughts where it looks like they totally forget how to score. Case in point: The final 13 minutes against Duke, when the Blue Devils used a simple 2-3 zone to completely flummox the Cardinals and win a game in the ACC tournament quarterfinals. The same way I don't trust UCLA to guard for six straight games or Kentucky to get consistent production from the non-Malik Monk portion of their roster for six straight games, I don't see Louisville scoring well enough for six straight games to win a title.
No. 2 Arizona: The last four NCAA tournament champions have been led by back courts that included two elite point guards: Villanova's Ryan Arcidiacono and Jalen Brunson, Duke's Tyus Jones and Quinn Cook, UConn's Shabazz Napier and Ryan Boatright, and Louisville's Peyton Siva and Russ Smith. In 2012, Kentucky's point guard was Marquis Teague. In 2011, it was UConn's Kemba Walker (and Shabazz Napier) that stole the show. In 2009, UNC had Ty Lawson In 2008, Kansas was led by Mario Chalmers, Russell Robinson and Sherron Collins.
The only team during that stretch that didn't have at least one elite point guard was Duke's 2010 team, but even they were led future NBA guards Nolan Smith and Jon Scheyer.
I say all that to say this: I don't trust Arizona's point guard play, and if I can't trust your point guard play, I can't pick you to win a national title.