East region
4. Florida vs. 13 East Tennessee State (Thursday, 3:15 p.m., truTV): The Buccaneers are going to be a trendy upset pick under the direction of coach Steve Forbes, whose team has won nine of its last time, while the Gators have dropped three of four. Florida could make its dent on the defensive end, where it excels at forcing turnovers. ETSU, on the other hand, is one of the country's worst at taking care of the ball. If that can't get settled, it's hard to imagine an upset occurring. The formula for the Bucs is likely to contain a heaping of TJ Cromer. The 6-foot-3 guard averages nearly 20 points per game can lets it fly from 3. He's one of the biggest mid-major breakout candidates of the tournament, and maybe the biggest reason you shouldn't miss this game.
7. South Carolina vs. 10. Marquette (Friday, 9:50 p.m., TBS): No team benefitted from the rash of Big East injuries quite like Marquette, which surged in the second half of the conference season to earn a bid. While the Golden Eagles may have gotten some help getting in, now that they're here, you don't want to miss them. They shoot a ton of 3s and they shoot them well, at 43 percent, best in the country. They've also got experience in seniors JaJuan Johnson, Katin Reinhardt and Luke Fischer, the 6-foot-11 center who can be a problem inside. On the other side, Sindarius Thornwell is a force to be reckoned with, and really the only thing the Gamecocks have going on offense. South Carolina's defense, well, it has plenty going for it as one of the stingiest in the country. This is a classic strength vs. strength matchup, with Marquette's offense and South Carolina's defense fighting to see which gives first.
West region
3. Florida State vs. 14. Florida Gulf Coast (Thursday, 9:15 p.m., TNT): Dunk City in the tourney is must-watch on its own, isn't it? This year's edition is just as dunk-prone as the 2013 outfit that made the Sweet 16. Hell, they even broke a shot clock because of it. Taking this game to another level, though, is the talent and athleticism of the Seminoles. Those dudes can dunk, too. Jonathan Isaac and Dwayne Bacon will be appointment viewing from NBA draft junkies, and they should have ample opportunity to showcase themselves against the Eagles, who give up a ton of buckets inside.
RELATED: Power Rankings 1-68 | Duke deserved a No. 1 seed | Committee got bubble right
REGIONAL BREAKDOWNS: East | Midwest | South | West
Midwest region
5. Iowa State vs. 12. Nevada (Thursday, 10 p.m., truTV): Offense will be flowing more smoothly than Miller Lite out of a Milwaukee tavern tap in this one at the Bradley Center. Both the Cyclones and Wolfpack make their bones on that end of the floor, specifically at the 3-point line. Iowa State converts at a 40.2 percent clip while Nevada clocks in at 38.5. Both feature high-caliber point guards in Monte Morris and Marcus Marshall with their scoring or distributing, and highly talented frontcourt players in Deonte Burton and Cameron Oliver. Neither team plays at a blistering tempo, but this one could quickly turn into a track meet if neither squad can keep the other from putting the ball in the basket. This game has been one circled by many as a possible upset, but it's worth watching just for all the buckets that are sure to be had.
7. Michigan vs. 10. Oklahoma State (Friday, 12:15 p.m., CBS): The Midwest is full of offense-heavy showdowns, and this matchup is no difference, with the Wolverines (5) and Oklahoma State (1) both high in the KenPom offense rankings. Michigan certainly seems to have captured some mojo after its dodging disaster with its airplane skidding off the runway before the Wolverines ultimately embarked on a Big Ten tournament championship run. The Wolverines play slow, but they make shots as consistently as nearly any team in the country with a balanced attack. The Cowboys are more dependent on its top-three players of Phil Forte, Jeffrey Carroll and, especially, point guard Jawun Evans. Oklahoma State takes and makes a lot of 3s and hits the offensive glass with abandon.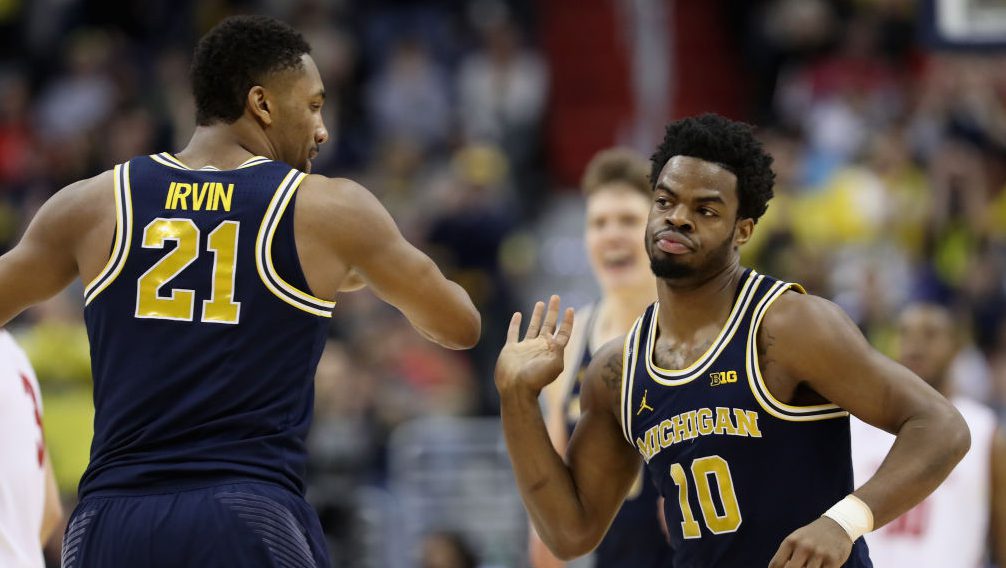 South region
5. Minnesota vs. 12. Middle Tennessee State (Thursday, 4 p.m., TNT): Here's another trendy 12 over 5 pick. Steve Forbes' Blue Raiders have won 20 of their past 21 games. JaCorey Williams (17.3 ppg) could be a problem for the Gophers, as could Giddy Potts, whose name outdoes his game but not by much as he's averaging 15.8 points and 5.5 rebounds per game. Minnesota, though, might have the counter to MTSU's interior-heavy offense as the Gophers, specifically Reggie Lynch, block a ton of shots and make life very difficult for opponents in the paint. If the Blue Raiders want to pull off the upset, they may need to get hot from the arc.
7. Dayton vs. 10. Wichita State (Friday, 7:10 p.m., CBS): You can't miss this game. You just can't. The Shockers are going to come out all sorts of ornery after the committee gave them a worse seed than their national KenPom ranking (8), and this could be the start of their scorched Earth campaign to prove a point. The poor recipients of that wrath will be the Flyers, who didn't deserve to start their tournament against a team as highly regarded as Wichita State. Still, while Las Vegas likes the Shockers, Dayton is no slouch. Coach Archie Miller will have no trouble playing the disrespect card here, and the Flyers have senior scorers in Charles Cooke, Kendall Pollard and Scoochie Smith that could be disruptive of the Shockers' defense. Whether it's to see the wrath that Gregg Marshall's bunch comes out with or to see how one of the most ascendant coaches in the game handles an odd situation, this is appointment viewing.