THREE STORYLINES TO WATCH
Is this the year Gonzaga finally makes the Final Four?: There is no better program in college basketball right now that has not reached a Final Four than Gonzaga. The Zags have won 17 of the 18 WCC regular season titles in Mark Few's tenure as head coach, they are consistently a top 25 team and just about every other year they are a top ten team. They recruit McDonald's All-Americans and shuffle players off to the NBA. They do everything that a great program does, they just haven't broken through to that final weekend of the season just yet. Is this finally the year that they do?
Is this the year Sean Miller finally makes a Final Four?: Everything I just said about Gonzaga can be said about Sean Miller. He's an elite coach, one of the few that actually has the cache to be able to get a job like North Carolina or Kansas or Kentucky if it comes open. He's an elite recruiter that wins Pac-12 championships and shuffles players off to the NBA. He's everything you want out of a college coach, he just hasn't gotten to the final weekend of the season. Is this the season that it finally happens?
This is the year that Northwestern made their first NCAA tournament: Northwestern had never made the NCAA tournament before this season. Ever. That means they've never won an NCAA tournament game. Ever. They finally got to the tournament this season, which resulted in an explosive celebration when they finally heard their name on Selection Sunday. They're playing with house money now.
REGIONAL BREAKDOWNS: East | Midwest | South | West
THE ELITE 8 MATCHUP IS … ?: No. 1 Gonzaga vs. No. 2 Arizona
For all the narratives! A rematch of a neutral site game earlier this season that Gonzaga won, the difference this time being the return of star guard Allonzo Trier, who was still suspended the first time they played. Someone's curse will have to end if these two get together, as one of Mark Few or Sean Miller will finally be cutting down the nets at a regional final.
FINAL FOUR SLEEPER: No. 5 Notre Dame
I think Mike Brey is one of the most underrated coaches in all of college basketball, and I actually think his team matches up well with everyone at the top of this bracket. West Virginia is a pressing team, and pressing teams can be beaten by a team that has good ball-handlers that don't turn the ball over and that make threes. Notre Dame does that. Gonzaga can be beaten by teams that spread the floor and that can operate in ball-screens. Notre Dame does that. If they get to the Elite 8, I think they have a shot to beat Arizona as well. There's a reason Brey's teams have been to back-to-back Elite 8s.
RELATED: Printable NCAA Tournament Bracket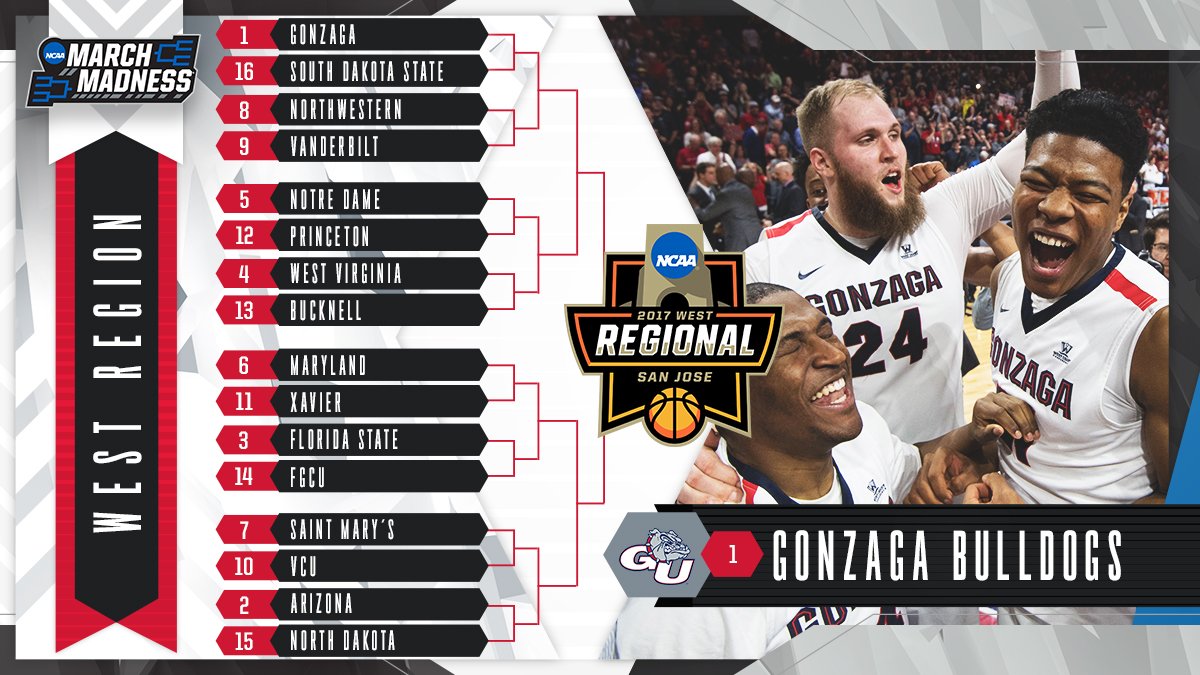 UPSETS THAT CAN HAPPEN
No. 14 FGCU over No. 3 Florida State: The Seminoles are the most talented team in the country that I trust the least. I don't love their point guard play and I am not convinced that Dwayne Bacon and Jonathan Isaac are dominant enough when they need to be.
No. 4 West Virginia or No. 5 Notre Dame over No. 1 Gonzaga: I think both of those teams can beat the Zags. Notre Dame can put them in ball-screens and take advantage of the slow-footed Przemek Karnowski, while West Virginia's press would give Nigel Williams-Goss and Josh Perkins trouble.
UPSETS THAT WON'T HAPPEN
No. 12 Princeton over No. 5 Notre Dame: The Fighting Irish play a style that isn't all that dissimilar to what Princeton plays. They're just better at it.
No. 13 Bucknell over No. 4 West Virginia: This is the best press that Bob Huggins' team has run. Press Virginia has never been better, and I can't see the Bison handling it all that well.
FEEL LIKE GAMBLING?: No. 4 West Virginia to the Final Four
Everyone is talking about how mis-seeded Wichita State is, but what about West Virginia? The Mountaineers are a No. 4 seed despite being slotted in at fifth on KenPom. Their press is menacing, the best that Bob Huggins has ever had, and he's in a region where the three teams seeded above him — Gonzaga, Arizona and Florida State — have differing levels of concern with their point guard play.
RELATED: Power Rankings 1-68 | Duke deserved a No. 1 seed | Committee got bubble right
THE STUDS YOU KNOW ABOUT
Allonzo Trier and Lauri Markkanen, Arizona: Markkanen is probably going to be the highest draft pick in this region, but Trier, for my money, is the best player, particularly if he stays hot after the Pac-12 tournament.
Nigel Williams-Goss, Gonzaga: Williams-Goss had an all-american caliber season running the point for the Zags.
Melo Trimble, Maryland: No one in college basketball is better than Trimble in a close game. He has won five games in the final 30 seconds this season.
THE STUDS YOU'LL FIND OUT ABOUT
Mike Daum, South Dakota State: Daum is a 6-foot-9 future NBA player that plays for the Jackrabbits. He scored 51 points in a game earlier this season. They are going to give Gonzaga more of a fight than you think.
Brandon Goodwin, FGCU: Goodwin is this year's star for #DunkCity, a 6-foot-2 guard that averages 18 points and four assists.
BEST OPENING ROUND MATCHUP: No. 14 FGCU vs. No. 3 Florida State
We get a battle between a team with the talent of a Final Four program and a team with Cinderella pedigree, both of whom hail from Florida and will be squaring off in Orlando. That will be fun.
MATCHUPS TO ROOT FOR: No. 1 Gonzaga vs. No. 2 Arizona
It's not just the story lines with these two teams. It's that they're the best two teams in the region and that they happen to matchup so well against one another. Arizona has been one of the hottest teams in college basketball over the course of the last month of the season, but Gonzaga earned their No. 1 seed with a 32-1 season. You want upsets in the early rounds. You want chalk in the later rounds, because it leads to games like this.
CBT PREDICTION: Arizona and Sean Miller finally make it to a Final Four.