THREE STORYLINES TO WATCH
Kentucky got the worst draw of the entire tournament: Forget Wichita State, the team that got the worst draw of the entire tournament field was Kentucky. How about this: If favorites hold on to win, in order for the Wildcats to get to the Final Four, they're going to have to beat Wichita State — who is currently sitting in eighth on KenPom — in the second round, UCLA in the Sweet 16 and North Carolina in the Elite 8. That's just to get to the Final Four! They're still going to have to beat the likes of Kansas and Louisville and Duke and Villanova once they get there. For a team that has the ups and down that Kentucky can have, the idea that they're going to have to beat five of the ten or 12 best teams in America to win a national title isn't exactly inspiring.
Can Middle Tennessee State make another tournament run?: The Blue Raiders are coming off of a year where they knocked off No. 2 Michigan State, the popular national title pick, in what may be the greatest first round upset in NCAA tournament history. What are they going to do for an encore? Beating Minnesota and the winner of Butler-Winthrop is certainly feasible.
Memphis will probably be the best site to be at for the second weekend: In an ideal world, there will be four different shades of blue populating the FedEx Forum the second weekend of the NCAA tournament. Three of those blues would ideally come from bluebloods: North Carolina, Kentucky and UCLA. Those three fan bases are large and passionate, and both Kentucky and North Carolina are close enough that their crowds will flood that building. But then there is Middle Tennessee State. The Blue Raiders would be the darlings of the dance if they can get to the second weekend, and their campus is just a four hour ride down I-40 from Memphis. You can't really ask for something better than that.
REGIONAL BREAKDOWNS: East | Midwest | South | West
THE ELITE 8 MATCHUP IS … ?: No. 1 North Carolina vs. No. 3 UCLA
For my money, North Carolina is one of the four teams in this tournament that I think has the best shot of winning the national title, and I honestly do not see them getting too much of a test until the Elite 8. Squaring off with Seton Hall will be a fight — there aren't many teams that are as physical and athletic and tough as the Pirates — and Butler has a habit of beating teams they aren't supposed to beat, but I just think the Tar Heels are too good. If Kentucky gets by Wichita State, their game against UCLA is a coin-flip game. I think I'd lean UCLA in that one, but with De'Aaron Fox back and Malik Monk on one, it's tough to pick against UK.
FINAL FOUR SLEEPER: No. 10 seed Wichita State
You are going to hear this point made so many times over the course of the next week that it will make you sick, but Wichita State is a top ten team on KenPom, which is the most highly-regarded metric of its type within basketball circles. They haven't beaten anyone yet, but they also haven't played anyone since a team that replaced Fred VanVleet and Ron Baker finally came together. The thing standing in their way is the same thing that hurts Kentucky: that path to the Final Four is an absolute nightmare.
RELATED: Printable NCAA Tournament Bracket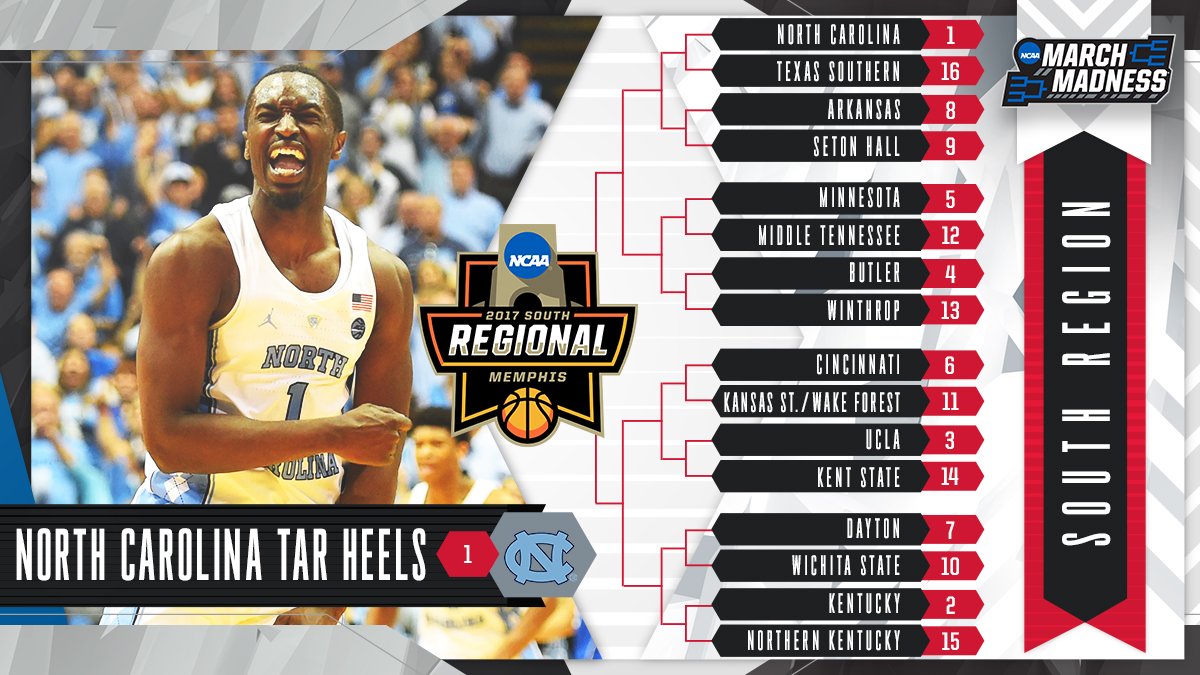 UPSETS THAT CAN HAPPEN
No. 12 Middle Tennessee State to the Sweet 16: These dudes are good. I'm telling you. They beat Vanderbilt by 23 points. They were up by 29 points at the half at Ole Miss. They won at Belmont. They beat UNC Wilmington. And I don't think it's crazy to think that Middle ended up in a region with the worst No. 4 seed and the worst No. 5 seed in Butler and Minnesota, respectively.
No. 11 Wake Forest over No. 3 UCLA: UCLA can't guard. We know this. We've known it for a long time. Wake Forest can't guard either, but they are the eighth-most efficient team in college basketball and they have a future NBA center in John Collins that is punishing dudes this season.
No. 10 Wichita State over No. 2 Kentucky: The Shockers are very, very good and very, very well-coached. It's not crazy to think that Gregg Marshall will find a way to scheme Malik Monk out of the game.
UPSETS THAT WON'T HAPPEN
No. 9 Seton Hall over No. 1 North Carolina: Given that this game would turn into one of those strength-vs.-strength matchups, I think some will make this pick. The biggest reason I don't see this upset happening? UNC doesn't have anyone that I think is going to be a pushover against Seton Hall.
FEEL LIKE GAMBLING?: Pick Kentucky to win the national title
Unless there is someone in your pool from the state of Kentucky, no one is going to be on that pick, not with the way the Wildcats played late in the season and not when they have to beat so many great teams to get there. But remember: Upsets happen in this tournament, and Kentucky has a kid by the name of Malik Monk, who is capable of going crazy, taking a game over and winning it by himself. If you want to ride with Monk and De'Aaron Fox, it's worth the long odds.
RELATED: Power Rankings 1-68 | Duke deserved a No. 1 seed | Committee got bubble right
THE STUDS YOU KNOW ABOUT
Malik Monk, Kentucky: He's scored 20 points in a half six times this season, 30-or-more in one half twice and for 47 points in a win over North Carolina in Las Vegas. He's not bad.
Justin Jackson, North Carolina: Jackson turned himself into the ACC Player of the Year this season, operating as UNC's go-to guy and best perimeter shooter.
Lonzo Ball, UCLA: The man that should be credited with turning around UCLA. He turned that program into what it is today, instilling a culture of unselfishness.
THE STUDS YOU'LL FIND OUT ABOUT
Keon Johnson, Winthrop: Generally listed at 5-foot-7, Johnson is a dynamic scorer that averaged better than 22 points this season. Can he lead the Eagles to a win over Butler?
John Collins, Wake Forest: Collins has been an absolute monster this season, averaging 18.9 points, 9.8 boards and scoring 20-or-more in 12 straight games at one point.
BEST OPENING ROUND MATCHUP: No. 7 Dayton vs. No. 10 Wichita State
The Flyers and the Shockers are two of the best teams and best basketball programs that you may not realize are two of the best teams and programs. This should be a terrific, well-coached game between the two most in-demand head coaches in college basketball.
MATCHUPS TO ROOT FOR
This is what you want to have happen: Kentucky play Wichita State in the second round before taking on UCLA in the Sweet 16. Then you want the winner of that game to play North Carolina. It's that simple.
CBT PREDICTION: I think the Tar Heels come out of the South, beating UCLA in the Elite 8.