THREE STORYLINES TO WATCH
How does Oregon respond to the loss of Chris Boucher?: The biggest story coming out of Championship Week for the Ducks was that they lost their starting center, Chris Boucher, to a torn ACL. He is done for the season. Just how much will this affect Oregon? I think the biggest issue is that they are going to lose floor-spacing. What made Boucher valuable is that he can make threes and block shots at the rim, which means that Oregon can keep the paint clear without losing rim protection. That's not easy to replace, but Dana Altman is a terrific coach. He'll figure something out, especially when you consider that Jordan Bell is an elite defender and Dillon Brooks is a monster. The question is whether or not they will have enough time to put it all together.
Kansas has no depth inside. When does this become an issue?: It's going to at some point. Maybe Landen Lucas gets three fouls in the first 10 minutes. Maybe he rolls an ankle. Whatever the case may be, the Jayhawks are in trouble if they have to play extended minutes without Lucas, especially if they have to do it against a team like Purdue (in the Sweet 16) or North Carolina (in the Final Four). It's going to happen at some point in they are to win six games in this tournament. How they cope will determine if they cut down any nets.
At what point does Louisville start making shots?: That's the biggest concern with this team. Can they score? We know how good Louisville's defense is under Rick Pitino, particularly this season, but if Donovan Mitchell has an off-night, the Cardinals can struggle to crack 70 points. We saw it against Duke in the ACC tournament. The Blue Devils switched to a second half zone, and with Mitchell shooting 3-for-14 from the floor, the Cards had no answer.
REGIONAL BREAKDOWNS: East | Midwest | South | West
THE ELITE 8 MATCHUP IS … ?: No. 1 Kansas vs. No. 2 Louisville
I think Louisville has the easiest path to the Elite 8 in the region, as the No. 3 seed on their side of the bracket is missing their starting center. Kansas is probably going to have to get by a team that beat them in Phog Allen (Iowa State) or a team with the biggest front line in the sport (Purdue) to get there, and that won't be easy, but if you're better against #BIFM, you're being silly.
FINAL FOUR SLEEPER: No. 5 seed Iowa State
The Cyclones have looked like a different team since they inserted Solomon Young into the starting lineup, as they finally have something of a back bone in the paint. But what makes them so dangerous is their ability to score. they can put up points in a hurry, they have four guys on the floor that can make five or six threes in a game and, like we saw against Kansas in that overtime win, when they get hot, they can literally beat anyone on any floor.
RELATED: Printable NCAA Tournament Bracket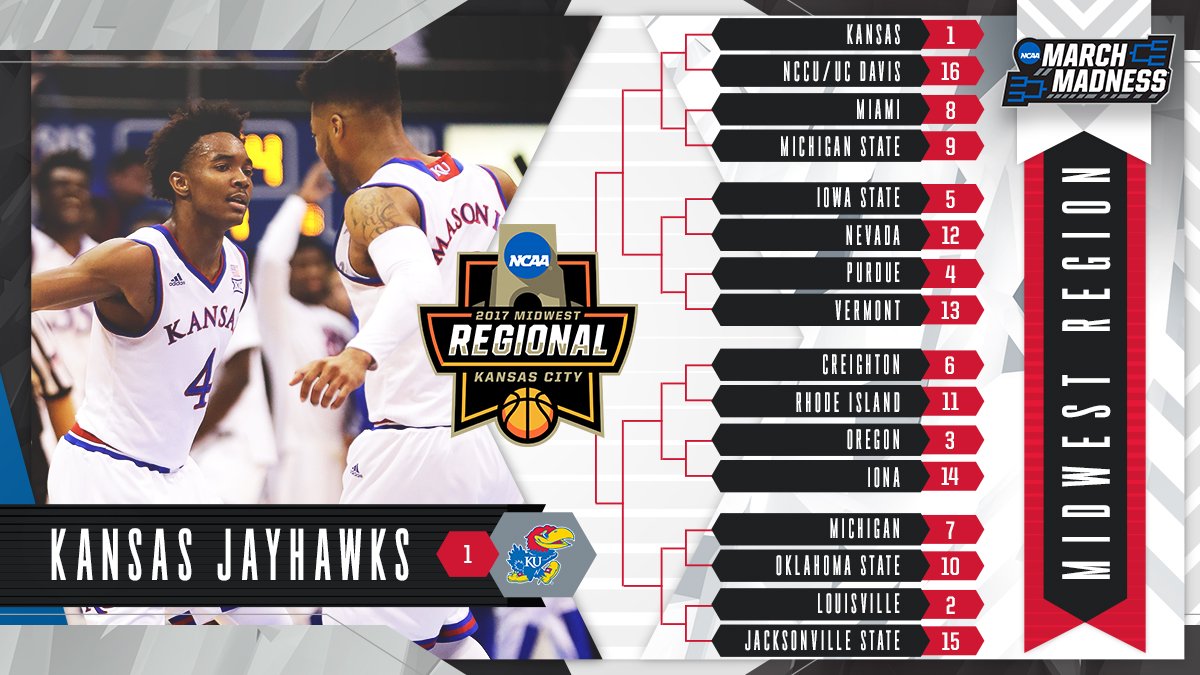 UPSETS THAT CAN HAPPEN
No. 11 Rhode Island over No. 6 Creighton: The Rams are playing some of their best basketball of the season and are arguably more talented than Creighton, whose seed is partly a result of what they did with Mo Watson on the roster earlier this year.
No. 13 Vermont over No. 4 Purdue: The Catamounts are going to have their work cut out for them with Caleb Swanigan, but they have some size and are a well-drilled defensive team.
No. 12 Nevada over No. 5 Iowa State: The Wolf Pack are a talented team that I wanted to pick to win a first round game regardless of who they played. Then they ran into one of the hottest teams in college basketball. Cameron Oliver and Jordan Caroline are a problem.
UPSETS THAT WON'T HAPPEN
Honestly, I don't think anything is off the table in this region outside of Louisville and Kansas getting to the Sweet 16.
FEEL LIKE GAMBLING?: Put the winner of No. 4 Purdue-No. 5 Iowa State in the Final Four
Both of those teams matchup well with Kansas. Both of those teams make a lot of threes when they are playing well. Purdue has a National Player of the Year candidate in Swanigan. Iowa State has an all-american in Monte' Morris. Purdue won the Big Ten regular season title. Iowa State won the Big 12 tournament title. Both are dangerous … if they can get past Kansas.
RELATED: Power Rankings 1-68 | Duke deserved a No. 1 seed | Committee got bubble right
THE STUDS YOU KNOW ABOUT
Frank Mason III, Kansas: Mason is the NBC Sports National Player of the Year. #BIFM. You should know all about him.
Caleb Swanigan, Purdue: Swanigan is putting up Tim Duncan-esque numbers and has an incredible story — as an eighth-grader, he was 360 pounds and homeless. Look at him now.
Monte' Morris, Iowa State: There are a ton of sensational point guards in college basketball this season, so what Morris has done to lead this group to a No. 5 seed has been somewhat overlooked.
THE STUDS YOU'LL FIND OUT ABOUT
Jawun Evans, Oklahoma State: He's been sensational, and he'll have a chance to showcase what he can do on a national stage against Michigan.
Cameron Oliver, Nevada: He will play in the NBA. Wait until you see what he can do. Will it be enough to lead the Wolf Pack past Iowa State?
BEST OPENING ROUND MATCHUP: No. 12 Nevada vs. No. 5 Iowa State and No. 10 Oklahoma State vs. No. 7 Michigan
Those are my two favorite opening round matchups, period. Oklahoma State vs. Michigan has a matchup of underrated point guards and two teams that score a ton of points and don't guard anyone. (Bet the over.) Nevada has NBA talent on their roster, enough to give a good — and hot — Iowa State team a fight.
MATCHUPS TO ROOT FOR
I would love to see a rubber match between Kansas and Iowa State, personally. That's a rivalry in the Big 12 that has some hatred, and that game will get played in Kansas City. Kansas fans probably bought up all the tickets they could find, but don't be surprised if Iowa State fans full up 40 percent of that arena.
CBT PREDICTION: I picked Kansas to win it all on October and I'm still on that bandwagon.