THREE STORYLINES TO WATCH
Will Villanova repeat as National Champs?: They sure look like they are ready to do so. In fact, I think Villanova's title defense is probably the biggest story in the sport as we head into the start of the tournament, and yet, it doesn't feel that way, does it? They have the star in Josh Hart, they have point guard play, they are well-coached, they have veterans at every spot on the floor. The Wildcats certainly have the talent on the roster to make a run at this.
After winning the ACC tournament, does Duke have another run in them?: Like Villanova, Duke just finished up putting together a run to a title in a league tournament that was played in the Big Apple, cutting down the nets at the Barclays Center just a few hours after Villanova did so in the Garden. The Blue Devils have put it all together here late in the season, shaking off all the injuries, suspensions, surgeries, everything to look like a team that almost always has three of the four best players on the floor.
Is there anyone in the East that can beat those two?: For my money, there are four favorites as we head into this tournament: Kansas in the Midwest, North Carolina in the South and then Duke and Villanova in the East. In fact, I think that it's just about a lock that these two are going to be playing in the Garden on Sunday night, going head to head in what should be an unbelievable atmosphere for the right to play in the Final Four. Can anyone in the region beat them? Wisconsin over Villanova in the second round is somewhat worrisome, but I don't think that Florida without John Egbunu or Virginia given their inability to score will give the Wildcats a run. As for Duke, their biggest test before the Elite 8 will probably end up being SMU. None of those teams really worry me.
REGIONAL BREAKDOWNS: East | Midwest | South | West
THE ELITE 8 MATCHUP IS … ?: No. 1 Villanova vs. No. 2 Duke
Like I said earlier, I just cannot see anyone else in this region beating either of these two teams, not when they play the way that they've been playing this past week.
FINAL FOUR SLEEPER: No. 6 seed SMU
The Mustangs are better than anyone is giving them credit for this season. They're currently sitting at 11th in KenPom's rankings, and they handled Cincinnati fairly easily in the last two games those two teams played. Semi Ojeleye is a monster, and he's a former Duke player. I fully expect the Mustangs to get past Baylor and into the second weekend, which would pit Ojeleye against his former team playing a role that Duke knows so well these days: the small-ball four.
RELATED: Printable NCAA Tournament Bracket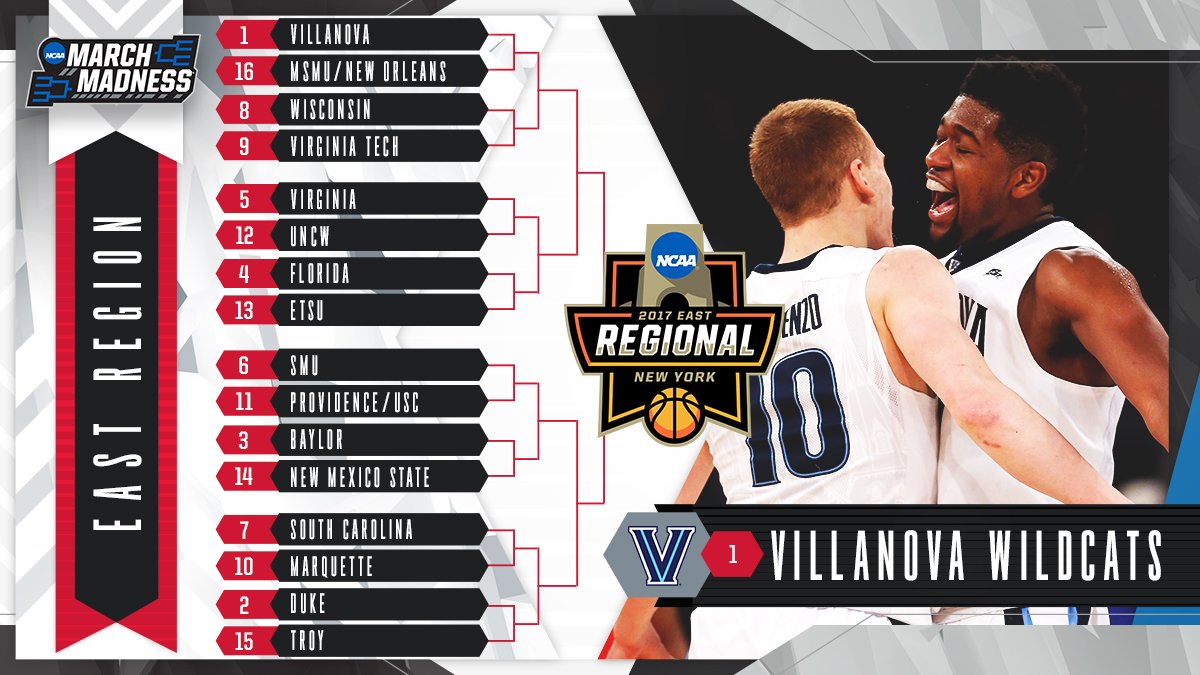 UPSETS THAT CAN HAPPEN
No. 13 East Tennessee State over No. 4 Florida: I really like the team that Steve Forbes has put together. He has high-major talent on that roster and a star guard in T.J. Cromer. The Gators have looked vulnerable without John Egbunu in the paint.
No. 6 SMU over No. 3 Baylor: This is one of the easier picks for SMU. I just flat out think that SMU is a better basketball team, as Baylor has been reeling over the course of the last month of the season.
No. 8 Wisconsin over No. 1 Villanova: This one is worrisome to me. The Badgers love working the ball through their posts, Ethan Happ and Nigel Hayes, and if there is a weakness to Villanova's team, it's their ability to defend big guys.
UPSETS THAT WON'T HAPPEN
No. 12 UNCW over No. 5 Virginia: The Seahawks, who are a very, very good basketball team heading into their second straight NCAA tournament, got a terrible draw against UVA. UNCW wants to push tempo, force turnovers, shoot threes and create chaos. Virginia does not let that happen when they play.
FEEL LIKE GAMBLING?: No. 7 South Carolina to the Sweet 16
The Gamecocks will be playing in Greenville, S.C., and have one of the nation's toughest defenses. They are physical, they are strong and they are old, which is exactly the kind of thing that could give Duke trouble in the second round. That said, I'm not sure they get past Marquette and I don't know if they can score enough points to give either of those two teams a fight.
RELATED: Power Rankings 1-68 | Duke deserved a No. 1 seed | Committee got bubble right
THE STUDS YOU KNOW ABOUT
Luke Kennard, Jayson Tatum and Grayson Allen, Duke: To me, these three are almost always going to be three of the four best players on the floor at any given time.
Josh Hart, Villanova: There's nothing flashy about Hart's game. He's just a grinder, a junkyard dog that gets every loose ball and pounds the offensive glass and that is good enough to put up 29 points in the Big East title game.
THE STUDS YOU'LL FIND OUT ABOUT
Semi Ojeleye, SMU: He's got a chance to be a first round pick this June, and I don't know if anyone knows his name. He's a powerfully athletic, 6-foot-8 combo-forward that allows SMU to play four-around-one when they need to.
T.J. Cromer, ETSU: Cromer averaged better than 19 points per game this season, and he's got enough ability to be the guy that carries a mid-major team to the Sweet 16.
C.J. Bryce, UNCW: Just a sophomore, the 6-foot-5 Bryce is averaging 17 points as a two-guard in Keatts' system. You have to think that, if Keatts jumps at a bigger job after the tournament, Bryce might be a guy that follows him there.
BEST OPENING ROUND MATCHUP: No. 5 Virginia vs. No. 12 UNCW
It may not be the most aesthetically-pleasing game, but the contrast in styles between these two programs is just so fascinating, and it brings up an interesting debate I had over the weekend: If you are a mid-major program trying to land an upset, do you want to go up against a team that plays a totally different style from you and hope that the matchup works, or do you want to take on a team that plays similarly but just has better athletes and players? If it's the former, should I be re-thinking my take on UNCW in this game?
MATCHUPS TO ROOT FOR: No. 1 Villanova vs. No. 2 Duke
That is a game that is good enough to be for the national title, and we might get it in the Elite 8 in the best building to watch a neutral site game between two teams that really turn out fans in NYC. This needs to happen.
CBT PREDICTION: Picking a winner in that game is so hard to do, but I think I lean Duke. Talent wins out at the end of the day.