BROOKLYN — Before Duke's season began, before the injuries to the three star freshmen and before Grayson Allen tripped his third opponent in a year and before the patriarch of the Duke program missed a month of the season to undergo back surgery, head coach Mike Krzyzewski coined a phrase that would become the motto for this group team: 'Uncommon Winning.'
He had no way of knowing just how prescient that phrase was.
On Saturday night, Duke became the first team in the history of the ACC tournament to win four games in four days and take home trophy. They did it by erasing an eight-point second half deficit against Notre Dame, winning 75-69, the third-straight night that the Blue Devils turned a loss into a win with a scintillating second half run. Against North Carolina on Friday night, Duke used a 29-9 surge to turn a 13-point deficit into a seven-point lead. On Thursday, in the quarterfinals, Duke erased a 12-point deficit in the final 12 minutes of the game.
Everything about that is uncommon.
Everything about the Duke season has been uncommon.
And yet here they are, less than 24 hours before the bracket is to be released, and Duke is right where we thought they would be: Champions of the ACC and in line to get a No. 1 seed on Selection Sunday.
Uncommon Winning indeed.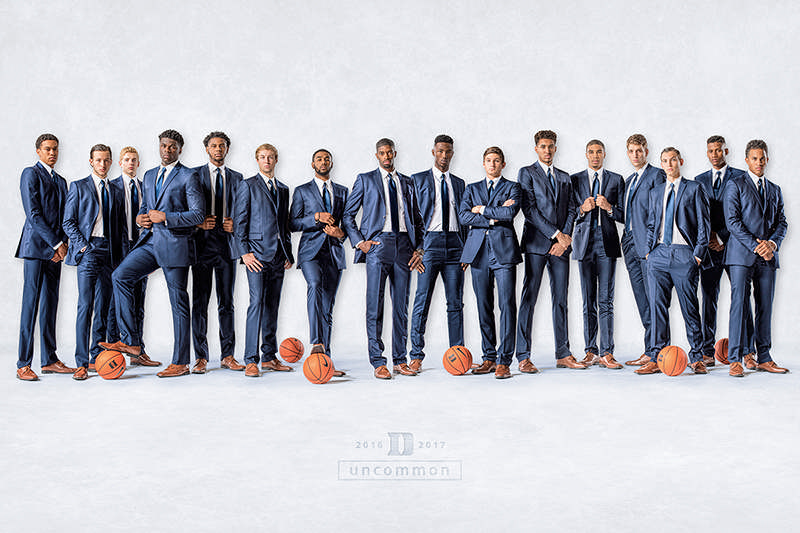 I know people don't want to hear it, but the fact of the matter is that Duke is in line for a No. 1 seed.
The Blue Devils have more top 50 wins than any other team in the country with 13, and eight of those 13 wins came away from home. They have eight top 25 wins — six of which came away from home — and four top ten wins — with three of those away from home. They are 26-8 on the season. They have beaten North Carolina, the team that just about everyone thought was a lock to be the No. 1 seed in the South, in two out of the three matchups between the two teams, including in Brooklyn on Friday night.
Does that mean the Blue Devils are a lock for the No. 1 seed?
Of course not.
It's foolish to speak in absolutes when talking about the Selection Committee and the decisions that they make, especially in a year where there is so much uncertainty on that top seed line. Will Gonzaga, at 32-1, get a No. 1 seed? What about Arizona, the Pac-12 tournament champion and regular season co-champion? North Carolina has a résumé that, in a vacuum, is deserving of a No. 1 seed. When you win a league as tough as the ACC by two full games, you have to get put into that conversation.
And then there's Duke.
The Blue Devils have an argument that is as valid as anyone, and the fact that they have gotten to this point given where they were midway through ACC play is incredible. Jayson Tatum missed the first six weeks of the season with a foot injury that kept him from being himself until much later in the year than anyone expected. Harry Giles III's third knee surgery has ensured that he will likely end his college career as a shell of the player he once was and, hopefully, can still be. Coach K missed a month after back surgery, a stretch where the Blue Devils went 4-3 on the season. Grayson Allen has been a shell of himself thanks to foot and ankle injuries and the scorn that comes with being The Villain Of Durham.
"I've had a lot of years," Coach K said. "They've been through more than anyone group has been through that I've coached."
"It was not like anything I've been through. That's pretty cool, when I've been through more than anybody. And I've been lucky to be successful, but for them to take me through a journey that I've never been through before, it's amazing."
To a man, everyone in that Duke locker room credits Coach K with being able to keep this team together throughout everything that they've dealt with. "He is such a good leadership coach," Allen said. "It's way more than x's and o's. He teaches us how to be together as a group, all that cliché stuff, that, it sounds really cliché, but that's what we try to do."
How did he make it work?
Simple, really.
Live in the moment. Instead of worrying about what is going to happen two or three weeks in the future, focus on doing what you have to do to win the next game.
"We live in a world of predictions, expectations and a very shallow analysis of what a player or team does, because it's instant," Coach K said. "I just try to stay deep. We're concentrating on us. Just like this tournament, we didn't come here to win it, we came here to win the next game. Having that approach throughout the year."
"'What's this next week going to be like? When can we get this kid healthy?' Instead of looking at the whole thing and saying, 'Poor us', it's, 'No excuses.'"
"All that stuff brought us together as a team," Allen said. "I think that's what's showing."
I don't think he's wrong.
The incredible part about Duke's tournament win was how easy it would have been for them to quit. They trailed by 12 points and were getting run off the floor by Louisville, but they made the switch to a zone that they never practice and it changed the game. Duke won. Against North Carolina, the Blue Devils were getting manhandled on the interior, but then Joel Berry II picked up his fourth foul, UNC's transition game stalled and Duke took advantage, using a 29-9 run to win the game. On Saturday night, it was Amile Jefferson that prompted the change.
He stepped up and slowed down Bonzie Colson, who finished with 29 points. He stepped up and took away the ball-screen action that Notre Dame had been eviscerating the Blue Devils with. He stepped up and scored a series a big buckets in the post in the final 10 minutes.
And in those final ten minutes, Duke didn't run one single play.
"The last ten minutes, we didn't call a play, we just said you play, take ownership, and you could see out guys just make plays," Coach K said. "When you give ownership to a team, they don't get tired. Because they're not playing for you."
"They're playing for them."