For six months after he took his first head coaching job, Bob Johnson lived in a haunted old gym.
There, on the Emory & Henry campus, 700 miles away from his wife and two children, at a tiny school in a tinier town tucked away in the mountains of southwestern Virginia, surrounded by dairy farms and lonely roads, the Vietnam veteran and son of a former four-star Army general launched a coaching career that would last three decades and produce as many current Division I head coaches as Duke's Mike Krzyzewski, two of whom will hear their names called on Selection Sunday.
He never left that school, the one that never had a basketball history to speak of when he arrived, the one that had 13 straight losing seasons when he started spending his nights with the spirit of a confederate soldier.
Johnson died at Emory & Henry, two years after he retired and two days before his 63rd birthday, leaving a legacy that stretches far beyond his little corner of Appalachia and the confines of what we call family.
---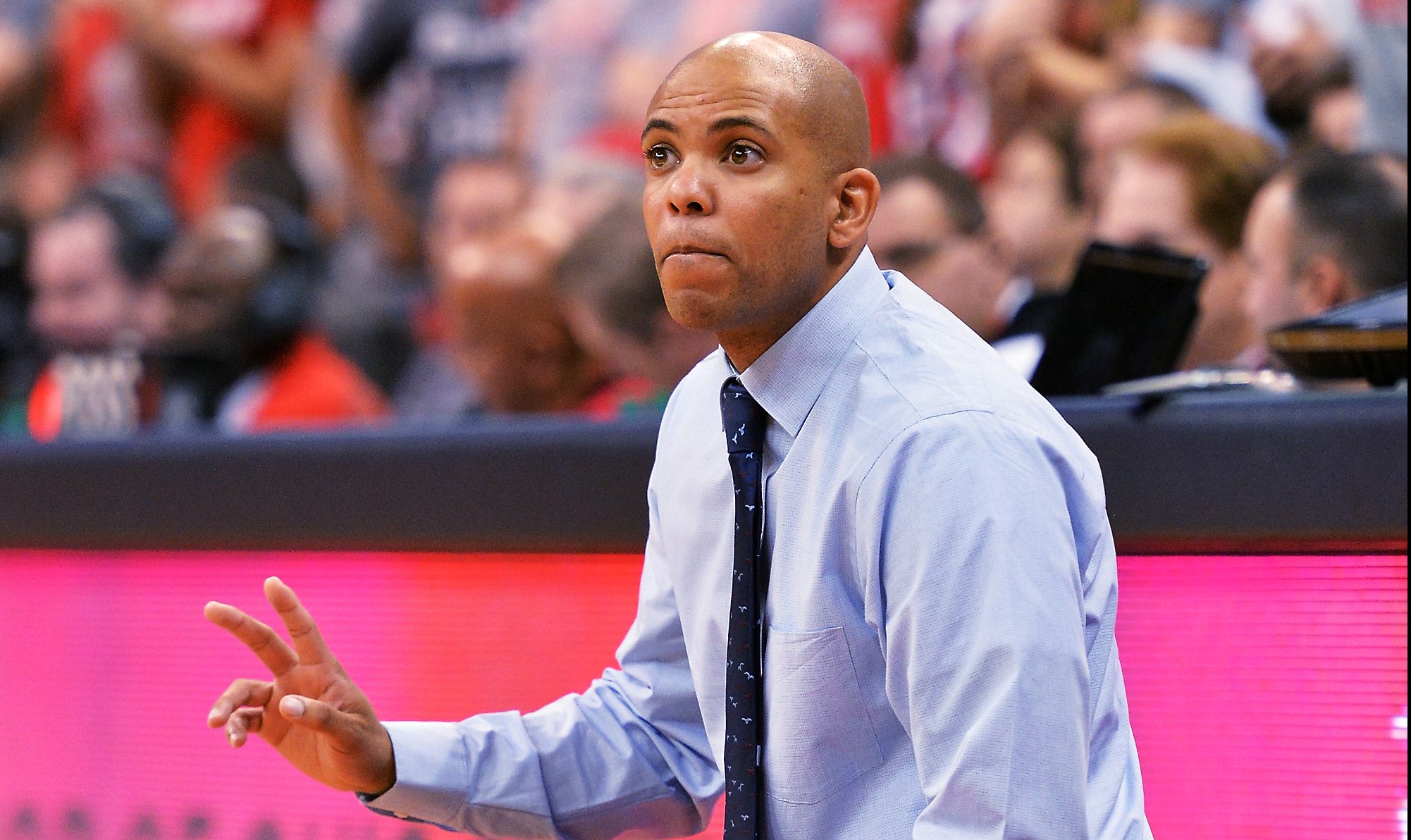 ---
Jamion Christian is the baby of the Emory & Henry family.
He won't turn 35 until after this year's Final Four and looks more like one of his players than a head coach that is taking Mount St. Mary's to the NCAA tournament for the second time in four years.
Christian got his start at Emory & Henry the day after he graduated from the Mount. At 22 years old, less than a month after finishing his career as a Division I basketball player, Christian's parents were helping him unpack in the apartment he was moving into on campus. Johnson, his 57-year old boss with two knee replacements and a couple wins over cancer already on his résumé, appeared at the top of the stairs with Christian's mattress on his back.
That's who Johnson was. He was demanding as all hell, but he was never going to ask his staff or his players to do something he wouldn't do himself. There was the time he didn't think his team was doing medicine ball slides hard enough, so he grabbed the 25-pound ball, held it above his head and threw 20 minutes on the clock, forcing his team to watch as he bettered college athletes two decades his junior.
He was also the toughest son of a gun in every room he walked into. Mike Young, who has spent the last 15 seasons as the head coach at Wofford, drove from Spartanburg, S.C., to Bristol, Va., when Johnson's first bout with cancer forced him to have a kidney removed. Young was in Johnson's hospital room when Marcy, his nurse, came in to check on him and let him know there was a buzzer he was allowed to press if he needed anything.
"Marcy," Johnson said, "there's not another thing I need tonight. But tomorrow, after my surgery, I might be uncomfortable, and I'm going to hit this buzzer and I am going to expect you to be there immediately. If you're not, Marcy, I'm going to throw this f—ing phone through that window over there."
They all had a good laugh at that, Marcy included.
"But she was there," Young said, "when he rang that buzzer."
Johnson was back at practice five days later, which only added to the mystique of his persona. He loved regaling whomever would listen with stories of his time in Vietnam. One day, when he was at lunch with his assistant, current Radford Athletic Director Robert Lineburg, he told the tale of how he could kill a man six different ways with a spoon. That story got out, and for the rest of his tenure at Emory & Henry, students would hide their spoons whenever Johnson walked through the cafeteria.
But as tough as he was, the people that knew Johnson best knew there was so much more to him. He was a former U.S. Army Ranger that survived a year of heavy combat in the jungles of southeast Asia. He coached hard and his teams played harder. He was an intimidating presence, until you got to know him.
Nathan Davis is now the head coach at Bucknell, taking the Bison to this year's NCAA tournament in just his second season running a Division I program. Before he took a job as an assistant at Emory & Henry he was an all-conference player at ODAC rival Randolph-Macon. Before a critical league game against Emory & Henry, Davis was walking off the court and heading into his locker room with a teammate when he was hit in the back with a balled up piece of paper.
It had been thrown by Bob Johnson.
"Come here," Johnson said. "You two look too sick to play today."
"It was surreal. Who does that?" Davis recalled in an interview last month. "It was so random and funny. At the time, everyone knew he's a Vietnam veteran, he's intense, his teams play so hard. He's an intimidating figure, and an hour before the game he's doing this? It's pretty funny. We were like 'Who is this guy?' It was a side to him not a lot of people knew he had."
Johnson had a way of connecting with people from all walks of life. From the cafeteria workers to the janitors to the maintenance men, he knew the name of everyone on campus. He never walked into the lunch room through the front door. He'd come in the back, swapping stories and handing out t-shirts and asking the cooks about their kids.
"He just really appreciated everybody who contributed," Sherry Johnson said. "He taught that to these kids. They left knowing they need to respect everybody."
---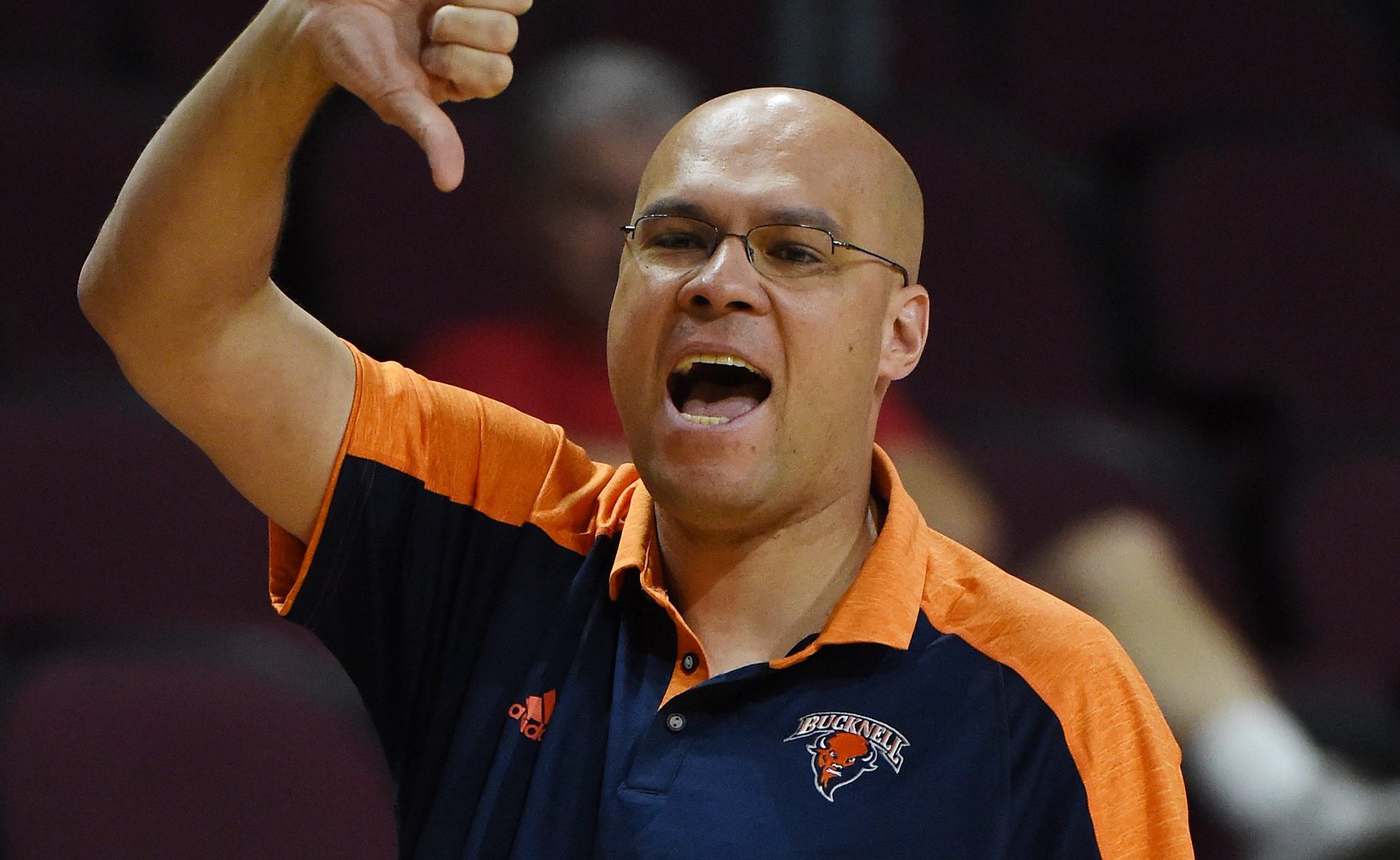 ---
Bob and Sherry Johnson were friendly in high school. They went on a few dates, she visited him at West Point and, after he was kicked out, at Dickinson, but nothing serious ever developed between them until Bob came home from Vietnam.
"I ran into him at a party," Sherry said, still chuckling at the story five decades later. "He drank all my date's scotch then he took me home. And that was the beginning of our dating relationship."
Bob's father was Harold K. Johnson, a survivor of the Bataan Death March who would go on to become a four-star general and, from 1964-68, the Chief of Staff of the United States Army. That was enough to get Bob into West Point. As the story goes, he was cut from the basketball team by Bob Knight for throwing a behind-the-back pass and, not too long after, kicked out of school after refusing to rat out a friend that had been accused of cheating.
He would finish up his college degree at Dickinson before heading off to Vietnam, where he became a U.S. Army Ranger and a platoon leader in the 101st airborne infantry division. Seven times during his tour of duty, he was in a helicopter that was shot down, those landings so violent that the toll on his knees cut his time in the service was cut short.
He would return to Northern Virginia, and, after marrying Sherry in 1973, he spent four years coaching at Boy's Clubs and high schools in Washington, D.C. Eventually, he landed a spot as an assistant at Rensselaer Polytechnic Institute. He spent three years there, and two weeks before the start of the 1980 season, he got word that he had been tabbed to take over the Emory & Henry program.
"I have good news and bad news," Sherry recalls her husband saying. "The good news is I'm taking you back to Virginia. The bad news is you're six hours from Mommy."
The Johnsons had two kids by that point. They couldn't afford two mortgages, so Sherry stayed back in New York with the kids while Bob moved to Emory, Virginia, to begin his career and find a house the family could afford all while living in an abandoned gym, spending more time chasing off ghosts than chasing around his children.
"Martin Brock was the name of the old gym and there were supposed to be ghosts in there," Sherry said, chuckling. "It was an experience for him."
"Eventually, he found a house and so when the kids and I came down, we moved in and he got out of the gym. He lived there for a good six months."
---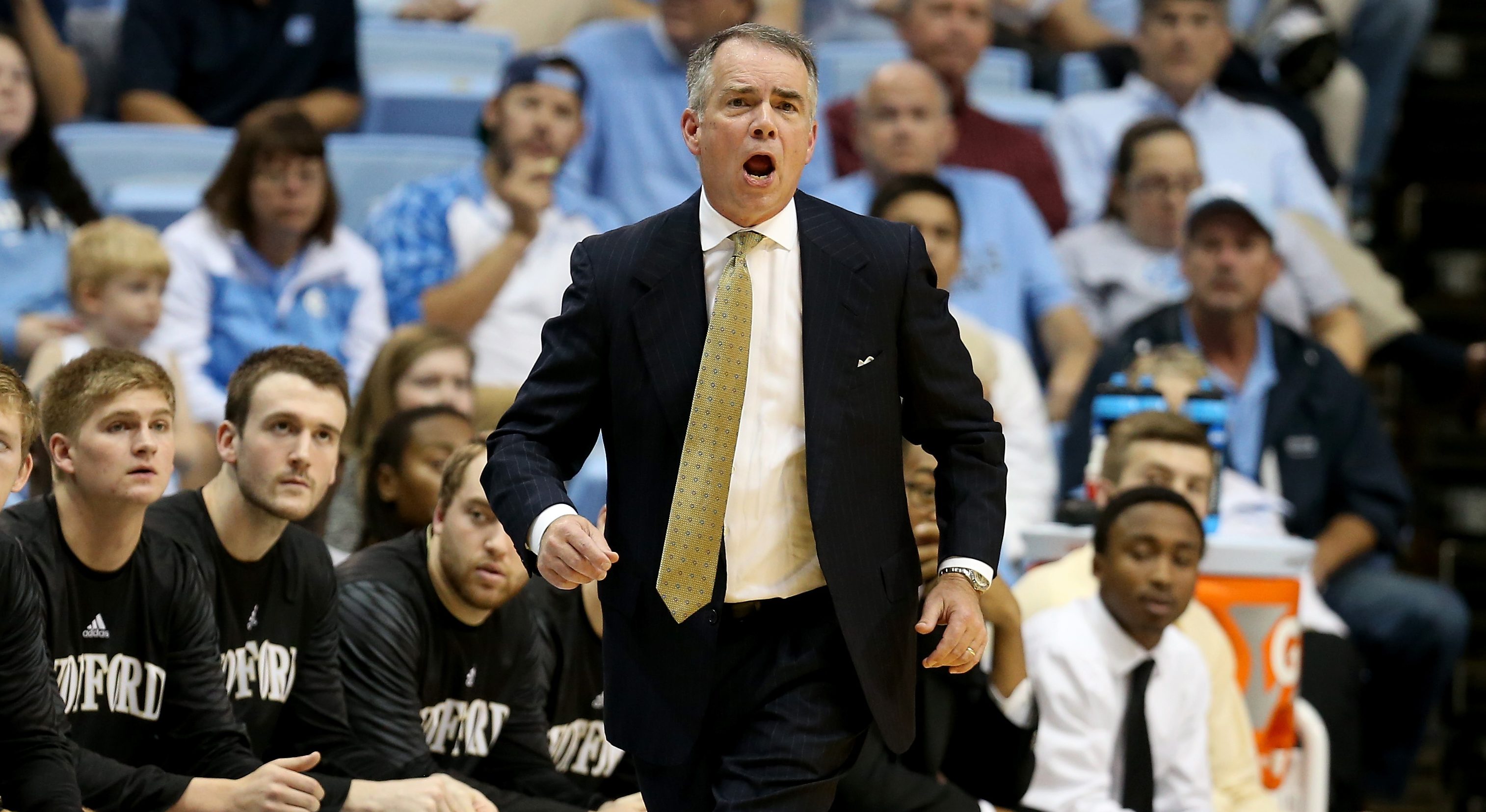 ---
Mike Young was the first.
When Johnson accepted the Emory & Henry head coaching job in 1980, it was, as Young described it, "the worst job in America." The school hadn't posted a winning season in 13 years and the program was hours and hours away from anywhere that could be considered a hotbed of high school talent.
"When he got down here nobody knew where the basketballs were," Sherry said. "Literally. There was no history, no tradition, nothing."
No hope either, it seemed.
"In the early 80s, the worst basketball in America was played in southwest Virginia," Young said. "You had to get to Roanoke and east [to find players]. It was such a discount to get in-state kids, but Roanoke was two hours east. Then to get to Richmond or Northern Virginia, you're passing by a lot of quality schools to get to good old Emory. You come off that exit off I-81 and there's a big dairy farm. For a city guy, that's not what you lie awake at night dreaming about as a college destination."
That, however, was great news for Young, whose father had attended Emory & Henry.
"[Johnson] was in the market for bad players," he said, "and I was a great fit."
Young, who was a member of Johnson's second recruiting class, became the first player to last four years with the hard-coaching Johnson, who rewarded him with a job as an assistant after graduation. That apprenticeship was the greatest initiation into the coaching ranks that a kid could ask for, in part because Young had to do everything.
He washed the practice gear, recruited, fundraised, connected with alumni, watched film, drew-up game-plans, made sure the vans were gassed up for road trips, found places they could afford to eat after games.
Everything.
Division III programs typically have just a single assistant coach, and at Emory & Henry, Young earned just $5,000 a year for the work.
"I absolutely loved it," Young said.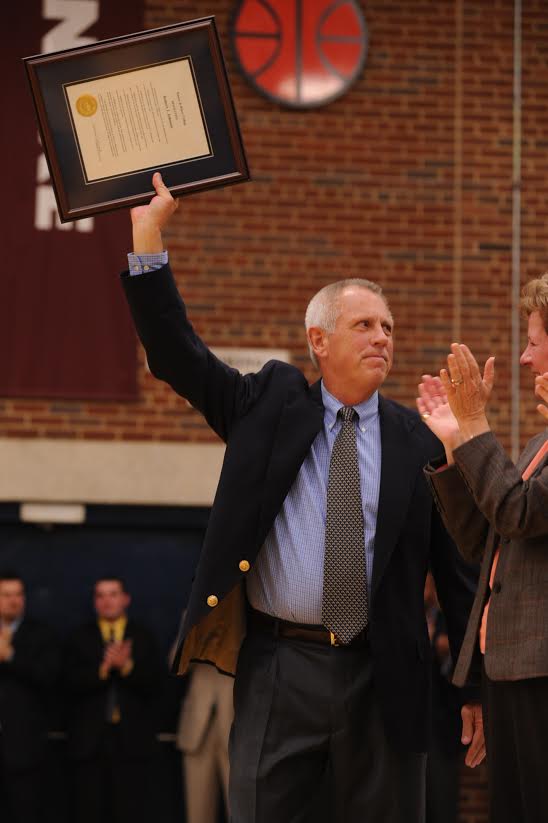 Not only did he learn how to run a basketball program, but Johnson ensured that Young learned as much as possible about basketball at the same time. At one point soon after Young was hired, Johnson shipped him off to Nashville for a week just to spend time with legendary Lipscomb head coach Don Meyer. He hung out in the offices, he sat in on practices, he even parked Meyer's car during his daily lunch runs to Captain D's. Jimmy Allen, Army's head coach, was sent on that same trip. Nathan Davis, too.
After two seasons in the Emory & Henry program, Young left for Radford, where he spent a year under Oliver Purnell before becoming an assistant at Wofford. Young still hasn't left. He spent 13 years as an assistant with the Terriers before becoming their head coach in 2002.
Two seasons were all you were afforded by Johnson. You entered the program, you gave him everything you had and he taught you everything he knows. Then he would send you on your way.
He did this at the detriment to his program. Continuity is key at any level, but particularly in Division III, where budgets are small, scholarships don't exist and the athletes compete because of their love for the game and their loyalty to their teammates. Putting that much time and energy into molding a kid into a capable assistant coach is not an easy endeavor, not when the process begins anew every 24 months.
But that's the way Johnson worked.
"There are a lot of head coaches that don't want to let go of their assistants because they've just got to train somebody new," Sherry said. "Bob's outlook was you've got two years with me, after two years you need to go learn something from somebody else. He loved moving his assistants along."
Seeing the people he developed, both coaches and players, thrive in their post-Emory & Henry career meant more to him than wins and losses, and he was as competitive as they come. One of the first tasks he required of his assistants was to call every one of his former assistants. He didn't have the weight to get anyone a job, but he had a network that could be worked. Jimmy Allen, who just finished his first season as head coach at Army, played for Johnson for four years before becoming his assistant. When his two years were up, he went to Navy, where he helped get Davis on staff after Davis left Emory & Henry. Allen left Navy to join Young's staff at Wofford when Young was named head coach.
Davis eventually left Navy and went to Colgate, where he spent one season working for Emmett Davis before taking over as the head coach at his alma mater. When Nathan Davis left, Emmett Davis hired another Emory & Henry product, Jon Coffman, the head coach of the Fort Wayne team that upset then-No. 3 Indiana in November.
Christian's rise, however, is the most emblematic of Johnson's steadfast refusal to allow his protégés to accept anything less than what they deserved. After leaving Emory & Henry, Christian got a job as an assistant at William & Mary, a job he got through Nathan Davis. After Christian's first season at William & Mary, in 2007, Johnson decided that he would finally step down as Emory & Henry's head coach. Christian, who was 25 years old at the time, interviewed for the job and was told that the position was his.
Until Johnson weighed in.
"I think you have bigger things ahead of you," Johnson told Christian. "I'm not going to hire you."
Christian believed him. He spent three more years at William & Mary before accepting a job as an assistant on Shaka Smart's staff at VCU. Nine months later, Mount St. Mary's was looking for a new head coach.
In 2012, at just 29 years old, Christian became one of the youngest head coaches in college basketball.
---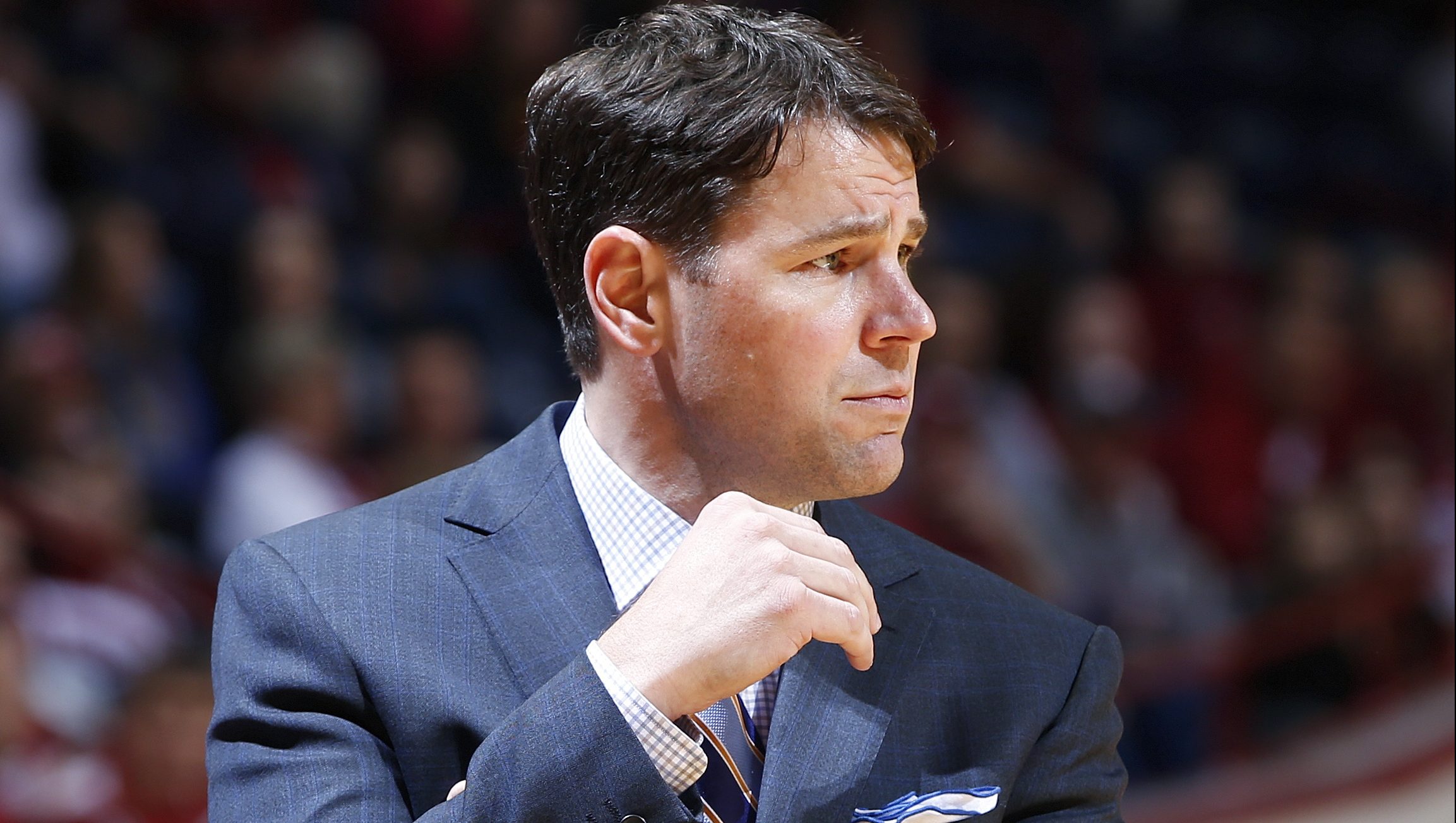 ---
Bob Johnson wasn't just a basketball coach. He had two different tenures as a football coach at Emory & Henry, he ran the athletic department and he was a professor at the university, teaching everything from Western Civilization to Great Books to Physical Education.
"He's the most well-read man I've ever met," Sherry said.
He made it a point with his players and his assistants to develop them as men, not just as coaches. "From Day One, we met as a team and coach is talking about how you act in the classroom, how you do things, how you carry yourself, how you treat people," Allen said. "You're not going to miss a class. It wasn't about basketball. It was about you as a person."
He challenged his coaches intellectually. It wasn't uncommon for him to tell his assistant to drop whatever they were doing, read a 300 page book and meet him on his deck for beers that night to discuss it.
Coffman graduated from Washington & Lee, a white-collar school in Northern Virginia and ODAC rival that Johnson not-so-affectionately referred to as "cake-eaters", and spent two years at a money management firm in San Francisco before getting into coaching. He sent out 250 résumés and Johnson was one of three people to respond. Coffman traveled to Virginia for a two-day interview, the majority of which saw the pair "hanging out on his back deck in the mountains of Virginia," Coffman said. "I can't even count how many oil cans of Fosters we put down, talking everything from politics to education to his army background to basketball."
Johnson didn't want people on his staff that had no interest in the world outside of basketball.
"He challenged you to go find new ideas," Allen said.
For Davis, it was Johnson's ability to balance his personal and professional lives that stuck with him. Davis had never been around a coach that was married. He had never learned from someone that put everything he had into coaching while ensuring that he was a good father and a good husband at the same time.
"That was important, understanding that it was OK to balance your life and it was OK to have kids and to want to spend time with them," Davis, who is married with a young son, said. "You could do this job and do those things, and that was very valuable to me. It's something I carry as much as anything."
Johnson had a way of pushing people without pushing them too far. He could lead without being suffocating. He inspired loyalty because the people in his program knew he would do everything he possibly could to help them. His door was always open, and when he didn't have time, he made time. "He didn't make you feel like he cared," Allen said. "He showed you he cared."
"It was," Coffman said, "like getting a master's in leadership."
---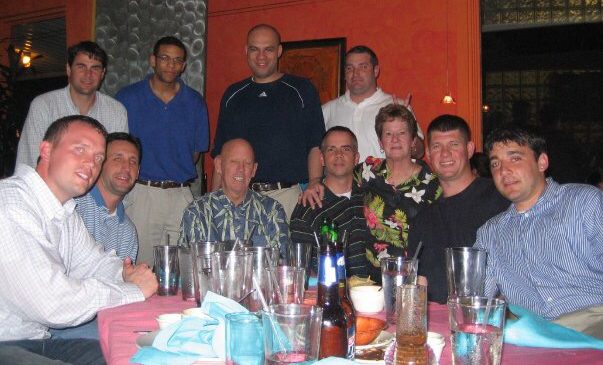 ---
Bob Johnson died on Aug. 22nd, 2009, finally succumbing to the cancer that had riddled his body for so many years.
He never got a chance to see Young reach any of his four NCAA tournaments. He never got to see Christian become a head coach at 29 years old. He never got to see Coffman get hired at Fort Wayne three years after he was out of a job, debating whether or not it was worth it to continue in the coaching business. He never saw Nathan Davis thrive as the head coach at Bucknell, or Allen get hired by Army, the university that asked Johnson to leave four decades earlier.
But his family did.
Sherry and Johnson's son, Casey, were in attendance when Allen's Army team erased a 25-point deficit in the final 12 minutes at Navy. They went to UNC Greensboro a couple years back when Coffman's team played there. Sherry still hosts parties at the house she and Johnson shared during Emory & Henry's homecoming weekend. The group still gets together every year for an Emory & Henry dinner at the Final Four. Every one of the five Division I head coaches that Johnson spawned calls one of the five their best friend in the business, or their mentor in the business, or the most important person in the growth of their career.
And that is despite the fact that their time at Emory & Henry never overlapped.
Young was gone by the time Allen arrived on campus. Allen played against Nathan Davis and Jon Coffman, but he was off to Navy by the time Davis was hired. Coffman was hired to replace Davis. Christian entered the fray four years after Coffman left.
Johnson spent 27 years as a head coach. He won 374 games, he reached the NCAA tournament five times and the Sweet 16 twice. He had three players get named all-americans. The playing floor at Emory & Henry is named Bob Johnson Court. Since 2009, the ODAC memorialized his career by giving out the "Bob Johnson Coach of the Year" award.
But his legacy, the one that Johnson cared about more than anything else in his career, is the Emory & Henry family that he built, a family that extends beyond just those five coaches. Lineburg spent 10 seasons as an assistant at SMU before eventually becoming Radford's AD. R.J. Spelsberg, who won a Virginia state title in 2016, is one of a myriad of successful high school coaches Johnson mentored.
"He would be so proud," Sherry said. "All of his assistants would eat with us two times a week, three times a week. We live a mile from campus and they were just part of our family."
"We still stay in touch and support these kids because they are part of our family."