FIRST TEAM ALL-AMERICAN
Frank Mason III, Sr., Kansas (20.5 ppg, 5.1 apg, 4.2 rpg, 49.3% 3PT)
Mason has been unbelievable this season. He leads the Big 12 in scoring and ranks fourth nationally in points-per-game among the top six leagues. He's fourth nationally in three-point shooting amongst players that average at least four threes attempted, and he's doing all that while playing nearly 90 percent of the minutes for Kansas this season. But there's more to it than just the numbers. He's the heart and soul of a Kansas team that is currently No. 1 in the country and that just won the Big 12, the toughest conference in the country, according to KenPom, by four games.
Josh Hart, Sr., Villanova (18.7 ppg, 6.5 rpg, 3.2 apg)
There may not be a more consistent player in college hoops this season than Hart, whose ability to defend multiple positions and rebound from the guard spot is one of the major reasons Villanova's small-ball lineups work. This difference between Hart this season and Hart in past season is that he's become a much better three-point shooter this year, and his assist numbers are way up. He's had a terrific season, and it's not done yet; the Wildcats have a real shot of repeating as national champs.
RELATED: Player of the Year | Coach of the Year | NBC Sports All-Americans
You can subscribe to the podcast on iTunes, Stitcher and Audioboom
Lonzo Ball, Fr., UCLA (14.9 ppg, 7.8 apg, 6.2 rpg, 42.4% 3PT)
Lonzo's stats are out of this world, and the fact that he plays on a top five team that is going to have a shot to make a run at a Final Four certainly helps his cause. But, like Mason, Ball's numbers don't tell the whole story. Ball totally changed this UCLA team this year. He brought a culture of unselfishness. He turned them into one of the best passing teams in basketball a year after they went 15-17 and looked incapable of sharing the ball. And he's just a freshman?
Caleb Swanigan, So., Purdue (18.7 points, 12.8 boards, 2.8 assists)
Swanigan has carried Purdue this season, leading the Boilermakers to a first-place finish in the Big Ten standings and putting them in a position to do some damage in March. He's posted 25 double-doubles this season. He's the centerpiece of Purdue's offense, the guy that the ball runs through on every possession, and he's able to do it despite the myriad of double-teams that he faces. He's put up numbers this season that rival that of Tim Duncan, which tells you all you need to know.
Luke Kennard, So., Duke (20.1 points, 5.3 boards, 45.0% 3PT)
Who had Luke Kennard as the best player on Duke this season? Well, he has been, and it's really not all that close. The sophomore carried the Blue Devils for the first month of the year, as their three key freshmen and Grayson Allen all battled injuries, and he hasn't slowed down since. Duke's season turned around once everyone in the program accepted the fact that Kennard, whose efficiency has been off-the-charts this year, was the guy that had to touch the ball on every single possession.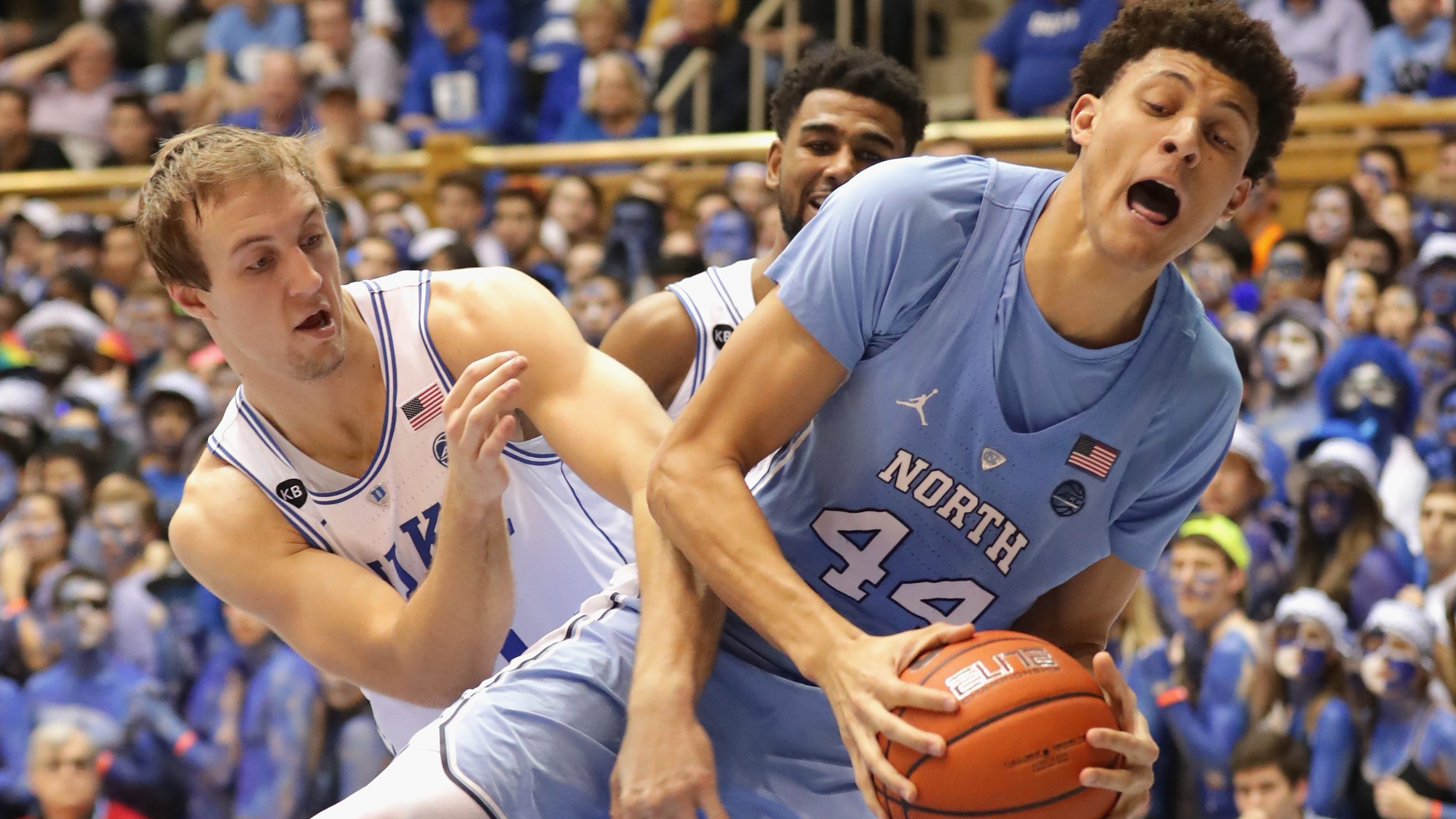 SECOND TEAM ALL-AMERICAN
Nigel Williams-Goss, Jr., Gonzaga (16.4 ppg, 5.6 rpg, 4.7 apg)
Williams-Goss is the best player, the leader and the go-to guy for the only team in the country with just one loss this season. His ability to quickly adapt to Mark Few's offense is why the Zags were able to land wins over the likes of Florida, Arizona and Iowa State earlier this season. Gonzaga is one of the deepest, most-balanced teams in the country, and Williams-Goss leads them in scoring (by a wide margin), assists and minutes.
Malik Monk, Fr., Kentucky (21.2 ppg, 41.4% 3PT)
Monk is the single-most dangerous weapon that there is in college basketball this season. No one has put together a better performance that the 47 points he had in a win over North Carolina … except for Monk, as that might not be the most ridiculous thing he's done this season. He scored 31 points in the second half and overtime to lead Kentucky back against Georgia. He scored 30 points in the second half against Florida in a game where the Wildcats didn't have De'Aaron Fox and earned themselves the SEC regular season title. He's scored at least 20 points in a half six times this season.
Justin Jackson, Jr., North Carolina (18.5 ppg, 4.7 rpg)
Jackson, this season, developed into one of the elite players in the country. He was the best player in the ACC during conference play and the go-to guy for the Tar Heels, who won the loaded ACC by two games. His ability to consistently bang home open jumpers while attacking off the dribble is not something we've seen out of him before. He is why the Tar Heels have a chance to win a national title.
Josh Jackson, Fr., Kansas (16.4 ppg, 7.2 rpg, 3.1 apg)
It's weird: Frank Mason III is so clearly the Player of the Year candidate coming from the Kansas Jayhawks, but I'm not sure there's many people out there that would argue against the idea that Jackson is the best player on Kansas. His ability to slide to the four has allowed Kansas to play small-ball, and that, in turn, is what has made this team so dangerous.
Johnathan Motley, Jr., Baylor (17.5 ppg, 10.0 rpg, 2.4 apg)
With Rico Gathers off to the NFL, things opened up for Motley in the paint this season, and he dominated there. The Bears are a Final Four contender this season because of the fact that they are elite defensively and play a ground-and-pound style offensively, and it's Motley that allowed them to do both. He's a hoss on the block offensively and part of their Twin Towers defensively.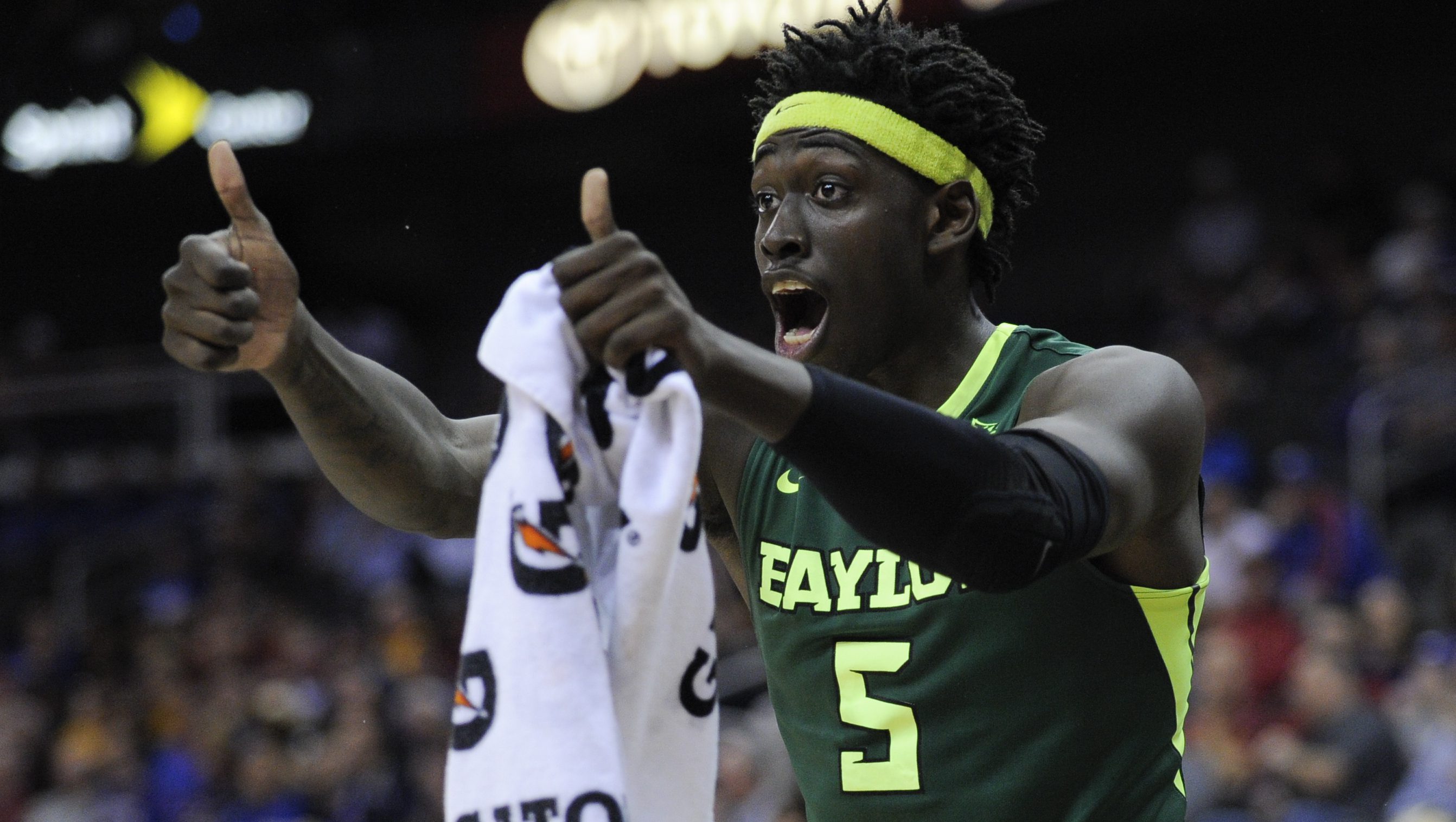 THIRD TEAM ALL-AMERICAN
Jawun Evans, So., Oklahoma State (18.7 ppg, 6.3 apg)
Evans is in the conversation with Frank Mason and Monte' Morris as the best point guard in the Big 12 this season. Think about that for a second. He's been phenomenal, and he's led the Pokes back to the NCAA tournament. If you get a chance, watch the highlights of the 22 points and 15 assists he put on Kansas over the weekend.
Monte' Morris, Sr., Iowa State (16.2 ppg, 6.2 apg, 4.6 rpg)
Morris has been around forever it seems, but he had the best year of his outstanding career this season, leading an Iowa State that doesn't exactly have a great roster into a tie for second in the Big 12. Over his last 11 games, Morris had 73 assists and just seven turnovers. That just about sums him up.
Dillon Brooks, Oregon (16.0 points, 2.9 assists, 2.7 boards)
Brooks missed some of the early part of the season coming back from a foot injury this summer, but his return marked the return of Oregon to being a national title contender. He's hit three game-winning threes this season and has rightfully earned the reputation of one of the best big-shot makers in the country. In league play, he averaged 17.9 points.
John Collins, Wake Forest (19.1 ppg, 9.8 rpg)
Who saw this coming from Collins, who averaged 7.3 points on a bad Wake Forest team last season? A foul-plagued performance in a win at Virginia Tech on Saturday snapped a string of 12 straight games where Collins scored at least 20 points. He's the biggest reason the Demon Deacons appear to be tournament-bound.
Lauri Markkanen, Arizona (15.2 ppg, 7.5 rpg, 42.8% 3PT)
Markkanen is a true seven-footer that's shooting better than 42 percent from three. And he's European. How often do you think he's heard his name followed by the words "next Dirk Nowitzki"? Whatever the case may be, Markkanen helped to carry Arizona, the Pac-12 co-champs, during the 19 games that Allonzo Trier missed.