SATURDAY'S SHOWDOWNS
No. 5 UCLA at No. 4 Arizona, Sat. 8:15 p.m.: The way things currently stand, it's very unlikely that the Bruins are going to be able to find a way to win even a share of the Pac-12 regular season title. They are two games behind Arizona in the league standings with just three games left to play. They play at Arizona this weekend, a building the Wildcats have yet to lose in this season, and even if they somehow manage to leave the McKale Center with a 'W', they will still need Arizona to lose to Arizona State, Oregon to lose to Oregon State and to sweep the Washington schools in the final week of the season just to be able to share the league title with those two teams.
This is Arizona's Pac-12 title to lose, and if they can knock off UCLA on Saturday, all they have to do is beat Arizona State to win the title outright.
But that doesn't mean there isn't anything for UCLA to play for, because the secret here is that whichever of those three teams the NCAA tournament Selection Committee believes has the best overall résumé will very likely end up being the No. 2 seed out west. They'll play in Sacramento or Salt Lake City the first weekend, followed by a short trip to San Jose for the second weekend before ending up in Phoenix for the Final Four.
That's the plan at least, but given the committee's bracketing rules, only one of those three teams can actually be in the West Region. UCLA is the one playing catchup right now, having split with Oregon and losing at home to Arizona. They need to get this one back — and, if all goes according to plan, beat both Oregon and Arizona en route to the Pac-12 tournament title — if they have any hope of poaching that top seed.
So yes, there is quite a bit to play for here.
But that's not the best part about this game.
The best part is that both Sean Miller and Steve Alford have their programs rolling at the same time, which is not something that has been in the case in the Pac-12 in recent times. UCLA was going to Final Fours under Ben Howland as Arizona was in the midst of their regime change, going from Lute Olsen to Russ Pennell to Sean Miller. When Howland's program took a dip near the end of his tenure, Arizona rose up to be the league's resident power while Steve Alford tried to find his footing.
Now?
What we have is a top five matchup between two programs that target the same players — remember, T.J. Leaf was originally committed to Arizona, which prompted Sean Miller to once question in a press conference why anyone would want to go to a program that couldn't fill Pauley Pavilion — and are battling for west coast supremacy that will be played in primetime with league title and major NCAA tournament implications on the line.
It just doesn't get any better than that.
PREDICTION: UCLA's been better defensively, but I find it hard to believe that below average defenders have suddenly gotten good. Arizona's talented perimeter trio of Kobi Simmons, Rawle Alkins and Allonzo Trier ate up UCLA in the first meeting, as Sean Miller repeatedly targeted and exposed Bryce Alford. I expect that he'll do it again. Arizona (-3)
You can subscribe to the podcast on iTunes, Stitcher and Audioboom
No. 13 Florida at No. 11 Kentucky, Sat. 2:00 p.m. (CBS): This is the SEC title game.
There's really no question about it, is there?
Florida and Kentucky are clearly the two-best teams in the league. They face off on Saturday afternoon in a position where they are both sitting at 13-2 in the conference, tied for first place with a two-game lead on the rest of the field. Kentucky closes the season with Texas A&M and Vanderbilt. Florida closes the season with Arkansas and Vanderbilt. Those are games that both the Wildcats and the Gators should win.
Kentucky enters Saturday on a bit of a slide. They've regained their winning ways since an ugly run a couple of weeks ago. But they're not exactly impressing in their wins. They barely beat a Georgia team playing without Yante Maten. They struggled to put away an awful Missouri team on the road. This Kentucky team has flaws, and those flaws can be exploited by the Gators.
Florida won the first matchup between these two teams by 22 points, as Malik Monk was never able to get going and Kasey Hill looked like the best player on the floor. Florida's a tough, physical and aggressive defensive team that does all the things that we've waited all year to see Kentucky consistently do.
PREDICTION: Kentucky is a better team at home mainly because Monk is a better scorer at home. Kentucky (-3)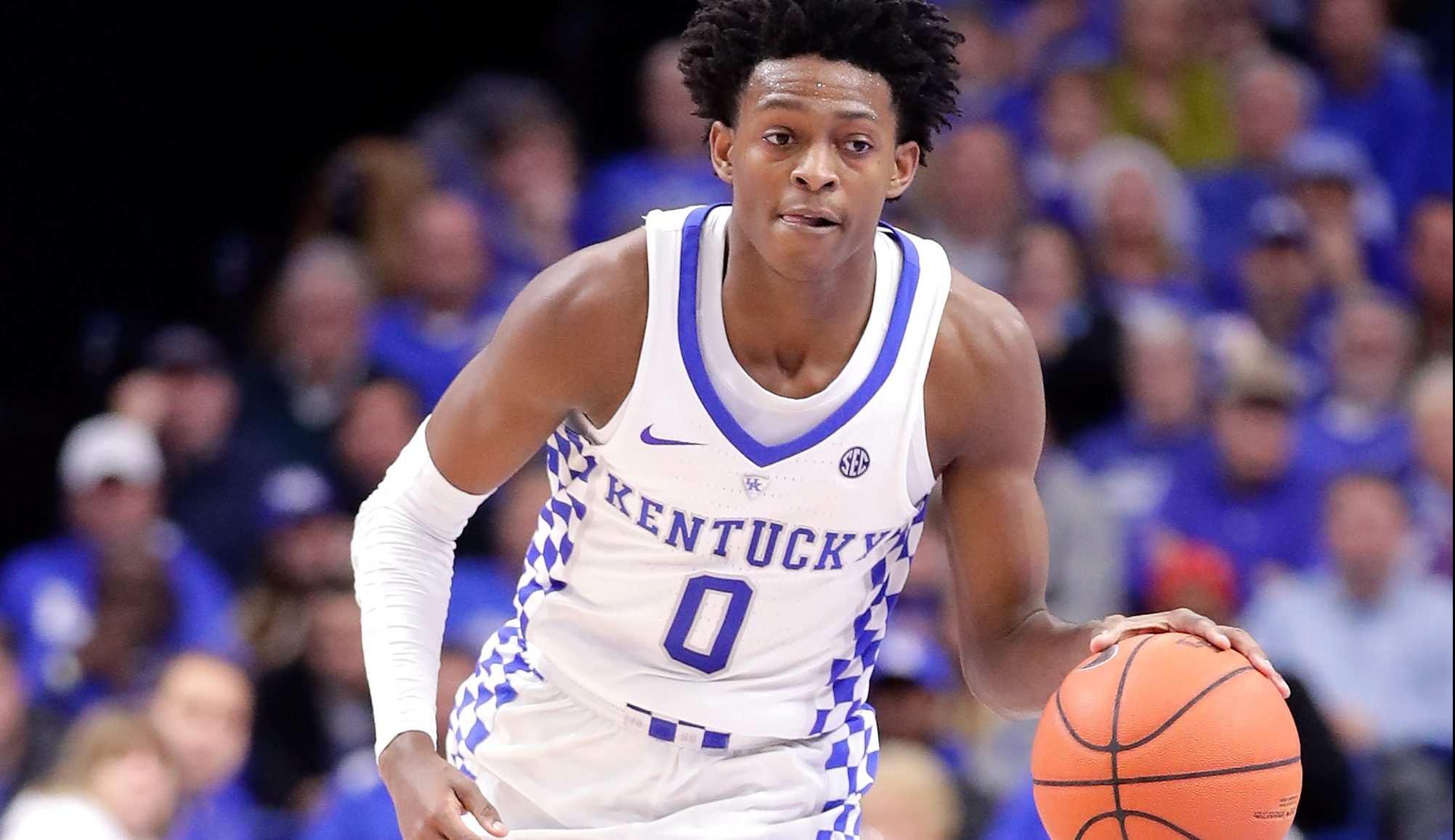 FIVE MORE GAMES TO WATCH
No. 9 Baylor at Iowa State, Sat. 4:00 p.m. (ESPN): These two teams couldn't be more different. Until the last three weeks, Baylor has been one of the best and most consistent teams in the country, playing slowing, grinding out stops and pounding the ball into the paint. Iowa State? They've been inconsistent until the last four games, they like to run-and-gun, they have no interior depth and they are at their best when they're banging threes. Will Hilton Magic win out? PREDICTION: Iowa State (-1)
No. 12 West Virginia at TCU, Sat. 2:00 p.m. (ESPN): This is a win that TCU might have to win if they want to be in the NCAA tournament this season, and it's a game that may be winnable. The Mountaineers have looked great against Kansas and Baylor this season, but they've looked beatable against some of the lesser teams in the conference. PREDICTION: West Virginia (-6)
No. 23 Creighton at No. 2 Villanova, Sat. 3:00 p.m. (FOX): For just the third time this season, Villanova will be playing a game coming off of a loss. Creighton has put together some promising performances since Mo Watson's injury, but I think that they are going to run into the buzzsaw that is angry Villanova. PREDICTION: Villanova (-10)
Syracuse at No. 7 Louisville, Sun. 2:00 p.m. (CBS): The Orange are coming off of thrilling, buzzer-beating win over Duke on Wednesday night. That got them onto the right side of the bubble … for now. If they want to lock up a bid to the tournament, win this game. It won't be easy, not when Rick Pitino was clearly upset about the way his team performed at North Carolina. PREDICTION: Syracuse (+13)
No. 22 Butler at Xavier, Sun. 3:30 p.m. (FS1): Butler just finished off their sweep of Villanova on Wednesday night, setting themselves up to make a run at a top three seed in the NCAA tournament if they can win out. Xavier has been reeling of late, as they've struggled to adjust to the loss of Edmond Sumner and Trevon Bluiett. This is a win that the Musketeers badly need to get. PREDICTION: Butler (-1)