1. Frank Mason III, Kansas: For my money, Mason solidified his standing as the National Player of the Year front runner, the guy whose award it is to lose, this week. He was the spark of a comeback from 14 points down in the final three minutes against No. 12 West Virginia and led the Jayhawks back from 12 points down – six in the final three minutes – at No. 9 Baylor on Saturday, the win that solidified what will very shortly be the 13th straight Big 12 title for Bill Self.
Against West Virginia, he had 24 points, five assists and four boards. Against Baylor, Mason played arguably his best game of the season, finishing with 23 points and eight assists in a game where the Jayhawks struggled to find offense for long stretches.
But more to the point, what Mason provides this team is more than the numbers. There's a competitiveness and a toughness that he brings. At the risk of being too cliché for my own good, he's a winner and a leader that will drag his teammates along with him even when they aren't playing well. He's not the best player on Kansas — that would be Josh Jackson — and he's probably not even the most valuable — hello, Landen Lucas — but there is no one that is more responsible for the fact that Kansas has won nine of their 12 Big 12 wins by seven or fewer points and seven of those nine by less than five points.
Mason's numbers are sensational — 20.3 ppg, 5.0 apg, 4.2 rpg, 50.4 percent 3PT — but his numbers simply do not tell the whole story here.
2. Josh Hart, Villanova: Last week, I tried to make the point that Josh Hart's Player of the Year bid was going to die on the vine because his season was devoid of moments. That happened before Frank Mason led Kansas to wins in two thrilling comebacks, both of which were games between top ten teams that were the most important matchups of that day. Hart? Played at the same time as Kansas-Baylor on Saturday. He'll play at the same time as Louisville-North Carolina on Wednesday. Saturday's matchup with No. 23 Creighton would've drawn every eyeball in the sport … if Mo Watson Jr. hadn't gotten hurt.
He's a terrific player having a career-year for an awesome team. I don't think he's going to be the Player of the Year.
RELATED: Player of the Week | Team of the Week | Takeaways | Top 25
You can subscribe to the podcast on iTunes, Stitcher and Audioboom
3. Caleb Swanigan, Purdue: Swanigan had one of his best games of the season, going for 24 points, 15 boards and five assists as the Boilermakers beat Michigan State on Saturday. I'm not sure what else there is to say about Swanigan at this point in the season. He's the best big man in the country, and I'm not quite sure it's all that close.
4. Lonzo Ball, UCLA: Ball has changed the culture of the UCLA program, at least for this year, and he's done it with his unselfishness and his ability to create offense out of nothing. But more important than that, since the comeback against Oregon, the one where UCLA game up 0.65 points-per-possession in the final 14 minutes of the game, the Bruins have allowed 0.915 PPP in wins over Oregon State and USC. They become a real title contender again when they are consistently buying in defensively like that.
5. Nigel Williams-Goss, Gonzaga: Williams-Goss averaged 24 points and seven assists in two wins last week, including a 30-burger against San Francisco. He's the star and the go-to-scorer of the only undefeated team in the country.
6. Luke Kennard, Duke
7. Justin Jackson, North Carolina
8. Donovan Mitchell, Louisville: I wrote about the ACC Player of the Year race in my weekly takeaways column on Monday, but I wanted to elaborate on it.
With all due respect to Bonzie Colson, John Collins and everyone else in that league, I think there is a pretty clear-cut top three for the ACC Player of the Year race. And if I had to pick ACC Player of the Year, it would probably be Justin Jackson over Donovan Mitchell by a whisker — depending on what happens Wednesday night — with Luke Kennard in third.
But if we're ranking for National Player of the Year, I think that Kennard is first, Jackson is behind him and Mitchell is third out of that group. Hell, having Mitchell ranked eighth overall is somewhat debatable; that's how poor he played, at least compared to his ACC counterparts, before the start of ACC play.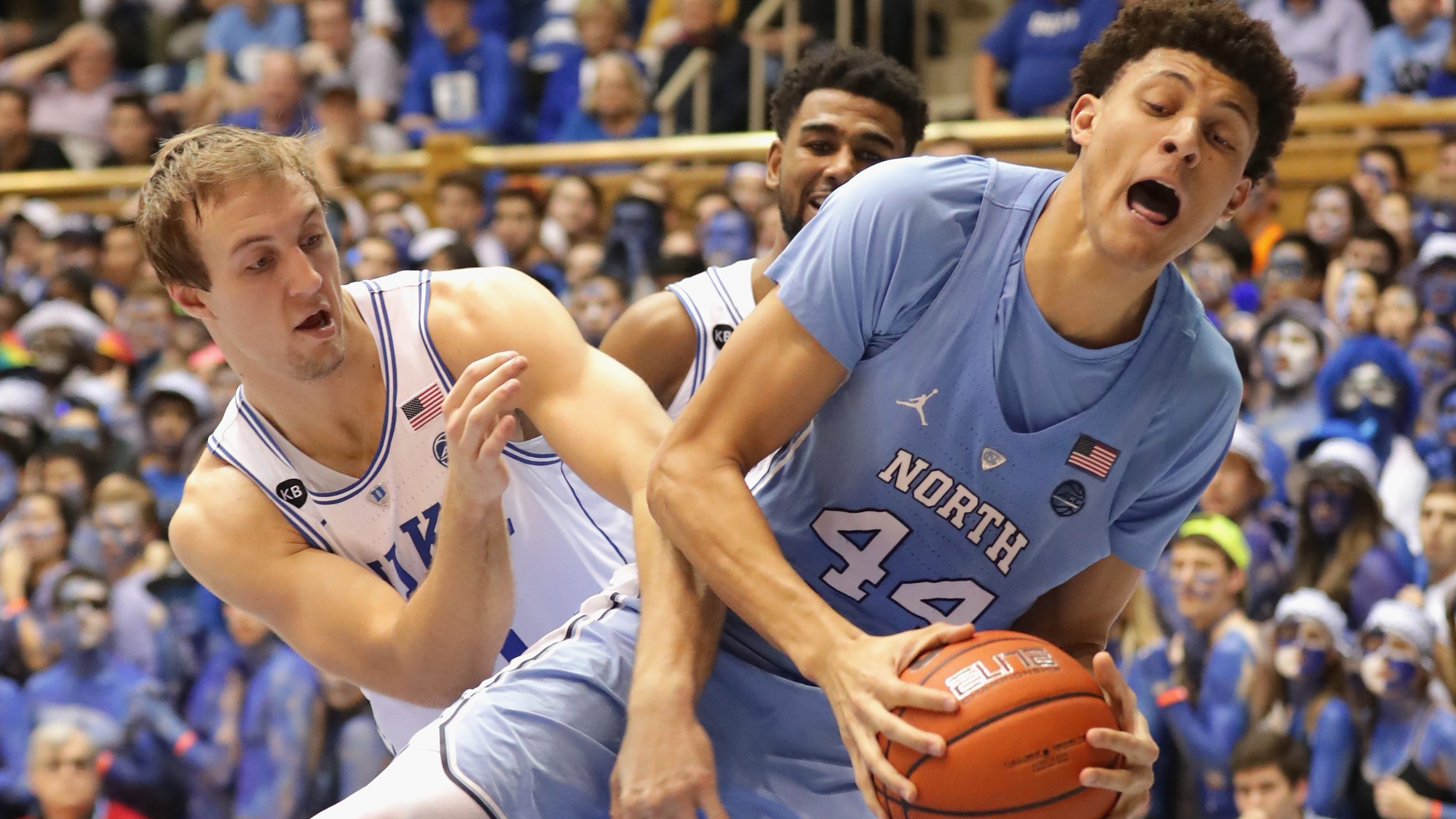 9. Ethan Happ, Wisconsin: Happ ranks fifth in KenPom's Player of the Year rankings. My only issue with that: It doesn't factor in that his foul shooting is a real problem, one that has, at times, forced him off the floor in crunch-time. That's a pretty big concern for a guy that, in all other facets of the game, is criminally-underrated.
10. Josh Jackson, Kansas: What can't Jackson do on a basketball court? He's a pro shooting guard that is playing the four for Kansas. He blocks shots at the rim and gets steals on the perimeter. He's lethal in transition. He's a spot-up three-point shooter, he can make plays off the dribble and he's a talented, albeit at times careless, passer. He's tough, he's competitive, he's not afraid of a big moment or a big game.
It's hard to argue against the fact that he's been the best player for Kansas over the course of the last month or two. That's the same Kansas team that Frank Mason III plays for.
JUST MISSED THE CUT
Johnathan Motley, Baylor
Bonzie Colson, Notre Dame
De'Aaron Fox, Kentucky
Lauri Markkanen, Arizona
Melo Trimble, Maryland
Malik Monk, Kentucky
Dwayne Bacon, Florida State
Sindarius Thornwell, South Carolina
Joel Berry II, North Carolina
Jock Landale, Saint Mary's
Alec Peters, Valparaiso