1. Jalen Brunson has been so good this year and no one's talking about it: Maybe it's because there are 6,000 quality point guards in college basketball this season. Maybe it's because he's been overshadowed by his teammate Josh Hart. Maybe it's because he's a sleepy-eyed, doughy land warrior-of-a-point guard and never, ever does anything flashy and simply cares more about winning than the attention that comes with it.
Whatever the case is, the improvement that Jalen Brunson has made this season has been one of the more overlooked story lines in college basketball this season. After a stellar, 22-point, 10-assists performance in a 22-point win at Seton Hall on Saturday – one that saw Brunson shoot a perfect 7-for-7 from the floor – the sophomore is averaging 14.6 points and 4.5 assists for the Wildcats this season.
He's the engine that makes Villanova go. He's the reason that the Wildcats haven't missed Ryan Arcidiacono all that much this season. He'll probably end up being the Big East Player of the Year at some point before his career comes to an end, and it's all from a guy who looks like he's moving about as quick as I do on a basketball court.
One NBA scout told me over the summer that Brunson is the "smartest player that I've ever scouted."
And while he may not be the physical specimen that Dennis Smith Jr. or Lonzo Ball is, he's pretty doggone talented, too.
RELATED: Player of the Week | Team of the Week | Takeaways | Top 25
You can subscribe to the podcast on iTunes, Stitcher and Audioboom
2. There will be no team more battle-tested than Kansas in March: The Jayhawks have won 12 games in the Big 12, and at this point, that is basically enough to crown them the Big 12 champs for 13th straight season. Nine of them are by seven points or less. Seven are by five points or less. They came from 14 points down in the final three minutes to beat West Virginia. They won at Baylor in a game they trailed by 12. They beat Kentucky on the road by six points. They beat Duke by two. They lost to Indiana in overtime.
Some of that is luck – Svi's travel against Kansas State, the legal illegal screen at Texas Tech – but a lot of it is some combination of talent, mental toughness and Bill Self. The bottom-line is this: No one will be more prepared to handle a close game in March than Kansas because no one has been through more this season than the Jayhawks.
3. Who you got in the ACC Player of the Year race?: Because it's not easy to pick someone.
Let's start with Luke Kennard, who is probably the most likely player from the league to earn a spot on an all-american team. But so much of his work was done early on in the season, before the start of conference play, which would bring us to Donovan Mitchell, who has been just sensational over the course of the last month, helping to buoy the Cardinals despite the fact that they spent quite a bit of time playing without both of the point guards on their roster. But then there is Justin Jackson, who has played the best basketball of his career in league play this year and is the best player on the team that currently looks primed to win the conference regular season title outright.
Those three are probably the favorites.
But what about Notre Dame's Bonzie Colson, whose ability to star at the four in the ACC despite standing just 6-foot-5 is astonishing. Or Wake Forest's John Collins, who has gone for at least 20 points in ten straight games and has notched a double-double in six of those ten games. Or Dennis Smith Jr., who is putting up crazy numbers for a terrible team.
I'd lean Jackson over Mitchell and Kennard at this point, but I change my mind almost daily.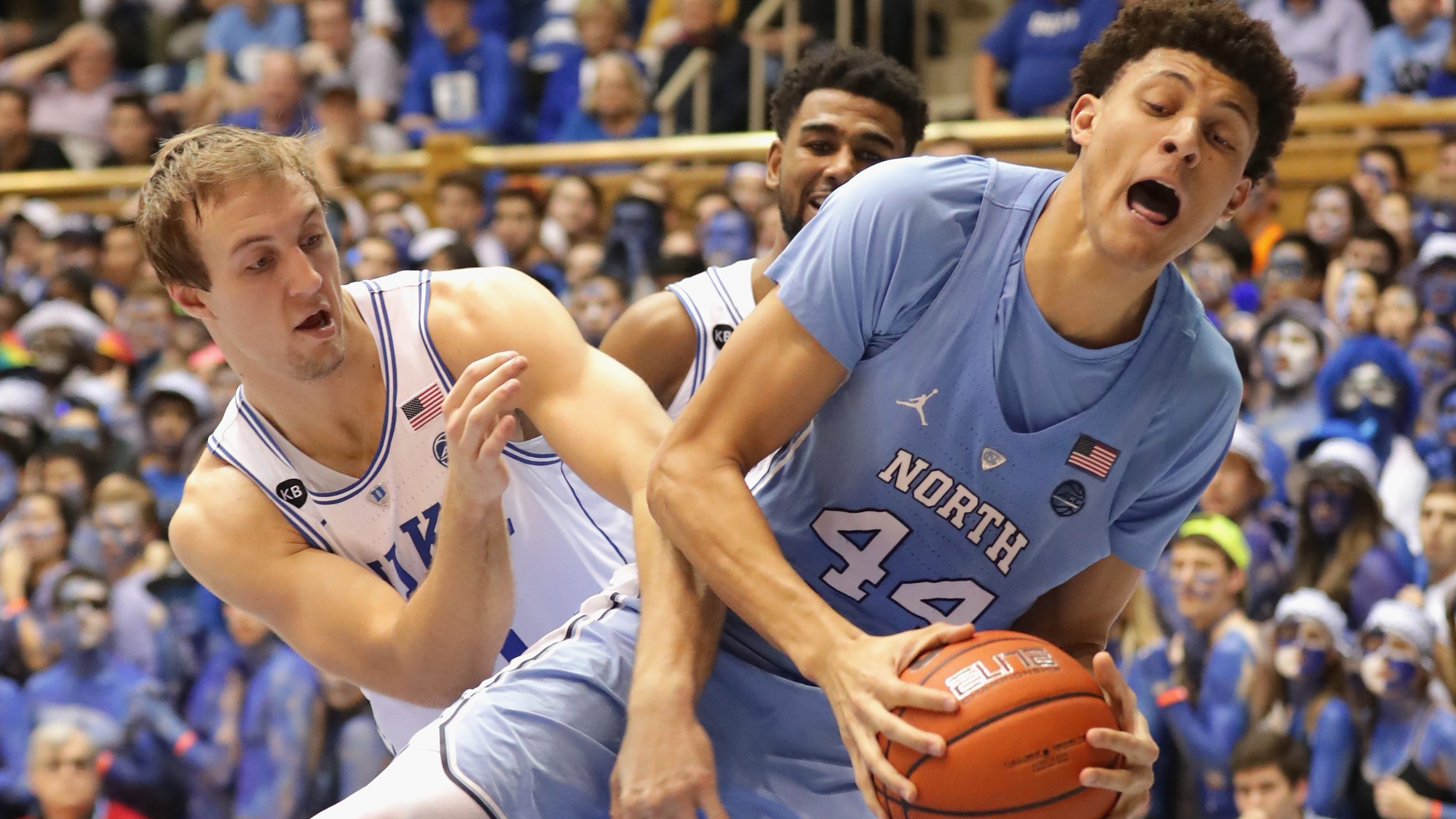 4. Tell me what to make of Wichita State: I'm at a loss.
On the one hand, they're 25-4 on the season and straight steamrolling teams in the Missouri Valley. They beat Illinois State by 41 points. They beat Northern Iowa, who had won eight of nine entering the game, by 29 points. They're rated 13th by KenPom.com, and they're coached by a man named Gregg Marshall, maybe you've heard of him. That has cache.
But their only top 100 win on the season is Illinois State, whose only top 50 win on the season in Wichita State. The Shockers lost Fred VanVleet and Ron Baker to graduation, and the Valley, as a whole, isn't the league that it's been in the past.
So they're good, right?
I think we can all agree on that.
But just how good? Try and find a way to cogently answer that question.
5. Injuries just keep piling up this season: On Saturday, it was Michigan State's Eron Harris who suffered a nasty-looking knee injury that turned out to be a season-ender, joining a list that already includes teammates Gavin Schilling and Ben Carter. That happened about 90 minutes before Georgia star forward Yante Maten suffered what the team termed a knee sprain just 90 seconds into a game against Kentucky, a win the Bulldogs desperately needed. That happened the same week that Florida center John Egbunu went down for the season with a torn ACL and North Carolina announced that guard Kenny Williams will likely miss the rest of the season with a knee injury.
Oklahoma's Jordan Woodard tore his ACL. Virginia Tech's Chris Clarke tore his ACL. Kansas center Udoka Azubuike had season-ending surgery on his wrist. Villanova's Phil Booth hasn't played since the third game of the year. UConn lost Terry Larrier and Alterique Gilbert for the season.
Oh, there's more.
It's not just the volume of players. Look at these names: Indiana lost O.G. Anunoby to a season-ending knee injury. Creighton lost their all-american point guard Mo Watson to a torn ACL just a few weeks before Xavier star point guard Edmond Sumner tore his. Arizona's Ray Smith tore his ACL for the third time in the preseason and retired. Harry Giles III had his third knee surgery in the preseason and still isn't close to healthy.
And I guarantee that I missed some names.