SATURDAY'S SHOWDOWNS
No. 3 Kansas at No. 4 Baylor, Sat. 1:00 p.m. (CBS): The biggest game of the weekend will be in Waco, as Kansas and Baylor get back together after the Jayhawks took down the Bears two weeks ago in Lawrence.
Since then, the two teams have been on different paths. The Jayhawks are sitting two games up on Baylor in the Big 12 standings with five games remaining. A win on Saturday for Kansas would all but lock up their 13th straight Big 12 regular season title.
It would also be the fourth loss in the last six games for the Bears, who have looked most of the season like they're primed to be one of the four No. 1 seeds on Selection Sunday. But with teams like Duke, North Carolina and Louisville continuing to win in the ACC, and the Pac-12 placing three teams at the top of their conference, nothing is guaranteed for Scott Drew's club.
The key to this game is going to be in the paint. That's where Baylor's strength lies, with All-American candidate Johnathan Motley flanked by Jo Lual-Acuil. That's also where Kansas struggles, as Landen Lucas is the only big guy on their roster that has had any real impact in the paint this season. Carlton Bragg Jr. is being asked to play out of position, Mitch Lightfoot isn't ready, Dwight Coleby is not healthy yet and Udoka Azubuike has a wrist injury. If Motley can get Lucas into foul trouble early, Baylor will be in a great spot.
On the other end of the floor, however, the Bears are going to have to figure out a way to deal with Kansas playing small-ball. The Jayhawks will likely face plenty of that 1-1-3 zone that Drew employs, but with their ability to shoot and drive from every spot on the perimeter, they have the pieces to be able to attack it.
However it shakes out, I have a feeling that this will end up being a close, thrilling game down the stretch.
PREDICTION: Kansas has been squeaking by teams they should blow out for too long. It's going to catch up to them on Saturday, their toughest road trip of the season. Baylor (-4)
You can subscribe to the podcast on iTunes, Stitcher and Audioboom
No. 14 Virginia at No. 10 North Carolina, Sat. 8:15 p.m. (ESPN): First place in the ACC is on the line on Saturday night as the Cavaliers head down to Chapel Hill to square off with the Tar Heels. UNC is currently sitting all alone in first place in the ACC with three teams – Florida State, Louisville and Duke – sitting a game out of first place. Virginia and Notre Dame are tied two games out of the race.
Virginia badly needs this win after falling at home to Duke on Wednesday night, their fourth loss in six games, but I'm not sure that they have the horses to outrun UNC. The Tar Heels are a team that is not getting quite enough attention at this point in the season, and with the combination of Joel Berry II and Justin Jackson, a long with a massive and healthy front line, UVA is going to have their work cut out for them.
The key to this game will be UNC defensively. Duke held the Wahoos to 44 points in the first 38 minutes of Wednesday's game, which is why they were able to win despite the fact that Virginia locked down everyone not named Jayson Tatum. Can UNC, whose defense ranks 42nd nationally, do the same?
PREDICTION: Right now, KenPom has the line at North Carolina (-1). If you can get that, take it.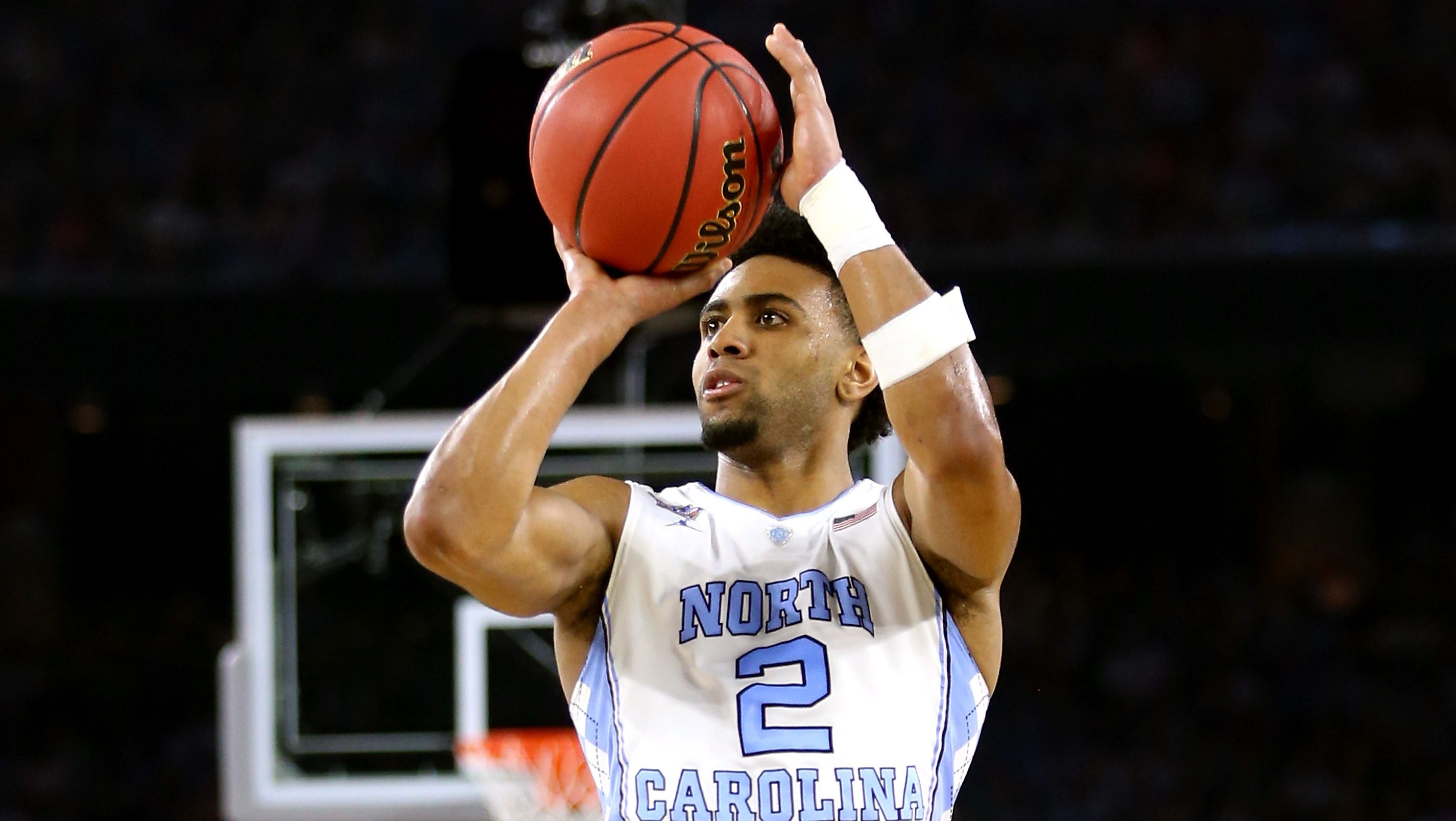 FIVE MORE GAMES TO WATCH
No. 2 Villanova at Seton Hall, Sat. 12:30 p.m. (FOX): Seton Hall should be back at full strength for this game, a game they really need for their NCAA tournament profile. When the Pirates are at their best, you won't find a tougher team in college basketball. PREDICTION: Seton Hall (+7)
No. 23 Maryland at No. 11 Wisconsin, Sun. 1:00 p.m. (CBS): Will Bronson Koenig be back for the Badgers on Sunday afternoon? He missed Thursday night's loss at Michigan, and a loss here for the Badgers would drop them a game out of first place in the Big Ten standings. PREDICTION: Maryland (+8)
Michigan State at No. 16 Purdue, Sat. 4:00 p.m. (ESPN): The Terps and the Badgers aren't the only teams currently tied for first place in the Big Ten. Purdue is, too, meaning that if the Boilermakers can hold serve at home against Tom Izzo and Sparty, they'll be in just a two-way tie for the lead in the league. PREDICTION: Purdue (-12)
No. 22 Saint Mary's at BYU, Sat. 10:00 p.m. (ESPN2): One of the biggest reasons you should watch this game is the fact that both teams are offensively inclined. There should be quite a few points scored. But there are also some larger implications. If the Gaels lose this game it may be time for us to start ask ourselves just what they've accomplished and who they've beaten this season. PREDICTION: BYU (+6)
USC at No. 6 UCLA, Sat. 10:00 p.m. (Pac-12): The battle for supremacy in La-La land. The Trojans have won the last four games between these two programs, including a three-game sweep last season. Both teams love to run, neither team plays all that much defense and more threes will be fired up in this game than in the three-point shooting contest that night. PREDICTION: UCLA (-12)