1. Frank Mason III, Kansas: Here's the thing that makes it difficult to drop Mason out of his spot: Even when he plays poorly, he puts up huge numbers. Mason shot just 3-for-13 from the floor for the Jayhawks on Monday night, playing like his shoes were made of cement as West Virginia built a 64-50 lead on Kansas in Phog Allen Fieldhouse with 2:45 left. Then he was the guy who helped spark the comeback, getting to the free throw line, banging a three and making a pair of critical defensive plays.
He finished with 24 points, five assists and four boards, which is awful similar to the line he had against Baylor, when he shot 3-for-12 from the floor by ended the game with 19 points, six assists and four boards in a win. The Jayhawks didn't even suffer in his worst performance of the season, a 80-79 win over Texas Tech where he went assist-less for the first time this season, fouling out with three minutes left after shooting a paltry 4-for-13 from the floor.
2. Josh Hart, Villanova: Here's the concern with Hart's Player of the Year candidacy at this point: When is he going to be playing games that we have to watch? Kansas and Frank Mason played in one last night. They play in one against on Saturday, when they visit Baylor. Lonzo Ball played Oregon on Thursday and will pay a visit to Arizona later this month. Caleb Swanigan went up against Indiana in Assembly Hall last week, just ten days after they squared off with Maryland.
The problem with the Big East right now is that no one in the league is going to challenge the Wildcats. Xavier and Creighton lost their star point guards and Butler went off the deep end. Villanova, as good as they are, is not the kind of team that is going to command eye balls regardless of opponent. So are we going to see enough of Hart to be able to loft him over Mason in these standings?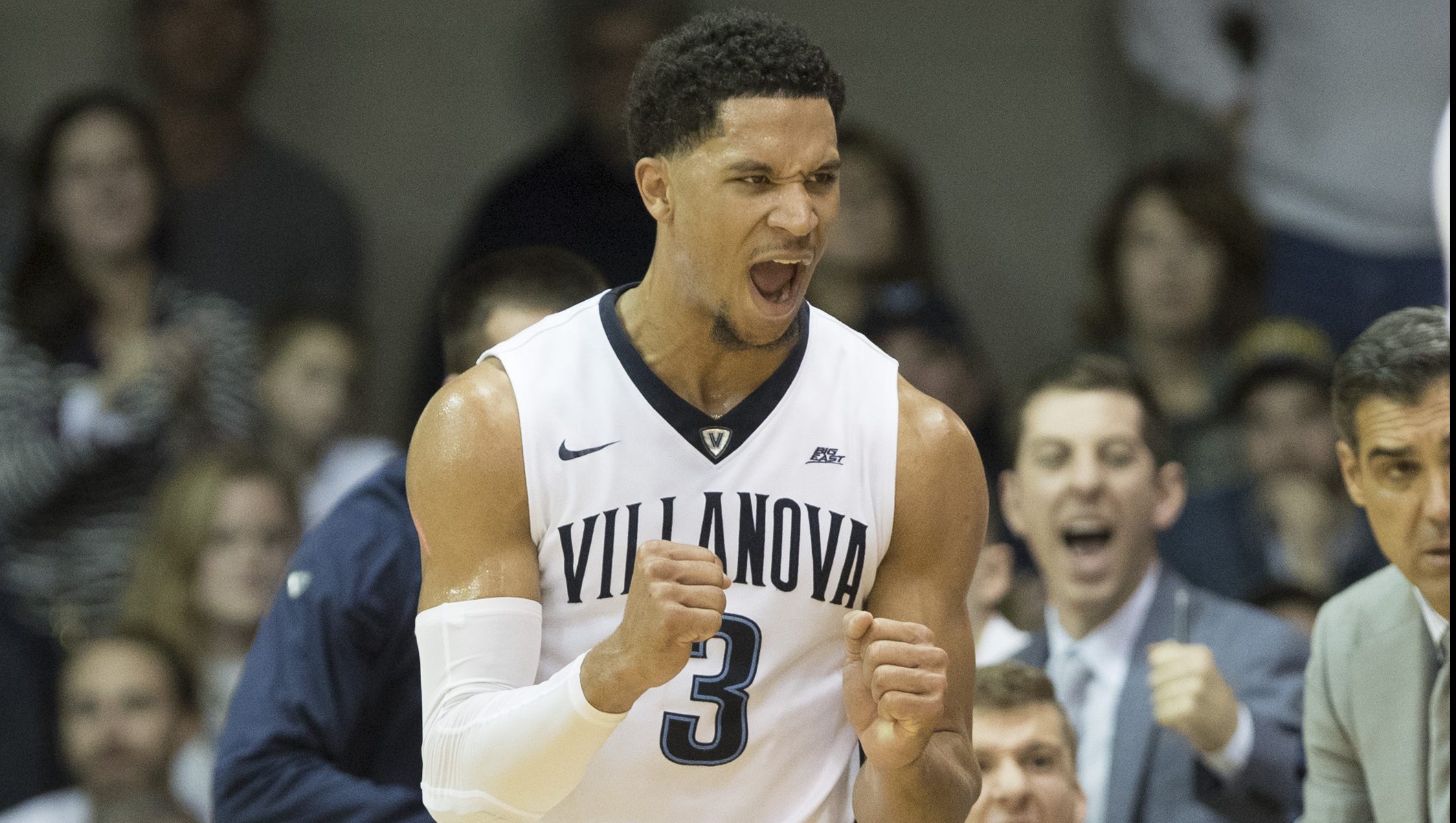 3. Caleb Swanigan, Purdue: 16 points, 14 boards, three assists, a win at Assembly Hall. That was Swanigan's week last week, not bad numbers until you consider that he had averaged 25 points and 13 boards the previous week. He's still third on this list for three reasons: He's not on the same level defensively as the two guys above him, he's fouled out of his last three games and, over the course of his last six games, he has 27 turnovers. That's 4.5 per game. For comparison's sake, only James Harden and Russell Westbrook average more turnovers than that in the NBA.
4. Lonzo Ball, UCLA: There is a bit of a gap for me between the top three and Lonzo Ball for one simple reason: defense. Ball, and UCLA, proved that they can lock up when they need to in last Thursday's come-from-behind win over Oregon, but the fact of the matter is that the Bruins ranks 126th in defensive efficiency and it doesn't matter how good Ball, or UCLA, is offensively. Teams that defend like that aren't title challengers, and Ball holds as much blame for that as anyone on the roster just like he deserves as much credit for their offensive renaissance as anyone in the program, including Steve Alford.
That said, Ball leads the country in "moments". No one has made more big plays in big spots that spread around the internet like wildfire, and that certainly was the case in Thursday night's game. He had a ridiculous drive through the lane for a layup to give UCLA a three-point lead with under two minutes left, then buried the dagger on an absurd, 27-foot step-back three:
It may not be right, but those "moments" matter, and Ball leads the nation in them.
5. Nigel Williams-Goss, Gonzaga: How about this: Gonzaga is undefeated and ranked No. 1 in the country and they have a point guard that leads them in scoring, rebounding, assists and steals. Williams-Goss may not have the NBA future that some of the other elite point guards across the country have, but his emergence has been the biggest reason why the Zags are as good as they are.
6. Ethan Happ, Wisconsin: As good as Happ has been this season, it's hard to overlook the fact that he gets taken out at the end of games because of his issues shooting free throws. Wisconsin survived overtime at Nebraska in spite of Happ. That did not happen at home against Northwestern, a game where Happ played just 26 minutes and had nine points and four turnovers.
7. Luke Kennard, Duke: For the second time in Duke's recent five-game winning streak, the Blue Devils were bailed out by Kennard. Two weeks ago, it was a 30-point second half to lead Duke to a come-from-behind win at Wake Forest. On Saturday, he had a team-high 25 points as the Blue Devils narrowly squeaked by Clemson at home.
8. Justin Jackson, North Carolina: I had a revelation on Justin Jackson during North Carolina's game against Duke last week, one that made me regret the error of my ways.
Joel Berry II is the guy that makes UNC's offense run and the guy that makes the Tar Heels elite. Point guards, in general, are more valuable than scoring wings. That said, Berry has had a nasty habit of not showing up. He was 3-for-13 in UNC's loss at Indiana. He was 3-for-13 in the loss at Georgia Tech. He was 0-for-8 with a technical foul when the Tar Heels got smoked by Miami earlier this month.
Jackson, on the other hand, has been a model of consistency all season long, particularly in ACC play. He's scored at least 16 points in every league game and is second in the ACC in scoring during conference play at 20.1 points. He's shooting the ball better than he ever has in his life, and he's still utilizing a murderous floater-game that's better than anyone in the country. He's become North Carolina's go-to guy and the big-time scorer that they've lacked for the last couple of seasons.
The Tar Heels may not have the hoss on the block that we are used to seeing from Roy Williams' best teams, but the biggest reason that hasn't hurt them yet is because of how good Jackson has been.
You can subscribe to the podcast on iTunes, Stitcher and Audioboom
9. Josh Jackson, Kansas: Mason is (deservedly) the Player of the Year for the Jayhawks, but it's becoming more and more clear that Jackson is the most talented player and, arguably, the team's best player. He had 31 points, 11 boards and four assists at Texas Tech to help the Jayhawks stave off an upset in a game where Mason fouled out with three minutes left, and last night, he had 14 points, 11 boards, five steals and three assists in that raucous, come-from-behind win over West Virginia.
In his last eight games, Jackson hasn't scored fewer than 14 points and has hit for at least 20 four times. He has five double-doubles in that span, five games where he's had at least three assists, five games with multiple steals and is shooting 50 percent from three in that stretch.
10. Johnathan Motley, Baylor: Monday night's loss aside, Motley has been consistently terrific all season long. Last week, he had 24 points and 11 boards against Oklahoma State and followed that up with 25 points and seven boards in a win over TCU.
JUST MISSED THE CUT
Bonzie Colson, Notre Dame
De'Aaron Fox, Kentucky
Lauri Markkanen, Arizona
Melo Trimble, Maryland
Malik Monk, Kentucky
Dwayne Bacon, Florida State
Sindarius Thornwell, South Carolina
Joel Berry II, North Carolina
Jock Landale, Saint Mary's
Alec Peters, Valparaiso