1. So UCLA might be able to defend after all?: The knock on the Bruins is a secret to absolutely no one.
They don't defend, at least not consistently or with the kind of effort needed to be able to beat some of the nation's elite teams.
Here's the only stat you need to know in regards to UCLA: They currently rank 126th in defensive efficiency, according to KenPom, and the only team to reach the Final Four with a defensive efficiency that rated that low in the KenPom era – since 2002 – was VCU in 2011.
It's an issue, but it's one that the Bruins seemingly found a solution – or, at the very least, a bandaid for – this week.
On Thursday night Oregon came to town fresh off of a 27-point depantsing of then-No. 5 Arizona, and in the first 30-or-so minutes, that Duck offense didn't slow down in the least. They put up 48 first half points. They were up 64-49 with just under 15 minutes left in the game, and that's when everything changed. Over the course of the final 14 minutes, according to Kory Alford, a UCLA staffer, the Bruins gave up just 0.65 points-per-possession. They followed that up by allowed just 60 points on 66 possession to Oregon State on Sunday afternoon.
UCLA actually saw their defensive efficiency ranking drop from 115th to 126th after this week, but much of that had to do with the fact that A) they were eviscerated for 25 minutes by Oregon, and B) KenPom's formula weighs the caliber of opponent, and Oregon State is ranked 281st in the country. What matters, however, is that the Bruins proved that they can defend when they need to, and that's half of the battle.
The next step?
Make it a consistent thing.
You can subscribe to the podcast on iTunes, Stitcher and Audioboom
2. Gonzaga is going to go undefeated: At this point, it seems a virtual lock that they are going to finish the regular season with a 30-0 record. I'm not sure how you can predict anything else to happen. The Zags have won every game they've played in the WCC by double-figures, and that includes the road trips to BYU and Saint Mary's, where the hosts had to scrap just to get the final deficit to 10 points.
Three of their last four games are at home, in a building where Gonzaga took down No. 20 Saint Mary's by 23 points last month.
In fact, I'd be surprised at this point if Gonzaga doesn't enter the NCAA tournament with an undefeated record, and you should seriously be considering them as a national title contender. (I went in depth on why right here.) And while I do understand if the public-at-large has Gonzaga fatigue – they get hyped every year, and fail to deliver every year – this is a great story line for college basketball. For the third time in the last four seasons, we could end up with a team entering the NCAA tournament with an unblemished record.
As a sports fan, greatness is something you should either root for or enjoy seeing achieved. The Zags have a chance to do just that this season.
3. Duke's depth is a major, and unforeseen, concern: For a team with half-a-bajillion McDonald's All-Americans, it seems ridiculous that they need to worry about the amount of depth on their roster, but that's precisely where we are with this team right now.
Duke wants to play small-ball, which means that Jayson Tatum starts at the four with three of Duke's four guards – Luke Kennard, Grayson Allen and either Matt Jones or Frank Jackson. Those four guards rotate through and, generally speaking, play the combined-120 minutes at the three perimeter positions. Tatum plays the four, where he is really the only guy suited for the small-ball role; there are not many players that are 6-foot-9 with guards skills and the physicality to hold their own on the defensive glass with natural power forwards, which is what makes him such a useful weapon.
But it also is an easy way to drain the legs of a player at this point in the season. That was evident on Saturday, when Duke played Clemson 39 hours after their emotional win over North Carolina and looked totally drained, almost listless. Tatum was the one that seemed to be dealing with fatigue the most.
The problem is their front court. Chase Jeter is unplayable right now due to some combination of injury and ineffectiveness. Marques Bolden, simply put, is nowhere near where he needs to be on the defensive end of the floor to be able to contribute to this team. Amile Jefferson is playing through pain, but he needs to contribute upwards of 30 foul-free minutes a night because Harry Giles III still isn't ready to give 20 effective minutes. He shines for a few minutes, but he doesn't have the stamina, explosion or the strength to handle the workload; it's hard to come back from two surgeries and 14 months away from the game.
Put another way, this Duke team has roughly six guys that Coach K trusts at this point, and that may be generous considering Jackson's been somewhat up-and-down this season.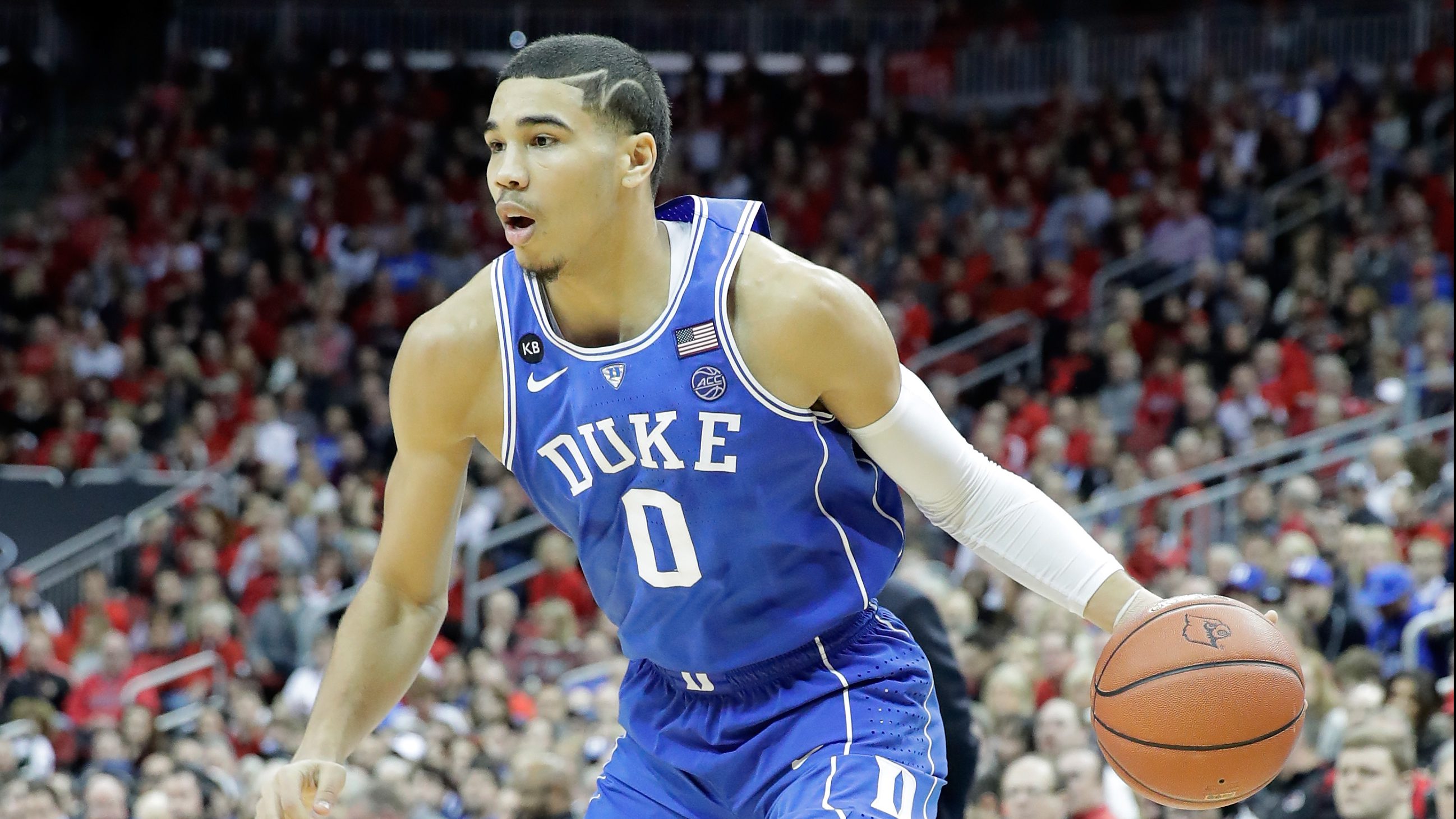 4. Just how much should we respect the Big Ten: The conference, as a whole, could end up getting as many as eight teams into the NCAA tournament, but that has as much to do with the fact that there are very few mid-majors worthy of an at-large bid while leagues like the AAC, the Atlantic 10 and the Mountain West do not have the depth that we are used to seeing.
This fact is exacerbated by Northwestern beating Wisconsin on Sunday night. The Badgers, who have been taken to overtime by Nebraska and Rutgers in recent weeks, lost at home to a team that was playing without their leading scorer. They had already been left out of the top 16 in Saturday's bracket reveal, and that loss certainly isn't going to help their cause.
At this point, it's worth asking if the Big Ten will disappear from the NCAA tournament before the Sweet 16.
5. Donte DiVincenzo is going to be a star: The reason that Villanova has not felt any ill-effects from the injury suffered by Phil Booth has been the play of the "Big Ragu". He's just a redshirt freshman, but he's been terrific of late. He's averaged 17.3 points over his last three games, including a team-high 17 in the win at Xavier, and that doesn't factor in his game-winning tip-in against Virginia earlier this month. He is going to be the most popular Breakout Star pick next October.