Grayson Allen scored 25 points and Jayson Tatum chipped in with 19 points, all of which came in the second half, nine boards and five assists as No. 18 Duke knocked off No. 8 North Carolina, 86-78, in Cameron Indoor Stadium on Thursday night.
Luke Kennard chipped in with 20 points of his own as Duke moved to within a game of first place in the ACC regular season standings.
Justin Jackson led the way with 21 points for North Carolina, but he was quieted down the stretch. Joel Berry II finished with 15 points for the Tar Heels, who got Theo Pinson back but played this game without one of their starting big men, Isaiah Hicks.
Duke is now 4-0 since fully embracing small-ball by playing Tatum at the four, while UNC suffered their first loss with Pinson in the lineup.
Here are five things that we can take away from this game:
1. This was the Jayson Tatum break out game: The second half on Thursday was the first time all season long that we've had a chance to see Jayson Tatum take over a game.
After going scoreless in the first half – he didn't actually play poorly, more on that in a second – Tatum exploded for all 19 of his points after the break. A potential top three pick in the 2017 NBA Draft, Tatum hasn't really looked comfortable on the offensive end of the floor this season. Some of it is that he doesn't seem to know where his shots are coming from, when he's supposed to attack and when he's supposed to keep the ball moving, where the help-side is coming from.
All of that disappeared in the final 20 minutes, as Tatum was hitting threes and beating bigger defenders off the dribble and overpowering smaller guards that tried to guard him. Should I mention the poster he put Kennedy Meeks on?
But it wasn't just his offensive arsenal that was on display. We knew that was going to come with time. It was the team-high five assists that he had, four of which came in the first half. It was the team-high nine rebounds he finished with, spending much of his 32 minutes of the floor dealing with Meeks, Tony Bradley and Luke Maye, UNC's oversized front line. He even blocked a couple of shots for good measure.
Duke is quite clearly going all=in on small-ball, and the only way that can be effective is if Tatum is able to hold his own on the defensive end of the floor against bigger players, and that's exactly what he did Thursday and what he's done for the last four games.
You can subscribe to the podcast on iTunes, Stitcher and Audioboom
2. It's funny what happens now that Duke has had everyone healthy for a little while: Duke has now won four straight games. All four of those games have come with Tatum at the four. Coach K is back. Everyone on the team is, for the most part, healthy; at least healthy enough to suit up every night. This is the first time all season long where the Blue Devils have been able to play, and practice, with all of their key pieces available.
Guys are learning their roles. They're figuring out where in the offense they can get shots. They're getting more comfortable playing with one another.
It really shouldn't surprise you that having everyone available has led to things starting to come together for this group.
3. North Carolina is a different team when Theo Pinson plays: The thing to keep in mind about this loss for North Carolina: They were playing without one of their starters – the guy that was a key to counteracting Duke's small-ball lineup – on the road in one of the toughest environments in college basketball, and they had a chance to win this thing down the stretch.
Put another way, the Tar Heels are really, really good, and nothing about this loss should impact your opinion on that.
The difference for them on Thursday was the return of Theo Pinson, who is a difference-maker for this group. Jackson is clearly UNC's star and Berry is the guy that makes this offense tick, but Pinson provides something that no one else can. For starters, at 6-foot-6, he's the best perimeter defender on the roster, a guy that's athletic enough to guard twos and big enough to defend small-ball fours like Tatum, Josh Jackson and Dillon Brooks. Beyond that, he's a tough rebounder, a playmaker and a guy that can stick a jumper when he's left open.
There's no one else on the roster that can play the role that he plays, and it's not a coincidence that this is the first game UNC has lost with him available.
And when Pinson is playing, North Carolina may not have the highest-ceiling of anyone in the country, but I'm not sure if there are many elite teams that have a higher floor.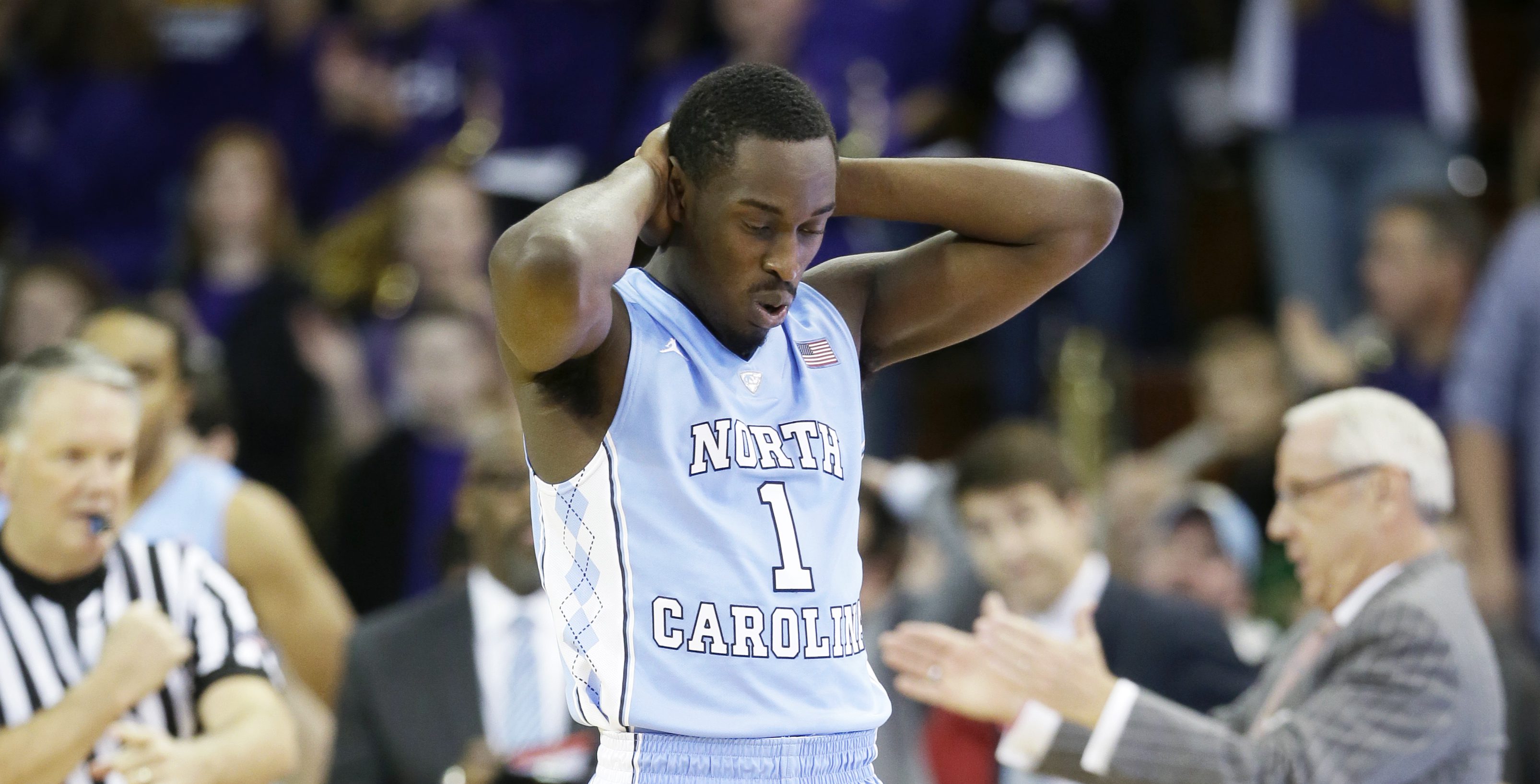 4. Depth is an issue for Duke because they have a lot of guys that just aren't ready: For a team that has roughly 6,000 McDonald's All-Americans on the roster it's surprising just how much issues Duke has with depth. The reason why is pretty simple: Some of those youngsters they have just are not ready to play at this level yet.
The most glaring example is Marques Bolden, who played quite a few minutes on Thursday after managing all of just four minutes in his previous three games. He's just a mess defensively, a guy that has no idea where he's supposed to be and when he's supposed to be there. Chase Jeter, when healthy, isn't much better. Javin DeLaurier isn't either. What that means is that Duke's rotation is, essentially, limited to the five starters, Frank Jackson and Harry Giles III, who is still clearly dealing with the after-effects of the three knee surgeries that he's had already.
He's getting closer, but he still doesn't have the strength, explosiveness or endurance that he needs.
5. The ACC title race is going to be nuts: We already knew that was going to be the case coming into the season, and it sure it living up to its promise. As it stands today, after Duke's win, North Carolina is tied with Florida State for first place in the league with Virginia sitting a half-game off the pace. Syracuse is a game behind the Seminoles and the Tar Heels while Duke and Louisville sit a game-and-a-half back, just one game back in the loss column.
Throw in Notre Dame and Miami, and there are eight teams currently within two games of first place in the ACC.