Kentucky has reached a crossroads of their season.
They steamrolled everyone in their path for the first month of the year. Losses at home to UCLA and at Louisville were explainable, particularly when there was a win over North Carolina in Las Vegas between them, and forgettable once SEC play started and the Wildcats were doing things like beating Texas A&M by 42 points.
But over the course of the last three weeks, the high-octane Wildcats have looked like a mustang on the highway being driven with the emergency brake on. As Drew Franklin of Kentucky Sports Radio put it, "Kentucky is a bad basketball team full of talented basketball players."
"You won't want to be at that practice tomorrow," head coach John Calipari said in his postgame interview on ESPN after the Wildcats gave up 58 second half points in a 92-85 win over hapless LSU, the fifth straight game they've allowed more than 79 points to their opponent. "If someone wants to quit, they can quit. Because this has got to stop at some point."
This is a team with as much talent as anyone in the country. This is a team that, at one point, looked like an unstoppable force.
How has it gone so wrong for Kentucky?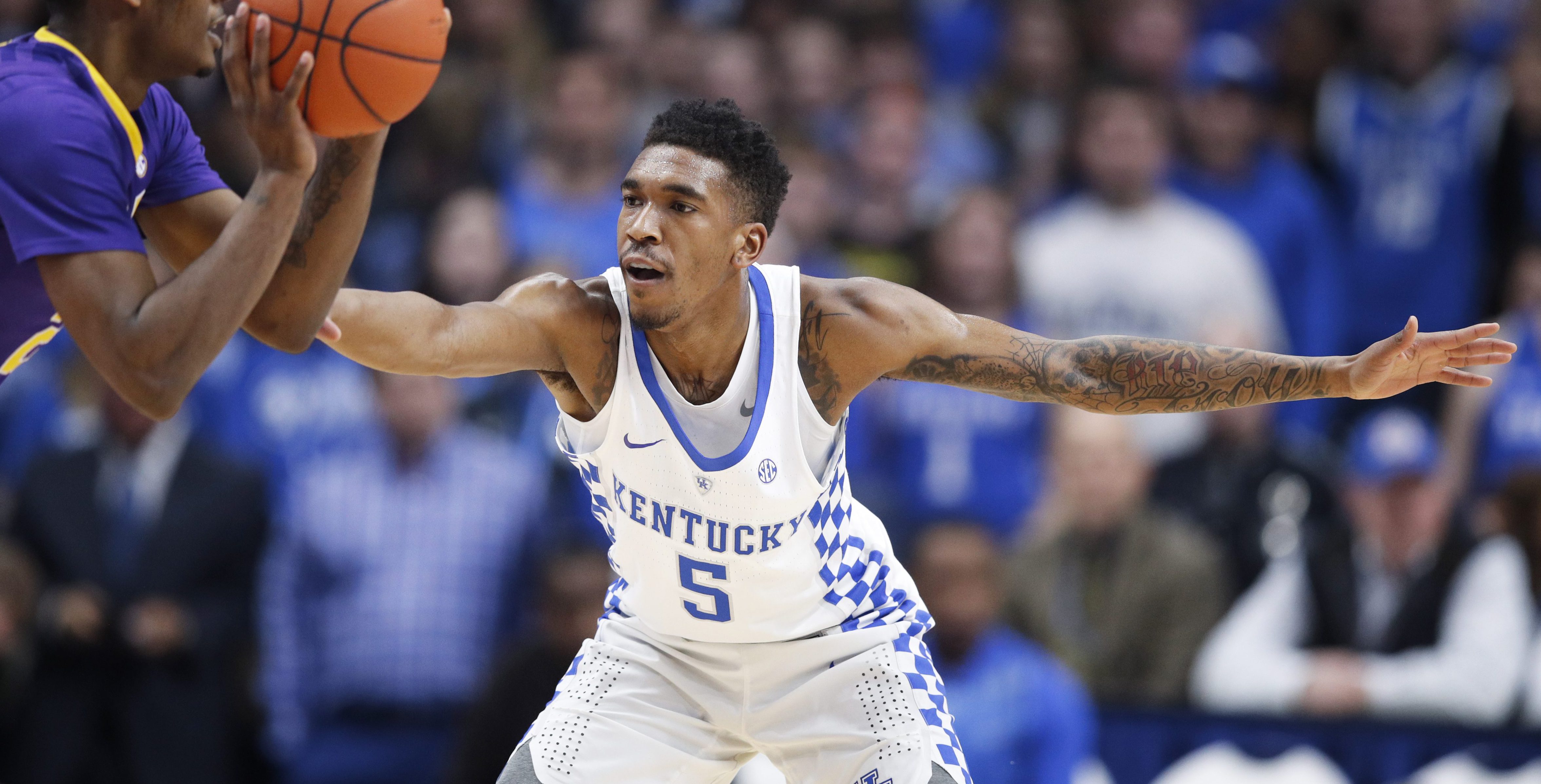 1. This just isn't a good defensive team right now: That's the crux of the issue for this team. They're just aren't getting enough stops. They've allowed an average of 86.2 points the last five games and, in the last four games, they've gifted their opponents an average of 54 points in the second half. They were beat up in the post by Tennessee. They were beaten in transition by Florida. Yante Maten of Georgia lit them up. LSU's Antonio Blakeney scored 31 points, easily the best game he's played this season.
"They couldn't guard us for s***," said a member of one staff that has faced Kentucky recently. Entering the game against Tennessee, the start of this recent slide, the Wildcats had totaled just 16 possessions of zone all season long. They've more than doubled that number in the last five games, with a total of 27 possessions coming against Georgia and Florida. Coach Cal relies as much upon a straight man-to-man defense as anyone, so while that number may not sound all that high in a vacuum, consider that in 2014-15, he played a total of 32 zone possessions.
Early on this season, Kentucky was able to thrive defensively because of the advantage they have physically. They were bigger, stronger and more athletic than anyone that they faced. Malik Monk, for example, didn't need to understand how to scheme against a pick-and-roll when going up against Hofstra's guards. The result was that Kentucky could force tough shots and turnovers which, in turn, allowed Kentucky to fire up their transition game, which is as terrifying in its speed, ferocity and directness as any in college hoops.
That's the key to beating Kentucky.
You don't let them beat you in transition.
"That was our No. 1 thing: make it a half-court game," said an SEC coach who has scouted Kentucky this season. There are a couple of ways to go about this, the easiest of which is limiting the number of players that are going to the glass. Instead of sending three or four players to chase an offensive rebound, only send the two bigs. The more bodies behind the ball, the harder it is to get uncontested layups.
The other part of it is to avoid making the mistakes that lead to fast breaks. Don't commit live-ball turnovers. Don't take quick shots or forced jumpers. Run offense. Get the ball into the post. Because, unlike some of Kentucky's best teams, this group will actually make mistakes defensively, which leads me into my next point.
You can subscribe to the podcast on iTunes, Stitcher and Audioboom
2. This is what freshmen are supposed to be: One thing that got lost in Kentucky's frenetic start to the season is that this lineup is as young as any that John Calipari's ever had. His starting lineup includes four freshmen and a sophomore, and no one in that group is the kind of game-changing defensive presence that we've seen amongst Kentucky's one-and-done players. There is no Karl-Anthony Towns. There is no Anthony Davis. There is no Willie Cauley-Stein or Nerlens Noel.
"They were as talented as they come, ahead of the game defensively as a freshman, and that's a unique thing," said an SEC assistant. "Most are ahead of the game offensively as freshmen. You don't get freshmen that are like seniors as freshmen, and [Towns, Davis, Noel and Cauley-Stein] were killers on defense."
This team, with all those young guys, they don't have those guys that are seniors on defense. Isaiah Briscoe is the veteran presence on the floor and he's a sophomore 50 games into his college career. Derek Willis is a senior, but his ineptitude on the defensive end of the floor is the reason that he can't crack the starting lineup in a team that's desperate for perimeter shooting. The same can be said for Mychal Mulder. In theory, Dominique Hawkins would be the ideal player to put in that role, but if he's on the floor that means that one of Fox, Monk or Briscoe isn't, and that's simply not a recipe for consistent success.
The larger point is that freshmen are supposed to make mistakes defensively. That's what freshmen do. The bigs are learning how to do something other than be really big and play in front of the rim. Guards are learning about a myriad of different ball-screens coverages, their defensive rotations, specific game-plans for specific players. Once you get into the meat of league play, defending isn't as simple as "just stop your man," and at this level, an individual's defensive mistake leads to a breakdown of the entire defense.
Point being, Kentucky doesn't have bad individual defenders as much as they have young defenders, and young defenders make mistakes.
Which brings us back to the issue of Kentucky's transition game, because their defensive issues are compounded by the fact that …
3. … Kentucky is predictable in the half court: It's not a secret what they're trying to do, as their offense is, essentially, one of three things: Fox trying to turn the corner going left, Monk getting run off of screens and hunting jumpshots, or Adebayo getting the ball thrown into him in the post.
All three players are difficult to stop individually, but defenses don't usually play them individually. Kentucky's perimeter shooting woes have been a talking point since before the season started, and where those issues manifest themselves is in the inability for Fox to get driving lanes and for Adebayo to get a shot at going 1-on-1 in the post.
Monk can win any game on his own, but 'hero ball' can also shoot the Wildcats out of a game.
"We knew how dangerous Monk is in the half court, but you're going to live with him taking tough shots," said an SEC assistant. "If he gets 25, making tough shots in the half court, you deal."
Against Georgia, Monk had 31 of his 37 points after halftime in a come-from-behind win. Three days later, he has his worst game of the season and Kentucky got smoked at Florida.
The other issue?
There seems to be a lack of fight with this group. Talk to people around the conference and you'll hear things like "don't really see a lot of leadership" and "they seem disinterested." Tennessee is totally outclassed in terms of talent but, as one person that scouted the Tennessee's win said, "Tennessee just played harder." In the loss to Florida, they got punched in the mouth and didn't have an answer, as Florida dominated the glass, picked up every loose ball and lit up Kentucky in transition.
In other words, Florida did to Kentucky what Kentucky wants to do to everyone else.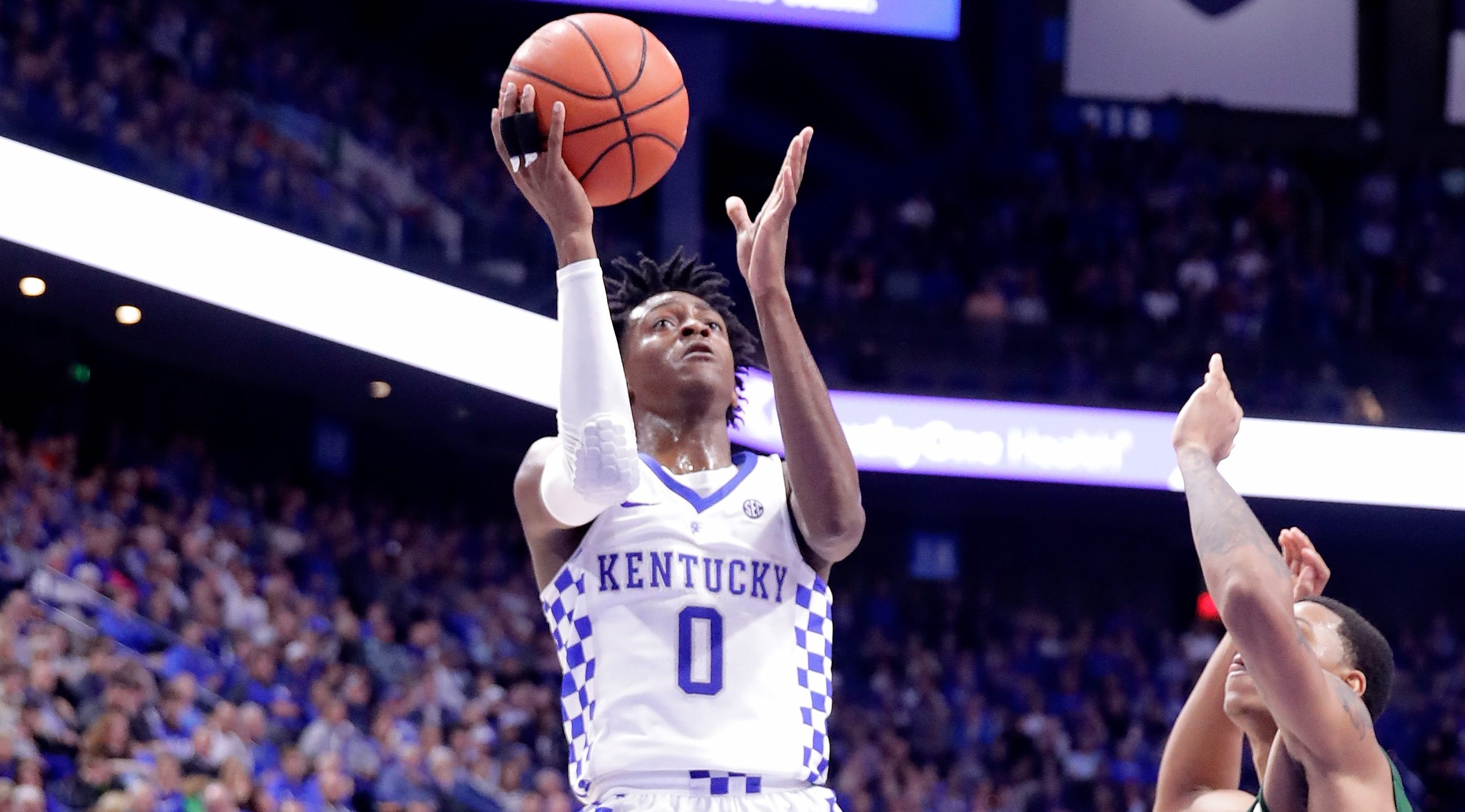 4. This is the danger of expectations: To me, this was the biggest take away I had from reporting on Kentucky.
Let's look at this in a vacuum. As of today, the Wildcats are 19-5 on the season. They're sitting tied for first place in the SEC with a good shot at getting a top three seed in the NCAA tournament come Selection Sunday. They have game-changing talent all over their roster and a back court that will be outclassed by exactly zero teams.
All things considered, that's not a bad year to have for a team that starts four freshmen and a sophomore.
But this is Kentucky, where sitting atop a power conference has people questioning whether or not the basketball team is actually good.
The bottom line is this: At some point, all teams get found out. Once a few games worth of film make it to synergy, the coaches in this profession are good enough to figure out A) what it is that you want to do and B) how to slow it down. The best of the best are able to win when their opponent knows exactly what's coming and make their adjustments while on a winning streak.
Everyone else, including teams as good and as talented and as flawed as Kentucky, will take a few losses along the way. They'll go through a slump, and that's where the Wildcats are right now.
"There's a lot of stuff going on on," Calipari said, adding later, "[I] don't want to shorten the rotation to five or six guys, but I will if I have to. I'd like to play eight or nine guys so they all get a chance to play, have fun, morale, all that. But you better deserve to be on that court."
Duke dealt with this for a month before they made the decision to fully embrace playing small-ball. They're 3-0 since the change. Kansas had their issues and they made the decision to play zone; it earned them a comeback win in Rupp Arena despite playing short-handed.
Kentucky's 2014 team – the last Cal-coached team to start four freshmen and a sophomore, the team that entered the year with hopes of going 40-0 and entered the tournament with 10 losses, finishing six games behind SEC champs Florida – had 'the tweak' before making their run to the national title game.
Calipari has been talking this week about a 'reboot'.
Will that be enough for this group to fix what ails them?