1. Frank Mason III, Kansas: Mason churned out one of his best performances of the season on Saturday, pouring in 32 points and dishing out six assists to help the Jayhawks get to overtime against an Iowa State team that hit roughly 100 – or 18 – threes in Phog Allen Fieldhouse. That came three days after he had 19 points and six assists in a win over Baylor and two days before he had 21 points in a win at Kansas State.
The game at Kansas State was the one that really stood out. Mason did not play well at all, at least not to his standards, and still managed to make a handful of critical shots and one of the best plays you'll see this season all way looking like Michael Jordan during the flu game after playing 117 minutes in the last six days.
2. Josh Hart, Villanova: Hart closed the gap on Mason a little bit this week, going for 17 points in a win at Providence and backing that up with 26 points, nine boards and five assists as the Wildcats knocked off St. John's. I think the biggest thing standing in Hart's way at this point is that he is playing in a conference where the other three contenders have all run into a wall. Butler seemingly lost their ability to play basketball well while Creighton and Xavier both lost star point guards. How many big, statement games is he going to have the rest of the season? How many chances will he have to put up 30 points in the biggest game of the day, the game that everyone is watching?
Hart had his Player of the Year moments early on this season. I wonder how many more he'll have this year.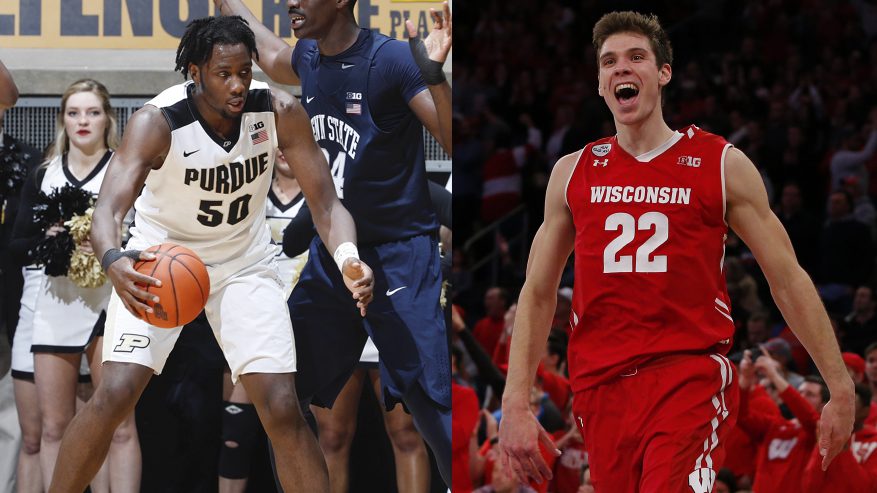 3. Ethan Happ, Wisconsin
4. Caleb Swanigan, Purdue: Happ vs. Swanigan remains the most interesting subplot in the Player of the Year race. Swanigan was unbelievable this week, averaging 25 points and 13 boards as Purdue beat two of the teams ahead of them in the Big Ten standings, Northwestern and Maryland. Happ averaged 17 points and 10 boards, but also added five steals and three blocks in wins over Indiana and Illinois.
To be frank, I don't think there is a wrong answer here. Personally, I think Happ has the edge because of the player that he is on the defensive end of the floor. Swanigan is a better shooter, yes, and Happ's struggles from the free throw line are an issue, but I think that the way Wisconsin plays nullifies some of Happ's shooting woes and his ability to defend is much more important for a team that plays a fewer number of possessions.
That said, Swanigan was just so, so, so good this week. If you lean his way, I don't really have an argument to make against it.
5. Lonzo Ball, UCLA: The Bruins snapped a two-game losing streak this week, going to the Washington schools and sweeping them without breaking much of a sweat. On Saturday, in a 41-point win at Washington, Ball outplayed the likely No. 1 pick in the 2017 NBA Draft, Markelle Fultz.
6. Nigel Williams-Goss, Gonzaga: Williams-Goss has become the go-to guy for Gonzaga. I explained his importance to that team here.
7. Luke Kennard, Duke: The Blue Devils look like they're starting to put the pieces together this season, as their offense is now running through Kennard and Grayson Allen. We've been saying all along that as more players get involved in Duke's attack, Kennard's spot on this list is probably going to start to slide, but given just how important he's been this season to the Blue Devils, he absolutely deserves to be in the mix for first-team all-american.
You can subscribe to the podcast on iTunes, Stitcher and Audioboom
8. Lauri Markannen, Arizona: It was not a good week for Markkanen, who had just 12 points in two games as Arizona struggled to get past Oregon State and then got humiliated by Oregon on Saturday.
9. Johnathan Motley, Baylor: Motley and the Bears did not have the best week last week, going 0-2 with an understandable loss at Phog Allen Fieldhouse and a headscratching loss at home against Kansas State. The one thing that was abundantly clear in both of those games, however, is that the Bears, who are a legitimate national title contender, are at their best when they are running everything through Motley.
10. Josh Jackson, Kansas: Kansas just went through one of the toughest five-game stretches you'll see anyone play this season – at West Virginia, at Kentucky, Baylor at home, Iowa State at home, at Kansas State, all in the span of 13 days. Jackson in those five games: 19.8 points, 7.4 boards and 1.6 steals while shooting 11-for-19 from three. He's the best player on Kansas, and that includes Mason.
JUST MISSED THE CUT
De'Aaron Fox, Kentucky
Joel Berry II, North Carolina
Melo Trimble, Maryland
Malik Monk, Kentucky
Bonzie Colson, Notre Dame
Dwayne Bacon, Florida State
Markelle Fultz, Washington
Justin Jackson, North Carolina
Jock Landale, Saint Mary's
Alec Peters, Valparaiso