Josh Jackson finished with a career-high 23 points and 11 boards and Frank Mason added 17 points and five assists in an off-night as No. 3 Kansas protected their home floor and gave themselves the inside track to winning their 13th straight Big 12 regular season with a 73-68 win over No. 2 Baylor on Wednesday.
Landen Lucas was terrific for the Jayhawks, finishing with 11 boards and two huge baskets over Baylor's massive front line late in the second half.
Johnathan Motley had 14 of his 16 points in the first half, but Kansas did an excellent job of taking him away down the stretch. Manu Lecomte added 16 points for the Bears, who turned the ball over with 1.3 seconds left in a game that they trailed 71-68.
Here are five things we can take away from this game: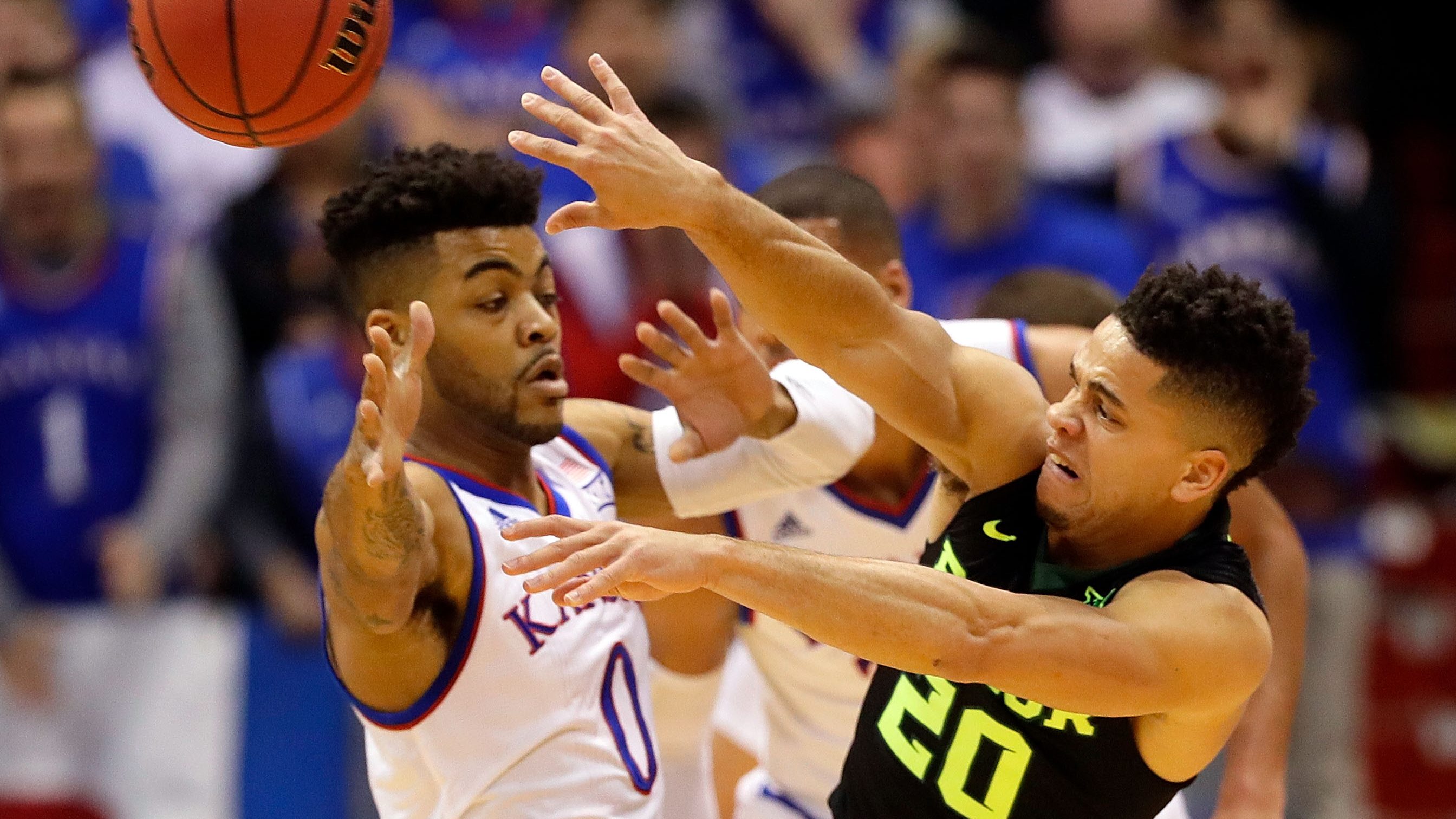 1. Josh Jackson is officially the best player on Kansas: I'm not sure it's much of an argument anymore, either. He had 23 points, 11 boards and two blocks on Wednesday. He shot 8-for-13 from the floor and hit a pair of threes. He spent much of the game defensively dealing with the much larger Johnathan Motley and Jo Lual-Acuil, a pair of seven-footers that wanted nothing more than to bully Jackson as much as they could, and he more than held his own. Acuil had just 10 points and eight boards while Motley was totally ineffective in the second half.
What's more is that the Jayhawks just finished the toughest three-game stretch of their season, and possibly of anyone's season. They played at West Virginia, at Kentucky and at home to Baylor, going 2-1 in three games against top ten KenPom teams. Jackson, in those three games, averaged 21.7 points, 8.0 boards and 2.7 assists while shooting 57.1 percent from the floor and 61.6 percent from three. The difference on Wednesday was that Jackson was totally locked-in on both ends of the floor. Against West Virginia, he just wasn't good defensively. That was not the case against Baylor.
At this point, he's absolutely played himself into the discussion for the No. 1 overall pick in the 2017 NBA Draft and is almost certainly going to end up being a top five pick.
Frank Mason III is still the Kansas MVP. He's the emotional leader of that group. He's the guy who makes the important decisions and will get shots on the most important possessions. He's our leader for National Player of the Year for a reason.
But that doesn't change the fact that he's no longer the best player on Kansas.
2. If anyone still doubts Baylor, you should stop: If going into Phog Allen and putting together this kind of a performance doesn't sell you on the idea that the Bears can get to a Final Four and are the only threat to the Jayhawks in the race for the Big 12 title, nothing well.
You don't win in Phog Allen. You just don't. And Baylor had the ball with a chance to tie on their final possession in a game where they were outshot from the free throw line by 21 foul shots. And yes, Kansas has been challenged in that building before. No, it's not always by a good team. (See: State, Kansas.) But when you combine the fact that A) Baylor has arguably the best résumé in the sport, B) is considered by just about every metric to be one of the nation's elite teams and C) they put together this kind of a performance in that building, even the most diabolical hater west of the Mississippi will struggle to nitpick them.
So I ask you, in all seriousness, if you don't believe in this Baylor team by now: What else do you need to see?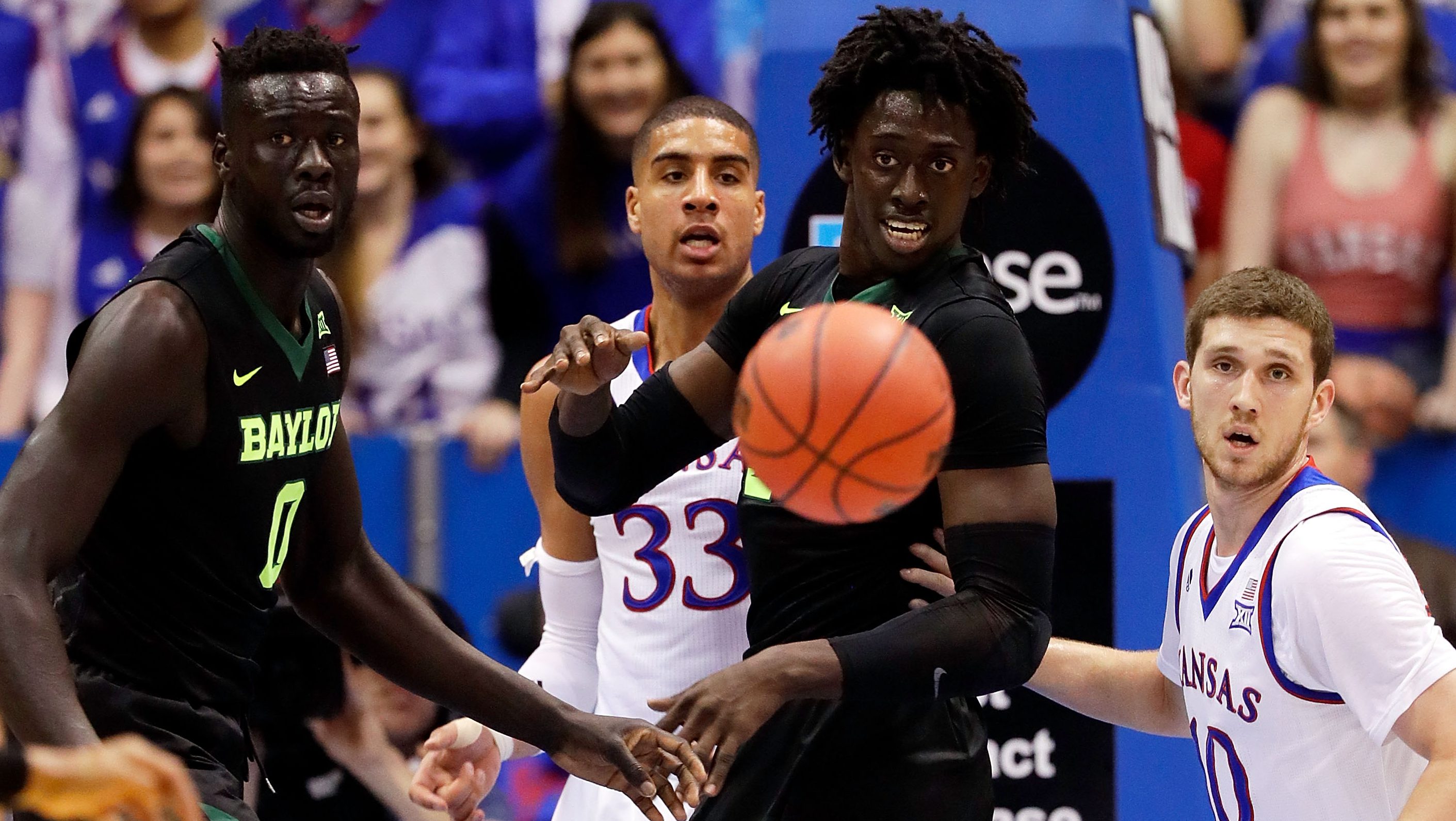 3. The zone is here to stay: For the second straight games against a fellow Final Four contender, Bill Self's zone defense changed the game in the second half. The Jayhawks didn't play strictly zone – there were possessions of man-to-man thrown in there as well – but I'm not sure there's a way to justify not playing it. We've been over the reasons why it works for Kansas numerous times by now, but to recap: It protects Landen Lucas, who is essentially the only big man on the roster; it saves the legs of the Jayhawk guards, who are being asked to play crazy amounts of minutes; and, with the length, athleticism and mobility of their wings, it's actually pretty effective defense, especially if Josh Jackson is going to get double-digit rebounds.
4. Landen Lucas was awesome: He finished with 11 boards, four offensive, and five points, but his numbers don't do his impact on this game justice. After a first half where Motley gave the Jayhawks 14 points and six boards, Lucas turned in a stalwart performance in the paint. He changed shots at the rim. He cleaned the defensive glass. He got his hands on passes in the lane. What Kansas needs out of him more than anything else is for him to be big, tough and physical in the paint without fouling, and he played that role to perfection Wednesday.
And that wasn't it. Lucas had two huge baskets down the stretch and, on the final possession, played terrific defense on not one, but two ball-screens, helping to force the game-clinching turnover.
5a. Baylor is still winless in Phog Allen Fieldhouse in program history: They're 0-14 in the building since joining the then-Big Eight in 1996, but that's not uncommon. The Jayhawks don't lose at home, not under Bill Self. He is now 9-0 at home in games against top five teams. Hell, Self has lost nine games in Phog Allen Fieldhouse in his 14-year career as the head coach at Kansas. To put that into perspective, Baylor head coach Scott Drew has now lost 10 games at Phog Allen.
5b. Maybe there's a reason for that: Kansas shot 27 free throws. Baylor shot six. I guess the Jayhawks just play harder …