No. 2 Kansas got a bit of brutal news late on Thursday night when Bill Self announced that Carlton Bragg Jr., one of just nine scholarship players on the roster and one of two "big" men that see significant time in the Jayhawks rotation, is suspended for a violation of team rules.*
*(Worth noting here: the suspension, according to Self, has nothing to do with the current investigation into the alleged rape of a 16-year old in the dorm where the Kansas players live. Bragg has been interviewed as a witness in that case.)
This is a massive problem for a Kansas team that is already getting pummeled by opponents in the paint. Against No. 18 West Virginia, Esa Ahmad scored 27 points, the majority of which came in or around the lane. Jarrett Allen of Texas went for 22 points and 19 boards. TCU's Vlad Brodziansky had 28 points and nine boards. Georgia's Yante Maten had 30 points and 13 boards.
And No. 4 Kentucky?
They've got a guy named Bam Adebayo, who is playing some of the most efficient basketball of his career right now. He's averaging 14.6 points over his last five games and shooting 84 percent, but he's only getting five shots a night over the last five games. That's something that is likely going to change on Saturday, as John Calipari is smart enough to know that getting Landen Lucas, who is basically the only center the Jayhawks have on the roster with Udoka Azubuike injured, in foul trouble could spell an easy win.
You can subscribe to the podcast on iTunes, Stitcher and Audioboom
So expect Adebayo to get the ball early and often on Saturday, which will likely take some of the luster off of what is the most intriguing positional matchup of the season to date: Frank Mason III and Devonte' Graham vs. De'Aaron Fox and Malik Monk.
Those are the two of, if not the two best back courts in college basketball this season, and they're very different in the way that they play. Mason and Graham are two well-rounded point guards who more or less play the same way. Graham is a little bit bigger and is better in an off-the-ball, spot-up-shooter, lock-down defender role while Mason is at his best when the ball is in his hands and he is making decisions.
Fox and Monk, on the other hands, are two totally different players whose skill-sets compliment each other perfectly. Fox is a dynamic athletic that thrives in transition and is one of the best passers in the country. Monk? He's the high-volume shooter that plays along side him. Two five-star freshmen vs. two upper-classmen that originally committed to mid-major programs.
Perhaps the most fascinating part of this matchup, however, is that both John Calipari and Bill Self and reinvented themselves as coaches this season. Typically, their teams are two of the best defensive teams in the country, and neither of them have played like it thus far this season. Cal has turned his team, which is usually a slow-paced, marauding force, into the nation's most dangerous transition team. Self? He has Kansas playing small-ball, which is something that he has been morally opposed to in the past.
Which brings me to Josh Jackson. The No. 1 prospect in the Class of 2016, Jackson plays the four for the Jayhawks and, so long as he stays out of foul trouble, is the guy that creates the matchup problems for them. How Kentucky handles that, and how the Jayhawks respond to Adebayo in the paint, will decide this game.
PREDICTION: With Carlton Bragg Jr. available, I would've had to think long and hard about picking Kentucky (-8). Without Bragg? It seems like easy money.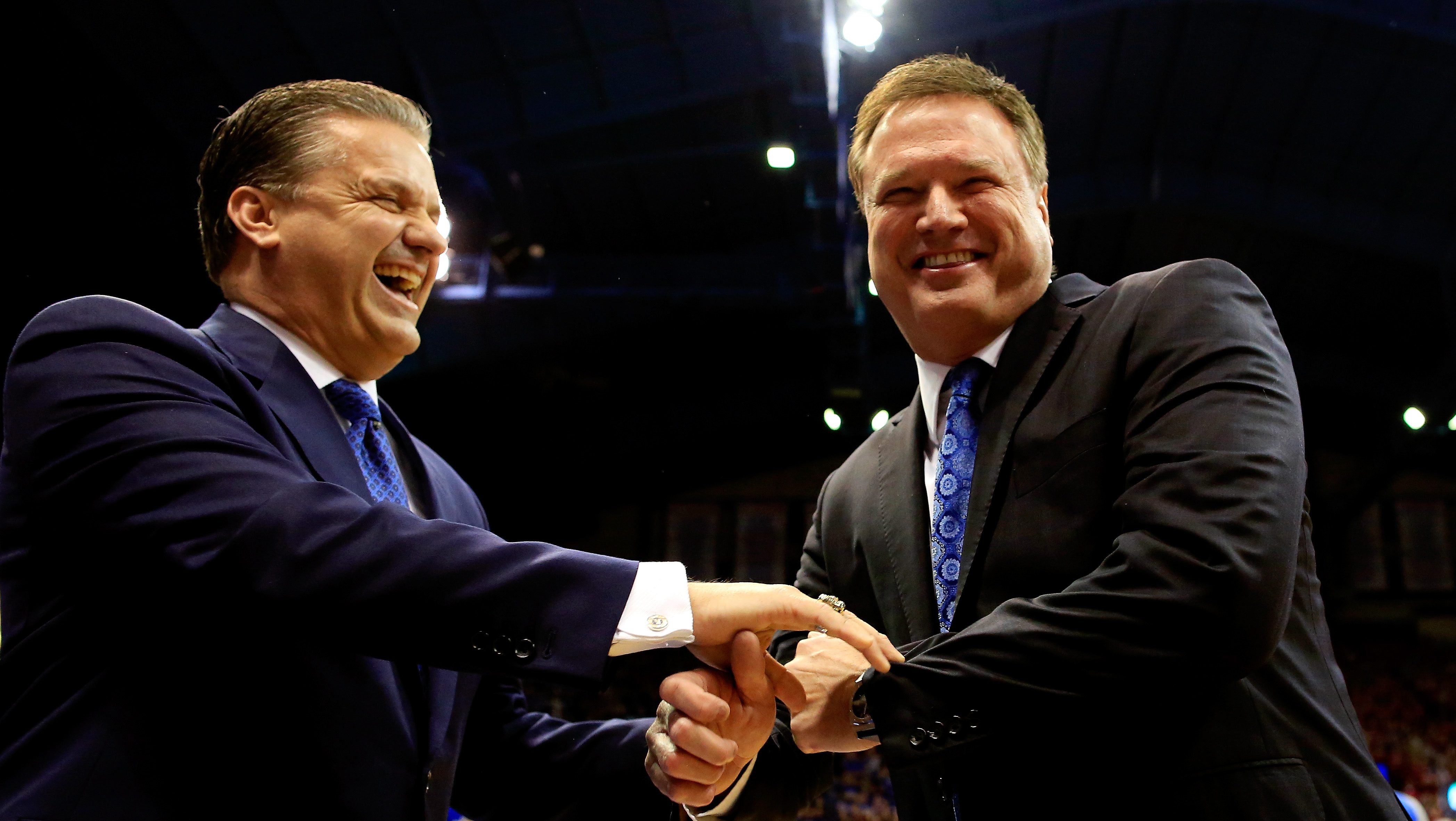 FIVE MORE GAMES TO WATCH THIS WEEKEND
No. 12 Virginia at No. 1 Villanova, Sun. 1:00 p.m.: Virginia is coming off of a dominating, 17-point win at No. 14 Notre Dame earlier this week. Can they back that up with a win at Villanova, who just lost at Marquette, on Saturday? I will say this: Virginia's pack-line defense is designed to dare teams to beat them with jumpers. Villanova shot 6-for-34 from three against Marquette. PREDICTION: Villanova (-3)
N.C. State at No. 13 Louisville, Sat. 1:00 p.m.: The Wolfpack are coming off of a win at Duke where Dennis Smith Jr. went for 32 points and six dimes. Louisville? They'll be without starting point guard Quentin Snider and backup point guard Tony Hicks. PREDICTION: N.C. State (+18)
No. 22 Maryland at Minnesota, Sat. 2:15 p.m.: The Golden Gophers had such a strong start to the season, but they've struggled in recent weeks to find that same level. The Terrapins, on paper, are very beatable, but you'd be hard-pressed to find a better winner in college basketball than Melo Trimble. He's 28-6 in his career – and 8-1 this season – in games decided by six points or less. PREDICTION: Maryland (+4)
No. 9 North Carolina at Miami, Sat. 1:00 p.m.: Miami is one of those teams where we don't really know what to expect from them night-to-night, but they've been pretty good at home while the Tar Heels have had their struggles on the road. PREDICTION: Miami (+5)
No. 5 Baylor at Ole Miss, Sat. 6:00 p.m.: The Rebels have not had a great year, but this is a team with the talent to be better than what their record says. And the Bears? While they have just one loss on the season, Baylor has not exactly been storming through the Big 12. Can they handle a road game out of conference? PREDICTION: Ole Miss (+11)