Five weeks ago, fresh off of a win in the Jimmy V Classic in which then-No. 5 Duke knocked off Florida and was on the verge of getting Harry Giles, the third of the program's three elite and injured freshmen, back from his layoff, the Blue Devils looked the part of a team on the verge of making a run at winning Mike Krzyzewski's sixth national title.
Fast forward to Monday night, and the team is a total mess despite the fact that Blue Devils have every one of their key players available.
Duke lost for the third time in their last four games and for the fourth in in seven ACC games when, on Monday night, they blew a number of second half leads and fell to N.C. State at home for the first time since 1995. Coach K is still recovering from surgery on his back and has not been on the sidelines for the last five games. Grayson Allen has looked like a shell of himself for most of the season, particularly over the course of the last month, since his third tripping incident of 2016 has turned him into a media sensation that college basketball has never before seen. Giles isn't anywhere near the player that he was before his knee surgeries, and it's looking less and less likely that we'll see him get close that level this year. Jayson Tatum isn't playing like a top five pick. Marques Bolden looks nothing like a lottery pick. Luke Kennard was sensational early in the season but is being pushed back into a complimentary role.
All of this coming from a team that, on paper, should be as talented as anyone we've seen in recent history.
How has it gone so wrong for Duke?
---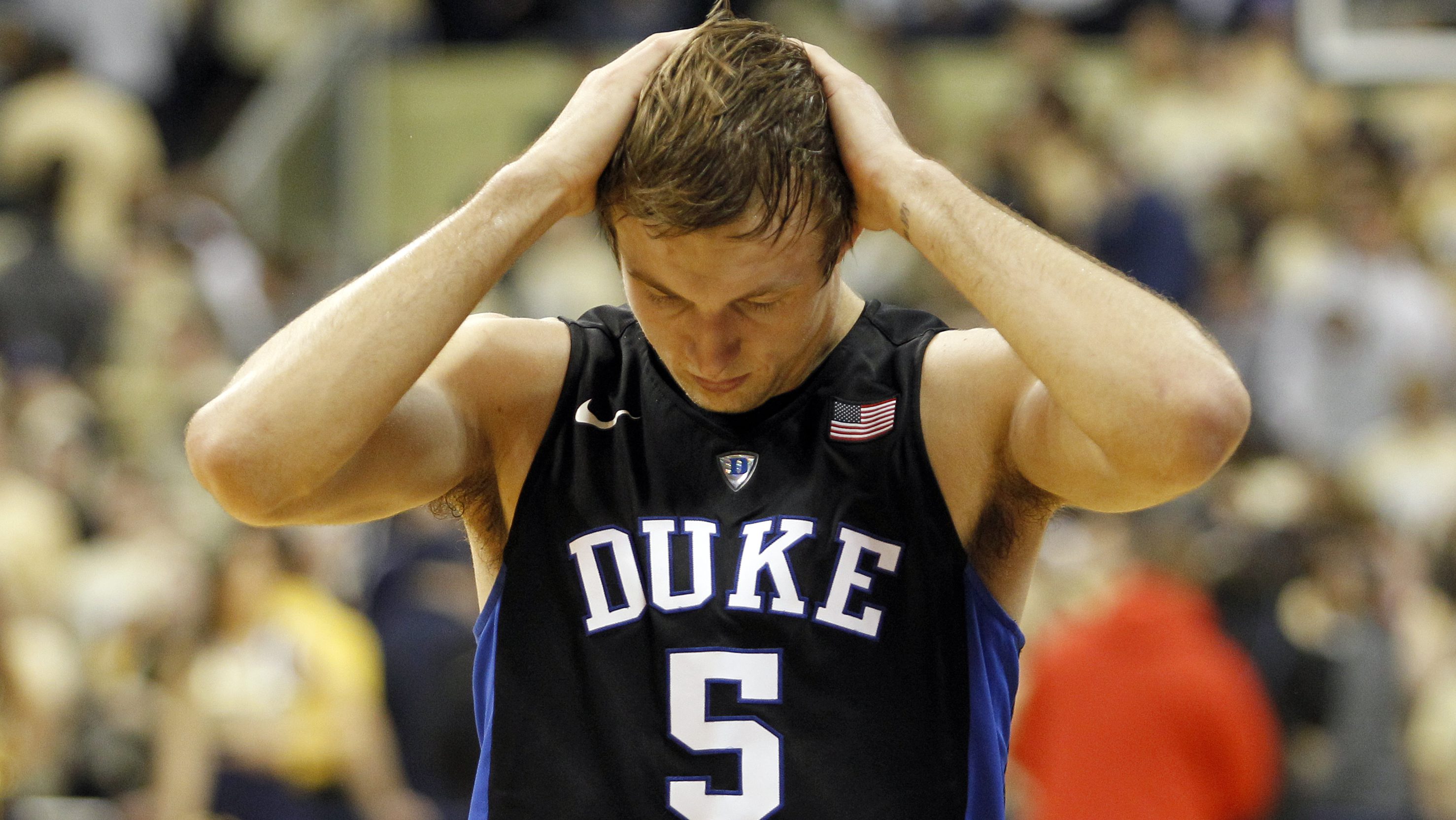 ---
1. The Luke Kennard conundrum: Right now, Luke Kennard is the guy playing the best for Duke, and he's the only one on the team that seems to realize it. This is the crux of the issue for Duke.
By almost any measure that you use, Kennard has been the star of this team. He's their leading scorer. He has, by far, the highest offensive rating on the team, according to KenPom.com. He's by far their best three-point shooter. The only guy that's shooting better from inside the arc is Amile Jefferson. What he's doing this season isn't all that different from what Grayson Allen did last season, when he was a second-team all-american. The way Kennard's been playing, he's the one that should have the offense built around him.
"They need to make Kennard the focal point," said a person who has scouted the Blue Devils this season.
Only, that's not how it has gone. Since the Dec. 19th game against Tennessee State, when things started to spiral for Duke, Kennard has averaged 11.2 shots per game, down from 13.5 in the first 11 games of the season. During that same stretch, Tatum has averaged 13.6 shots while getting more shots than Kennard in eight of the nine games. If you like advanced stats, the numbers are similarly glaring: Tatum took an average of 28.4 percent of the shots while he was on the floor during those nine games. Kennard checked in at 21.9 percent. On the season, Kennard's usage rate is 22.0. Tatum's is 27.8.
Kennard has his flaws, and Tatum is inarguably a better NBA prospect, and this has created an issue because Tatum is a ball-stopper. He's terrific when he's allowed to operate in isolation, but he lacks feel. He doesn't read when and where help is coming from. He doesn't make his teammates better. He can't create shots for anyone else. He doesn't seem to have an understanding of when he should try to takeover and when it's time to keep the offense moving. It's not all that different from what Brandon Ingram did last season, but this Duke team and that Duke team have very different supporting casts. They needed Ingram to take over in stretches last season – more on Ingram in a second – and he did, while still managing to shoot less than Tatum is this season.
That leads me into the next point …
2. … that Duke lacks an identity: Whose team is this? Who is the go-to guy? Who is the player that offense will run through? Who do they build around?
It should be Grayson Allen, right? He was the Preseason National Player of the Year. He is the guy that averaged 21.6 points, 4.6 boards and 3.5 assists last season. He's the guy that returned to Duke for his junior season in part because he wanted to leave a legacy at the program; no one has won two national titles at Duke since Christian Laettner and Bobby Hurley. But given his propensity for tripping people, the Laettner legacy that Allen has followed has been very different than what he was hoping for, and the scrutiny those incidents brought upon him has turned Allen into a guy that looks nothing like the player we saw last season.
No one has filled that void in his absence.
"They have too many guys who think it's their team," one NBA front office member said. "No identity."
Which brings me back to Kennard.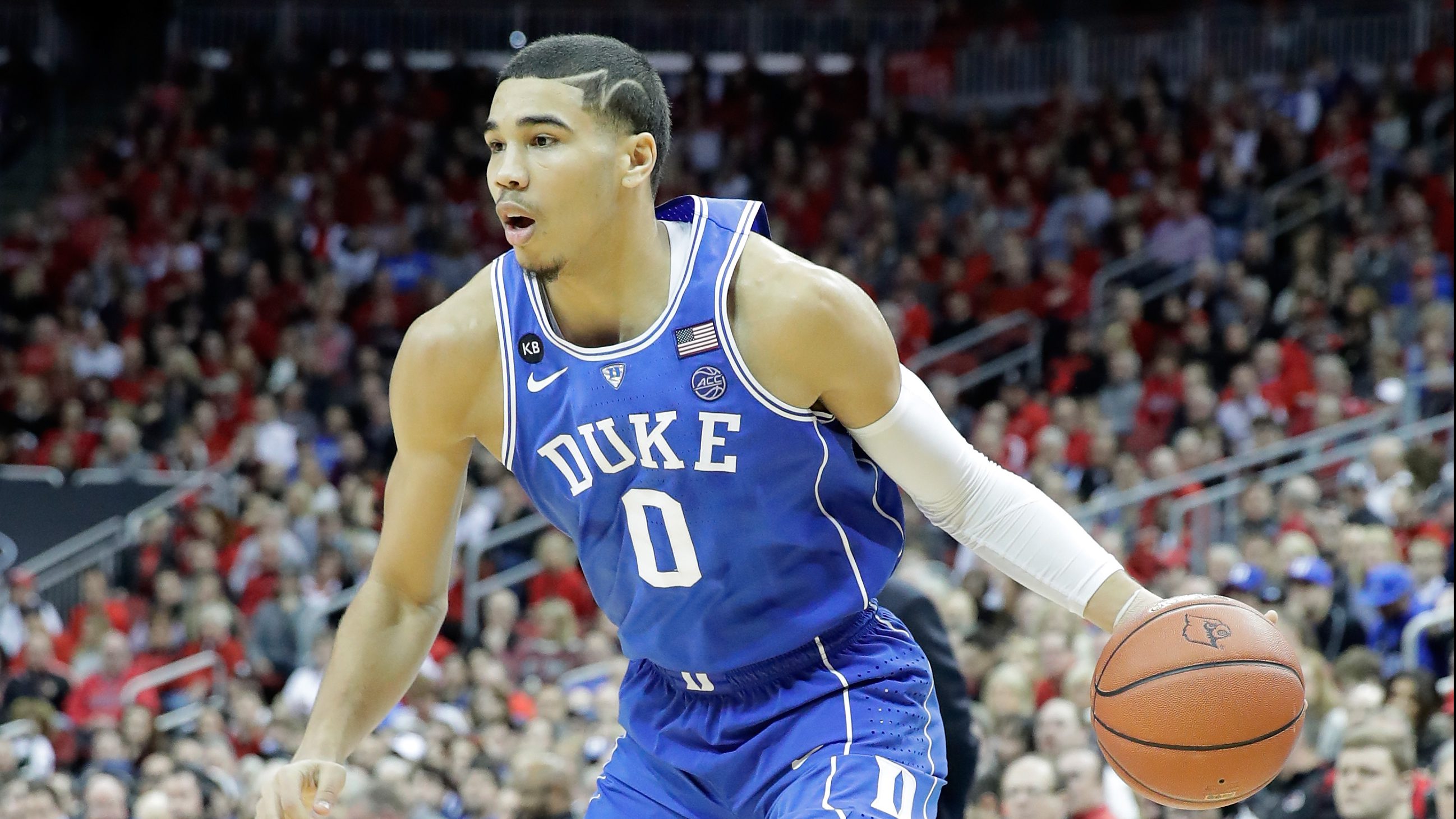 For the Blue Devils to reach their ceiling, he cannot be their best player. I don't say that to take away from his ability. He is quite clearly capable of being their best player; he's been doing it for two months.
I say that because, quite simply, Allen and Tatum should be better than him. They are more talented. But as of today, we're now more than halfway through the season and those two just haven't been good enough.
It really is that simple.
"And that's part of the problem," a coach who has game-planned for Duke said, adding that this where injuries have really taken their toll.
You see, Duke has never really had a chance to gel. If you include Coach K into the equation, they've essentially played one game where they had all of their preferred starters available and one of the greatest to ever do it on the sideline. You've heard this a thousand times by now, but teams figure out their pecking order, their rotation and the hierarchy of who gets shots and when they get them during games in November and December. Duke did just that, and then they had a wrench thrown into the gears when Tatum returned, when Bolden returned and when Giles returned, not to mention when Allen finally got healthy.
And now this is the situation they face: Kennard has gotten used to being 'the man' this season, Allen spent all of last season as 'the man' while Tatum – and, to a lesser extent, Giles and Bolden – entered the program with the expectation of being 'the man'.
Something has to give. Someone has to accept a role.
And, over the course of the last month, that just hasn't happened the way that it needs to.
3. That whole "Duke doesn't have a point guard" story line? It's an issue: Back to Allen, part of the reason that he is struggling is that he is being asked to play out of position. He's not a point guard, but he's the best point guard that Duke currently has on their roster.
There is a difference between a play maker and a point guard, which is similar to the difference between playing the point and being a point. Allen is a playmaker. He's a better passer than he gets credit for. He can get into the paint, draw a defense and find an open man. But he's an attack-minded player. He wants to be aggressive. That's when he's at his best, and that's what his natural instinct is. He's being asked to facilitate, and it has become clear that this is not working as well as Duke would have hoped.
Frank Jackson isn't quite ready to play a facilitatory role, either.
"They just don't have that guy," said a coach who has faced Duke this season.
What they do have, however, is nine McDonald's All-Americans, and in theory, that should be good enough. They were fine offensively last season when they had the same point guard concerns, but that's because there was a hierarchy that was quite clear. Everyone knew that Allen was the star, Brandon Ingram was the next option and Kennard was the guy that took over if defenses focused on those two.
That's not the case this year.
"They don't know where they're getting shots from because they haven't been a collective unit long enough," the coach said.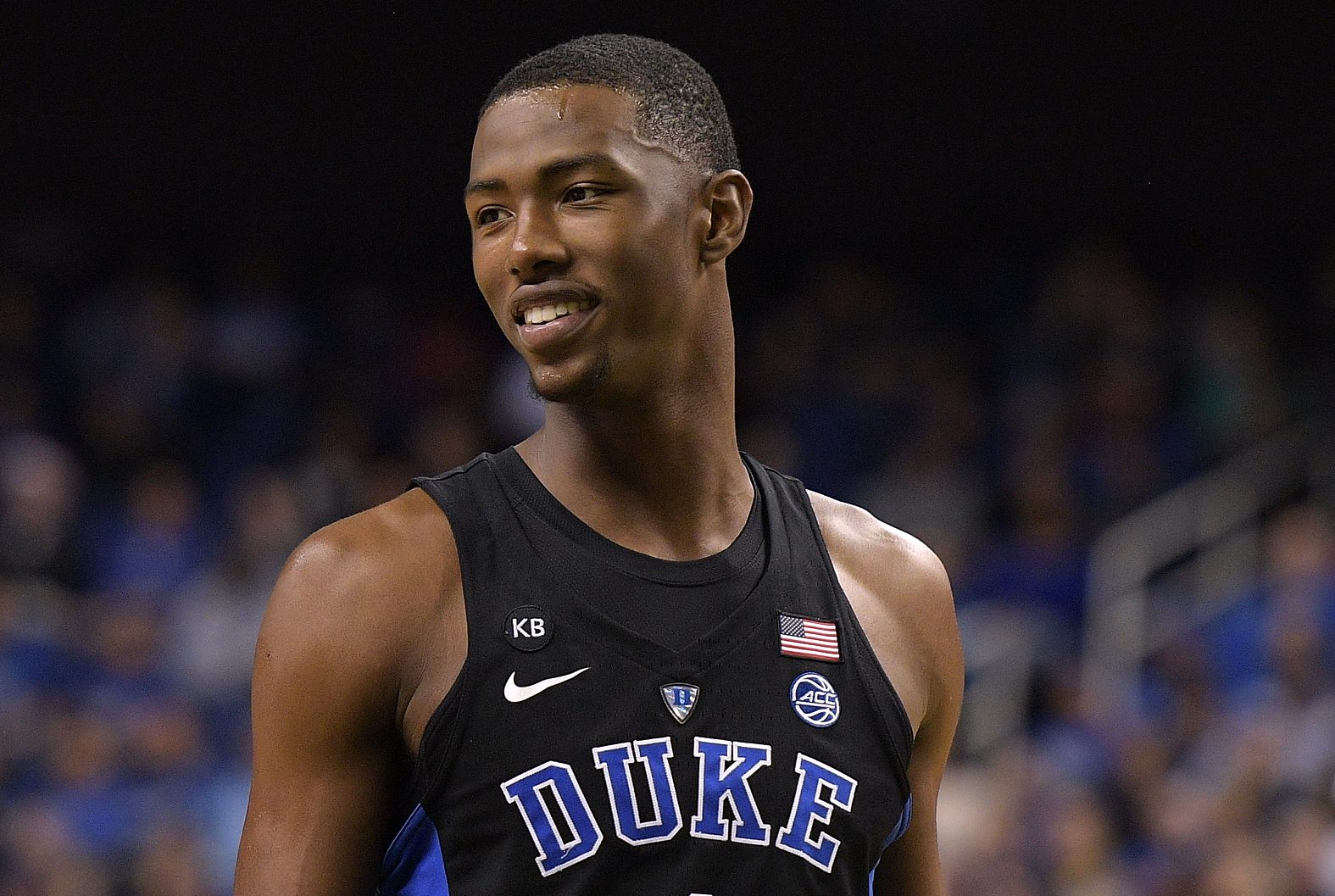 4. Does this group even like playing with each other?: Do they like each other, period?
What made Duke's second half performance on Saturday afternoon so promising, what made so many people – myself included – think that it could end up being the turning point in their season, is that, for the first time in a long time, Duke actually looked like they were having fun playing basketball.
That's because they were, sources connected to the program said.
And the result was that second half, the best defensive performance the Blue Devils have had since they won the 2015 national title.
Defense has been a constant concern for the Blue Devils since Coach K has fully embraced the one-and-done method of chasing titles, and this season is no different. They've been lit up in ball-screens. They've been getting beaten one-on-one. They looked incapable of keeping anyone out of the lane in their four conference losses, the most recent of which featured a 32-point, six-assist outburst by Dennis Smith Jr. But they've also shown flashes of being really, really good on that end of the floor.
Where does the inconsistency come from?
Part of it is youth. For example, it's hard to expect freshmen big men to enter college with a complete understanding of what they have to do defensively. In high school, they stand in front of the rim and block shots. In college, Giles and Bolden are being asked to hedge hard on ball-screens, to switch onto smaller defenders, to defend big men that can make jumpers, to be in the right place in help-side. There's a lot more on their plate, and they're barely a month into their playing career after getting healthy. They are improving.
But there's more to it than that.
For all the talk about athleticism and length and defensive tools, the single-most important skill when it comes to being a good individual defender is effort. From a team perspective, communication may be the most important part of putting together a well-oiled defense. As cliché as it sounds, teams that don't like playing with each other – that don't make the extra effort to take a charge, that don't give their all trying to stop their man, that reach for a steal instead of moving their feet to plug a driving lane, that don't talk to their teammates on screens or switches or rotations – aren't very good on the defensive end of the floor.
Ask yourself this: Is it a coincidence that Duke team's best defensive half came when they were actually enjoying each other's presence on the court?
---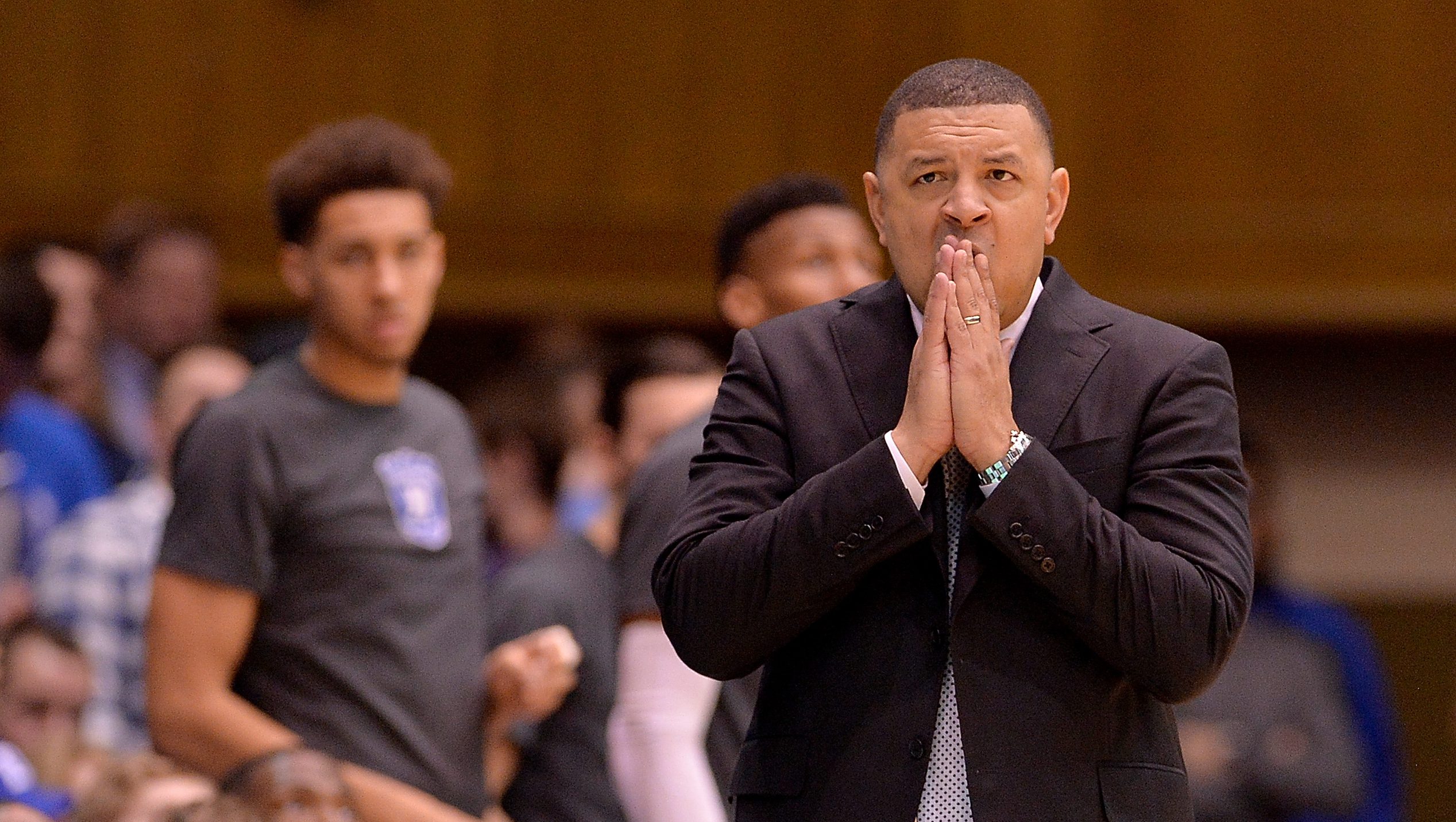 ---
The question that needs to be asked now is whether or not this team can actually turn this thing around, and I don't know if they can.
Getting Coach K back should make a difference, but will it be enough for Duke to actually be able to make a run in the tournament in March?
In 2014, the answer to that question was yes. Kentucky entered the year with more hype than any team in John Calipari's tenure with the Wildcats, and they promptly lost to Michigan State in the Champions Classic. Then they lost Baylor. And North Carolina. And Arkansas. Before you knew it, those Wildcats were finishing off a 22-9 regular season where they went 12-6 in the SEC and finished a full six games behind Florida for the conference regular season title.
But that group was able to shake off whatever ailed them in March. They went to the SEC tournament final, where they lost to No. 1 Florida by a point. They got slotted in a nightmare region in the NCAA tournament, then proceeded to beat No. 1 seed and undefeated Wichita State, Louisville, Michigan and Wisconsin – all of whom were top ten teams in the polls entering the tournament – to get to the national title game.
They lost to UConn in the finals.
That UConn team was led by Shabazz Napier, who went through a similarly catastrophic season two years earlier. In 2011-12, UConn landed a commitment from Andre Drummond, the best prospect in the Class of 2011, on August 26th, six weeks before practices were scheduled to start. That vaulted the Huskies, who were coming off of a national title the previous April, to the top of every preseason poll, even beating out North Carolina and Kentucky – who would prove to be far and away the two best teams in the country that year – for a couple of votes for No. 1.
But that team, which was as talented as any of their counterparts, would lose to Central Florida in the Bahamas. Then they lost to Seton Hall and Rutgers in back-to-back games early on in Big East play. There was one stretch during the season where they lost nine out of 12 before finishing 8-10 in the Big East and landing a No. 8 seed in the tournament.
Unlike Kentucky, UConn did not have a bonding moment prior to the Big Dance. They were bounced by Iowa State in the first round. In the locker room after the game, Napier punched a locker in frustration in front of members of the media as he watched his teammates laugh their way to the end of the season.
Duke's season appears destined to follow one of those two paths.
In a world where Giles is back to 100 percent, Allen's head is in the game and Tatum understands that Kennard is the team's best player right now, Duke clearly has the talent to do what Kentucky did.
That team can win a national title.
But are we actually going to see that team at any point the rest of this season?