One quick note before we get into these rankings: Creighton's Mo Watson Jr. has been dropped out of them completely.
If you've been living under a rock for the last week and haven't heard, he tore his ACL and is done for the season. As of today, he deserves to be on this list somewhere – maybe even as high as No. 5 – but since he will not be returning at any point, I've taken him off the list.
I also dropped Luke Kennard out of the top ten. I still think that he is the best player on the Duke roster and the guy that they should be running their offense through, but the fact of the matter is that he's just not doing that. And when a team with as much talent on it as Duke has is struggling the way that the Blue Devils are struggling, it's hard to give anyone in that program an award for anything.
On to the top ten:
1. Frank Mason III, Kansas: By this point in the season, freaky outlier stats are supposed to have regressed to the mean, but that hasn't happened with Mason. He's still averaging 20.1 points and 5.4 assists for the nation's No. 1 team, but what's even more impressive is that he's shooting 53.7 percent from three while attempting more than four per game. And Mason is the starting point guard for Kansas. His shooting isn't close to the most valuable thing he does for this team, which should give you an idea of just how good he's been.
2. Josh Hart, Villanova: Hart was terrific last week in Villanova's win over Providence, finishing with 26 points, six boards and four assists. Most of his heroics came earlier on in the season, which some of the folks just tuning into college hoops these days may not have seen. And if you haven't had a chance to watch Hart play yet, make sure you do. He's not the same player he was a season ago.
3. Lonzo Ball, UCLA: While I still believe that there is a clear-cut top three in the Player of the Year race, Ball trails the top two in my mind. His offensive numbers are terrific and his effect on the culture of the UCLA program is still underrated, but it's also become very clear that the Bruins' defensive struggles are something that could cost them a shot at a national title, and Ball has never been known for his ability on that end of the floor.
You can subscribe to the podcast on iTunes, Stitcher and Audioboom
4. De'Aaron Fox, Kentucky: We all got to see what Fox's value truly is to Kentucky on Saturday. UK's star point guard rolled his ankle midway through the first half against South Carolina, when the Wildcats held a big lead on the second-place Gamecocks. South Carolina came roaring back after Fox went out and kept things close for much of the rest of the game, before UK was able to pull away late. Isaiah Briscoe filled in for him at the point, and went scoreless with seven turnovers in the game.
5. Caleb Swanigan, Purdue
6. Ethan Happ, Wisconsin: The debate between Caleb Swanigan and Ethan Happ for Big Ten Player of the Year is heating up, and it's one that will likely rage throughout the rest of the season. They are the star players on the two most relevant Big Ten title contenders, and they just so happen to play the same position and put up similar numbers.
The argument for Happ is pretty simple: He's a better defender than Swanigan, and it's not particularly close. One example? Swanigan and 16 steals in more than 1500 career minutes. Happ has 15 steals in 180 minutes in Big Ten play this season. Then when you factor in the pace that Purdue and Wisconsin play at and the fact that Swanigan averages six more minutes than Happ, their per-40 numbers are more or less similar. Swanigan is an improved but Happ is still a better passer and he's not a turnover machine.
If you lean Happ, I don't think you're wrong.
But as of today, Swanigan gets my vote simply because of the role he plays for Purdue and the value that he has in how that team runs their offense. Happ has been Wisconsin's best player this season, but the difference in the Wisconsin that we see now and the Wisconsin that we saw in November is that Nigel Hayes and Bronson Koenig have accepted their respective roles. Hayes' has been particularly important, accepting that he needs to be a point forward for this team to reach their ceiling.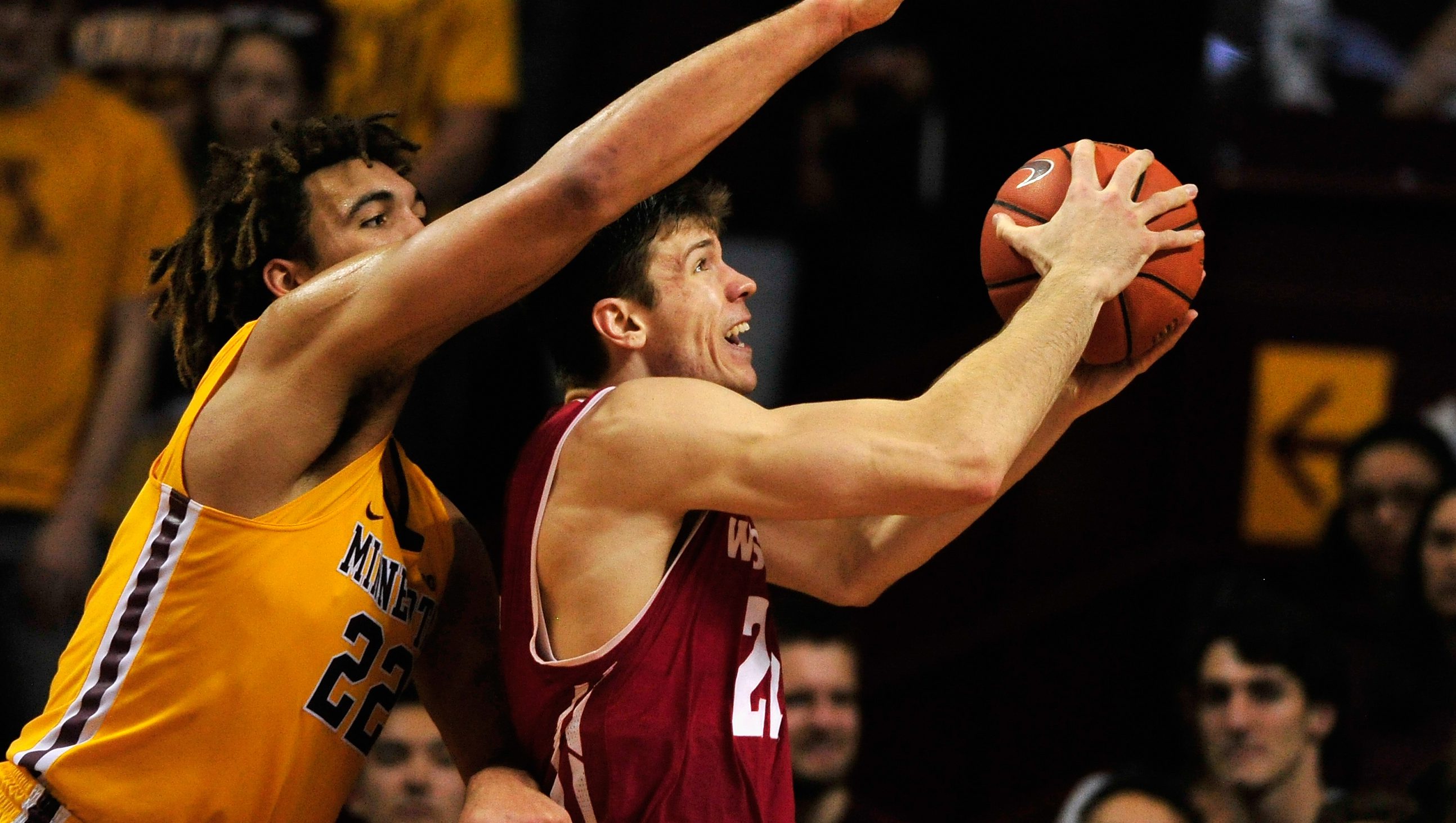 7. Joel Berry II, North Carolina: It's hard to pick between Justin Jackson and Berry for who should be deserving of being North Carolina's Player of the Year candidate, but I think that it's Berry simply because he's the guy that makes their offense run. Jackson has turned into UNC's go-to guy, the player that seems to make every big shot and who gets his number called on critical possessions, but it's Berry who makes the Tar Heel offense work for the other 39 minutes of the game. If you lean Jackson, I have no qualms. They've both been terrific.
8. Lauri Markkanen, Arizona: While everyone is celebrating the return and Allonzo Trier and the emergence of Kobi Simmons at UCLA, they are overlooking the fact that Markkanen has consistently been the best player for the Wildcats this season and spent Saturday outplaying T.J. Leaf, another potential lottery pick.
9. Nigel Williams-Goss, Gonzaga: Williams-Goss has come back to earth a little bit since putting up 19 points and six assists on Saint Mary's in Gonzaga's 23-point win, but he still leads Gonzaga in scoring and assists and is second in rebounding despite being a 6-foot-2 point guard.
10. Johnathan Motley, Baylor: The 6-foot-10 Motley went for 32 points and 20 boards against Texas last week, backing that up with 15 points and 11 boards in a win over TCU. On Feb. 1st, we'll get to see him go up against Kansas for the first time this season.
JUST MISSED THE CUT
Luke Kennard, Duke
Malik Monk, Kentucky
Bonzie Colson, Notre Dame
Dwayne Bacon, Florida State
Markelle Fultz, Washington
Josh Jackson, Kansas
Justin Jackson, North Carolina
Jock Landale, Saint Mary's
Alec Peters, Valparaiso
Melo Trimble, Maryland