Saturday's win over No. 8 UCLA was massive for No. 7 Arizona for a number of reasons.
They got Allonzo Trier back into the fold. They remained undefeated atop the Pac-12 standings, keeping pace with an Oregon team that's dealing with another Dillon Brooks foot injury and getting ready to make the nightmarish trip to the Mountain schools, Utah and Colorado, this weekend. They took a two game lead over the Bruins in the Pac-12 standings.
Perhaps more importantly, the Wildcats certified themselves as a legitimate threat to get to the Final Four. Their 17-2 record entering Saturday was pretty. A win at Pauley finally gave that résumé some substance.
So good for Arizona.
But that wasn't the biggest story line coming out of Pauley Pavilion on Saturday afternoon.
UCLA's defense, or lack thereof, was.
Ever since the Bruins went into Rupp Arena and knocked off then-No. 1 Kentucky, UCLA has been considered one of the very best teams in the country. Villanova's up there, too. So is Kansas, and Gonzaga, and those Kentucky Wildcats. North Carolina probably should be in that conversation as well. Maybe Baylor, maaaybe Florida State.
RELATED: Player of the Week | Team of the Week | Five Things We Learned | Top 25
You can subscribe to the podcast on iTunes, Stitcher and Audioboom
You get my point. The Bruins, for better or worse, were one of the handful of teams that everyone thought would enter the NCAA tournament as a favorite to win the national title, but it's time for us to question whether or not that is actually the case. That's how bad the UCLA defense has been this season, particularly of late.
Against Arizona, the Bruins were a train-wreck. They gave up 96 points on 1.315 points-per-possession, which, for those of you who aren't into advanced stats, is atrocious. That game was the culmination of a four-game stretch where UCLA's defense had gone from concerning-but-good-enough to a major red flag. In those four games – road trips to Colorado and Utah and home games against Arizona and Arizona State – the Bruins allowed an abysmal 1.153 PPP. For comparison's sake, the 2015 Kentucky team that went 38-1, the best defense we've seen in the KenPom era, gave up 0.847 PPP. UCLA averages 75 possessions a game, which is a difference of 23 points over 40 minutes.
That's a big deal.
And on the season, UCLA has fallen the way to 125th in KenPom's defensive efficiency metric.
That's a bigger deal.
For those that don't know, KenPom.com is a website that ranks teams based on how many points they score and allow per possession, adjusted for schedule strength. It's widely considered the best way to determine who the best offensive, the best defensive and the best overall teams are.
It's been around since 2002.
And since 2002, given where UCLA's defense is today, they would be the second-worst defensive team to ever get to a Final Four.
In 2011, VCU ranked 138th in defensive efficiency as of Selection Sunday*, and they are the only team to ever rank outside the top 80 in defensive efficiency and make it all the way to the Final Four. Only three other teams have ranked outside the top 50 and made it to the final weekend of the season: Marquette in 2003 (76th), Butler in 2011 (72nd) and Michigan in 2013 (66th). Two others ranked outside the top 40 and won at least four games in the Big Dance: Texas in 2003 (46th) and Wisconsin in 2014 (50th):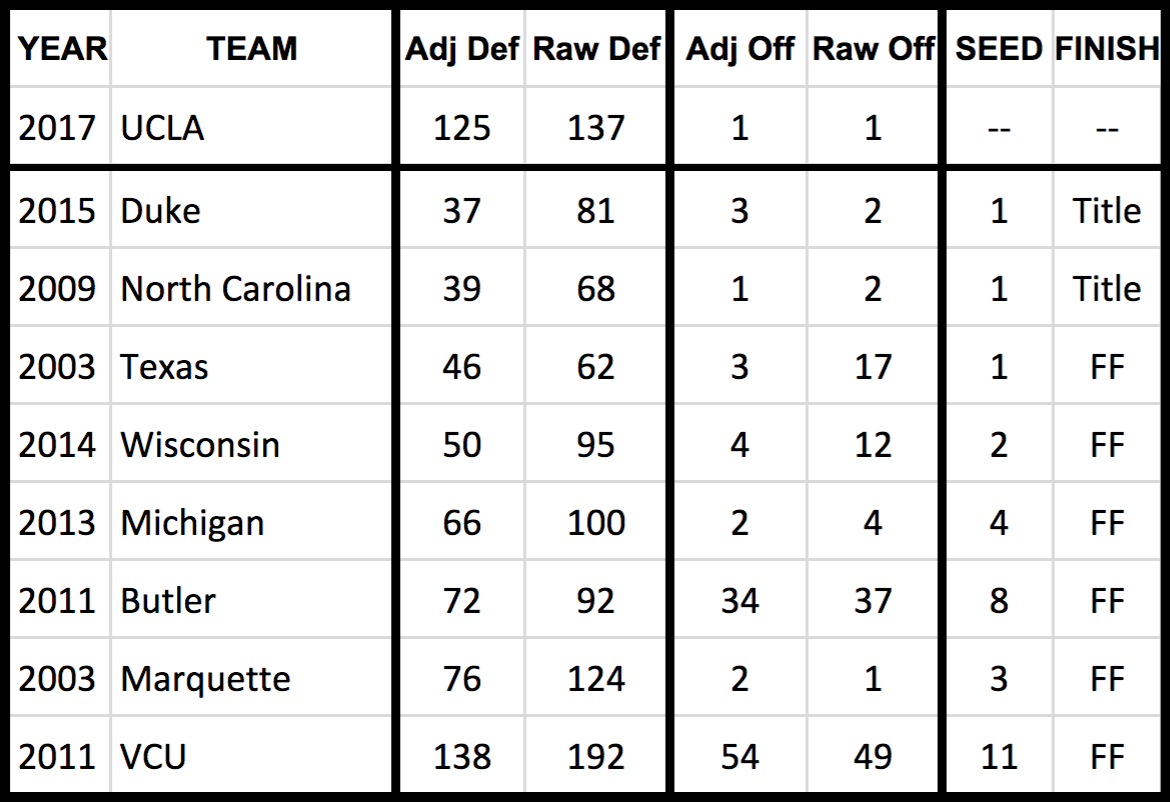 *(All of this info is via KenPom.com and as of Selection Sunday in those given seasons. That's important to note, because winning games against good teams in the tournament changes those stats.)
The precedent is there.
UCLA, unquestionably, has to get better defensively if they want to win a national title.
But all hope is not lost.
The two teams with the lowest defensive efficiency entering the NCAA tournament to win the national title – North Carolina in 2009 and Duke in 2015 – both had top three offenses nationally.
UCLA leads the nation in offensive efficiency.