NOTE: This preview was written before the Allonzo Trier news broke.
SATURDAY'S SHOWDOWNS
No. 14 Arizona at No. 3 UCLA, Sat. 4:00 p.m. (CBS): First place in the Pac-12 is on the line on Saturday when Arizona makes the trek to Pauley Pavilion to square off with UCLA. The Bruins, who many believe are actually the best team in college basketball, currently sit a game behind both Arizona and Oregon – who may or may not have just lost Dillon Brooks to another foot injury – in the Pac-12 race, and this will be their chance to close the gap on at least one of those two.
Arizona is an interesting team. On paper, this team has some serious question. As talented as Lauri Markkanen, Rawle Alkins and Kobi Simmons – and, as of midnight last night, Allonzo Trier – are, and as good as that 17-2 record looks, the Wildcats still really haven't done anything this season that would make you believe they are the No. 14 team in the country. Their best win is either Michigan State, who is not the Michigan State we thought they were going to be entering the season, or USC on the road.
UCLA, on the other hand, has an offense that is capable of putting up more than 100 points on anyone. They made 19 threes at Colorado. They made 16 threes against Arizona State on Thursday night, knocking down 10-of-13 in the first half. They've had two different players go for more than 30 points in Pac-12 play, and neither of them are Lonzo Ball or T.J. Leaf, UCLA's two lottery picks. UCLA's issue is that they don't defend. As dangerous as this team is, they're currently sitting at 11th in KenPom because they rank 92nd in defensive efficiency, and while I have my doubts about the Wildcats, they do have three guys that can light it up offensively.
PREDICTION: I was on UCLA (-4), but with the line moving and Allonzo Trier getting cleared, Arizona (+6) is where I would want my money, and I think that this game will hit over (+/- 162), too.
You can subscribe to the podcast on iTunes, Stitcher and Audioboom
No. 24 South Carolina at No. 5 Kentucky, Sat. 6:00 p.m. (ESPN): The Pac-12 isn't the only conference where first-place is on the line. South Carolina and Kentucky are the only two undefeated teams left in the league after the Gamecocks beat No. 19 Florida on Wednesday night, and we will get a chance to see the pair of them square off Saturday evening. I think that South Carolina is the second-best team in the SEC, and I think that they do have the pieces to give the Wildcats a fight. It's worth noting that with Sindarius Thornwell available, South Carolina is undefeated on the season.
Frank Martin's clubs are never going to get out-toughed, and that is particularly true with this group, whose roster of big, physical veterans have used a pressuring, half-court man defense to sit atop KenPom's adjusted defensive efficiency metric. It will be strength on strength for South Carolina, as Kentucky has the nation's No. 2 offense.
The key? Keep the Wildcats out of transition. Given the lack of perimeter shooting on Kentucky's roster, if South Carolina can find a way to avoid live-ball turnovers and prevent Kentucky from getting easy buckets on the break – for what it's worth, no one has really been able to do this – they should be able to keep this game interesting.
The x-factor? Foul trouble. The style that both of these teams like to play does not exactly align with the way college basketball is being officiated this season.
PREDICTION: I think Kentucky wins this, but I think the nation's best defensive team will be able to avoid getting run off the floor, so I'll take South Carolina (+13).
RELATED: Five Storylines To Follow This Weekend
No. 12 Louisville at No. 10 Florida State, Sat. 2:00 p.m. (ESPN): Florida State is part of a three-way tie for first place in the ACC with Notre Dame and North Carolina after the Seminoles knocked off the Fighting Irish on Wednesday evening. The way Leonard Hamilton's club got that done was to pressure the Irish in the half court and force them to make mistakes offensively. Notre Dame had to shoot 15-for-21 from three to keep that thing respectable.
Louisville is going to face similar issues offensively as well. Already a team with question marks on that end of the floor, they are going to be playing this game without the services of Quentin Snider, who is dealing with a hip flexor injury. Donovan Mitchell looked good against Clemson on Thursday night, but Clemson and Florida State are two different beasts.
It's worth noting, however that the 'Noles have point guard issues as well. Xavier Rathan-Mayes isn't exactly Chris Paul, and Louisville currently has the nation's second-best defense.
PREDICTION: I don't think Louisville wins this game on the road without their point guard, so I was on Florida State (-1). With the line now at FSU (-4.5), I think I'd rather bet the under (+/- 149). Two tough defenses, two teams without point guards.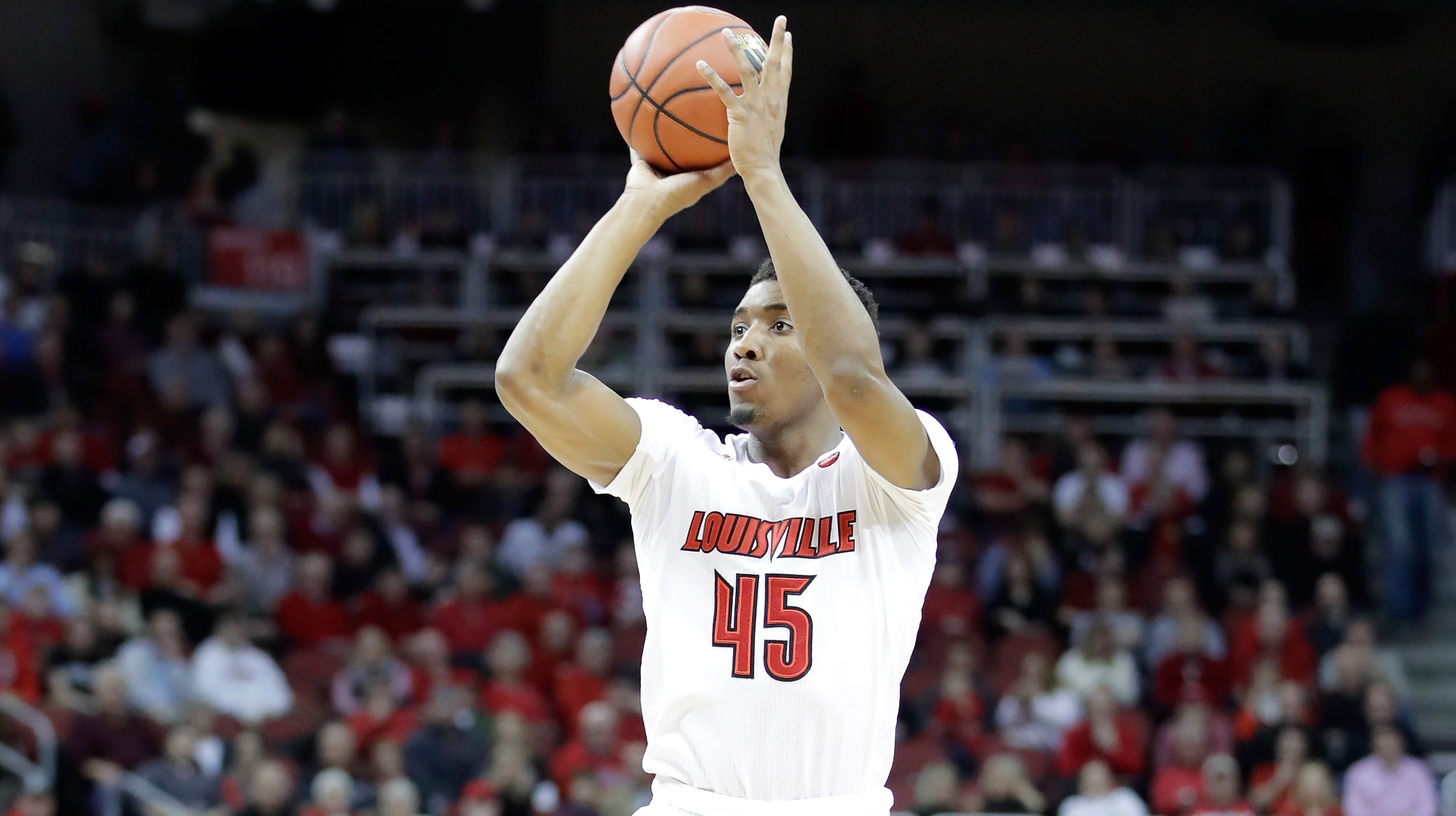 FIVE MORE GAMES TO WATCH
Syracuse at No. 15 Notre Dame, Sat. 12:00 p.m. (ESPN): The Irish are coming off of their first loss of the season, falling at Florida State despite the fact that they shot 15-for-21 from three. Given the way that Notre Dame can shoot the ball and pass the ball, this may not be the best matchup for the Orange zone. PREDICTION: Syracuse (+8)
Georgia Tech at No. 16 Virginia, Sat. 2:00 p.m. (ACC Network): If you haven't noticed yet, Josh Pastner actually have Georgia Tech playing some good basketball. The Yellow Jackets have wins over North Carolina, Clemson and N.C. State. Their only losses? At Duke, at Louisville and at Virginia Tech. PREDICTION: Virginia (-18)
No. 17 Wisconsin at Minnesota, Sat. 4:30 p.m. (BTN): The Golden Gophers got off to a good start to the season, but in the last week they've lost at Michigan State and at Penn State. Richard Pitino's club, if they are going to be a tournament team, needs to land a couple more wins over the top teams from the Big Ten. This is the perfect opportunity. PREDICTION: Wisconsin (-4.5)
No. 7 West Virginia at Kansas State, Sat. 6:00 p.m. (ESPN2): The Wildcats have been on the wrong end of three tough losses already this season. If they are going to have a real chance to get to the NCAA tournament this is the kind of game they need to win. PREDICTION: Kansas State (+3)
No. 6 Baylor at TCU, Sat. 8:00 p.m. (ESPNU): TCU is sitting pretty with a 14-4 record, but the Horned Frogs really have beaten anyone yet this season. Two wins over Washington, UNLV, Iowa State, Oklahoma. If this program is going to be good instead of, "Hey, TCU isn't a guaranteed win anymore," they need to do things like beat the best teams in the conference at home. That would be Baylor. PREDICTION: Baylor (-2.5)