Life had finally dealt Bradley Hayes a good hand when he got the call.
He had missed his sophomore and junior seasons in high school due to a knee injury that left him with a broken tibia and a dislocated kneecap, but as a senior, the 7-foot Hayes had played well enough at Jacksonville's Sandalwood HS and on the AAU circuit to draw the attention of Georgetown.
He had a falling out with his father – the man whom he was named after, the man who instilled in him a love for this game – but Brad Jr. had finally reconnected with Brad Sr. before he left Florida for Washington, D.C.
Perhaps most importantly, a kid that had missed his freshman season because of poor academics was taking classes at Georgetown University. When the call came, he was just a few months into a four-year run that was supposed change the trajectory of his family's life. Hayes' mother, when the family lived in Rochester, New York, worked multiple jobs to pay the bills and keep a pair of growing boys fed. She did the same after the family relocated to Jacksonville when Hayes was in eighth grade.
It was the middle of October, days before his first official college basketball practices were to start and just weeks before games began. Hayes was in study hall when his phone rang.
"My brother called me," Hayes said. "Crying."
His father was dead. "I had just seen him a couple of weeks before," Hayes said. "To get a phone call like that, it would break anyone." According to his obituary, Brad Odell Hayes had died at home in his apartment in Jacksonville.
He was just 46 years old.
---
You can subscribe to the podcast on iTunes, Stitcher and Audioboom
---
Put yourself in Hayes' shoes for a minute.
His father had passed away unexpectedly. His brother was in the military. He was a three-hour plane ride from home, where his mother, Mary Hayes, was suddenly without the three men she was used to having in her life. Dealing with an empty nest is hard enough for any parent, but having to do so while grieving the loss of someone so close is a nightmare no one should have to live through.
And Hayes knew that. He knew what she was going through. He also knew that he was an unknown recruit on a roster that already included Otto Porter, Mikael Hopkins, Nate Lubick and Moses Abraham. No one would've blamed him for leaving Georgetown to transfer closer to home to a program where he would actually have a chance to play right away.
But that was never an option for Hayes.
Because his mother wouldn't allow it.
"At the time that I found out my father passed away, the first thing in my mind was to go home and help in any type of way," Hayes said. "But she made it clear to me that I needed to stay here and focus on what I was doing. Unfortunately something bad happened, but I had to keep pushing forward. Because that's life. Things happen that you don't want to happen in life but you can't put everything on hold just because one thing didn't go as you expected it to."
Hayes travelled back to Jacksonville for a few days to mourn. The entire Georgetown coaching staff joined him at the funeral, but when it was done, Hayes had worn out his welcome.
"The day after the funeral, she put me right back onto the plane and said, 'You've got to go back,'" Hayes said.
"He's got a mom that's a rock, and I'm sure she was going through probably more psychological, financial, social pressure than he was," John Thompson Jr., the legendary former Georgetown coach and the father of current head coach John Thompson III, said. 'Big Coach', as he's known within the program, is still involved with the team on a daily basis, and he and Hayes have grown close since Brad Sr.'s death. "She was the one that was stranded pretty much with the father not there, the brother going into the service, he's coming up here. She had to survive. She's a lady that was still living in a one room house. It got to the point where he couldn't go home because there was no room for him to go."
"I give her a lot of credit for how she wanted to support him psychologically for having to stay up here."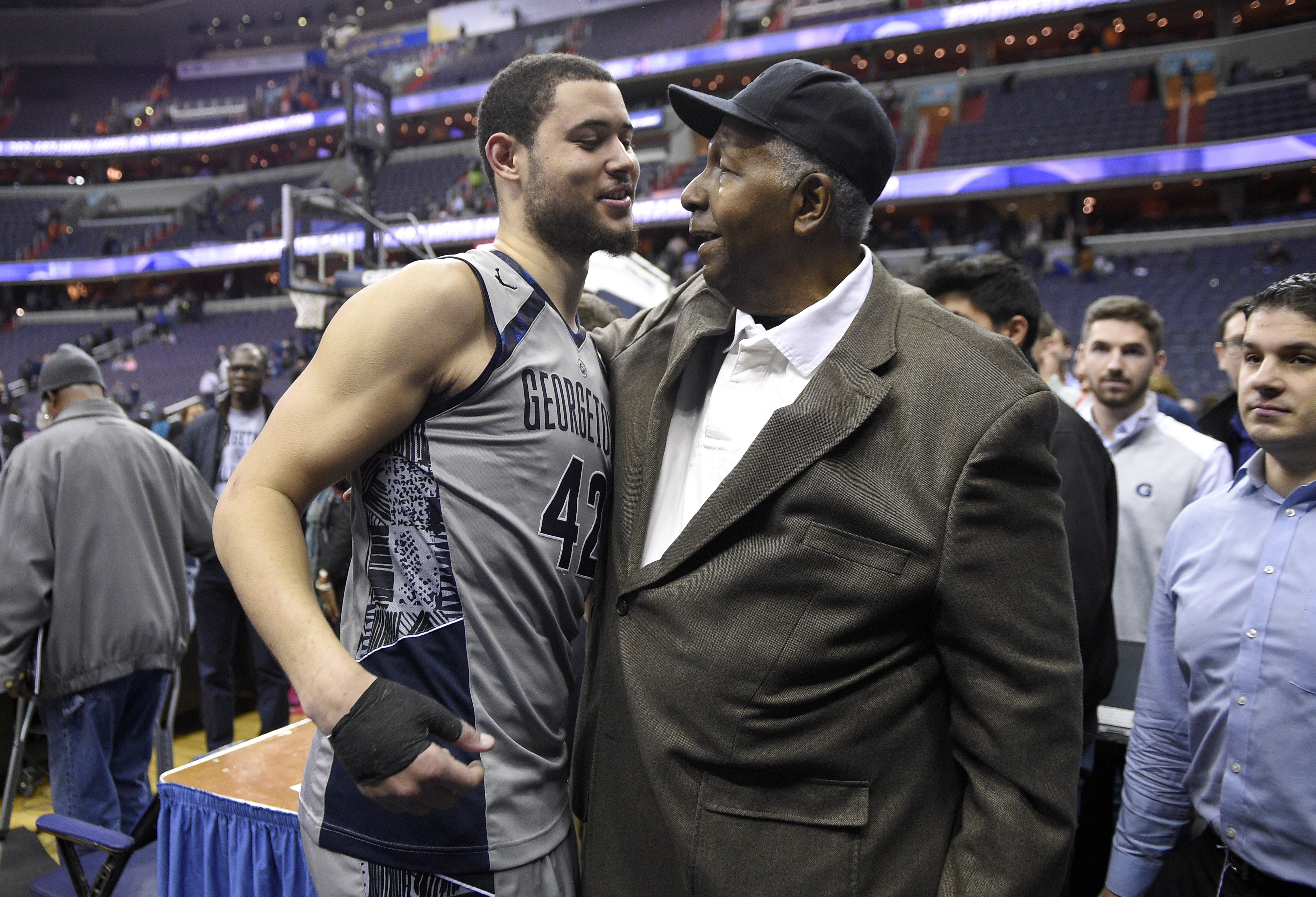 That support from home mattered. The love he received from the coaching staff and the team helped. But none of it alleviated the pressure, the stress, weighing on Hayes. He was taking college classes for the first time. He was going through college basketball practices for the first time. He was trying to figure out how to go on living his life without his father while 700 miles away from a woman that was struggling just as much as he was.
That's a lot to put on the shoulders of a 17-year old.
The most difficult part? Basketball had become a double-edged sword for Hayes.
"I coped with it how I coped with everything: Basketball is my release," he said. "I just was in the gym all the time, whenever I started feeling sad or any type of way, down on myself, I'd go to the gym. Lifting weights, shooting. Even in the gym just sitting there, it made me feel a lot better."
But at the same time, basketball is his trigger.
"Every time I pick up a ball I think of him," he said.
It put head coach John Thompson III in a difficult position. On the one hand, here was a kid that was the perfect candidate for a redshirt. Raw but promising. Stuck at the bottom of the depth chart. Far more valuable as a fifth-year senior than a rookie. A redshirt was the best-case scenario was for Bradley Hayes, the basketball player.
But that's not what Bradley Hayes, the person, needed.
He needed to be a part of the team, which is why Georgetown burned that redshirt by giving Hayes 14 minutes of action over nine games. Five minutes here, two minutes there, three possessions in another game. These weren't just garbage time minutes, either. He'd play in the middle of the second half of close games.
"That was part of the decision to play him in some of those games as a freshman," a source with an understanding of Georgetown's decision-making process told NBC Sports. "He just needed to play. We thought about redshirting him, but at that point he needed to play. Even if it was a minute here, two minutes here."
"He needed to be on the court."
---
Hayes knew he was going to end up a Hoya the first time he spoke to Thompson III.
It was right after an AAU tournament the spring of Hayes' senior season in high school. He was with his friends when his cell phone rang.
"He said, 'This is John Thompson III from Georgetown University,' and in my mind I was like, 'Did I hear this wrong?'" Hayes said, laughing as he retold the story in the bowels of the Thompson Center. "I was like, 'For real?' He was like, 'Yeah, this is John Thompson.'"
"He said he wanted me to come [to Georgetown]. I went back and told my parents, and my dad was excited. He was a UNC fan but he knew the importance of going to Georgetown, the type of education you can get here, the history that comes with it. He was like, 'That's the place for you to go,' and I knew right then and there I was going to go Georgetown."
Basketball is what had helped bring Hayes and his father back together. Brad Sr. had played a little college ball in his day. He had been through the recruiting process, so when Brad Jr. started receiving calls from some of the local programs in the area, he knew it was time to bury the hatchet with his father.
"He's a man, I was becoming a man, and we just had to get passed it," Hayes said. "At the end of the day, that's my father. He gave me life. It was petty for me to hold that grudge against him."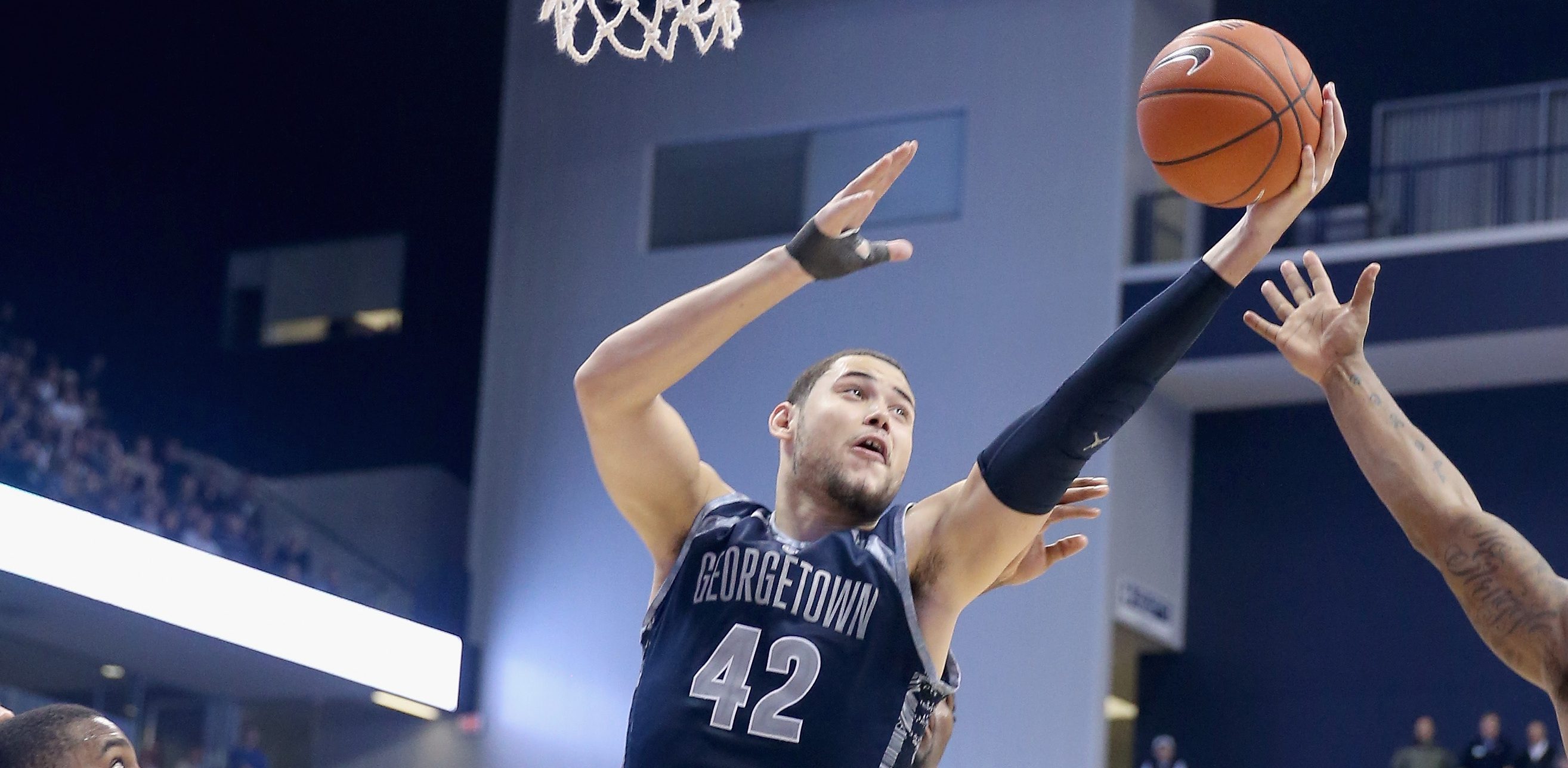 Brad Sr. knew that playing for Thompson – who had coached the likes of Roy Hibbert, Jeff Green and Greg Monroe, whose father had coached Patrick Ewing, Alonzo Mourning and Dikembe Mutumbo – would give him a shot at a professional career. But he also knew what getting that degree would mean for his son's future, and that was more important than anything that happened on a basketball court.
That was the message the father imparted on his son when he sent him off to the nation's capital, that getting that degree changes his life. It changes the life of his children and their children. Hayes had a modest upbringing, and this was his chance to break the cycle of living paycheck-to-paycheck.
And that message stuck.
In the last season and a half, Bradley Hayes has been a part-time starter at center for Georgetown. He missed six games at the end of the 2015-16 season due to a broken hand and he was forced to sit out the first four games of this season after the NCAA granted him a waiver for a fifth-year, but he's played in every other game for the Hoyas during that stretch, starting 34 of them.
But it wasn't always that easy for the big man to get minutes. After arriving at Georgetown, Hayes would spend three seasons toiling away on Georgetown's bench. By the time his first senior season began, Hayes had amassed a grand total of 30 points in 134 minutes as a Hoya. He had more DNP-CDs in his career than games that he played in.
He was further removed from his father's death, and after three seasons of riding the pine, it's only natural to think about finding a better fit.
That never crossed Hayes' mind.
"There was never any grumblings about, 'Oh, I want to transfer,' and that goes a lot to his character and his upbringing," Thompson III said. "I think part of that is he understands the value of a Georgetown degree. He understand as much basketball is extremely important to him, at some point, the air is going to come out of the ball. So he values that degree. That's one of the reasons he came here."
---
Hayes went through Senior Night last season. His mom flew up from Jacksonville to attend the ceremony. He received his framed jersey, he got his standing ovation from the Georgetown crowd, he got a proper send off.
As far as Hayes knew, his college career was over.
But Thompson knew that Hayes had a case to get a waiver from the NCAA. He had only played in nine games during that traumatic freshman year – which is the magic number to be eligible for a medical redshirt, and if you think that's a coincidence I have a bridge in Brooklyn to sell you – and Hayes was just one semester away from completing his degree.
So Thompson sent in the paperwork. He didn't tell Hayes he had received the waiver until Hayes was getting ready to go on stage at Georgetown's postseason banquet.
"When I call you up," Thompson told him, "you're going to let everyone else know that you're not giving a speech. Because you're coming back next year."
"Literally 10 minutes before it started," Hayes said, laughing at the memory. "Coach Thompson told me and just kept on walking."
Hayes finished his degree during the fall semester, a philosophy major that is now working to complete his minor in Art History. He's the first person in his immediate family to graduate from college. He's the first person in his entire family to hold a degree from a university as prestigious as Georgetown.
"It's not just something personal for myself that I have to do, I think it's something that I have to do for my family," Hayes said. "Everyone looks up to me. Uncles, cousins, nephews."
They're proud of him, of the man he's grown into, of the man he's still learning how to be.
"I'm very proud of him," Thompson II said, "because I know what he had to deal with. I know a lot of the things that ordinarily I wouldn't have known if I hadn't gotten close enough to talk with him and deal with him about a lot of things."
"And it's not like it's over. [A parent's death] is the kind of thing that sticks with you, that you still have to deal with, and there are other hardships that are involved with that. But he's got people that respect who he is as a person enough to give him the support that he needs. And he's got a mom that's a rock."
And because of it, he now has that Georgetown degree, too.