1. Frank Mason III, Kansas
2. Josh Hart, Villanova
3. Lonzo Ball, UCLA: At this point in the year, I feel pretty comfortable making the guarantee that the National Player of the year is going to be one of these three players for three reasons:
All three of them are not just an important piece but the critical component to their team's success.
The team's that they play on could very well be the three best teams in college basketball, and I've always been of the mindset that winning matters when it comes to Player of the Year and all-american honors.
Their numbers alone are good enough to get them into the conversation even if they didn't happen to be the best player on one of the best teams in the country.
Frankly, the more that I think about it, labeling this a two-horse race was probably wrong. I've had Lonzo Ball third in these rankings for more or less the entire season, but there's always been a gap between him and the two guys slotted above. Ball's numbers are ridiculous – 14.6 points, 8.0 assists, 5.5 boards, 1.8 steals, 2.3 turnovers – but it's what he's done to that UCLA team that I've under-valued. Ball is a talent, and so is T.J. Leaf, but on paper, the difference between this team and last year's team shouldn't be as stark as going from a 15-17 season to a year where they are a buzzer-beating three at Oregon away from being undefeated on Jan. 17th. Ball's presence did that.
The other difference?
I have Frank Mason III as the current leader for the award. Part of that is because Josh Hart has had a couple of bad games in a row and Mason, in the three games since we last convened here, led comebacks at Oklahoma and against Oklahoma State before guiding Kansas to a win at Iowa State. But there is also an argument to be made that Josh Hart has been somewhat figured out in league play. Teams can key in on him and he isn't quite to the point where he has a response. Big 12 opponents haven't been able to do that against Kansas.
That, however, is the definition of picking nits, but that's what we have to do to differentiate these three at this point.
Because when the chips are down, those three players, at this point in the season, have all been sensational, and I would have no issue with someone picking either of the three to win the award.
You can subscribe to the podcast on iTunes, Stitcher and Audioboom
4. Caleb Swanigan, Purdue: In Purdue's only game last week, Swanigan had "just" 17 points and eight boards, but he had a late turnover, missed a critical, point-black shot with less than a minute left and then watched a ball bounce out of bounds that was ruled – probably incorrectly – to be off of Purdue. It wasn't the greatest finish we've seen out of a player this year.
5. Luke Kennard, Duke: In the first 14 games of the season, Luke Kennard averaged 13.9 shots per night and consistently churned out enough terrific performances that he deservedly has been the only Duke player considered for a spot on all-american teams all season long. In the last four games, however, Kennard is averaging just 9.8 shots, which can be attributed to a couple of different things. I don't think the issue is defenses being more focused in on stopping him, mainly because I think the issue is Jayson Tatum.
Tatum has led the Blue Devils in field goal attempts in six of the last seven games. His usage rate (the percentage of possessions that end with him while he's on the floor) is 27.8 on the season despite posting an offensive rating of 105.1, meaning he scores 1.051 points-per-possession. In the last seven games, he's only had an offensive rating better than 109 in home games against Georgia Tech and Boston College.
Kennard, on the season, has an offensive rating of 133.5, which is third nationally for players that with a usage rate above 20, but his usage rate is stuck at 21.7. In other words, the numbers back up what our eyes have been telling us – that Duke's offensive isn't as good when the offense flows through Tatum instead of Kennard.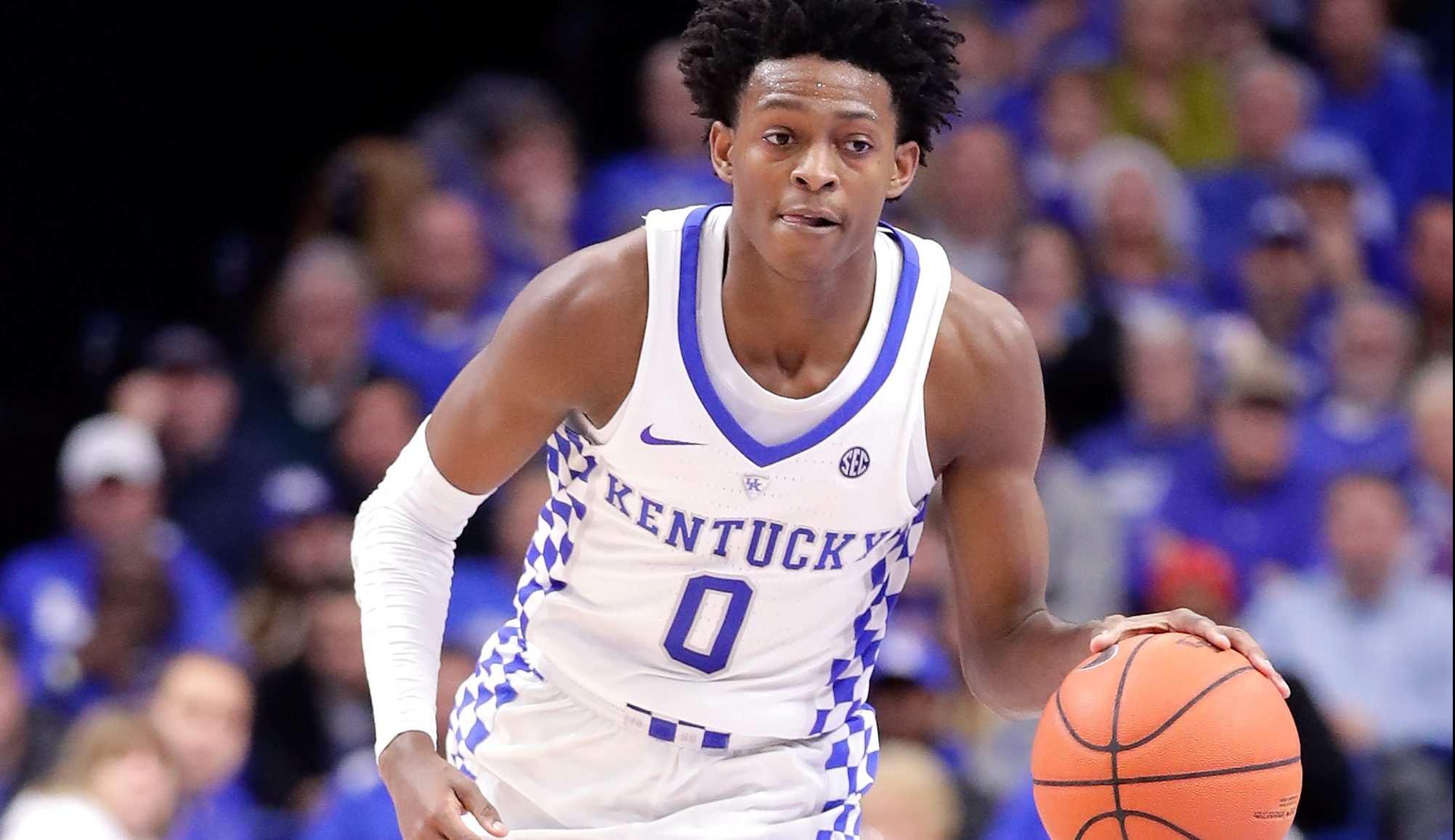 6. De'Aaron Fox, Kentucky: Fox is the most important player on Kentucky, and I don't understand people that argue otherwise. Malik Monk can win games with his ability to score, but Fox 's ability to defend and to turn defense into offense is why the Wildcats are in a position for Monk to win games with his scoring alone.
7. Mo Watson Jr., Creighton: It looks like Creighton dodged a bullet on Monday. There has yet to be an official diagnosis, but what initially to be a non-contact knee injury for Watson, it appears that there is no ligament damage. A torn meniscus will not be an easy thing to recover from, but a bone bruise would be. Here's to hoping he's OK, but Watson is the engine that makes Creighton's high-powered offense run.
(UPDATE: Watson's career is over. He tore his ACL.)
8. Joel Berry II, North Carolina: Berry has been fantastic this season, and there's a very strong argument to be made that he's the ACC's Player of the Year as of today. He is everything we wanted Marcus Paige to be over the course of the last two seasons.
9. Nigel Williams-Goss, Gonzaga: Williams-Goss has been terrific this season, and I'm not sure how many people have noticed. After posting 19 points and six assists in a 23-point win over No. 21 Saint Mary's, he's averaging 15.2 points, 5.8 boards, 4.9 assists and 1.7 steals with shooting splits of 49.5/41.1/89.5. This is the best Gonzaga team Mark Few has ever had, and Williams-Goss is the best player on the roster.
10. Lauri Markkanen, Arizona: Luke Kennard is third nationally in offensive rating for players with a usage rate that's better than 20. No. 1 on that list? Lauri Markkanen, who is quietly having a terrific season for the Wildcats.
JUST MISSED THE CUT
Malik Monk, Kentucky
Johnathan Motley, Baylor
Bonzie Colson, Notre Dame
Dwayne Bacon, Florida State
Markelle Fultz, Washington
Josh Jackson, Kansas
Ethan Happ, Wisconsin
Justin Jackson, North Carolina
Jock Landale, Saint Mary's
Alec Peters, Valparaiso
Melo Trimble, Maryland