1. The 'Is Gonzaga a No. 1 seed?' controversy is coming whether you like it or not: Gonzaga improved to 17-0 this week, meaning that the Zags are now exactly halfway to entering the NCAA tournament undefeated on the season. The statement was made on Saturday night, when No. 5 Gonzaga hosted No. 21 Saint Mary's and won by 23 points.
The game was much closer than the final score – a late-run from the Zags and foul trouble for Jock Landale were the culprits in the end – but it was a statement nonetheless. Saint Mary's is really good, and Gonzaga dispatched them with little trouble. It more or less confirms what we already knew: there is a very real chance that the Zags can go undefeated during the regular season, and it is a virtual certainty that 'Is Gonzaga really a No. 1 seed?' will be one of the biggest talking points on Selection Sunday.
Think about it: How many more games will the Zags actually lose? Their trip to Saint Mary's is going to be tricky, BYU is certainly dangerous and they'll likely face one of those two teams in the WCC title game. Throw in the fact that every road game they play is the biggest game of the year for their opponent, and I'll set the over/under for Zag losses at 2.5; worth noting: KenPom projects Gonzaga to be favored in every game they play.
Let's think about this in a best-case scenario: The Zags will enter Selection Sunday with neutral site wins over Iowa State, Arizona and Florida, but a clean sweep of Saint Mary's. That will, in all likelihood, be the totality of their top 50 wins. The Selection Committee is going to have to compare that profile to the profiles of Villanova, Kansas, Kentucky and the eventual ACC champion, not to mention fellow west coast powerhouse UCLA.
If Gonzaga ends up going 34-0, they'll be an automatic No. 1 seed, or at least they should be. But if they lose a game or two?
That's when this will become interesting.
And even if the Zags don't lose a game, there will still be people saying they don't deserve to get a top seed.
RELATED: Player of the Week | Team of the Week | Five Takeaways | Top 25
You can subscribe to the podcast on iTunes, Stitcher and Audioboom
2. Duke is a total mess right now: Twice in the last week and for the third time this season, Duke went on the road in ACC play and took a loss in a game that never felt like it was all that much in doubt. On Tuesday, the Blue Devils lost by 16 at Florida State in a game where they gave up 88 points. On Saturday, they lost by nine at Louisville, giving up 78 points to the offensively-challenged Cardinals.
And that's where their issues begin. On defense, particularly in ball-screen defense. Harry Giles III just doesn't look like he quite understands where he has to be and when he has to be there yet, while Marques Bolden, in Amile Jefferson's absence, is playing behind both Chase Jeter and Javin DeLaurier. Offensively, the issues they've had with point guard play are really coming to the forefront, as Grayson Allen, for all his ability, is an attacker, not a facilitator, at heart. Jayson Tatum is a super-skilled scorer, but he lacks a feel for the game to the point where Duke has actually looked like a better team with him on the bench.
The Blue Devils lack toughness. They lack a killer. They get pushed around. And their leaders – Coach K on the bench and Jefferson on the floor – are both currently on the mend.
At what point do we start questioning if, not when, Duke can turn this thing around?
3. Xavier has their own problems: The Musketeer's issues have less to do with ability than they do with the fact that this team lacks résumé wins. As of this moment in time, Chris Mack's club may not have a win over an NCAA tournament team. They beat Clemson who can't beat anyone in the ACC. They beat Utah before Utah had David Collette and Sedrick Barefield eligible. They beat Wake Forest (whatever) and Northern Iowa twice (they stick this year).
There are still plenty of good wins left for them to get – Creighton twice, at Cincinnati, Xavier at home, Butler at home, the Big East tournament – and this team is good enough to get some of them, but it's worth noting that, as of today, Xavier's tournament profile is not good.
4. Maybe Baylor wasn't the best team in the country after all: It was fun while it lasted for the Bears, as No. 1 Baylor went into Morgantown and learned what Press Virginia is all about. They committed 29 turnovers in a 21-point loss. And frankly, if you were paying attention, the result shouldn't have been all that surprising. Yes, Scott Drew's club got beaten worse than we thought, but they were also a team that earned that No. 1 ranking because of the way that the voting is done, not necessarily because they were the best team in the country.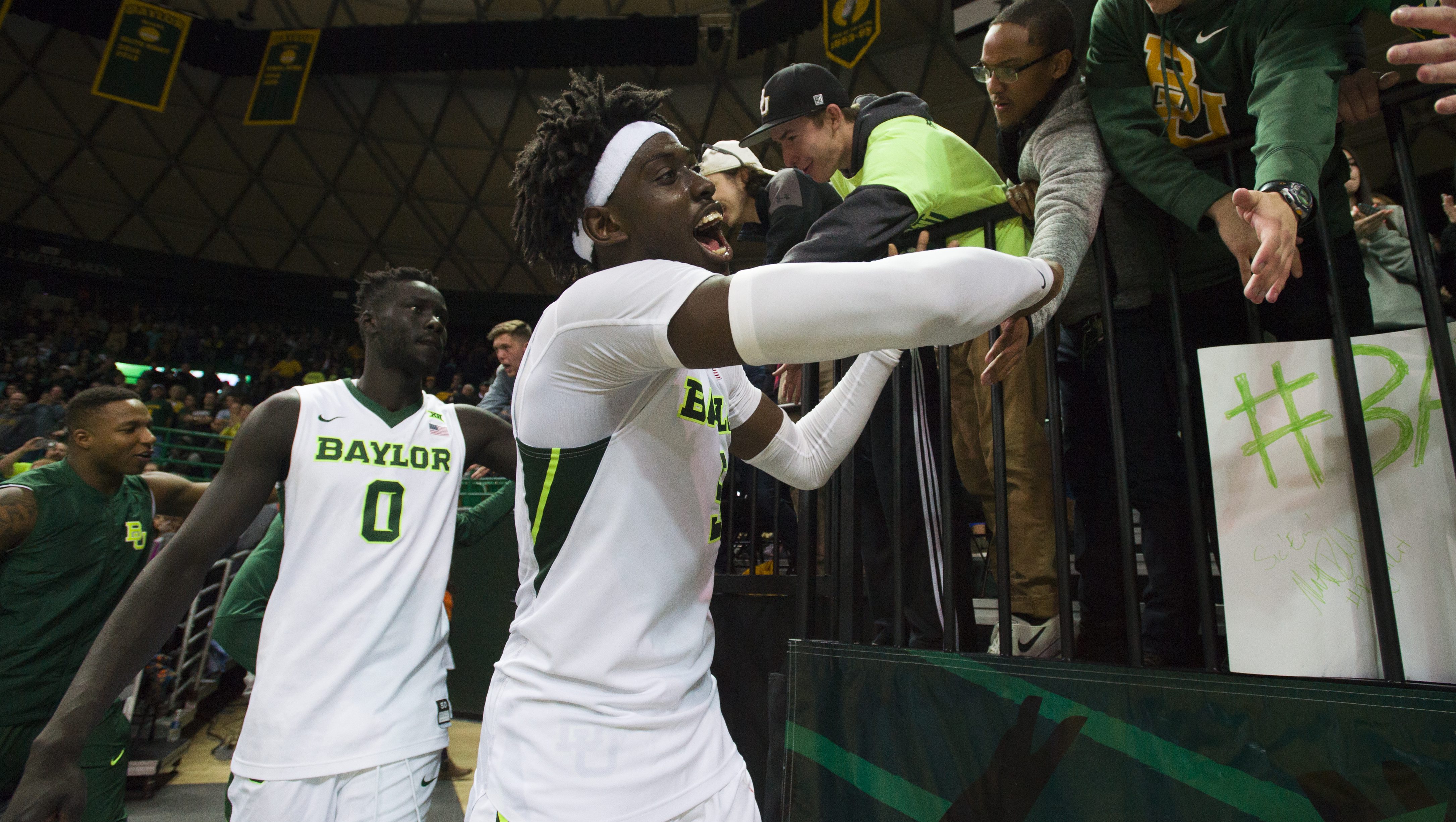 5. New Mexico and Colorado State do not like each other: New Mexico and Colorado State got into a couple of different altercations on Saturday in UNM's win at Colorado State. It started in the pregame, where a reporter for the Albuquerque Journal reported that CSU players were talking trash to UNM players about the job status of the Lobo coaches. During the game, a hard-screen set by a UNM player resulted in a near-brawl, one where UNM assistants Chris Harriman and Terrence Rencher were ejected for leaving their bench.
After the game is when things really got interesting. The Journal reporter published video of a verbal altercation outside the arena between Rencher and CSU player Emmanuel Omogbo. Omogbo, who was held back by CSU head coach Larry Eustachy, claimed that Rencher started the altercation, and Eustachy's wife, Lana, accused him of laughing when he was told of the tragedy Omogbo has lived through; his parents and two two-year old sisters died in a house fire last year.
UNM strongly denied that those allegations were true, and their account was supported by the Journal reporter. It turned into a big deal this weekend, largely due to the fact that it was a coach and a player that got into it …
… and because it was on video.
And that was where the real damage was done.
Dust-ups like what happened in and around that building on Saturday happen more than you think, particularly in the gyms where both teams have to leave the floor through the same tunnel. In this incident, a 22-year old coming off of a chippy home loss lost his temper. It happens. Rencher didn't raise his fists or raise his voice, essentially responding to the player by saying, "Keep it moving, you don't want these problems."
Neither man covered himself in glory, and neither of them did anything that was all that bad.
It was a situation that was diffused pretty quickly, never escalated into any type of violence and only became 'a thing' because it was captured on video.
These two teams play again in mid-February. Hopefully this will be the last time we have to talk about it until then.