Kelan Martin is a 'Butler Guy'.
Through and through.
He's spent the majority of his playing career somewhere between underrated and overlooked. His work ethic is what has gotten him to where he is right now, an NBC Sports midseason second team all-american averaging 17.4 points for a top 15 basketball team. He fell in love with the program and the campus and Hinkle Fieldhouse on his visit, and stayed with the program despite seeing Brad Stevens leave for the NBA his senior year of high school and Brandon Miller take a leave of absence and never return when he finally made it to campus.
And if it wasn't for Martin being lazy for his first three seasons of high school ball, we may never have known that Butler and Martin were a match made in heaven.
You see, Martin is from Louisville. He grew up a Louisville fan playing on one of Louisville's powerhouse high school programs alongside Louisville's starting point guard, Quentin Snider. There was every reason in the world for Martin to end up a Cardinal as well.
Except, you know, Louisville didn't think he was good enough. Kentucky didn't, either. Neither did Indiana. None of those programs recruited him. He didn't even get a call from the in-state schools.
"It doesn't rattle me or anything," Martin says, and it didn't rattle him at the time, either. His motivation for getting in shape and changing his body and improving his game wasn't to prove John Calipari wrong or to make Rick Pitino regret recruiting his high school teammate and not him.
He did it because, quite frankly, he had to.
You can subscribe to the podcast on iTunes, Stitcher and Audioboom
"I didn't know what was coming [at the next level] until colleges started to come and recruit me," Martin, who stands 6-foot-6, said. Once he realized that, at a chubby and out of shape 235 pounds, he was never going to be able to be a guard in college like he wanted to be. He knew "I had to change my body, change my diet."
As a senior in high school is when Martin started to put in the work. As a freshman in college is when he really started to see the results.
"We were on him about his body composition and becoming a fitter, better athlete," head coach Chris Holtmann said. "Our first year as interim staff we really challenged him with that and he did a great job before his sophomore year, he was leaner than he is now. He does a good job taking care of his body, eats right, I've been really pleased with how much of a priority he's made that."
Martin has dropped 15 pounds in total, but the change has been about more than just the weight. His body fat is down to seven percent. He can run a mile in under 5:30. According to Holtmann, Martin pays as much attention to his diet as any kid he's coached. It ruined Martin's wardrobe.
"I gave those clothes to a bigger friend back at school," Martin said with a chuckle.
While having to shell out the money to buy pants that fit isn't ideal, the on-court results are what matter, and Martin has been terrific leading a team that was predicted to finish in the bottom half of the Big East to a position to earn a top four seed in the NCAA tournament.
And while it's easy to look at his stat line and say that this is happening because the Big East's leading returning scorer has put a team on his back, the reality is much more nuanced.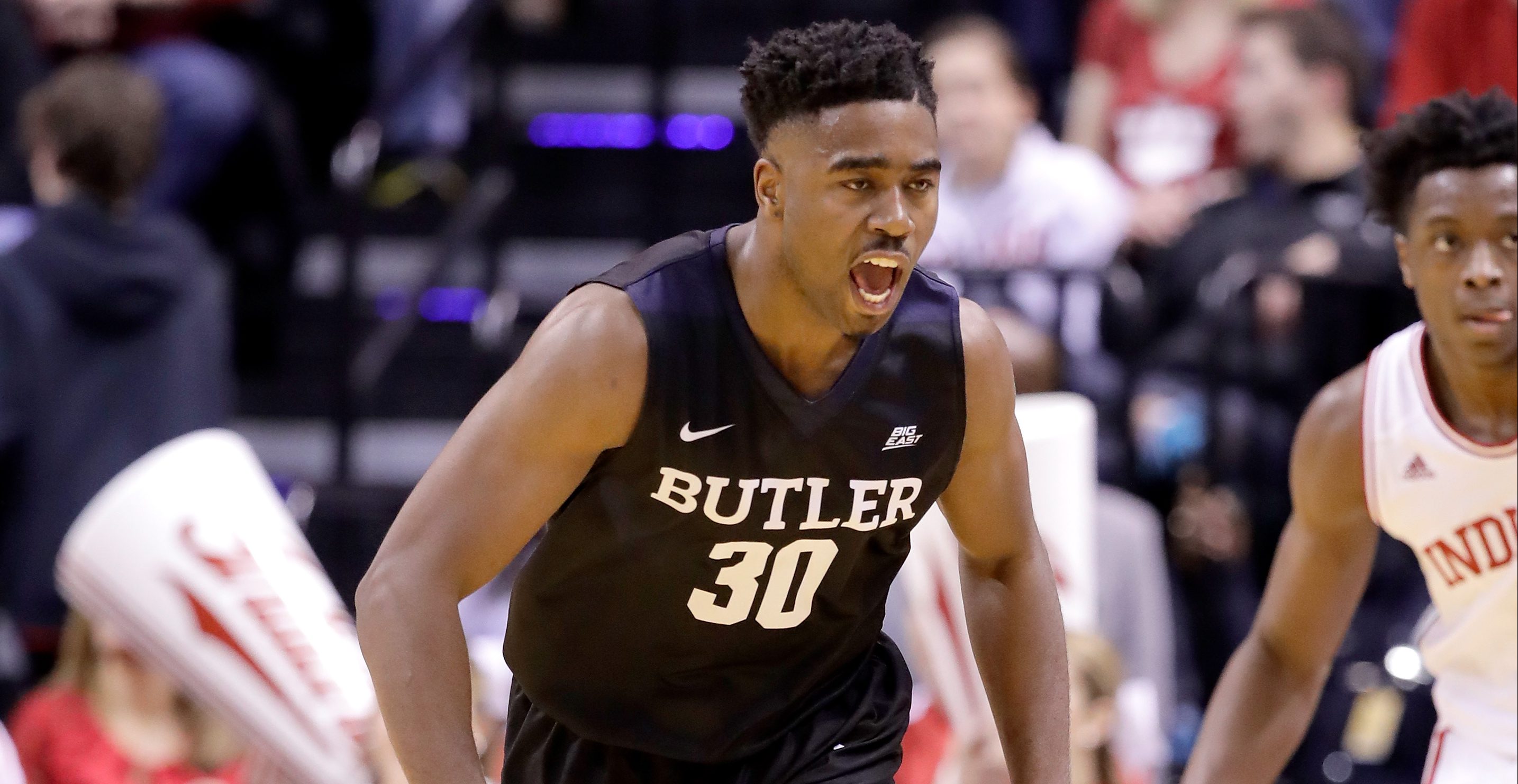 Martin has always been able to put up points. As Holtmann put it, "he can roll out of bed and score." In the fourth game of his college career, Martin scored 17 points in 17 minutes in an upset win over No. 5 North Carolina. He scored eight points in 51 seconds in the NCAA tournament as a sophomore to put away Texas Tech. This year, he popped off for 28 points in a win over Indiana despite going scoreless for the first 15 minutes. Ask Holtmann, and he'll be able to give you a dozen more examples of where letting a bucket-getter be a bucket-getter won Butler a game.
"I think he can score at the very highest level, and I've had to learn how much freedom to give him because I haven't coached a guy that needs that level of freedom," Holtmann said. "So it's been an adjustment for me, and something that I've had to learn is sometimes you just have to be like, 'Ok, I'm going to shut my eyes on that shot.'"
"We have about one of those a game," Holtmann added, chuckling.
What makes this season different is that this is the first time in Martin's career that he's been 'the guy'. In high school, he was always Snider's sidekick. As a freshman, he played 14 minutes a night on a team that was a No. 6 seed in the NCAA tournament, a bit player asked to provide instant offense in limited minutes. Even as a sophomore, a year where Martin averaging 15.7 points and was named second team all-Big East, he spent most of the season coming off the bench while playing sidekick to Kellen Dunham and Roosevelt Jones.
This year, everyone is keyed in on him.
"He knew the attention he got last year is completely different than what he's going to get this year," Holtmann said. "We talked about it. There's going to be some difficult moments for him and you have to respond the right way."
And the results have been mixed. Through four Big East games, Martin is averaging just 13.3 points while shooting just 32.7 percent from the floor and 22.7 (5-22) percent from three. But the Bulldogs have managed to post a 3-1 starting in league play, losing a road game to St. John's but managing to hand Villanova their only loss of the season.
How?
Part of it is that Butler is a team with a number of different pieces that can win them a game. Backup big man Nate Fowler did it on Saturday at Georgetown. Backup point guard Kethan Savage did it last week against Villanova. Freshman Kamar Baldwin has been terrific. Andrew Chrabacz is one of the most unique weapons in the Big East. Butler is anything but a one-man team.
But the other part of it is that Martin isn't just a scorer anymore.
"He's impacting the game in other ways and committing himself to impacting the game in other ways," Holtmann said, specifically mentioning the overtime road win against Georgetown, when Martin got to the free throw line nine times and grabbed 10 defensive rebounds.
"He always had the reputation of being a scorer who could be streaky, and the other parts of his game are growing," Holtmann added. "It's fun to see."
And it's fun to watch, even if most people outside of Indianapolis don't know they need to look.
"I do feel like people don't know who I am, but I just continue to compete," Martin said. "I'm trying to lead my team out there, get the [Butler] name out there for us. I don't really care about the national attention as long as we win."
Smiling, Martin added: "But that brings it anyway."