1. Josh Hart, Villanova: Hart had his worst game of the season at Butler on Wednesday, as he finished with 13 points on 3-for-11 shooting as he battled foul trouble and the Wildcats dropped their first game since last March. His response? 19 points and seven assists in a win over Marquette at home.

2. Frank Mason III, Kansas: I'm going to keep on beating this drum, but it's ridiculous how under-appreciated Mason is this season. Here are his numbers: 19.9 points, 5.7 assists, 4.5 boards and just 2.4 turnovers while shooting 53 percent from the floor and 52.3 percent from three on more than four threes a night. Here is Kansas' record since a season-opening, overtime loss to Indiana in which Mason had 30 points and nine assists: 14-0.
3. Lonzo Ball, UCLA: After playing a fairly poor game at Oregon to open Pac-12 play, Ball has bounced back in his last three games by averaging 19.3 points, 7.3 assists, 5.7 boards, 2.3 steals and 1.7 blocks while shooting 52.8 percent from the floor and 45 percent from three. I think he bounced back from his "slump".
4. Caleb Swanigan, Purdue: Caleb Swanigan now has 13 double-doubles and eight in his last eight games, a stretch that has also seen him notch three 20-20 games, two of which he eclipsed 28 points. He's averaging 18.3 points and 12.9 boards on the season, and if Big Ten play, he's posting 20.8 points and 14.0 boards. Oh, and should I mention Purdue is coming off of a statement win over Wisconsin on Sunday?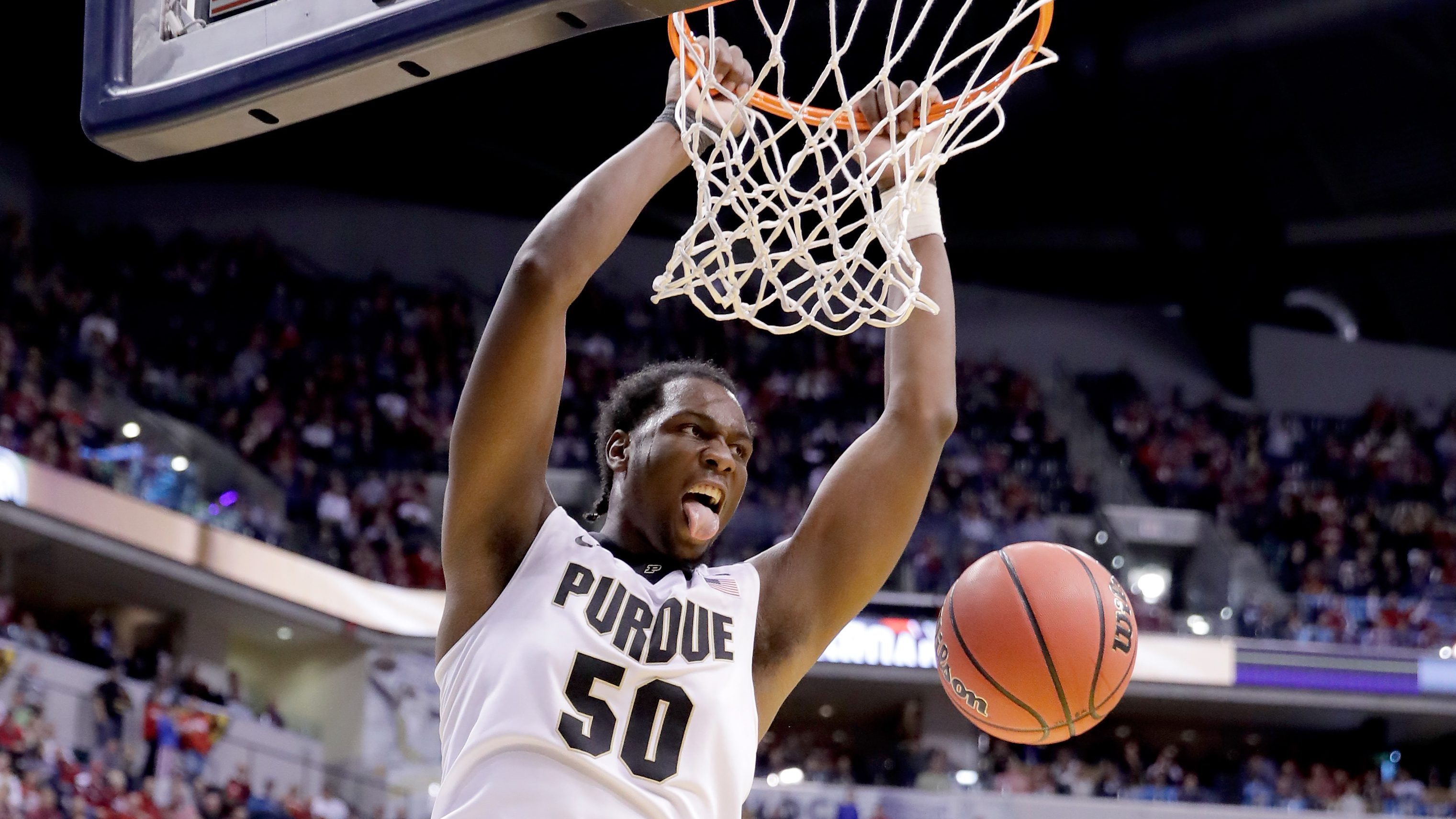 5. Luke Kennard, Duke: In the last two games, I think we've started to get a glimpse of what Kennard's role is going to be moving forward. He scored 25 combined points against Georgia Tech and Boston College on just 13 total shots. That's what happens with Grayson Allen back, Jayson Tatum hitting his stride and Harry Giles III moving into the starting lineup. What a luxury it would be to have a guy as good as Kennard taking six shots a night.
6. De'Aaron Fox, Kentucky: For my money, Fox is the best player on Kentucky. He's the point-man of their defense, he's the engine of their fast break and he's the guy that creates shots for the players on the roster that can't do it for themselves. As good as Malik Monk is and as lethal as he can be as a scorer, he can't affect a game is as many different ways as Fox.
7. Mo Watson, Creighton: Like Fox, Watson is the engine of one of the nation's most high-powered offenses. The nation's leader in assists, Watson is the guy that leads the break and he's the guy who, in the half court, can get into the lane and find the myriad of shooters that populate the Creighton lineup.
You can subscribe to the podcast on iTunes, Stitcher and Audioboom
8. Dwayne Bacon, Florida State: Bacon has developed into one of the best and most efficient wing scorers in college hoops this season. How? His turnovers are way down and his shooting numbers are up across the board, specifically from beyond the arc, where he's hitting 37.1 percent from deep. He also has a signature performance already, when he scored 26 second half points and hit the game-winner at Virginia. He's very much in the race for all-american.
9. Malik Monk, Kentucky: Monk's last five games:
47 points, 18-28 FGs, 8-12 3PTs
16 points, 6-17 FGs, 1-9 3PTs
34 points, 11-16 FGs, 5-7 3PTs
26 points, 8-11 FGs, 5-7 3PTs
12 points, 4-10 FGs, 0-5 3PTs
That's the streakiness reputation that Monk has developed in action. The good news for Kentucky is that A) it only has cost them once this season, a road game against a top 10 team, and B) when Monk is hot, he's been far better than anyone could have predicted.
10. Johnathan Motley, Baylor: Baylor is undefeated and the No. 1 team in the country, but the only player from that team that sniffs this list slid a spot to No. 10? That's just how this team is built. Motley is their leading scorer, but is he their best player? Is Manu Lecomte? Luke Winn of Sports Illustrated made the argument last week that a guy that is averaging 5.5 points is actually their most valuable player. The Bears are good, but star power isn't the only way to win college basketball games.
JUST MISSED THE CUT
Joel Berry II, North Carolina
Bonzie Colson, Notre Dame
Markelle Fultz, Washington
Ethan Happ, Wisconsin
Jock Landale, Saint Mary's
Lauri Markkanen, Arizona
Kelan Martin, Butler
Yante Maten, Georgia
Alec Peters, Valparaiso
Melo Trimble, Maryland