1. Just how big is the gap between Kentucky and the rest of the SEC?: Kentucky, who is now the No. 1 team in KenPom's rankings, is now three games into their conference schedule, and they've yet to be anything close to challenged yet. They won at Ole Miss by 23 points, they beat Texas A&M by a whopping 42 points at home and they followed that up by beating Arkansas in Lexington by 26 points in a game in which they didn't even play all that well.
Now here's the scary part: All three of those teams were – are? – supposed to be good SEC teams, teams that could push for an at-large bid to the NCAA tournament. None of them stood a chance against the Wildcats, which makes me wonder whether the gap between Kentucky and everyone else in the conference is bigger this year than in 2015, the year that the Wildcats started 38-0.
That's not to say this team is more talented or better than the 2015 team, but the quality of the rest of the conference seems to be worse. Now to be fair, the 2015 Kentucky team was built to grind teams down with their defense and post play. This team is built to run opponents off the court, meaning that blowouts in 2017 look much worse on paper than blowouts in 2015. But the conference in 2015 sent five teams to the NCAA tournament and had nine in the top 60 on KenPom. This year? There are only four SEC teams in the top 60 and it wouldn't be surprising if the league, again, got just three bids to the tournament.
I say all that to say this: Kentucky may play just four more games against tournament competition, and three of them (South Carolina, Kansas and Florida) are at home. Just how many more times are they going to get tested this season?
2. But if there is a contender in the conference, it may be South Carolina: For my money, and with all due respect to Florida, the Gamecocks are the second-best team in the SEC. With Sindarius Thornwell in the lineup, Frank Martin's club has yet to lose a game. Thornwell may be the best player in the conference that doesn't play for the Wildcats, and while they lost three of the five Division I games they played without him, his absence allowed P.J. Dozier to prove how dominant he can be when given a chance.
The Gamecocks are the best defensive team in the SEC and the third-best defensive team in the country, according to KenPom's defensive efficiency metric. Where they can struggle is scoring the ball, but with Thornwell, their leading assister this season, back in the mix, offensive rhythm should be easier. Keep an eye on this team.
RELATED: Player of the Week | Team of the Week | Five Things We Learned | Top 25
You can subscribe to the podcast on iTunes, Stitcher and Audioboom
3. We're going to find out soon whether we need to take Florida State seriously as an ACC contender: The Seminoles have been arguably the most impressive team in the ACC to date. It's not necessarily because they've been the best team in the league or because they look like they can win the conference, but for a team that wasn't predicted by anyone to finish in the top four of the conference, they are currently sitting at 15-1 overall with a 3-0 record in the conference and a blowout win over Virginia Tech and a win at Virginia. Dwayne Bacon looks like an all-american, Johnathan Isaac looks like a top ten pick and there is enough balance with Terrence Mann and Xavier Rathan-Mayes that you cannot focus on just those two stars.
This team is really good.
But can "really good" win them the ACC?
I'd lean no, but the Seminoles will have a chance to prove me wrong over the next two weeks. Here's what their schedule looks like from now until next weekend: Duke, at North Carolina, Notre Dame, Louisville. Those are the four other teams that look like they'll finish in the top five in the league, and FSU gets three of them at home. If they're actually going to be in this title race, they're probably going to have to win three of those games.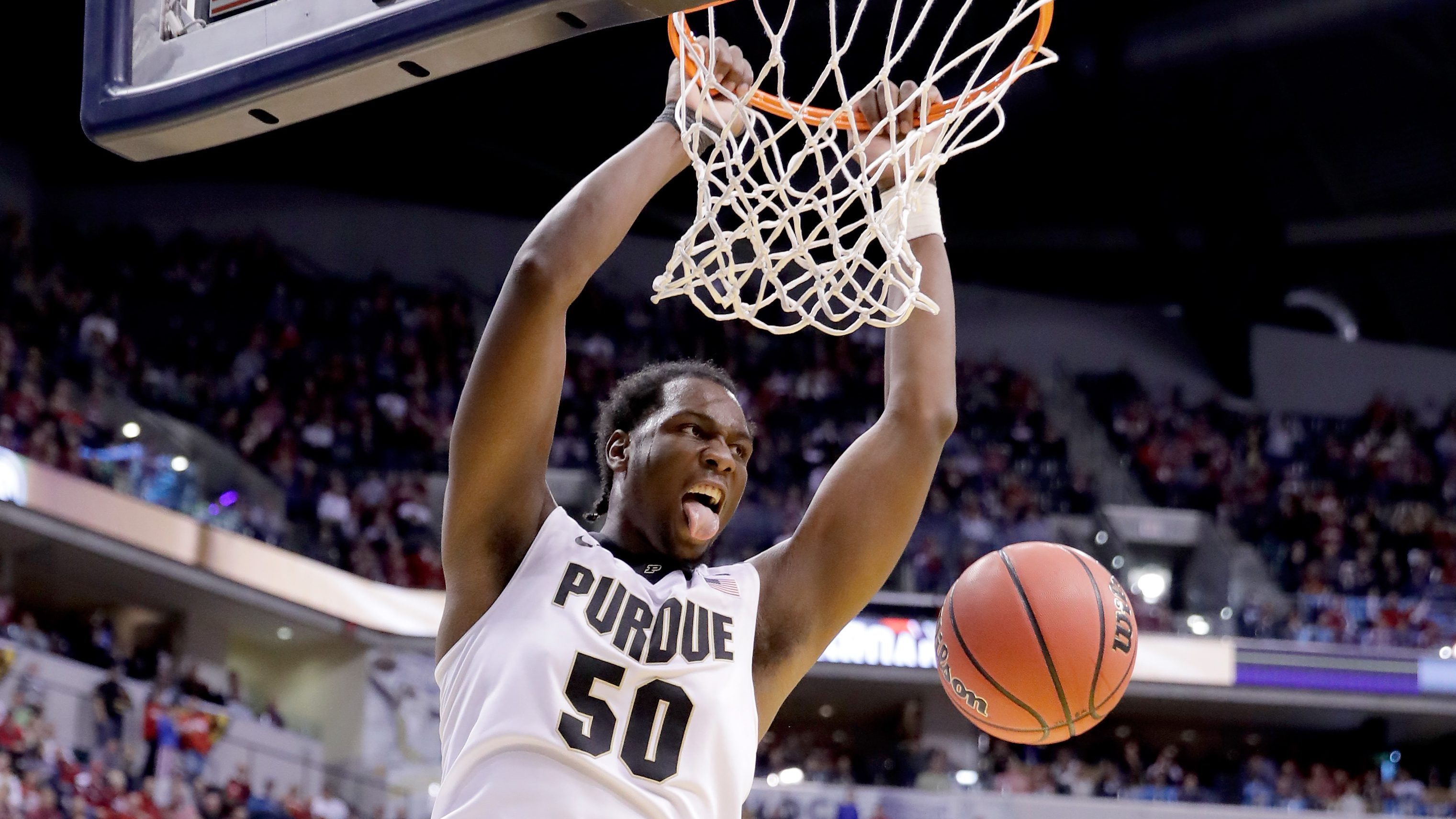 4. Purdue's versatility isn't talked about enough: Matt Painter has been shuffling Purdue's starting lineup throughout the season, which isn't really all that much of a surprise. It's a thing that coaches do in every sport.
What is interesting about it, however, is that it's hard to figure out which is the best look for the Boilermakers, because a lot of them are effective. We think of this as a team with a bruising, Twin Towers front line, right? Well, on Sunday, when Purdue worked over Wisconsin, they started Caleb Swanigan in the middle with three guards and Vince Edwards playing around him. But Edwards didn't play all that well – the first time that's happened in a while – which means Purdue went away from the four-around-one look and played Isaac Haas and Swanigan together. They can also play with two points guards on the floor, and they just so happen to rank in the top ten nationally in three-point shooting.
So not only does Purdue have a first-team all-american big man anchoring a front line that can absolutely dominate, but they have a Plan B and a Plan C if their first option doesn't work. There aren't a lot of teams that can say that.
5. Dedric Lawson is having a ridiculous season for Memphis: Here are the numbers that Lawson is averaging this season: 20.2 points, 11.1 boards, 4.0 assists, 1.3 steals, 2.6 blocks.
These are the numbers that Ben Simmons averaged in 2015-16: 19.2 points, 11.8 boards, 4.8 assists, 2.0 steals, 0.8 blocks.
I am, in no way, trying to say that Lawson is Simmons, or that Lawson should be the No. 1 pick, or Lawson should be compared to LeBron and Magic. That's dumb. All I'm saying is that this dude is having a ridiculous season and no one seems to be talking about him anywhere.