THIS WEEKEND'S SHOWDOWNS
N.C. State at No. 14 North Carolina, Sat. 8:00 p.m. (ESPN): The best game of the weekend takes place in Chapel Hill as Dennis Smith Jr. will make his one and only trip to the Dean Dome. The Wolfpack are coming off what is, by far, their best performance of the season, a 104-78 mollywhopping of No. 21 Virginia Tech behind 27 points, 11 boards, 11 assists and five steals from Smith.
N.C. State is finally reaching full strength. Omer Yurtseven, a potential first round pick this season, missed the first nine games due to some amateurism issues while Maverick Rowan sat out much of the first month of the season with a concussion. With Smith playing the way he's playing and the likes of Terry Henderson, Torin Dorn and Abdul-Malik Abu on the floor as well, Mark Gottfried's got himself a squad that looks like it can make a run this year.
But just how much of a run?
As good as N.C. State looked on Wednesday night, they lost by 18 points in their ACC opener to a Miami team that looks to be headed for the bubble. Playing at UNC will be a nice test for them, and for the Tar Heels as well. UNC lost their ACC opener at Georgia Tech. They barely survived a trip to Clemson. Is the road in the ACC just that difficult, or are there real reasons to be worried about Roy Willaims' club?
You can subscribe to the podcast on iTunes, Stitcher and Audioboom
No. 13 Wisconsin at No. 20 Purdue, Sat. 4:30 p.m. (CBS): This is a fascinating matchup of what appears to be the two best teams in the Big Ten this season. Purdue's Caleb Swanigan has been absolutely fantastic through the first two months of the season, turning into a double-double machine. But Wisconsin has a pretty good good front court of their own, with Ethan Happ and Nigel Hayes. This game has serious Big Ten title implications, which I'll get into later.
No. 21 Virginia Tech at No. 12 Florida State, Sat. 2:00 p.m. (ACCN): First place in the ACC is on the line as the Seminoles, who are one of just two teams sitting at 2-0 in the league, host the Hokies. The last time we saw FSU take the floor was at Virginia, where Dwayne Bacon was scoring 26 second half points to lead them to a win in Charlottesville. The last time we saw Virginia Tech, they were getting beaten down by N.C. State on the road. FSU has the talent to push for a top four finish in the league, but if they are going to do so, they have to win games like this.
FIVE MORE GAMES TO WATCH
Clemson at No. 23 Notre Dame, Sat. 3:00 p.m. (ESPNU): The Tigers missed out on a massive opportunity to land a win over North Carolina on Wednesday. Can they get that back against one of the ACC's two undefeated teams?
Tennessee at No. 24 Florida, Sat. 5:15 p.m. (ESPN2): Tennessee has been better than they've gotten credit for this season, while Florida may be the second-best team in the SEC.
Oklahoma State at No. 2 Baylor, Sat. 7:00 p.m. (ESPNNews): The way that Oklahoma State plays – a pressuring, half-court man-to-man – should give the Bears some trouble, as should their talented back court of Phil Forte and Jawun Evans.
Texas Tech at No. 3 Kansas, Sat. 7:15 p.m. (ESPN2): Kansas struggled to hold off Kansas State at home and couldn't put away TCU on the road. Now they get the Red Raiders, who are coming off of a win over West Virginia.
Rhode Island at Dayton, Fri. 7:00 p.m. (ESPN2): A battle of the two-best teams in the Atlantic 10 this season.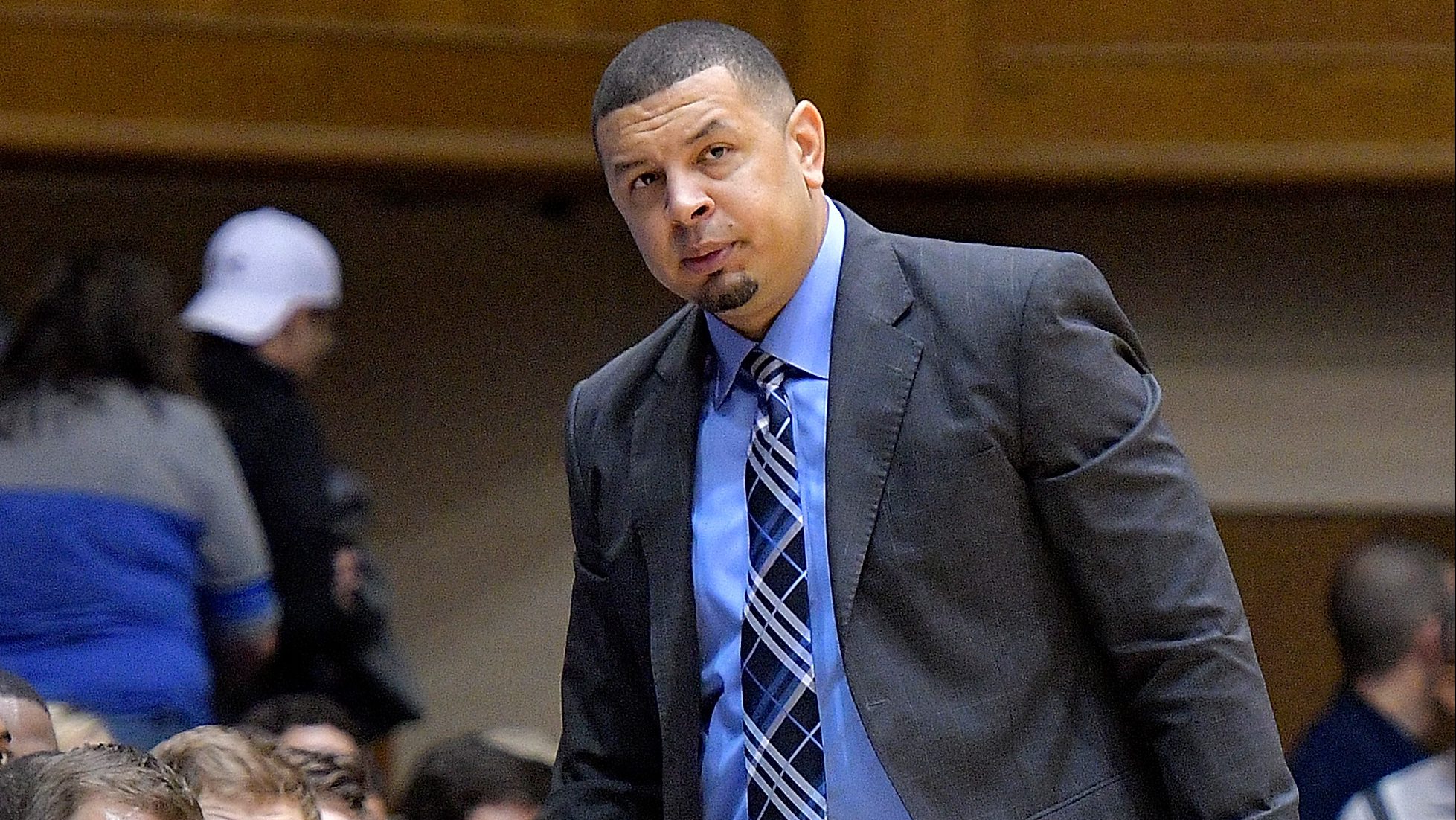 FIVE STORY LINES TO FOLLOW
1. Jeff Capel's first game: On Wednesday night, for the first time all season long, we saw the Duke team that we expected to see this season. Grayson Allen was running the point, Harry Giles III was starting at center and Coach K was on the sidelines. That will be the last time that we see that team for quite some time, as Krzyzewski will undergo surgery on Friday to repair an issue with a herniated disc in his back, meaning that associate head coach Jeff Capel will spend the next four weeks working as the interim coach.
Capel has some experience – he coached Blake Griffin at Oklahoma and he coached at VCU – but this next month could very well end up being his audition to eventually be Coach K's replacement. He'll get an easy opener, with Boston College coming to Cameron Indoor Stadium, but the road gets tougher after that, with visits to Florida State and Louisville on deck.
2. Can the Badgers take control of the Big Ten?: No. 13 Wisconsin will have a chance to put themselves in the driver's seat for the Big Ten title race on Sunday afternoon. If the Badgers go into Mackey Arena and beat No. 20 Purdue, Wisconsin will hold a two-game lead over both the Boilermakers and No. 25 Indiana, owning wins on both team's home floor.
Since Nigel Hayes embraced the roll of playing point forward on Wisconsin's return from the Maui Invitational, the Badgers have looked like the best team in the conference, with Indiana and Purdue right behind them. The other team to keep an eye on: Michigan State, who plays against Penn State on Saturday and who is also undefeated in the conference.
3. No. 25 Indiana has a get-right game: The Hoosiers have reached a crossroads this season. Having lost their last three games and the last four games they've played against teams not named Delaware State or Austin Peay, Indiana is currently sitting at 10-5 overall and 0-2 in the Big Ten. A loss at home to Illinois on Saturday would drop them to 0-3 in the league with all three of those losses coming in Assembly Hall. If that happens, it will be fair to question if the Hoosiers, who have already beaten Kansas and North Carolina this season, might play their way back onto the bubble.
4. ACC teams looking to bounce-back: No. 9 Louisville, who has beaten Indiana, Purdue and Kentucky this season, is the only team in the ACC without a win yet this season. They'll spend their Saturday at Georgia Tech, playing in the same building that North Carolina took a loss in last weekend. Meanwhile, No. 11 Virginia, who has lost two straight after winning at Louisville, will look to bounce back as they host Wake Forest.
5. Will the Big 12 have the nation's No. 1 team?: For all the talk about how the Big 12 was going to be down this season, it looks like, on Monday morning, we're going to have two teams from the conference sitting at No. 1 and No. 2 in the national polls. Baylor, who is currently No. 2, hosts Oklahoma State while Texas Tech pays a visit to No. 3 Kansas. With No. 1 Villanova losing to Butler on Wednesday, there will be room for the two teams to move up, which begs the question: Do we all really think that Baylor is better than Kansas this year?