MIDSEASON PLAYER OF THE YEAR: Josh Hart, Villanova
Every week, we break down the Player of the Year race and who is the favorite to win the award. And at this point, Hart has put himself in a position to be more or less the consensus pick as the National Player of the Year should the season end today.
There are, essentially, three reasons for this:
Let's put the numbers – 20.3 ppg, 6.8 rpg, 3.5 apg, 41 percent 3PT – aside for a second: The most notable thing that Hart has done this year is carry Villanova in crunch time. It seems like every night he's making big shots and taking over games in 'winning time'. Those are the moments that people remember. Those are the plays that win you Player of the Year awards.
Hart is not only the best player on the No. 1 team in the country, but he is the guy that makes Villanova's style of play possible. Hart is a 6-foot-6 wing, but his versatility is almost unparalleled at the college level. He's an elite defender that can hold his own against pretty much anyone in college, and when you add in his ability to rebound the ball, he's the guy that lets Villanova play small-ball.
Last season, Hart was an all-american. He entered this year as a preseason first-team all-american. We thought he was going to be good entering the year, but he's proven to be better than anyone expected. He's a better passer. He's turned himself into one of the best shooters in the Big East. He's working as the dribbler in ball-screen actions. He has, essentially, turned himself into a first round pick.
The race is far from over, but Hart has moved into the lead.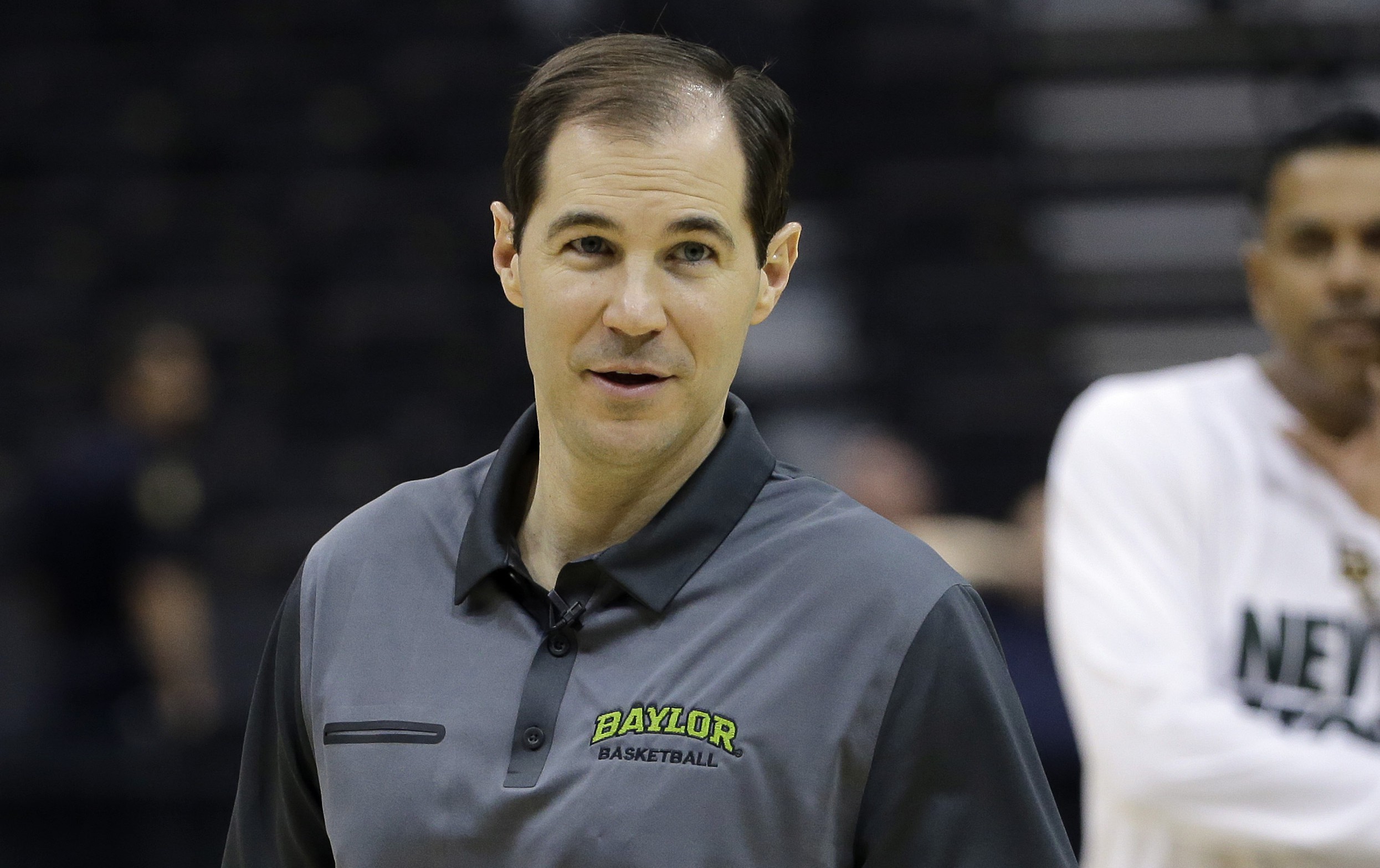 MIDSEASON COACH OF THE YEAR: Scott Drew, Baylor
Baylor did not get a single vote in the AP preseason poll. As of today, they're sitting at 14-0 and No. 2 in the AP poll, ahead of conference rival Kansas and behind only the reigning national champs.
This isn't a fluke, either. Baylor has beaten, in order: Oregon by 17 points, Michigan State, VCU, Louisville despite being down by 22 points, Xavier by 15 points and Oklahoma, on the road, by 26.
Who saw this coming? If you say you did, I'm calling you a liar.
And the most impressive part of it all is that the Bears' success this season is totally a result on development within the program. Baylor starts three guys that are 21 years old and two that are 22. None of them were five-star recruits or considered potential program-changing talents. Johnathan Motley was developed into an all-american caliber player. Manu Lecomte and Jo Lual-Acuil both improved during sit-out seasons last year. Ish Wainwright, Al Freeman, Terry Maston. These are guys that slowly-but-surely got better throughout their college careers.
The result is a team that looks to be the favorite to push Kansas for the Big 12 regular season title.
All from a guy who has been a long-standing joke in the college basketball community. Guess he's not all bad…
You can subscribe to the podcast on iTunes, Stitcher and Audioboom
SIXTH-MAN OF THE YEAR: Aaron Holiday, UCLA
As a freshman, Holiday, the younger brother of NBA players Jrue and Justin, was a starter for the Bruins. He was "demoted" this season with Lonzo Ball arriving, but he's been arguably the most important player on the UCLA roster this side of Ball. He can fill in for any of UCLA's three starting perimeter players, he's their best on-ball defender and he is not only a playmaker off the bounce but he's a knock-down three-point shooter. Most importantly, however, he's embraced being the sixth-man. Accepting that role is the hardest thing for a starter to do.
FRESHMAN OF THE YEAR: Lonzo Ball, UCLA
This is a loaded freshman class with a number of guys that have been playing out of their minds, but Ball is the guy that deserves this award. He's the only freshman that earned a nod as a first-team all-american. Ball has completely changed the culture surrounding the UCLA program, which wasn't an easy thing to do. He has hit a rough patch in the last couple of weeks, however, so it will be interesting to see how he bounces back.
DEFENSIVE PLAYER OF THE YEAR: De'Aaron Fox, Kentucky
This one was tough. The best defensive teams this season are great because of how well they work as a team; there isn't really just one great individual defender on Virginia, or Louisville, or West Virginia. For me, it came down to Fox or Baylor's Jo Lual-Acuil – who is second nationally in blocks-per-game and block percentage on the nation's seventh-best defense, per KenPom – but I went with Fox. He's one of, if not the best on-ball defender in college hoops and he's the point man for a Kentucky defense that has been exploitable this season. Put another way, I think his presence as an on-ball defender disrupting offense is why only UCLA and North Carolina have been able to execute against the Wildcats. He covers up some of their flaws, and that's before you consider his ability to turn defense into offense with his speed in transition.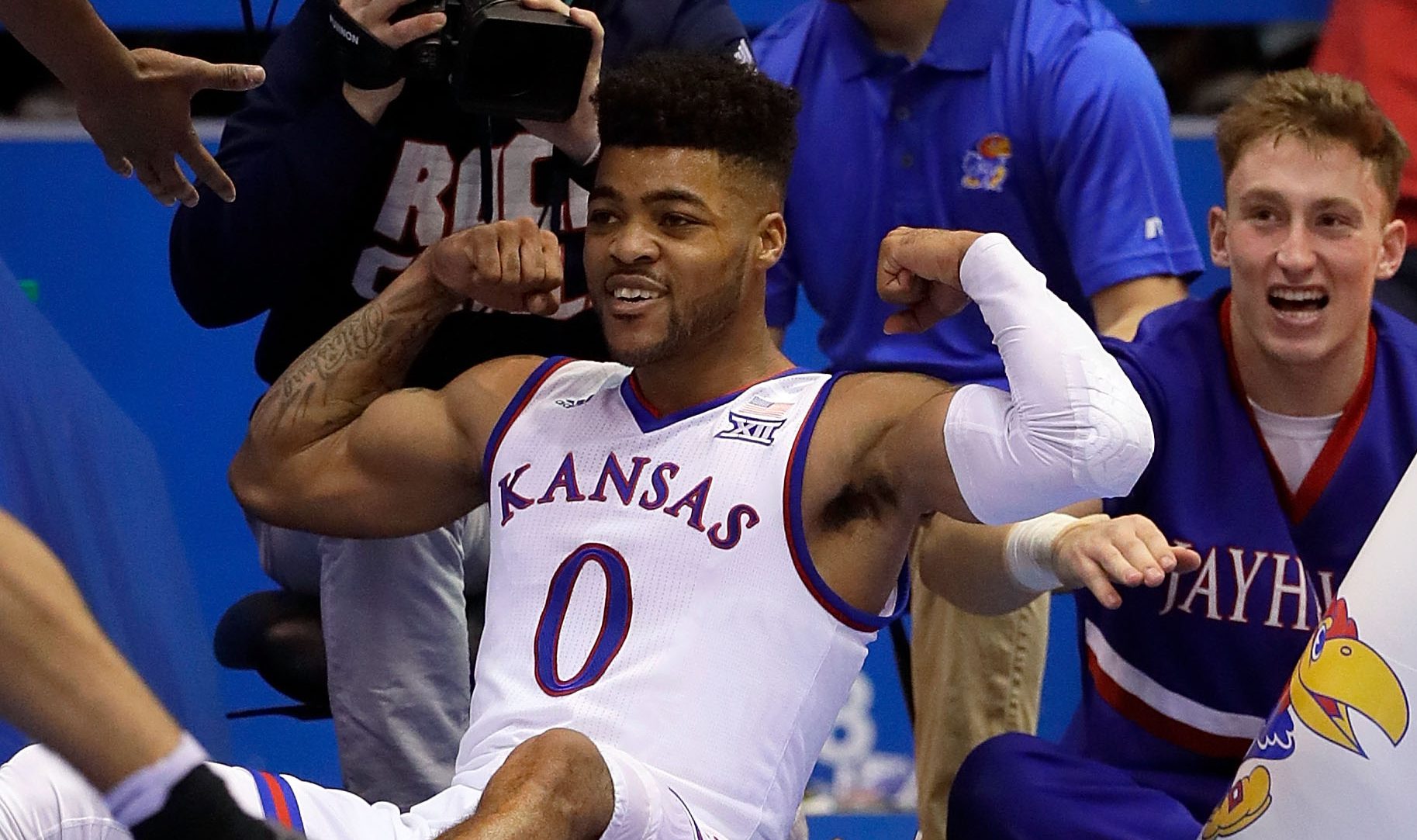 FIRST TEAM ALL-AMERICA
Frank Mason III, Kansas: Mason's case for National Player of the Year has been severely underrated at this point. He's averaging 19.8 points, 5.9 assists, 4.6 boards and just 2.2 turnovers while shooting 56.9 percent on 2's and 48.2 percent on 3's, posting an offensive rating of 130.9 as the go-to guy, leader and most important player on a top five team. He made the biggest shot of the season to date as well, beating Duke in Madison Square Gardon in the Champions Classic.
Lonzo Ball, UCLA: Ball has been phenomenal, and while his numbers alone are impressive – he's averaging 14.3 points, second-nationally averaging 8.1 assists while shooting 43.4 percent from three – it's the impact he's had on UCLA has a whole that earns him this spot. Not only does his presence bump everyone into their more natural position, but he's turned them into one of the nation's most entertaining and unselfish basketball teams.
Luke Kennard, Duke: Kennard has been the best player for Duke this season, and frankly, it's not all that close. He's been their best player in every one of their biggest games, he was the guy that kept them from losing to Elon and Tennessee State, and he was the only player that showed up against Virginia Tech. It's weird to think about it like this, but on a team with four potential first round draft picks, the Blue Devils would be in serious trouble if it wasn't for Kennard.
Josh Hart, Villanova: He's our pick for Player of the Year. Of course he's a first-team all-american.
Caleb Swanigan, Purdue: Swanigan has been the best big man in college basketball this season, and it's not all that close. He's averaging 18.1 points and 13.0 boards at this point, and he's already posted four games with at least 20 points and 20 boards. He draws 6.6 fouls-per-40 minutes – second on his team to Isaac Haas, who is at 8.1 fouls – and his ability to pass, out of double-teams and in high-low actions, is part of what makes Purdue's offense so good this year.
SECOND TEAM ALL-AMERICA
Maurice Watson Jr., Creighton: Watson is the engine that makes Creighton's high-powered offense run. He leads the nation in assists and he's the reason why guys like Marcus Foster, Khyri Thomas and Cole Huff consistently get so many good looks from three.
De'Aaron Fox, Kentucky: We also talked about what Fox brings defensively, but he's also averaging 15.8 points and 6.8 assists with a nearly 3:1 assist-to-turnover ratio. If only he was shooting better than 14.3 percent from three.
Malik Monk, Kentucky: Monk is the most electrifying scorer in the country. He's had the iconic performance of the season to date, popping off for 47 points in the win over North Carolina, but he also went for 34 points at Ole Miss in his first-ever SEC game. He's averaging a ridiculous 22.4 points this year.
Kelan Martin, Butler: Martin is averaging 18.1 points and 5.8 boards as the most dangerous scorer on a Butler team that has proven to be quite dangerous this season. He's the reason the Bulldogs have a chance to make some noise in March this year, and yet there are so many people that have no idea he exists.
Jonathan Motley, Baylor: Motley has been the best player on Baylor, the still-undefeated No. 2 team in the country. His development into an all-american from a guy that was an afterthought on an AAU team with the Harrison twins has been impressive to watch. He's the posterboy in Scott Drew's career-defining coaching performance.
THIRD TEAM ALL-AMERICA
Matt Farrell, Notre Dame: It's tough to pick between Bonzie Colson and Farrell for this spot, but I lean towards Farrell. Notre Dame's offense has always operated around having a point guard that can handle being the focal point of an offense, and Farrell's ability to be able to do that was the biggest question mark entering the year.
Melo Trimble, Maryland: The collapse against Nebraska aside, Trimble has been a terrific leader for a very young Maryland team. They're 13-2 on the season and, now, 6-1 in games decided by six points or less. Trimble has the winning points in the final minute of four of those games. The Terps are 26-6 in games decided by six points or less in his Terp career.
Markelle Fultz, Washington: Fultz may be the best player in college basketball this season. Until Fultz showed up at Washington, no one since 1993 – which is as far back as I can find stats – has averaged 22 points, six boards and six assists. Fultz is averaging 22.3 points, 6.7 assists and 6.4 boards as well as 1.6 blocks and 1.4 steals while shooting 45.5 percent from three. It's too bad Washington is horrible, which is why Fultz is on our third team. If you can't get your team into the NCAA tournament, I can't really consider you for first or second team all-american.
Lauri Markkanen, Arizona: Despite playing on a team whose point guard is somewhere between mediocre and injured, Markkanen is averaging a team-high 15.8 points, 7.3 boards and shooting better than 44 percent from three. He's been the consistent presence for a team that, to date, has been overachieving.
Yante Maten, Georgia: Maten is the best player in the SEC that doesn't reside in Lexington, but it looks like the Bulldogs are going to be headed to the NIT. So like Fultz, Maten is locked into being a third-teamer.