Wisconsin started strong but perhaps finished even stronger to notch a road win Tuesday night at Assembly Hall.
The 13th-ranked Badgers scored the game's first 13 points and closed the game by outscoring Indiana 19-11 in the final 7 minutes to down the 25th-ranked Hoosiers, 75-68.
Wisconsin has now won nine-straight games while Indiana is in the midst of its first three-game losing streak since late in the 2014-15 season, with two of those losses coming at home.
Here's what we learned in the Badgers' victory:
1. Wisconsin is now the early Big Ten favorite: Yes, most Big Ten programs are just two games into an 18-game grind, but it's difficult to see anyone having a better shot of capturing the league title than the Badgers right now. They sit at 2-0 after handing one of their biggest competitors, Indiana, its second home loss of the conference schedule already.
It wouldn't be wise to count out Tom Izzo and Michigan State, who similarly sit at 2-0, but the Spartans' wins haven't been as impressive as the Badgers', and there's still the matter of getting Miles Bridges back on the floor healthy and productive.
Wisconsin will have another chance this weekend to strike a crippling blow to another contender as they travel to Purdue, which also already has a home loss to its name in Big Ten play.
You can't start engraving the Big Ten trophy yet, but Wisconsin has established itself as the prohibitive favorite.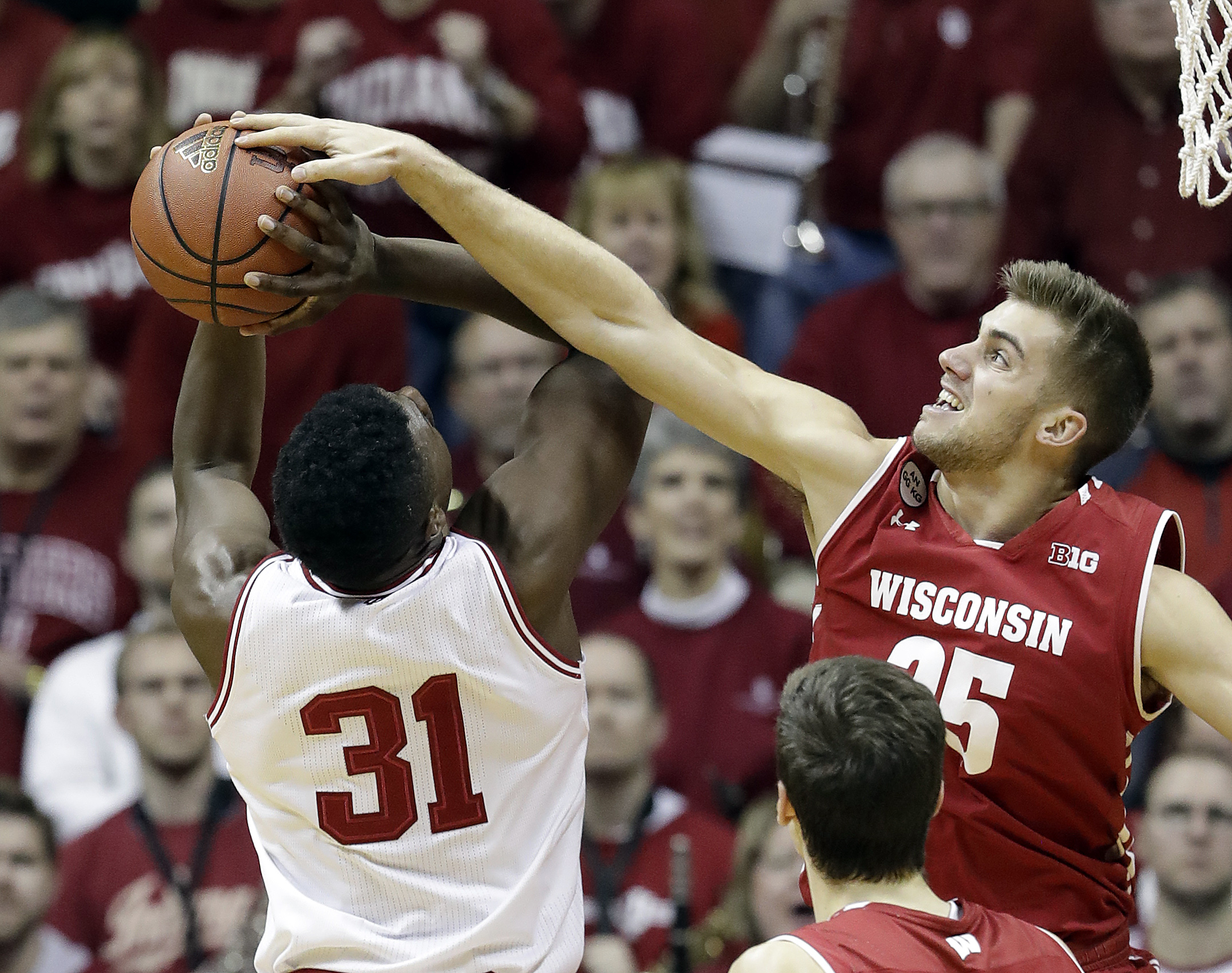 2. Thomas Bryant was relegated to a non-factor: The Hoosiers' big man may be a first-round prospect, but he was made mostly insignificant against Wisconsin. He finished with six points on five shots along with three rebounds and one block in 21 minutes. He managed to get up just two second-half shots in 14 minutes, and was at times torched by Ethan Happ offensively. Which brings us to Point No. 3….
3. Ethan Happ is Wisconsin's best but maybe not most important player: Bronson Koenig and Nigel Hayes are the Badgers' most well-known players, but Happ is their most productive and consistent. He was the best player on the floor Tuesday night, putting up 19 points on 8 of 11 shooting to go along with six rebounds and four assists in 32 minutes.
He won't wow you with his physical tools most of the time, but Happ's patience, awareness, footwork and touch make him a devastating matchup. He's going to produce, which makes him dependable but not dominating. He needs help from his teammates, especially his senior frontcourt companion…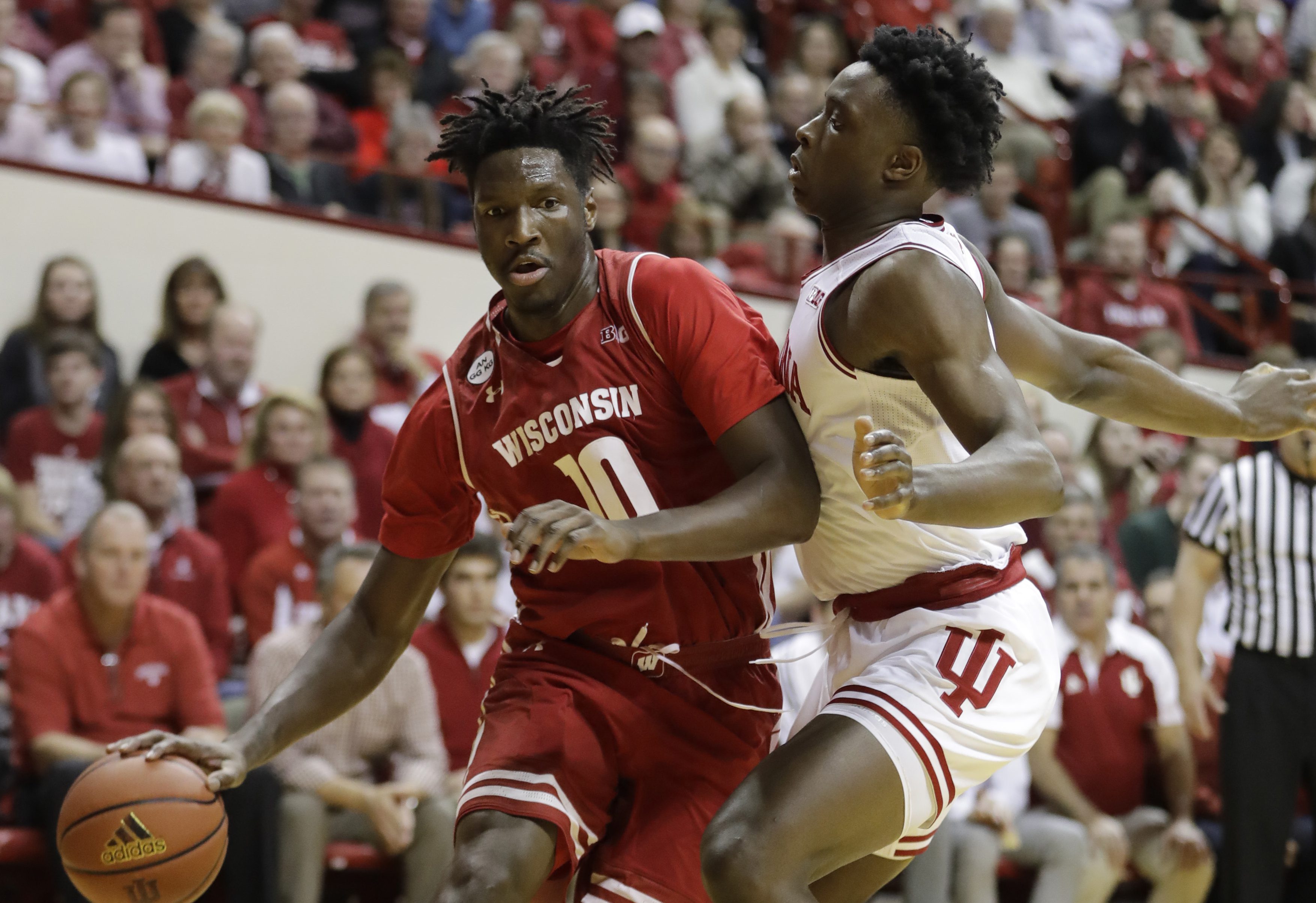 4. Nigel Hayes can still fall in love with his jumpshot: Hayes is probably the Badgers' most important player because he unlocks so much of what makes them be at their best. He's a ballhandler and distributor at the power forward position in a way that allows Happ to put in work on the block and Koenig to hunt his shot rather than initiate offense.
It's no accident that Wisconsin's nine-game winning streak has coincided with Hayes' rejection of 3-point shooting. He took 31 3-pointers in the Badgers' first six games and just six in the subsequent nine games, never taking more than two in any one contest. He didn't fire up any from beyond the arc against the Hoosiers, but too often he settled for mid-range jumpers, with a number of those coming off the dribble and being tightly contested. When those were flying, that's when Indiana was often able to claw back in the game.
Those are bad shots not simply because they're inefficient but because every time Hayes takes one, it means he's not moving the ball to Happ or Koenig or getting a post-touch himself. It's just not good offense for Wisconsin, not only from an efficiency standpoint but also from an opportunity cost perspective. The Badgers can get so many better looks than those contested mid-range jumpers, and they can do it in large part because of Hayes' strengths.
Hayes deserves a ton of credit for re-engineering his game on the fly this season , but if he can continue to tighten things up, it could go a long way for Wisconsin.
No. 5 There's no reason for Indiana to panic: Yeah, it's not great to start conference play with a pair of home losses with a defeat to Louisville in their for good measure as part of a three-game losing streak. The Hoosiers, though, fought back from a 14-point deficit and had chances to keep the game close and ultimately beat Wisconsin before some late-game execution got in their way.
The Hoosiers now have a manageable stretch of games (vs. Illinois, at Maryland, vs. Rutgers, at Penn State, vs. Michigan State) that should allow them to steady their footing. If Indiana struggles through that stretch, though, the Big Ten opening loss to Nebraska at home is going to look much more ominous that flukey.