No. 22 USC Trojans (3-0): For a team that entered the season with just four players that had played a second of basketball for USC prior to the season, it's impressive that head coach Andy Enfield has managed to steer them to a 13-0 with wins at Texas A&M, at home against SMU and over BYU on a neutral court. It's worth noting they've done all this more-or-less without Bennie Boatwright, their starting four-man who has dealt with knee and back injuries.
First loss: 12/30 at Oregon, 14-0. The Trojans will playing their second road game in three days when they play in Eugene, and by then, it's probably fair to assume that this Oregon team, who was in the top five in the preseason will get things figured out. The key? When does Boatwright get back.
Next game: 12/28 at Oregon State
No. 1 Villanova (12-0): Villanova is the reigning national champion, and they look to be even better this season than last. That's, in large part, due to Player of the Year favorite, Josh Hart; like Buddy Hield and Denzel Valentine last season, Hart has really improved as a senior. Villanova is also playing without Phil Booth, who has a knee injury. This group has more than earned the right to be in the same conversation – To lead the conversation? – as the likes of Duke, Kentucky, Kansas, North Carolina and UCLA, the biggest brands with the most talent in the sport. Jay Wright may not have NBA scouts beating down the doors of practice to get a look at the guys on his roster, but this veteran group is greater as a whole than the sum of their parts.
First loss: 12/31 at Creighton, 13-0: Creighton has always been a tough matchup for Villanova because Creighton plays the same kind of small-ball, four-around-one style. What's traditionally made Villanova so difficult for opponents to deal with is that they create mismatches offensively. Wright's players are versatile defenders. Creighton, however, can do the same thing. Cole Huff, the Bluejays four-man, can play as a small forward and is most comfortable on the perimeter. He will have no issues defending the lines of Eric Paschall or Kris Jenkins. Throw in the fact that Creighton packs 17,000 fans into their home games, and I think they can hand the Wildcats their first loss.
Next game: 12/28 vs. DePaul
RESETS: ACC | Big Ten | Big East | Pac-12 | SEC | Big 12
No. 4 Baylor (12-0): Baylor has been the most surprising team in college basketball this season. The Bears have piled up wins over Oregon, VCU, Michigan State, Louisville and Xavier, which would put them squarely in the conversation for a No. 1 seed in the season ended today. They'll need to beat Kansas at least once and win either a share of the Big 12 regular season title or the tournament title to have a shot at a No. 1 seed, but it's not out of the question. I'm not yet ready to say that Baylor is in the same class as the likes of KU, Kentucky, Duke, Villanova, North Carolina or UCLA, but I am ready to say that every single one of us missed wildly on how good Baylor would be this season.
First loss: 1/10 at West Virginia, 15-0. The Mountaineers are another team we missed on in the preseason, and I think they provide a nightmare matchup for Baylor. The Bears strength is their front court, but that can get taken away by the pressure WVU provides. I think pressure can beat the Bears, and no one has a tougher press than Press Virginia.
Next game: 12/30 vs. Oklahoma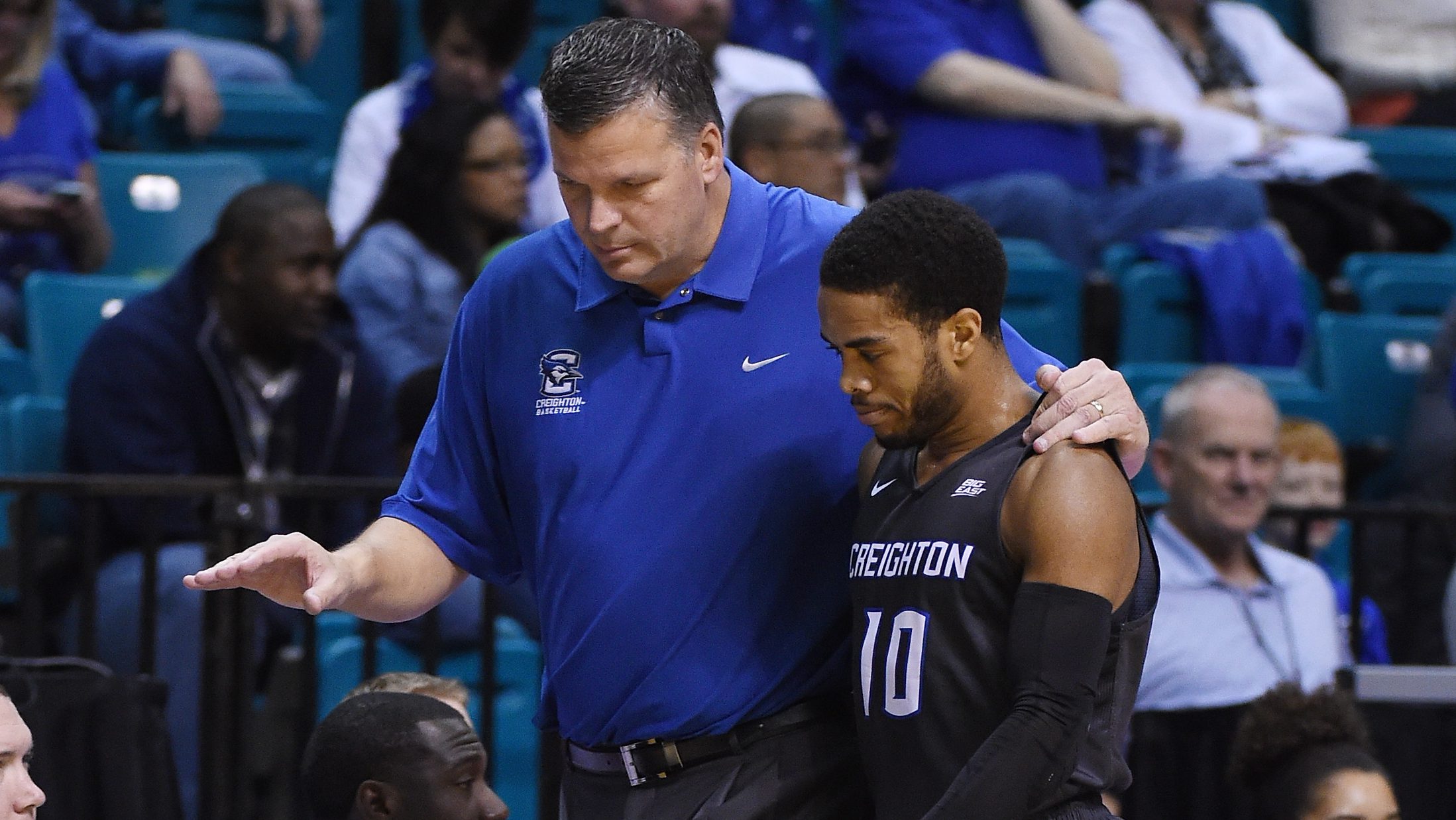 No. 10 Creighton (12-0): The Bluejays are such a fun team to watch. They push the ball as fast as anyone and they are the best three-point shooting team in college basketball at 45.5 percent. Their six best shooters all check-in at better than 41.0 percent, while five of those six shoot better than the team average. The Bluejays are UCLA with a fifth-year senior at the point, the nation's leader in assists in Maurice Watson Jr., instead of a superstar freshman. This team is more talented than the team Creighton had during Doug McDermott's senior season.
This week is huge for the Bluejays. They host both Seton Hall and Villanova, two teams that play with the kind of toughness than can expose Creighton's interior. If they're going to be a Big East title contender, they have to get these two wins.
First loss: 1/16 at Xavier, 18-0: There are two things you can count on with a program run by Chris Mack: toughness and defense will never, ever be an issue. They're hard to beat in the Cintas Center and there's a chance that Myles Davis will be back by then. I don't want to bet against Xavier in a situation like that were they really need a win.
Next game: 12/28 vs. Seton Hall
No. 7 Gonzaga (12-0): Of the six teams left without a loss, I think Gonzaga probably has the best chance to get to the NCAA tournament unblemished. Part of that is because they play in the West Coast Conference, a league where every road game is their opponent's Super Bowl, although those opponents are decidedly mid-major competition. Gonzaga? They're as high-major as high-major gets and have a roster that is stocked with talent. Nigel Williams-Goss and Josh Perkins have played really well together in the back court, while Jordan Mathews works as a floor-spacer and Silas Melson has seemed to embrace his role within the team. But the front court is where this team is so exciting. Przemek Karnowski and Johnathan Williams III are veterans that fit well together, but there's an argument to be made that their freshmen backups – Killian Tillie and Zach Collins – are the second-best front court pairing in the league. I think this is the best team that Mark Few has had in Spokane, and that includes the Adam Morrison and Kelly Olynyk years.
The biggest concern with the Zags: Who is their go-to guy? Who gets their name called when Mark Few needs to stop a run or when Gonzaga needs a bucket in the final minute to win a game? There isn't really a star on this roster.
First loss: 2/11 at Saint Mary's, 25-0: This year is the first time that the Zags have reached 12-0 since joining Division I. They'll have two more real tests before their road trip to Moraga – they host the Gaels in mid-January and visit BYU in early February – but if they can get to this game unscathed, they'll have a shot to be undefeated when the postseason comes around.
Next game: 12/29 vs. Pepperdine
No. 2 UCLA (13-0): We mentioned earlier how Creighton's offense is a powerhouse. Well, UCLA is the only team in the country that has a higher effective field goal percentage, and not only do they play at a faster pace than Creighton, they are one of just eight teams that has a higher offensive efficiency score, according to KenPom. In fact, in the 15 years that KenPom has been in existence, UCLA is on pace to become the first team since Kansas in 2001-02 to finish the season top five in offensive efficiency and in tempo, meaning there's an argument to be made that we may be watching the best offensive in college hoops since Nick Collison, Kirk Hinrich and Roy Williams were lighting fools up in Lawrence.
First loss will be 2/25 at Arizona, 28-0: I think UCLA can get past this road trip to Oregon because I think that the Bruins will have a bit of an advantage over USC; they play the Ducks on the first day of the road trip. The trip to play the Mountain teams (Colorado and Utah) is always tricky given the altitude, and that starts a stretch where they play five of seven on the road, including at USC and capped with a visit to Markelle Fultz and Washington. But I think this group gets through all that mostly because I think the Pac-12 is down this year. (That visit to Utah looks a bit tougher now with Sedrick Barefield and David Collette becoming eligible.) Where I think UCLA gets tripped up is at Arizona, who should have Parker Jackson-Cartwright (and maybe/hopefully Allonzo Trier) back and who should be getting the best out of Kobi Simmons and Rawle Alkins. That's a fierce rivalry that only has fuel added to the fire by T.J. Leaf, a UCLA player that was originally an Arizona commit.
Next game: 12/28 at Oregon