Virginia appears to be the bully Louisville just can't seem to conquer.
The 12th-ranked Cavaliers led by as much as 21 points and defeated the No. 6 Cardinals, 61-53, on the road at KFC Yum! Center to claim their fourth win in five tries against Rick Pitino's squad.
Virginia dominated play for all but a stretch in the second half courtesy of their always-staunch defense and an offensive attack that spread the love around. It's by far the best win of the year for Tony Bennett and the Cavaliers.
Here are five things we learned from the game:
1. Virginia is an awful matchup for Louisville: The Cavaliers have now beaten the Cardinals in four of their last five matchups, and it's anything but a fluke they keep coming out on top. Tony Bennett's style and personnel is just a nightmare for Rick Pitino's group.
The famed pack-line defense Virginia employs is especially devastating when it's unleashed against a team that can't space the floor with shooting, which is exactly what Louisville has been the last two-plus years. In 2015, when the two teams split a pair of games, the Cardinals shot 30.7 percent from 3-point range while in 2016, with Virginia took both matchups, Louisville came in at 34.7 percent from deep but fired up fewer attempts from distance than any other team in the country. They went 2 of 14 from distance this night.
With Virginia's ability to eliminate fast break opportunities with its pace of play and its prowess on the glass, that leaves Louisville falling to option D, E and F more often than not, which is a pretty good explainer of why the Cardinals are averaging 50.4 points per game in their last five matchups with Virginia.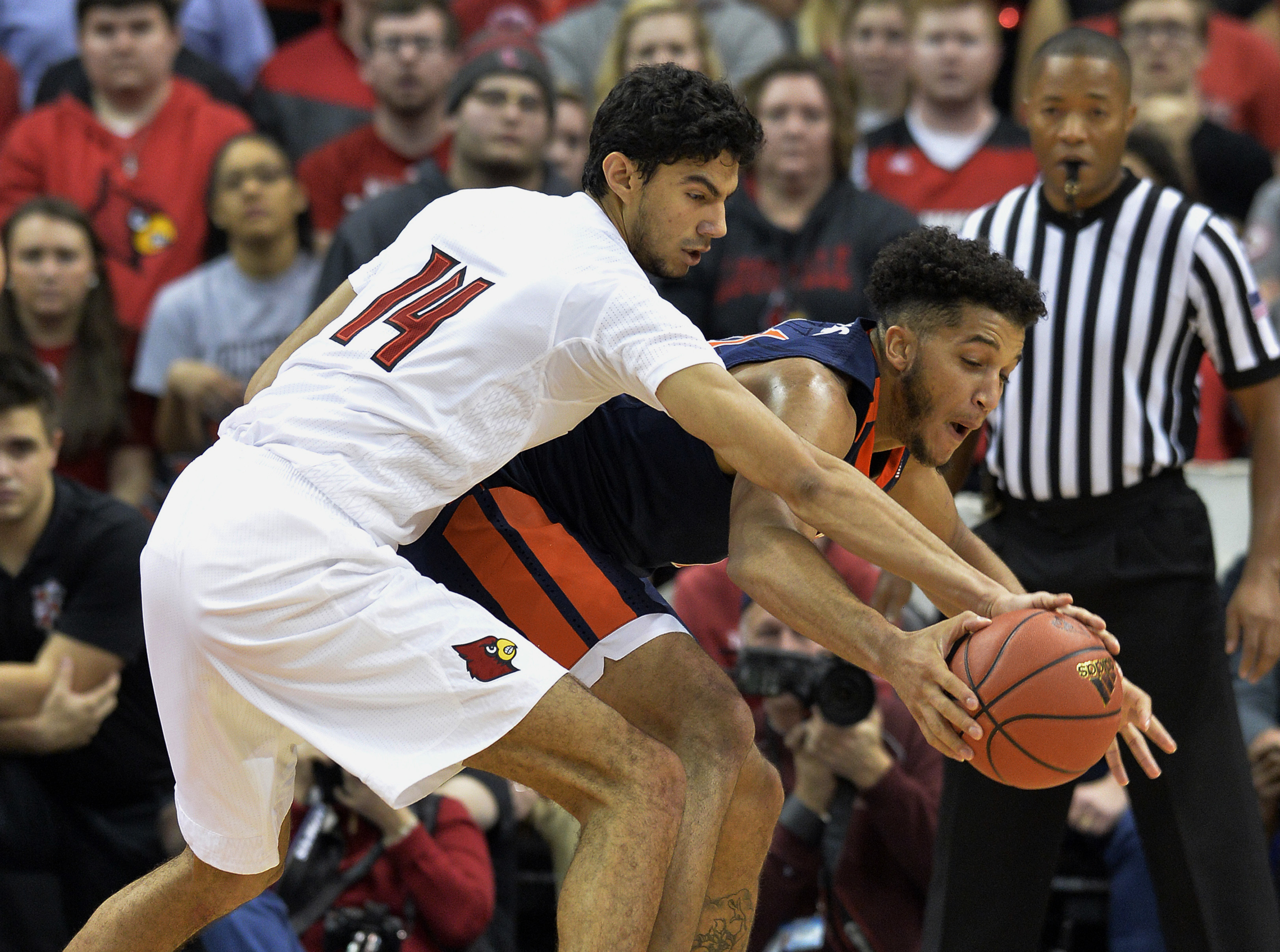 2. Virginia's offense can get clunky long enough to cause problems: Maybe they got lackadaisical or bored when the lead got to 21, but Virginia's offense went completely sideways for 7 full minutes in the second half that, while it didn't cost them the game, does make for an easy nit to pick.
The Cavaliers turned the ball over four times – two coming from point guard London Perrantes – and went 1 of 10 from the field. That's a stretch that will often get you beat on the road – unless you've built yourself a 21-point cushion.
Still, it's a picture of Virginia's offense when things go wrong. Perrantes is a big-shot shooter – he's got ice in his veins – but he's not the type you want just going to work time and again down the floor. He's a facilitator first and foremost. The Cavaliers are an offense-by-committee team with a balanced attack that doesn't have that go-to guy. Which leads us to Point No. 3:
3. Kyle Guy isn't Malcolm Brogdon, but he is a bucket-getter: The idea for Virginia this season in replacing All-American Malcolm Brogdon, whose number will be retired by the school this winter, on the offensive end was with Austin Nichols inside. Well, that plan got junked when Nichols was kicked off the team after appearing in just one game. He's just a freshman, but Kyle Guy might be just the person to fill that shot-making void.
I'm not saying he's going to average close to 20 points this year, but the kid is unafraid to hunt his shot and doesn't shy away from tough or big looks. He had nine points on 3 of 5 shooting (3 of 3 from the line) in just 19 minutes against Louisville.
Virginia is built on defense. That grinding style is what is going to keep them near the top of the ACC and a high seed come March, but they're going to need buckets periodically. Perrantes can score consistently, but Guy is the one player that can score in bunches. He's the type of player that can win Virginia a game coming off the bench and going wild. Guy just seems destined to go bonkers in an NCAA tournament game this year when Virginia needs him most.
He's got a role to play – he's not starting and averaging under 20 minutes per game – but that role is clear, defined and integral to Virginia's success. Guy is tailor-made for it.
4. The ACC is as bonkers as we predicted: Everyone knew coming into the year that the ACC was going to be awesome at the top, and there's no indication to the contrary. Virginia's win Wednesday shot them up to the top spot in KenPom, giving the league the No. 1 , 2 (Duke) and 3 (North Carolina) teams in KP's rankings, along with Louisville at No. 8.
Given Duke's strange – and maybe fleeting – troubles, the league race may not be the Blue Devil coronation it appeared it might be throughout the last few weeks. Virginia, even without Nichols, is a machine, North Carolina is among the country's most talented teams and Louisville matches up better with the 12 other teams in the league not coached by Tony Bennett. And that's to say nothing of intriguing teams like Florida State, Clemson and Miami.